SPONSORED CONTENT
Packing for an alpine route in the remote Hindu Raj range of Pakistan is a dilemma! Trying to anticipate the weather, conditions and difficulties of 1500 metres of climbing, up to nearly 7000 metres, mixes educated guessing with past experience. Ally Swinton and I spread our climbing gear over the grass of our Base Camp beneath Koyo Zom (6872m). We debated endlessly, weighing options and even considering which spoons to take. But there was one item I was certainly taking: the Mountain Equipment Kryos down jacket.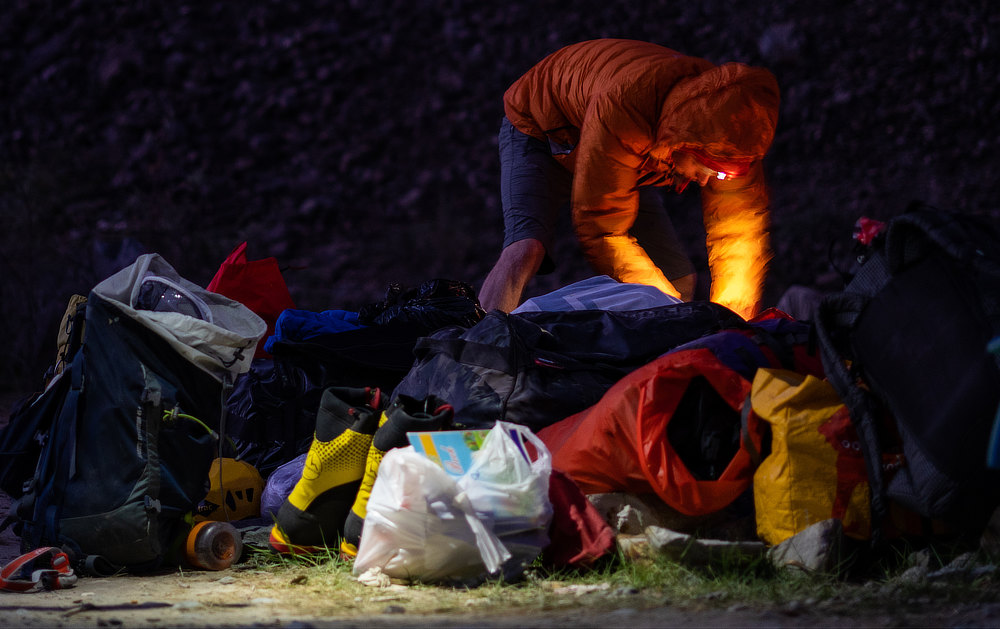 Tom trying to decide what to pack. Photo: Uisdean Hawthorn
Back at Base Camp, Ally and I finally packed two enormous orange rucksacks, trimming everything to a minimum (literally and figuratively - I cut out the labels...) For the next eight days, we were going to wear the same clothes day and night, relying on their protection from howling winds, cheek-numbing cold, and pouring spindrift. We shouldered the packs and began walking towards Koyo Zom's north-west face.
The Kryos jacket was (and still is) my choice because it represents the best in down technology. I need a jacket which keeps me as warm as possible, weighs as little as possible, and is protective as possible. This is a tough thing to ask the Mountain Equipment Design Team, but they've been able to make significant advances in what was previously considered the benchmark in down insulation, and have bundled these new technologies into the 'Firestorm' range. 
Firestorm Construction
The Kryos jacket features a Gore-Tex Infinium 10D drop-outer, which essentially means the exterior surface of the jacket is a single piece of material. Instead of the traditional baffle stitching, which creates weaknesses in water- and wind-resistance, the drop-outer creates a windproof and highly water-resistant layer.
Down's greatest weakness was moisture - but the Kryos handles heavy snow, spindrift and even light drizzle with ease.
This drop-outer also traps up to 20% more air within the jacket, reducing thermal conductivity, which in turn keeps you warmer.
This hybrid construction (separately producing the internal baffles and protective outer) ultimately maximises weatherproof-ness, insulation and down control.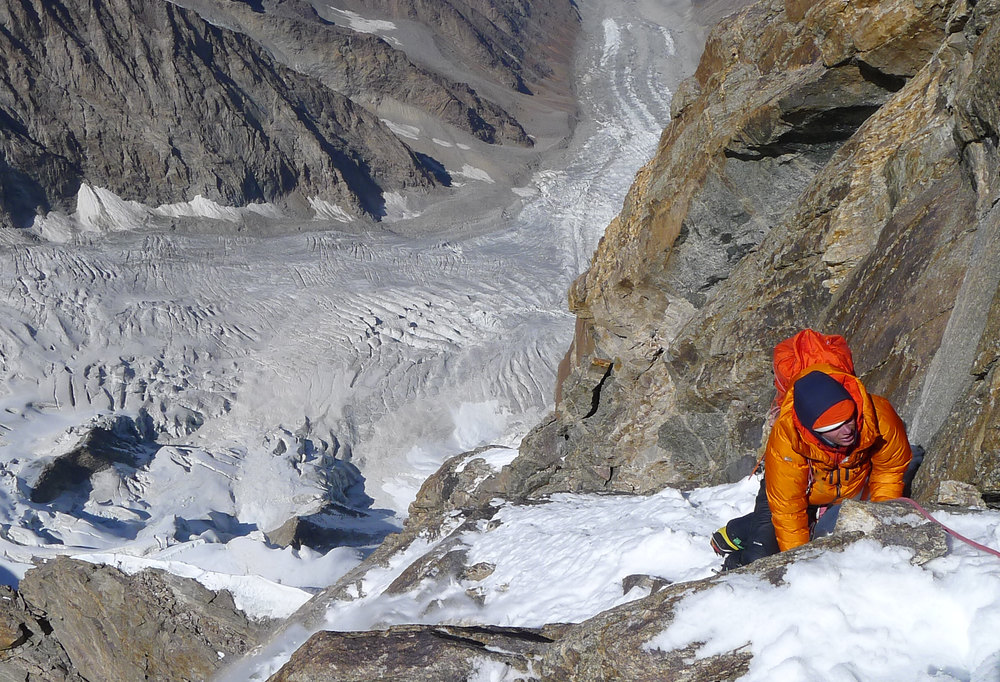 Tom seconding a pitch on 'The Great Game,' Koyo Zom. Photo: Ally Swinton 
The Design Team also noticed down was 'clumping' or moving away from areas of movement, such as the elbows. Down shifted to other areas of these baffles when you simulated  climbing actions in lab tests. Using intricate stitching, the Kryos keeps the down in place and reduces cold spots.
I was genuinely shocked at how much warmer this was in the real mountains compared to a Vega and the weight difference is really noticeable... it's considerably less bulky for its warmth compared to anything else I've used meaning it's easier to second in after a particularly long belay." – Uisdean Hawthorn
This stitching keeps the baffles open and as large as possible, giving the down the maximum amount of loft. The ends of the Kryos baffles are also pleated, essentially allowing them to be as wide as possible, as soon as possible - instead of squashing the down away from the ends of the baffles. Again, this maximises warmth from the down and reduces cold spots. Of course, it makes sense for some baffles to be boxed-wall or stitched through… there's a lot of detail in the Kryos. 
These features meant the same amount of down was essentially more efficient at keeping us warm. I guess, with lightweight jackets, it's all about using the resources as best as possible to maximise the warmth of what you've got.

Weight
By using this new Firestorm construction, the Kryos is up to 20% lighter than previous jackets of a similar specification. Weighing 595g in size Large, it's slightly slighter than the Vega jacket (which I used to wear, and at 620g, is again lighter than its competitors). The Kryos features 234g of 90/10 Goose down at 800 fill power.
I was grateful for this weight reduction as Ally and I climbed the lower icefield of Koyo Zom via our new route. Slogging up the non-technical ground was painful with our heavy backpacks, but we'd soon be using all our rock gear and eating through our food. We thought the route might have hard mixed and rock climbing, so we took extra cams, wires and pegs.
It's worth mentioning the mentality of a strong partnership: Ally and I were a single unit, so all weight and gear decisions were considered as a team. A 50g reduction in weight across one garment becomes 100g per team, and so on… It made sense to skimp on some items (such as evening meals towards the latter stages of the route), but not on down jackets.
Packability
Our Tupilak rucksacks were still pretty full on Days 2 and 3, so we were grateful to be able to stuff in the leader's down jacket when it was their turn to push the rope higher. Thanks to down's compressibility, we were able to shove the Kryos jackets into the bags without being concerned about damaging them. When we pulled them out again at the bivy, they 'inflated' as the down expanded within the baffles, quickly wrapping them around us. The cold of dusk rushed through the mountains, the only sound coming from our stove as we melted water, watching the sun set over Afghanistan…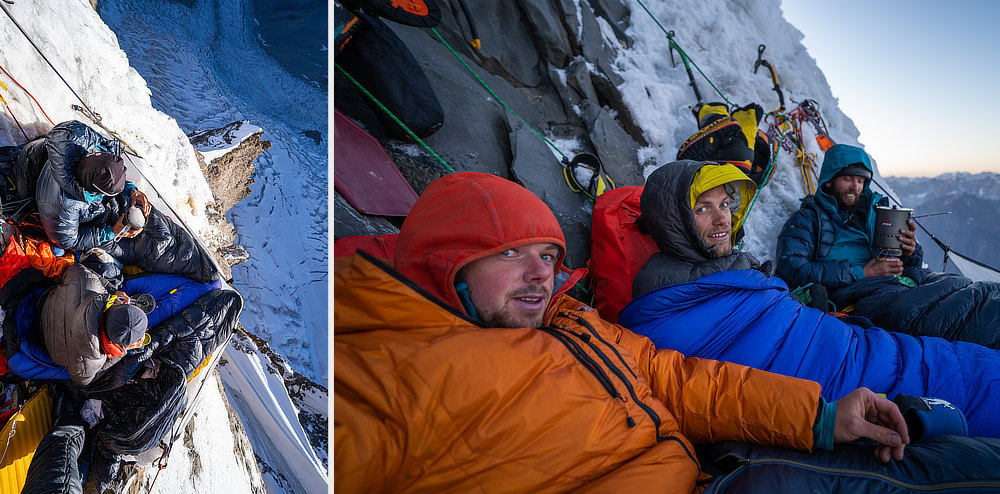 Uisdean Hawthorn, John Crook and Will Sim bivy high on their attempt at the unclimbed north-east ridge of Koyo Zom. Photos: Uisdean Hawthorn
Alpine cut
Seconding hard pitches after a cold, long belay is never easy. You just want to reach the belay as quickly as possible, and so it was with Ally and I on Koyo Zom. Taking turns to lead blocks, we'd alternately freeze and then boil as the tricky pitches forced our tempo. When it was my turn to second, I appreciated the slim profile and active cut of the Kryos, which meant it was a lot less bulky compared to previous jackets. I could see my feet easily - which often helped with the climbing - and store 120cm slings over my shoulder more quickly. Both of these things translated into faster climbing, which meant for a quicker ascent!  
The Kryos jacket was perfect for our trip to Pakistan. We were climbing new ground to over 6000m and had 5 open bivies on the mountain. I lead several days of climbing wearing the jacket and it stood up well to all the abuse I threw at it. When I didn't need it, it's incredibly light weight which meant it virtually disappeared in my bag! John Crook
On Day 5, the mountains stretched as far as we could see - into China, Tajikistan, Pakistan and Afghanistan. A bitter northerly pelted spindrift into our faces, and I resorted to holding my hand over my cheeks to create a windbreak. We gasped at the air, sucking in all the oxygen we could manage. The summit felt within reach, and finally, I rounded the snow crest and smiled towards Ally, a few metres behind.
Wearing every piece of clothing I had, I snapped a few photos in all directions. We ate a bar each, then agreed to descend the east face of Koyo Zom, aiming to complete a traverse of the mountain via the quickest way down. The pack still pulled at my shoulders but they naturally lifted as I took in the view, wondering what adventures lay on each white jagged peak...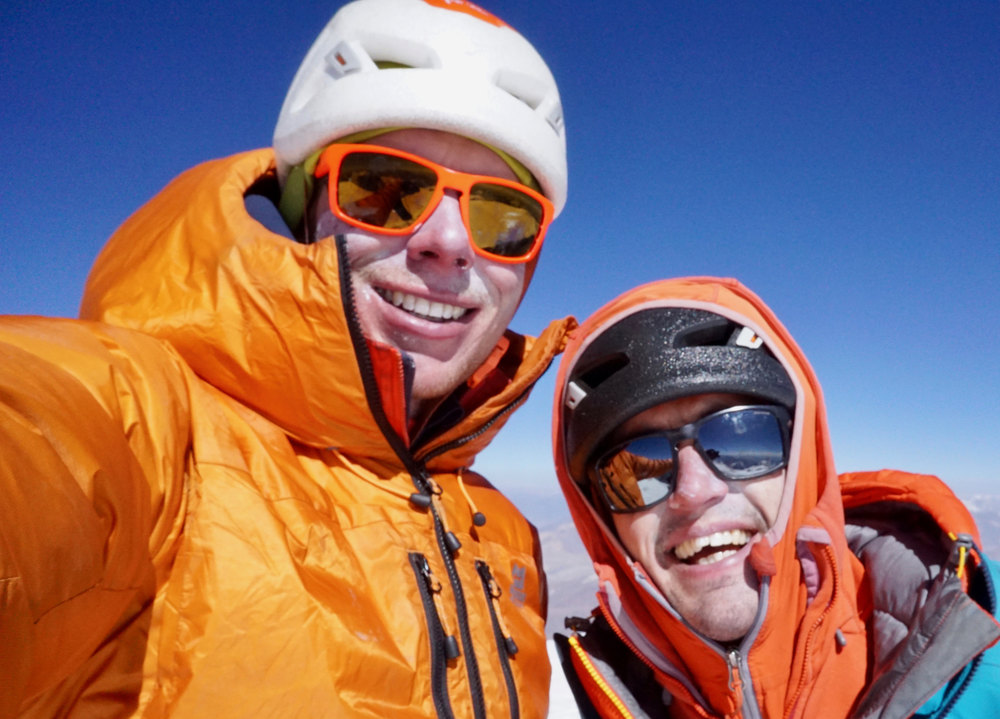 Tom and Ally on the summit of Koyo Zom, wearing all their clothing. Photo: Tom Livingstone
Down certainly has its drawbacks - if it gets wet, it can be worse than useless, potentially drawing warmth away from the body. Down can also clump together, and is difficult to keep in place. It's typically blown into long hollow tubes in the jacket (also known as baffles) but it can still move within these areas. In some locations, such as the elbow, it can be pushed away with movement of the arms, significantly reducing the amount of down in that region. However, both of these issues are minimised thanks to the Gore-Tex Infinium drop-outer and the specific design of the baffles.
Fair Wear
It's worth mentioning Mountain Equipment's 'Down Codex' initiative - responsibly made and traceable down products, which maintain animal welfare standards and high quality. More information can be found here, along with the Fair Wear scheme which aims to achieve fair working conditions throughout the product manufacturing process. 


 Kryos Jacket Specifications
GORE-TEX INFINIUM 10D shell is durably weather resistant
FIRESTORM construction for greater warmth, wind resistance and protection
Hybrid baffling combines both conventional stitched- through and pleated baffle construction
234g (Size L) of Goose Down with a minimum content of 90/10 800 fill power
Super Alpine HC hood with EXL® lining
Halo Collar
2-way YKK® moulded centre front zip with lightweight offset rear baffle
2 zipped hand warmer pockets, 2 chest pockets, 2 large inner drop pockets
GORE-TEX INFINIUMTM 10D hem, cuff and hood lining
Elasticated cuffs and dual tether hem drawcords
Sizes: S-XXL
Weight: 595g / 1lb 5oz
The Kryos Jacket is available to purchase from Ellis Brigham