SPONSORED CONTENT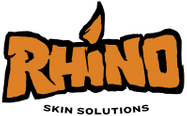 Rhino's line of products focuses on the largest organ in the body, the skin. They understand what it takes to succeed. Whether it is that extra bit of nutrition, that little extra rest, or a push from a friend or competitor, Rhino will be there to keep you healthy and ready to perform.
Now you can give your skin the same care you give the rest of your body. Rhino Skin Solutions has a line up of products to strengthen, build, repair, clean and maintain the best skin environment for your activity.
Formulated by a pharmacist and built by a chef, Rhino Skin Solution uses earth grown ingredients to bring you non greasy, high performance skin care for an active lifestyle with products that prevent splits and cracks and keeps skin durable, tough and dry. 
First developed for Smith Rock in Oregon, Rhino is created to be an essential care product to help combat the brutal effects of sharp crimps and rough rock.
Where skin is a valuable resource and bad skin can shut you down on your project, Rhino products have been developed to maintain, enhance, and help recovery of fingers and muscles. Helping to renew your sore and worn skin is our number one priority with a team spanning a wide breadth of sporting disciplines. Testing, listening to and working with Alpine, Sport and Traditional Climbers, Skiers, Yoga instructors and doctors who are pushing themselves into the upper end of the game or who participate recreationally.
​ The one thing we all have in common is we want the best. Rhino always has this in mind.
The Products
Rhino have a range of products to care for your skin whatever it's needs....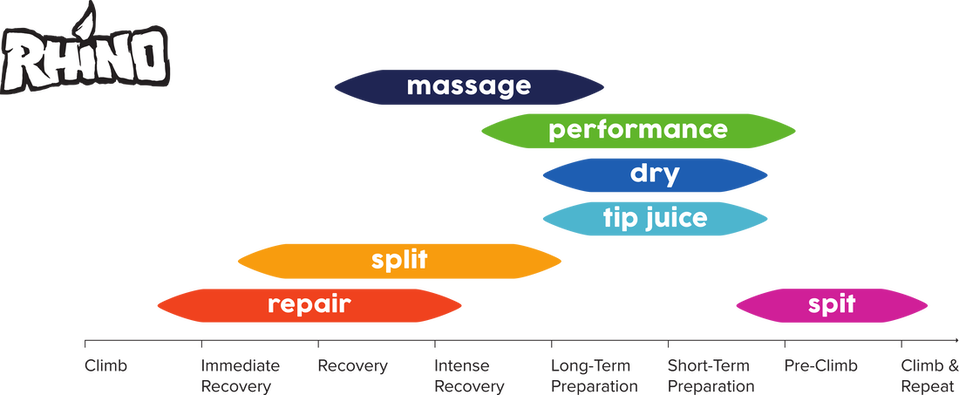 Repair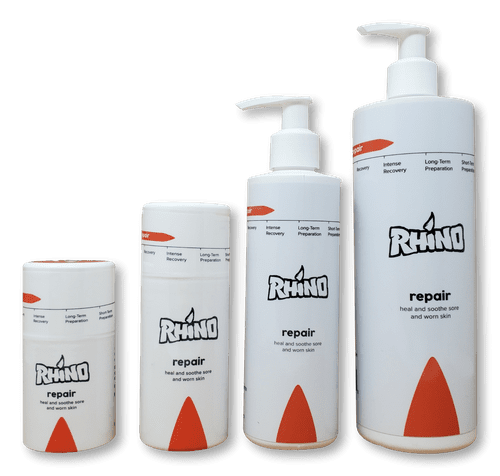 Non-greasy skin conditioner designed to heal dry, swollen  and abused hands and feet. Highlights:  Menthol, Magnesium, Salicylic Acid and Tea Tree Oil. Apply liberally after climbing.
Active Ingredients: Magnesium: Tendon and Connective Tissue Health, Honey: Antibacterial, Moisturizer, Menthol: Pain Relief, Willow Bark: Anti-inflammatory, Salicylic Acid: Skin Regeneration  
Directions: Wash and dry hands immediately after climbing. Apply pea sized amount to hands and rub in until absorbed.  Reapply as necessary. Purchase here. 
Spit
Spray-on encapsulated moisture replacement for those with very dry hands.  Highlights: Promotes skin elasticity therefore minimizing splits, dry fires, and glassy skin.  Apply right before climbing.
Active Ingredients: Organic Aloe, water, lemon juice, honey, lavender, sunflower lecithin, xanthem gum. Purchase here.
​Split
Beeswax based salve designed to disinfect and hold moisture in.  Help to speed recovery from small open wounds and avulsions.
Active Ingredients: Beeswax, Tea Tree Oil, Vitamin E, Dragon's Blood. Purchase here.
Performance
Skin conditioner plus non-aluminum antiperspirant.  Apply Performance the night before climbing.  Antiperspirant lasts up to three days with one use.  Highlights: Designed to use multiple days in a row to maintain dry durable hands.
Active Ingredients:  Methenamine: Non-Aluminum Antiperspirant*, Menthol: Pain Relief, Willow Bark: Anti-inflammatory, Grape Seed Oil: Skin Health and Elasticity  
Directions: Wash hands before application, Apply pea-sized amount to hands or feet 6-8 hours before activity. Rub product in until fully absorbed. Multiple uses will increase effectiveness. After initial application, apply product 1-3 times a week for maintenance. Effects may last up to 4 days after use. Purchase here.
Dry
Alcohol based, spray-on, non-aluminum antiperspirant.  Use up to 2 times per week.  Highlight:  Easy to use, lasts up to three days with 1 application. Great for climbers and skiers.  Less sweaty hands for climbers and dryer, warmer hands and feet for skiers.
Active Ingredients:  Methenamine: Antiperspirant | Antifungal | Antibacterial*, Alcohol: Degreaser  
Directions: Apply 6-12 hours before activity. Spray on clean hands or feet until area is wet. Rub in or let dry. Purchase here.
Tip Juice
Rhino's strongest antiperspirant. Apply only to the pads of your fingers.  Apply 1-2 times per week.  Highlights:Increases tip durability on sharp crimps.
INGREDIENTS Water, aloe, vitamin E arnica, Methanamine, calendula flower, emulsifiers
Apply 8 hours before climbing, 1-2 times per week to increase tip durability on sharp crimps. Over use may cause cracked or split skin. Purchase here.
Recover
Plant based muscle and joint massage cream.  Recover cream offers a warming sensation to promote blood flow combined with a high slip lotion to promote effective massage.  Highlights: Earth grown ingredients, warming, smells great! These products are packed with natural ingredients, some variation in smell and color will occur.  There may be some plant matter in the products.  This does not change the effectiveness of the product.
INGREDIENTS Water, grape seed oil, stearic acid vegetable based, arnica, chamomile, helichrysum flower, dimethicone, dragons blood, ginger, turmeric, cinnamon leaf oil, frankincense, clove oil, black pepper oil, capsicum oil willow bark.
Apply RECOVER to sore muscles and joints, massage area while the cream is absorbed. Purchase here.
Thingies
Also available are a finger massage ring, a file and a nail clipper/bottle opener. Purchase here. 
 Rhino Skin products are available from Dark Ventures