Thinking of going to the mountains this summer? This article from Tom Livingstone is packed with knowledge and ideas for your first summer alpine climbing trip. Being in the mountains is great fun - just look at those views! - and very rewarding. There's extra skills and knowledge involved, but all of these hurdles are achievable to everyone. This article uses European alpine destinations and examples, but it can easily be transferred to the rest of the world.
Practice, Practice!
Climbing in the mountains is broadly similar to UK multi-pitch trad routes and Scottish winter but with a few notable differences such as the length/time spent on routes and the exposure involved. If you're slick and competent at these types of climbing in the UK, you'll be well set up for an introduction to the Alps. A good technical standard will also help you to make the most of your trip. Practicing your ropework and general cragmanship on UK crags to allow you to be smooth and efficient in belay setups, abseils, etc will pay off on longer alpine routes.
Consider big link-ups of scrambles of multi-pitch routes. e.g. Idwal Slabs link-ups, finishing with Cneifion Arete? Or running between a couple of Lake District Classic Rock routes? Hill running will also prepare your legs well. There's a difference between running and 'walking uphill with a moderately heavy bag,' and it's worth doing both if you can.
Remember to research the types of routes you'd like to climb (and the best places to climb them!).... If you want to climb hard granite cracks or big limestone walls, your rock climbing ability is the most important. If you'd like to climb classic alpine routes, you'll need plenty of cardio fitness and know how to use crampons and ice axes. Most people enjoy a bit of both, which means training everything as best as you can - easier said than done!
Ideally, learn from more experienced climbers, consider a Jonathan Conville course or hire a British Mountain Guide. These are sensible ways to get into alpinism, and will help you to get the skills you need to progress safely and efficiently. Don't be that person who YouTubes 'how to do a crevasse rescue' on the glacier with your mate in trouble! There are also many good books on the skills needed for Alpinism.
Example:
Before an Alps trip, climb lots of UK trad, ideally on big mountain routes and sea cliffs.
Do a bit of sport climbing to make sure your technical ability is good
Practice longer days and being slick on mountain ridges/scrambles/link-ups.
Climb with your main Alps partner(s), so you have a solid partnership before you get to the mountains.
Camp or bivvy in the mountains at least once, so you remember the basics: it's easy to suffer, but it takes skill and practice to be comfortable!
When you get to the mountains, spend the first week doing easy, fun routes. This is to get warmed up, acclimatised to both altitude and exposure, to measure your performance against guidebook times in preparation for longer/more challenging routes and to check out the weather and existing conditions.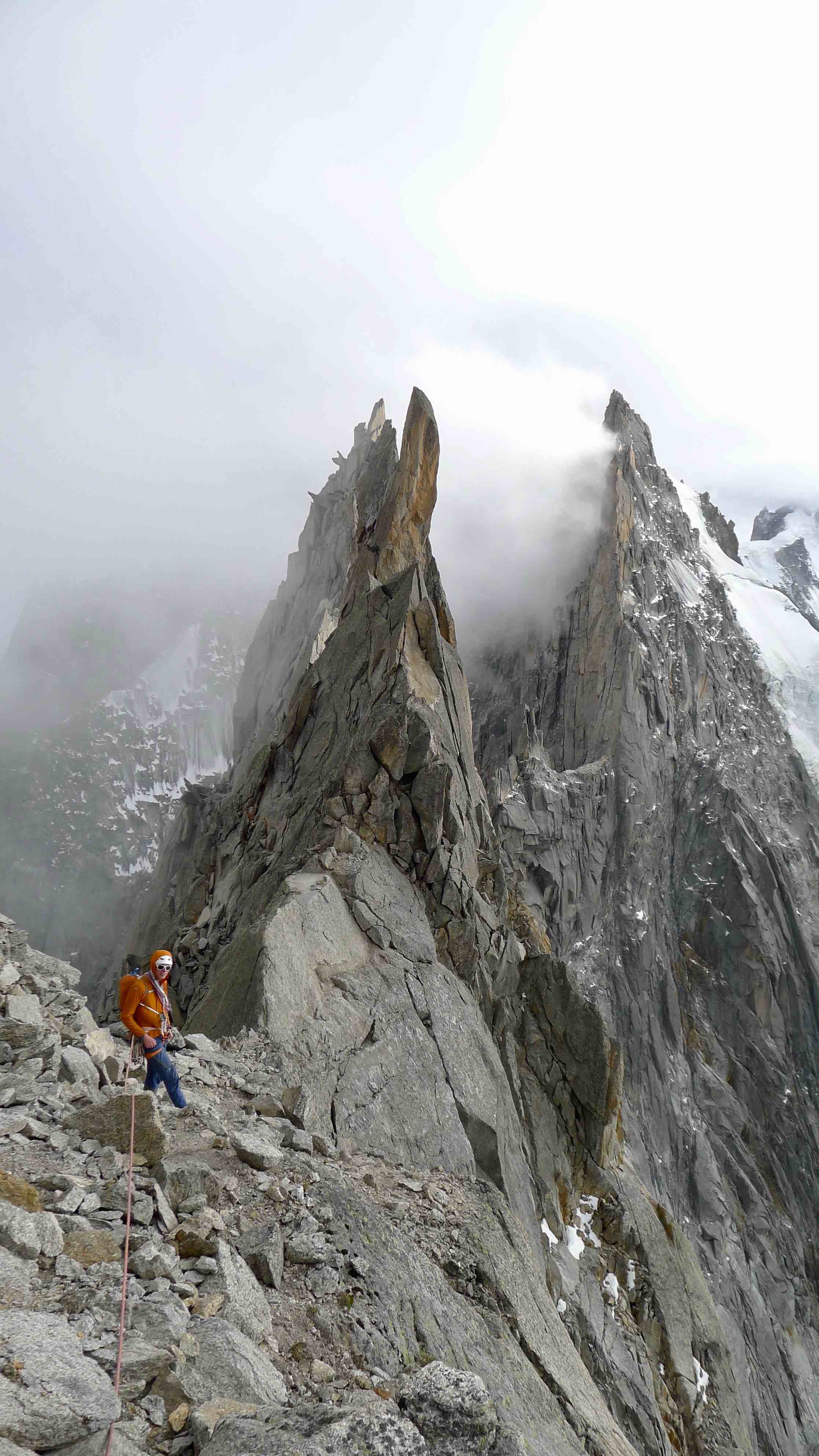 If you've climbed a lot recently, this could be a fun ridge to traverse. If not, it'll be a long and slow experience! Photo: Tony Stone
Be Smooth
Just keep swimming, just keep swimming. Dory had it right in 'Finding Nemo!'..........The Alps are big mountains, so keep moving, and try to be efficient and smooth. Anticipate what will happen next, or need to happen next. If you're at a belay, can you take a quick drink or eat some food? Do you know what the topo says about the next pitches? What do you need to do as soon as your climbing partner shouts 'safe'? It's all about minimising the faff.
Moving together is a great way of climbing lots of pitches in one go if the climbing and terrain is well within your teams ability, you need to shorten the rope to about 40m (any longer and it'll be a drag for the leader, and the second will be miles away). Consider the best techniques to protect both leader & second and practice these in the UK. Again, learning from experienced and knowledgeable people is best.
The Alps are made up of everything: ice, rock and snow. They all require different approaches with speed and safety. Be smooth at moving over each, and consider leaving your crampons on if it's 'snow but with short sections of rock.' If it's the other way round, can you do it all in your mountain boots but with an ice axe out just in case?
Example: Traverse of the Pointes Lachenal, Mont Blanc Massif
Practice roping up, taking coils and your crevasse rescue skills beforehand.
Before boarding the first cable car up to the Aiguille du Midi, have your harness on already, make sure your sunglasses are handy and you've put suncream on.
Before exiting the tunnel, Rope up, take the right number of coils, tie them off properly and put your crampons on.
Have a thin down jacket on top of your shell and base/mid layer.
When you're both ready to go, take off your down jacket if necessary and go steady down the Midi arete. 
(Take this detailed approach to everything you do, and you'll save hours! Being prepared and smooth makes a big difference).
For the Traverse, you might be able to leave your crampons on the whole way.
The abseil is 32m so you'll need a 60m rope.
As you approach the abseil, consider having a lanyard or cow's tail ready to clip into the abseil anchor, so you can immediately untie from the rope and thread it through the anchor. 
If you've found this easy, finish up the Arete des Cosmiques and/or Arete a Laurence.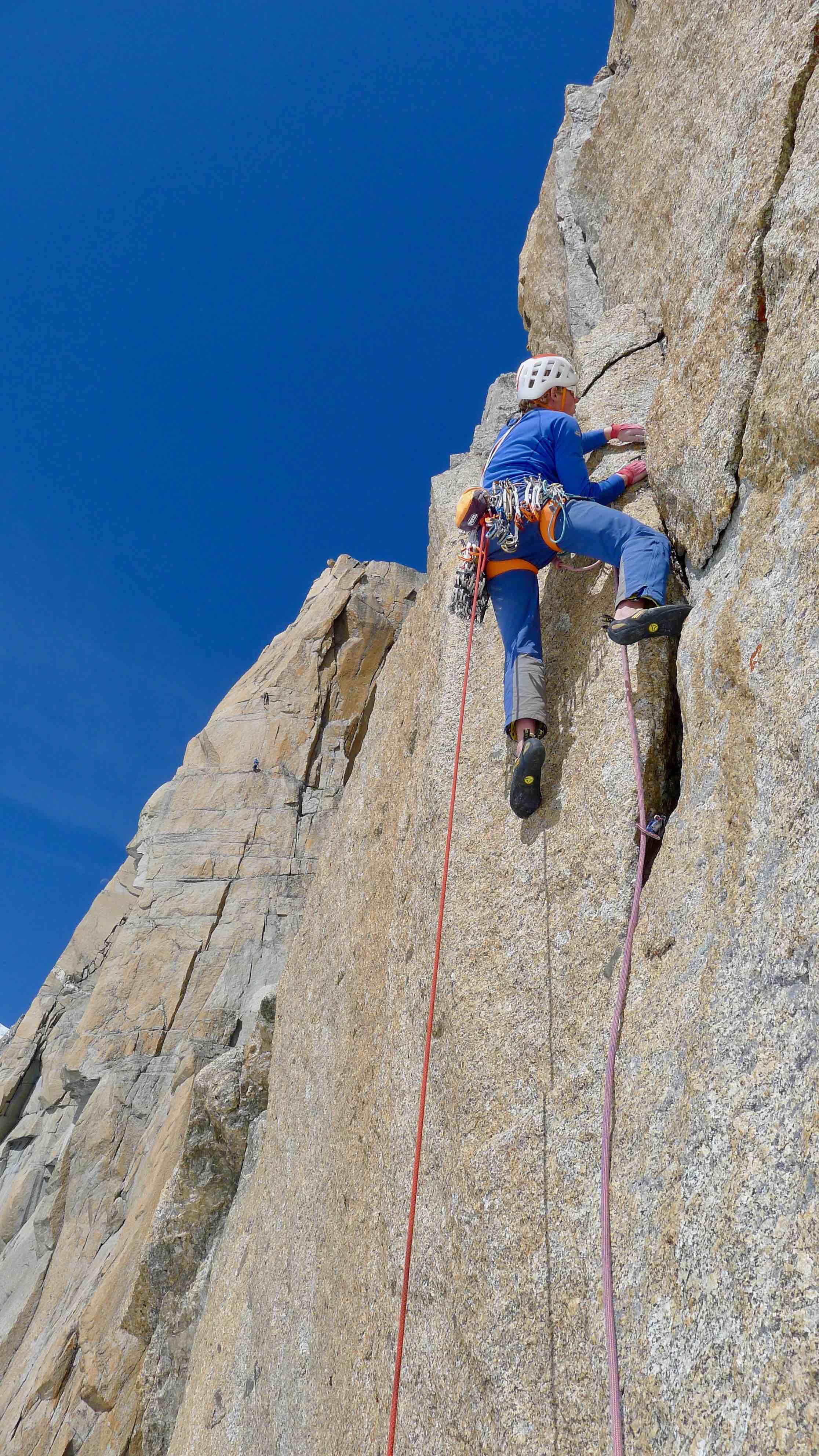 The more time you can spend climbing, the better! Make belay transitions slicker and consider ways to avoid climbing with a backpack. Photo: Tony Stone
Alpine Hazards
Unfortunately there are a few extra dangers when climbing in the mountains. Getting to the routes can often involve walking on a glacier, which harbours crevasses ('slots'), so be careful, give them a wide berth, start early while the snow is frozen and strong, and know what to do if you or your partner fall into one.
Crossing bergschrunds are also risky - sometimes they can be the crux of the day! Belay your partner as they cross it, and aim for the smallest/least steep section. Once across, belay your partner up (find some gear as soon as you can).
Seracs are enormous ice cliffs which can collapse at any time - although in theory it's best to cross underneath them early in the morning (for the same reason as crevasses). Take a break beforehand then go as fast and smoothly as possible through the danger zone. Don't stop until you are well out of the way. If the temperatures are hot and it's late in the day, consider other options, like a different descent or bivying until it's cooler.
Rocks which are usually glued in place by snow and ice can fall if they melt out. Again, starting early in the day minimises your time in the riskier areas.
The weather in the mountains also changes quickly and you risk being in the extremes of heat, cold and dehydration due to the weather. Look at several forecasts, and take appropriate actions.
Examples:
Suncream and long-sleeved tops for hot days, as well as approaching/descending outside of the hottest times in the day.
For cold days, take a lightweight down jacket like the Mountain Equipment Frostline or Rab Microlight and gloves.
Drink plenty of water beforehand and then 'little and often' whilst climbing. 
If you get into trouble, can you rescue you and your partner? If not, can you contact the rescue services? Do you have appropriate insurance? Take a fully charged mobile phone and know the appropriate rescue service to contact. 
You may also consider other teams on the route, who might be a hazard (could they knock loose rocks or ice down onto you?).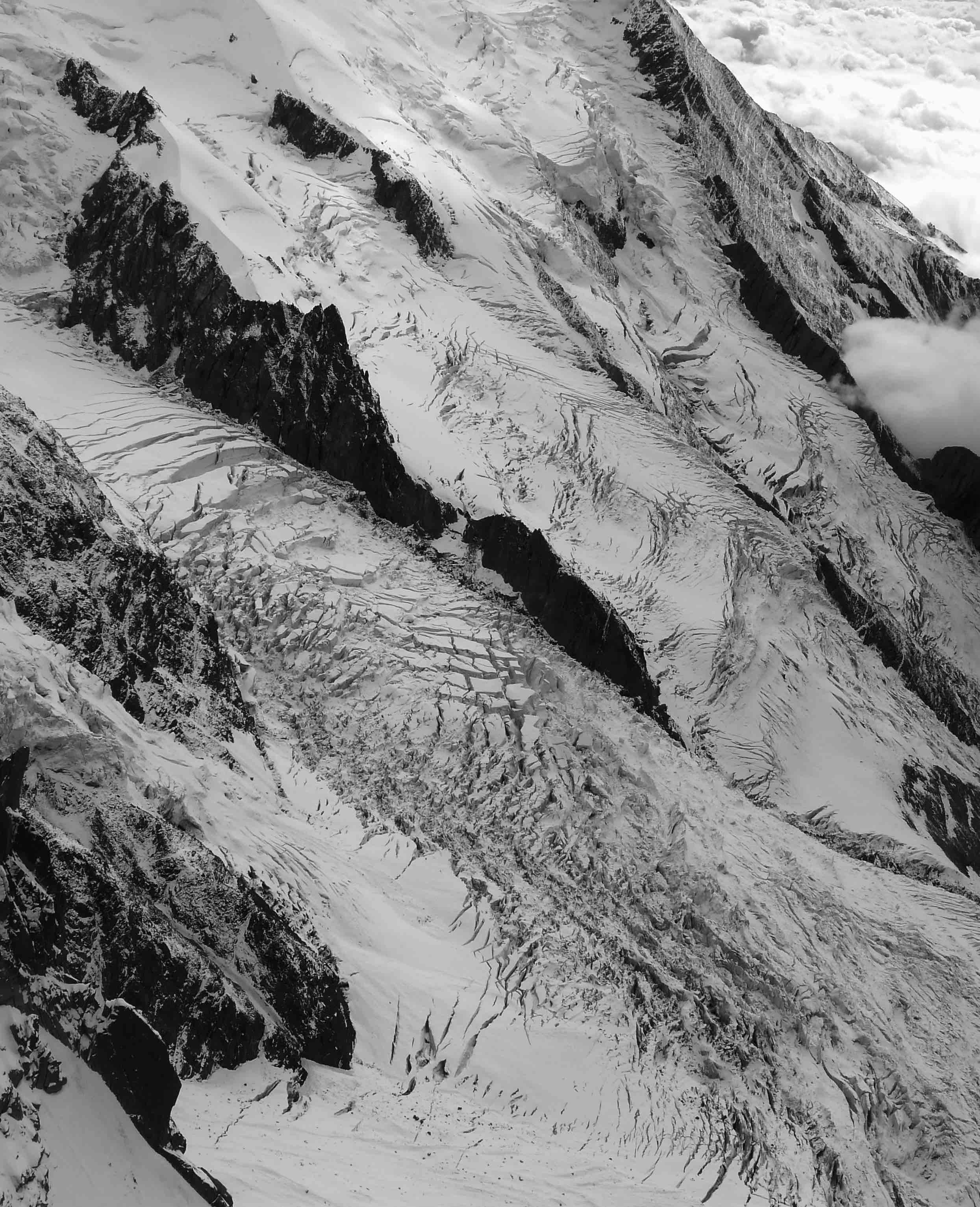 Could/would/should you cross this glacier?!
Gear
You want your gear to be simple, lightweight and (multi-)functional. It's very difficult to say exactly what you'll need to take on each route, as it depends on so many variables. But here's something which you can try: be analytical, critical and learn.
For example: ask yourself what you really need. Then take it on a route, and decide how well it performed, whether it was useful, and what might be better. Then learn, and next time you'll be wiser and more comfortable (hopefully!).
It's a good habit to critique what you take, and only by experimenting on smaller, less-committing routes can we then learn what to take on big routes. It's not always about taking less, too: some people get cold hands easily, so they take a long-sleeved jacket as opposed to a gilet, and wear thicker-than-average gloves. This means their hands stay warm, so they can climb more and get the hot aches less! 
The basics include mountaineering boots, ice axe, crampons, harness, rope(s), warm clothing, climbing gear and then food and water. If you bivy, you'll save money on huts, but take more stuff. If you go really light with your gear and approach, you might regret it, so be careful!
At the bottom of this article is a list of the climbing gear often taken to the Alps, to give the climber options depending on the routes they'd like to do.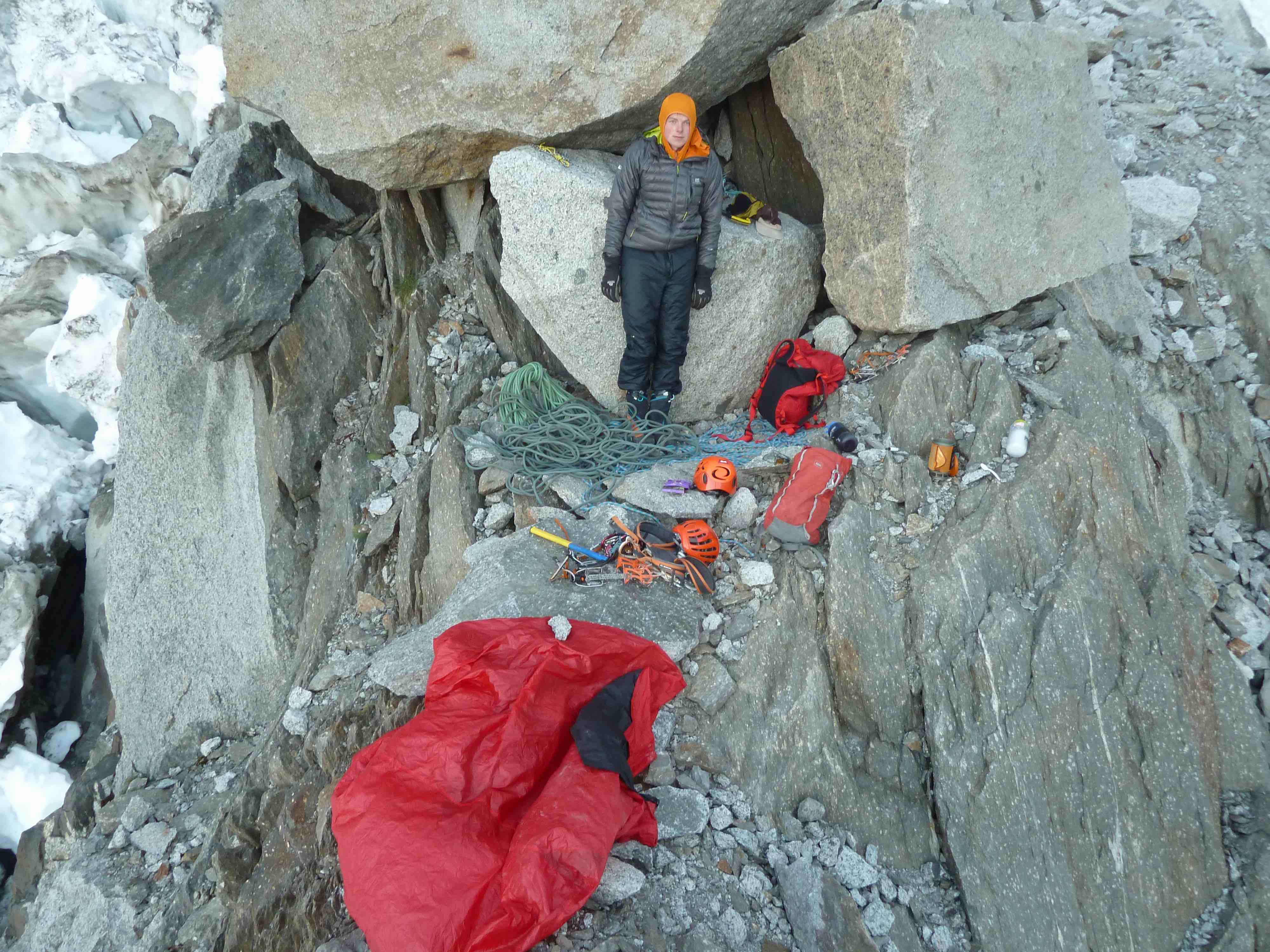 With just a bothy bag, insulated trousers and a jacket, Uisdean Hawthorn looks pleased to have passed the night after climbing the American Direct on Le Dru. Photo: Tom Livingstone
Future
Book your trip, and then you're committed to going! Consider the following areas:
Aosta valley (Italy)
Saas Grund valley (4000-er 'mini golf!') (Switzerland)
Ecrins National Park (France)
Triglav National Park (Slovenia)
Chamonix (France) The classic destination but maybe not the best for your first alpine trip.
There's absolutely loads of information online. For a start, click here.
You should also consider the environmental impact of your travels. If possible, take the train (usually much faster and cheaper than you think!) or lift-share. Be safe and enjoy!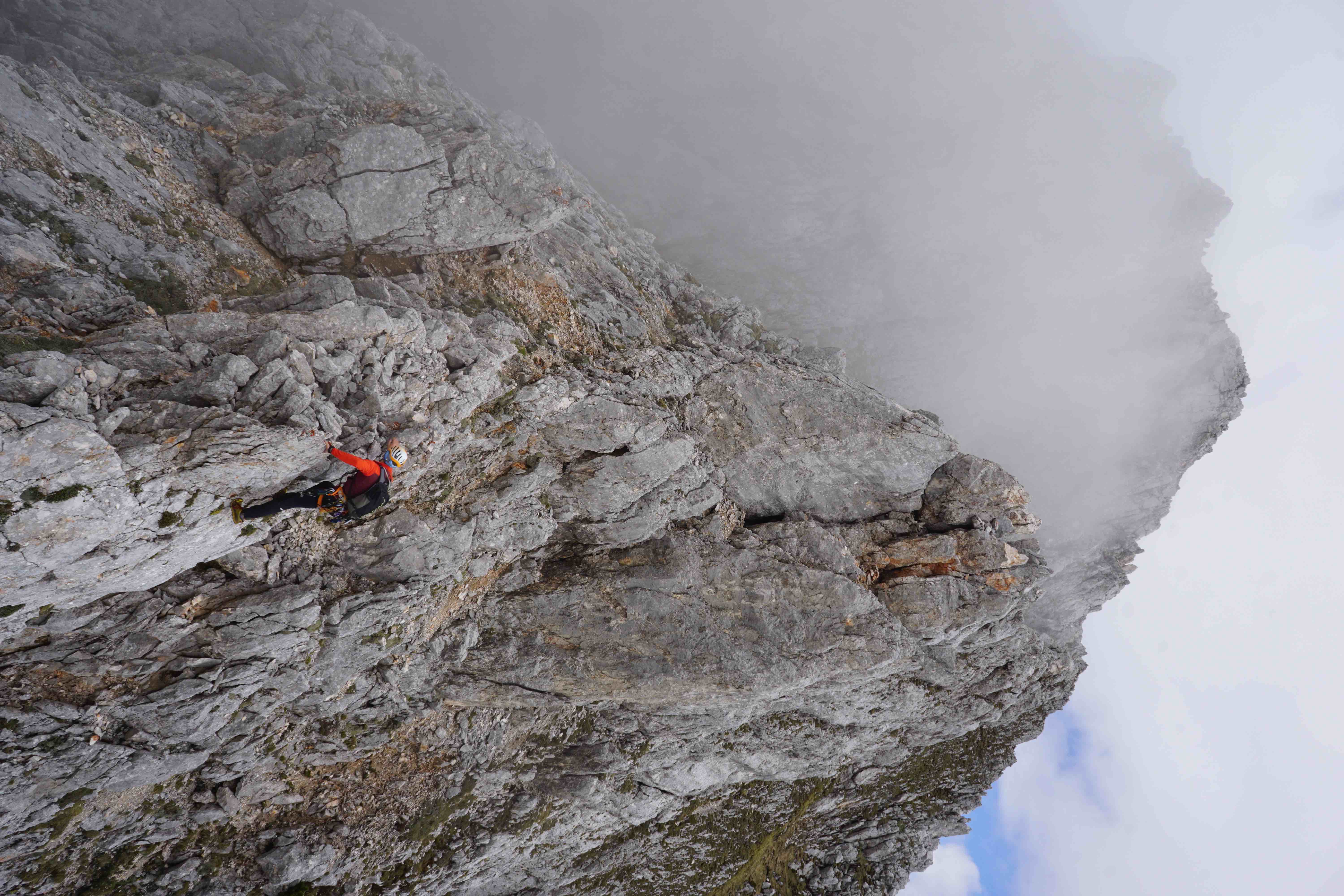 Slovenia's Triglav National Park is a fantastic limestone area which is easily accessible from Ljubljana airport, has many amazing ridges and faces to climb, and is a cheap destination to visit. Here, Matija Volontar climbs in the clouds. Photo: Tom Livingstone
Climbing Equipment

Petzl Gully axes x 2
Petzl Irvis hybrid crampons
Petzl harness
La Sportiva rock shoes
La Sportiva Mountain Boots
Chalkbag
Loose chalk
Petzl Sirocco helmet
6 slings
All cams
12 draws, 7 medium and 5 extenders
1.5 full sets of wires
4 locking biners
4 spare wiregates
3 pegs
4 medium ice screws
2 x prussiks
1 Petzl micro traxion
2 x 60m half ropes (Petzl Paso 7.7mm)
Sport rope (Petzl Volta Guide 9mm)
Tag line (Petzl RAD line)

Climbing Clothing

Mountain socks x 3
ME Eclipse salopettes
ME G2 mountain pants/Combin pants 
Soft shells
Icebreaker boxers
Base layers tops 2 short/1 long
ME Eclipse mid layer top
ME Kinesis
ME Frostline Down jacket
ME Skyline Down jacket
ME switch hooded Synthetic jacket
ME Tupilak Atmo waterproof Jacket
ME waterproof trousers
ME Aerofoil windshirt
Mitts 1 pair
Gloves 3 pairs
Liner gloves 1 pair

Sleeping Stuff

Single skin tent
Bivi bag
Sleeping bag (ME Firefly)
Thermarest
Foam mat
Pillow case

Cooking Equipment

MSR Reactor
Gas canisters
Spoon
Tupperware bowl
Nalgene 
2L water bottles

Other stuff

Buff
Cap
Beanie
Walking poles
Julbo sunnies
Sun cream/lip balm/mini first aid kit
Camera
Camera battery and charger
Petzl headtorch x 2
Spare batteries
ME Tupilak pack 30L
ME Tupilak pack 45L
Bothy bag
Topos
Guidebooks/maps