Mike Robertson, was one of the first climbers to embrace the potential and freedom of deep water soloing, leaving the rope and trad gear behind to rely upon the safety-net of the sea. Along with publishing many articles and photographs Mike has also travelled extensively, developing new routes and climbing old sea cliff lines as DWS. 
What was it like being in the 'golden age' of DWS, when it was a (relatively) new sport and there was loads to do?
The golden age of DWS was just that. Routes of all grades to tackle as first ascents. Entirely new crags to discover. All over Europe… Truly amazing times! We had it good, but I suspect that we didn't really fully appreciate the timing. It's a bit like living in the golden age of travel – you enjoy it to the full, without considering what life was like before, or what it might later become. It's a moment in time; absolute luck of the gods.
 
What was it like soloing Rocket USA in Swanage?!
Rocket USA in Swanage was my nemesis. It sort of pulled me in. It was one big MF of a route, with dodgy holds, spectacular moves, and much less water than I'd have liked, along with shallow boulders in the zone. It was crazy, it was a stretch of the S3 grade, but I was very psyched. When I topped out, the euphoria and relief I felt was immense. I was tripping out of my mind. Just such a brilliant experience. It was only when I soloed Caveman in Devon, years later and less fit, that I realised how terrifying Rocket USA actually was – Caveman felt almost sedate by comparison…
 
Your solos of various buildings have brought publicity for worthy causes. Would you still do it all over again? Any thoughts on these solos?
The buildings that I soloed for the Burma/Myanmar cause, the Eiffel Tower, and the Lloyd's building in London… yes, I'd do it all again. It means something, to put yourself out there, for something that you believe in. With those buildings, the climbing wasn't too bad, but the risk you're taking with personal freedom, and repercussions… that's the crux of it. Being shoved into jail, even if it might prove to be temporary, is a real leveller. The Eiffel Tower actually has a lengthy jail term set in place, as a protected monument, so it's as serious as shit. You could sneak onto it at night and climb to your heart's content… but it's not about that. It's about making a very visible and public statement. To be honest, it was a really amazing experience, and the support I got after the event was really incredible, especially from the climbing community.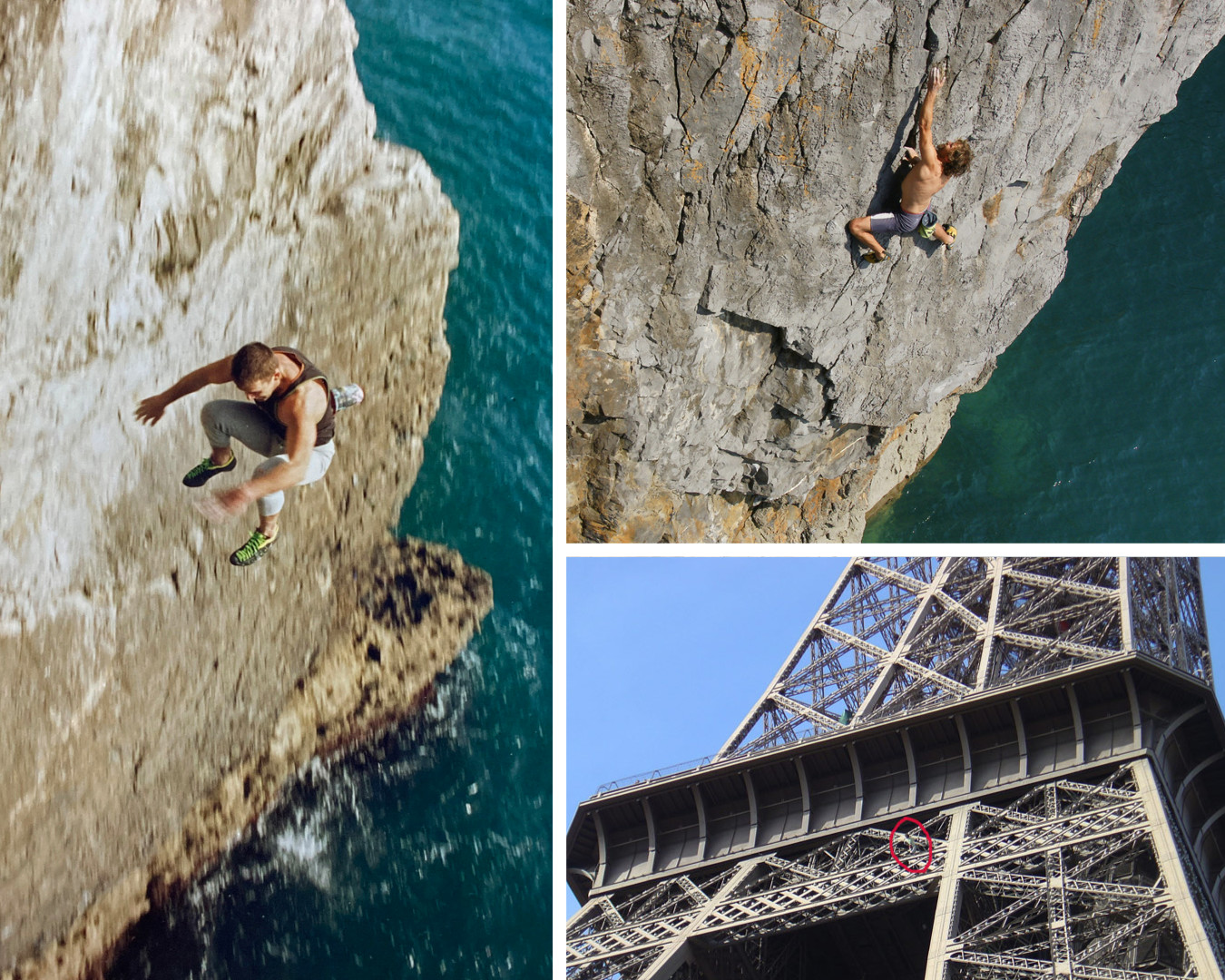 1992, and Mike's first real DWS fall, Freeborn Man, E4 6a. Credit: ??? - Anniversary Waltz, The Castle, Pembroke. E3 5c.  Credit: Linda Roberts - Eiffel Tower, November 2007.  Credit: Peter Lash
How has your photography influenced your climbing, and vice versa - your climbing influencing photography?
For me, the writing and photography sort of happened by accident. It was an extension of what my life had become, as a climber and explorer, and it went hand in hand. It enabled me to continue on the same path, with some much-needed funds dribbling in. I was part of some really radical trips to far-flung places, and those experiences I still value a lot. Cuba, Mongolia, Africa, Asia, and many more besides. And it linked up with the new-routing, and led to guidebook work with both the Climbers' Club and Rockfax. Which led to the publication of my DWS guidebook 'Deep Water', which was an absolute dream for me. It's a case of pushing, to see what gives, and what door opens up first. I pushed a LOT!
 
Which trips have stood out most? Any hilarious/hairy moments?
Trips exploring for DWS – the stand-out moment, and one which will always be unforgettable… Standing at the top of Diablo in Mallorca in 2001, and looking over the edge for the very first time. Miquel Riera showed us the crag, and I don't think he knew what he was letting himself in for… Us lot strung out all over the crag, like ants, just moments after arriving there. I just couldn't get my rock shoes on quick enough. What a memory, and what an incredible crag – I don't think it will ever be equalled. It's the dog's nuts.
Hilarious / hairy moments – oh, I think quite a few of both… Pouring vodka down Neil Gresham's throat in Mongolia, in order to 'cure' him of a vicious stomach bug… Being arrested with Seb Grieve in Rio de Janeiro at gunpoint in 2000, for 'breaking into' our apartment (lost key), being arrested a few years later in Turkey at gunpoint whilst sleeping in a field… getting pumped utterly senseless on a badly thought out solo ascent of Out Of My Mind, in Pembroke… getting 'a bit' lost on a 600ft 5-pitch free solo in Colorado's Eldorado Canyon… and then there was that naked hitchhiking photo shoot on Portland in Dorset, during the first-ever DWS fest in 1998… ask Ray Wood about that one!
 
What have been your climbing highlights? Can you pick a couple of each type (DWS etc)
Climbing highlights – I'm very lucky to have had so many. A few that stand out? The first ascent of The Vanishing, down at Conner Cove – man, that was a mighty fine day, and one of my favourite DWS routes, ever. Ditto the first ascent of Crab Party, on Portland – brilliant. Climbing Gaia at Black Rocks – just about the best roped thrill on planet earth? Just wow. And free soloing the 400ft route The Line, at Lover's Leap, in California – ahh, such quality, I wish I was back there right now…
 
Finally, one random question - if you were stuck on a belay ledge, who would you most like to have for company? 
 
As for lively company on a belay ledge… If that includes anyone, alive or dead, I think I might have to opt for Steve McQueen. I'll bet he's got some good stories. But if we're talking alive… of course it's Andy Kirkpatrick. He's the man.
 
You can view some of Mike's images here and purchase his guide to DWS from Rockfax here.