Introduction
Mountain Equipment describes this jacket as 'for those requiring the very best all-round performance and absolute protection for mountaineering in all weathers.' As a full-time professional Mountaineering Instructor, I'm out in all weathers, all year round. Reliable protection from the elements is essential, so this description sounded extremely encouraging.
Over the years, I've had a number of different jackets from Mountain Equipment; mainly the Kongur, which I used during the autumn in Snowdonia and winter in Scotland. My Mountain Rescue jacket has been heavily used, and my branded work jacket (which I've been using for a few winter seasons) has been an excellent workhorse. Therefore, I was keen to see how the Lhotse would fare in the 'monsoon season' of late summer in North Wales.
First Impressions
Straight out of the packaging, this jacket felt like a well-engineered garment. Initially, I was a little unsure at the colour scheme, but it fitted extremely well in my living room…
Hood
In my opinion, waterproof jackets have a couple of insurmountable flaws: gaps for your hands and your face which let the elements in! Therefore, in order to give the best protection, a well-fitting hood makes all the difference in reducing rain running down the back of your neck or dribbling across your face. A large proportion of my time on the mountains is whilst wearing a helmet, so a snug-fitting hood for both with and without a helmet is very important.
I found the adjustments at the back of the head and around the face simple and effective, and the hood scrunched down nicely when not wearing a helmet. I've always liked the mouldable wire cap on Mountain Equipment hoods, and this one worked well too. The width of the cap seems wider than my older jackets, which again helps with reducing drips to the face.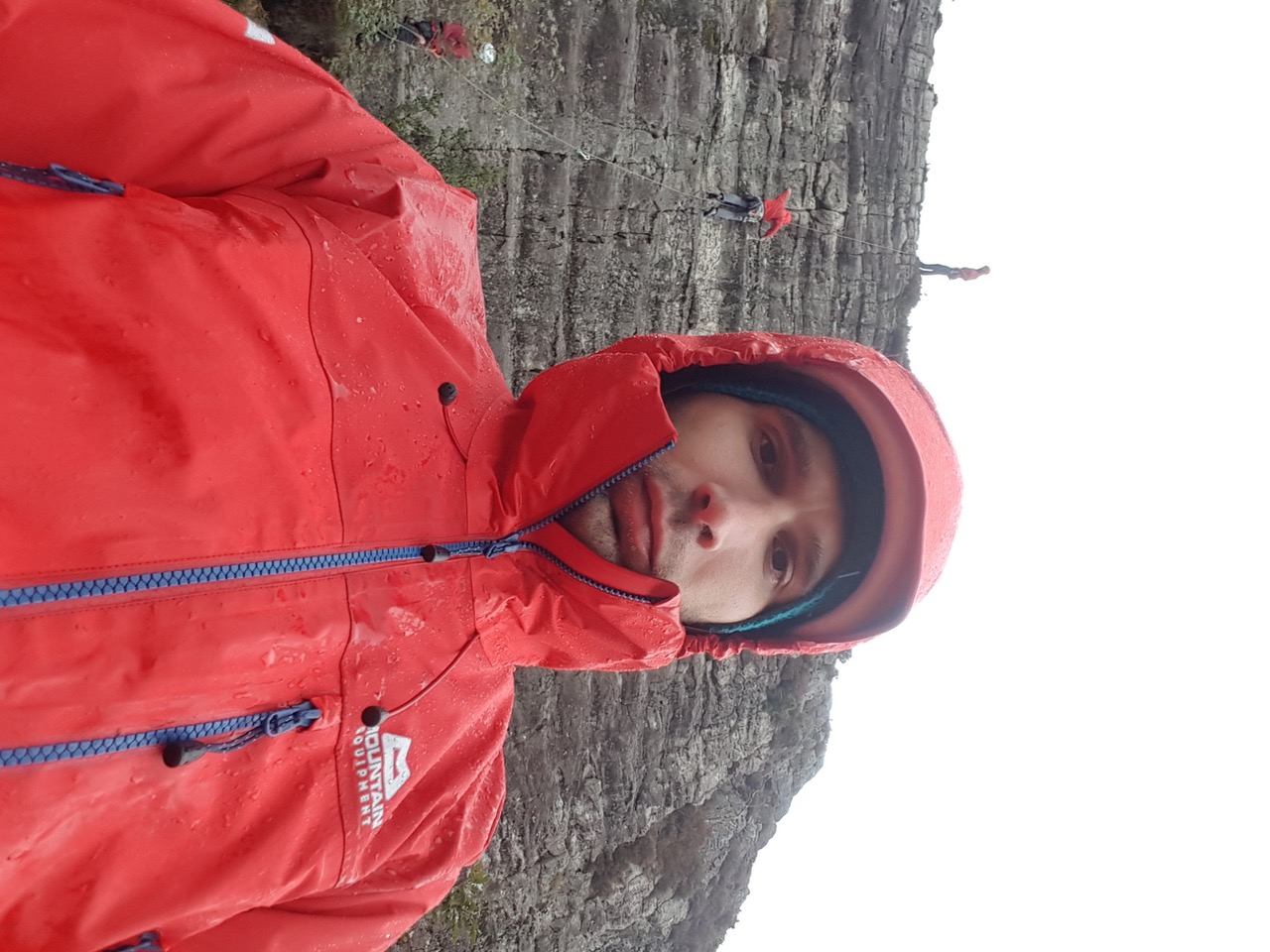 Cut
I seem to sit awkwardly between sizes for a few manufacturers, but this jacket seemed perfect from the off; big enough to move with me and to layer underneath, but not baggy or flappy in the wind. I climbed and scrambled a lot, and found the articulation surprisingly good - especially as the fabric feels slightly stiff and heavy in your hand.
Pockets
Surprisingly, pockets were one of the features I was most impressed with. The large Napoleon chest pocket was voluminous enough to stuff in a map which had been badly packed into a case, and it still had room for a pair of gloves. The diagonally offset zip is a nice ergonomic touch to allow easy access. The hand warmer pockets sit neatly over a harness and are high enough not to pull out of a harness if you do actually use them.
Zips
Zips can often be a weakness on jackets, allowing water into pockets, through pit zips, or the main zip can catch on storm flaps and underlying layers. On the Lhotse, all the zips feel chunky, slide well, and the jacket came with an alternative colour of zip pulls. The pit zips are really well positioned, and I found they were easy to operate with very little familiarisation. The storm flap is well thought out (although I'm not a fan of them) and, as of yet, I haven't caught it while zipping up or down.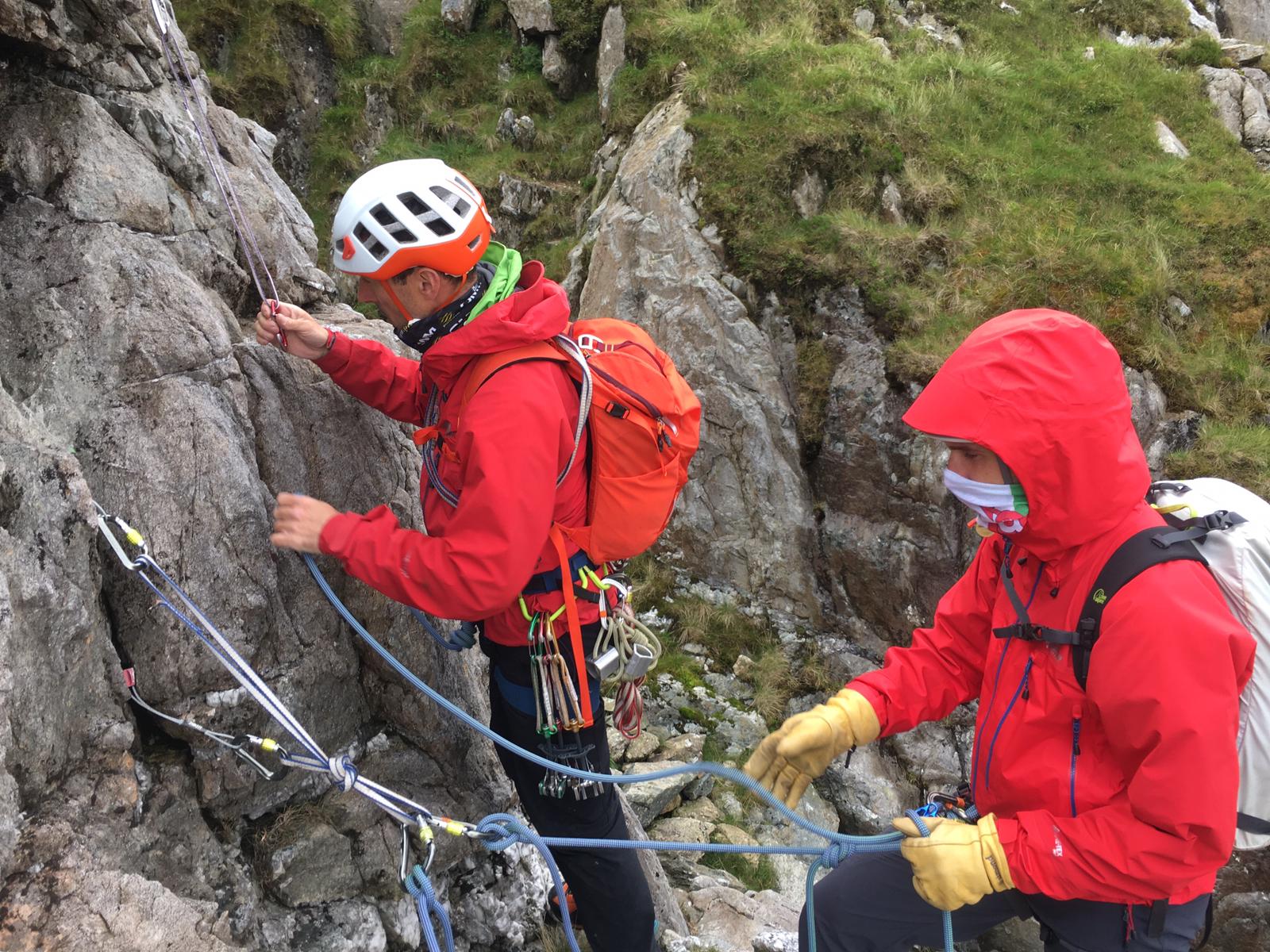 Cuffs
Cuffs are often a critically overlooked part of a jacket. They make it easy to adjust the sleeves for use with or without gloves. They must be big enough to layer over gloves with gauntlets, and be tight enough not to allow water ingress as you lift your hands over your head whilst climbing. It's a tricky thing to get right.
The Velcro on these cuffs seems sticky and the tabs are big enough to be operated with gloves. As it was technically summer when I tested this jacket, I was still out and about rock climbing and scrambling; on one memorably awful afternoon, the crag felt like a waterfall, but I had only very little water running down my sleeves.
Waterproofness
I have low expectations of waterproofing on jackets due to so many days spent out in awful weather. However, I was again impressed from the start with the protection that this jacket gave. GORE-TEX Pro has some impressive guarantees; GORE-TEX say that this is their most durable, breathable and dry fabric 'ever.' They have backed this with a 'guaranteed to keep you dry' promise which shows how confident they feel with how this material will perform.
The Lhotse has reinforcement in key areas, which I expect will vastly increase the durability on tough days out in the mountains, whilst grovelling up thrutchy winter chimneys, for example.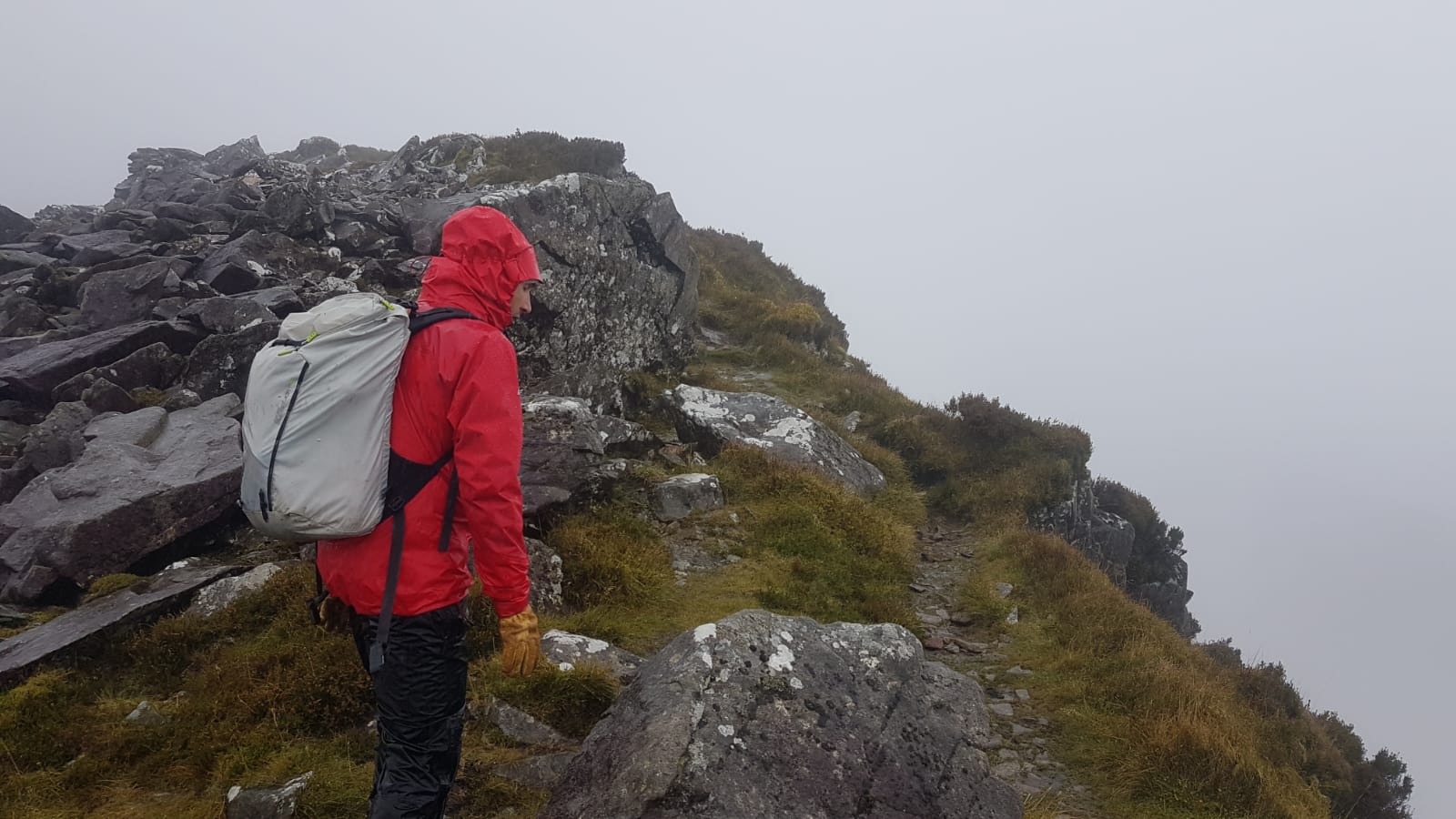 Summary
I think the true test of a product is whether I would spend my own money on it (I received this jacket for free). Having used the Lhotse on a couple of days of torrential rain and stayed dry and comfortable, I'm definitely impressed. While this jacket isn't the cheapest, lightest or most compact, if you're looking for a bombproof jacket for all-day wear in the UK mountains, this would be very high on my list. In fact, I think for winter mountaineering in Scotland, this jacket will be pretty much unbeatable, and I'll be adding the matching trousers to my wardrobe this winter.
You can view the Mountain Equipment Lhotse jacket here.
Simon Verspeak is a Winter Mountaineering and Climbing Instructor predominately based in North Wales, with Scottish winter seasons thrown in. He's a keen mountaineer and alpinist and likes Himalayan big peaks too. You can find him at Twitter and Instagram and online.