Introduction
Edelrid says the Sirana is an 'all round alpine harness,' which means it's designed for alpinism, sport climbing and multi-pitch rock routes. It comes with a single buckle waist adjustment system and fixed leg loops, so it's straight-forward to put on and fit the harness. It has five gear loops and two ice screw holders. Striving to find the balance between weight, compactibility and comfort, the Sirana makes a compelling case.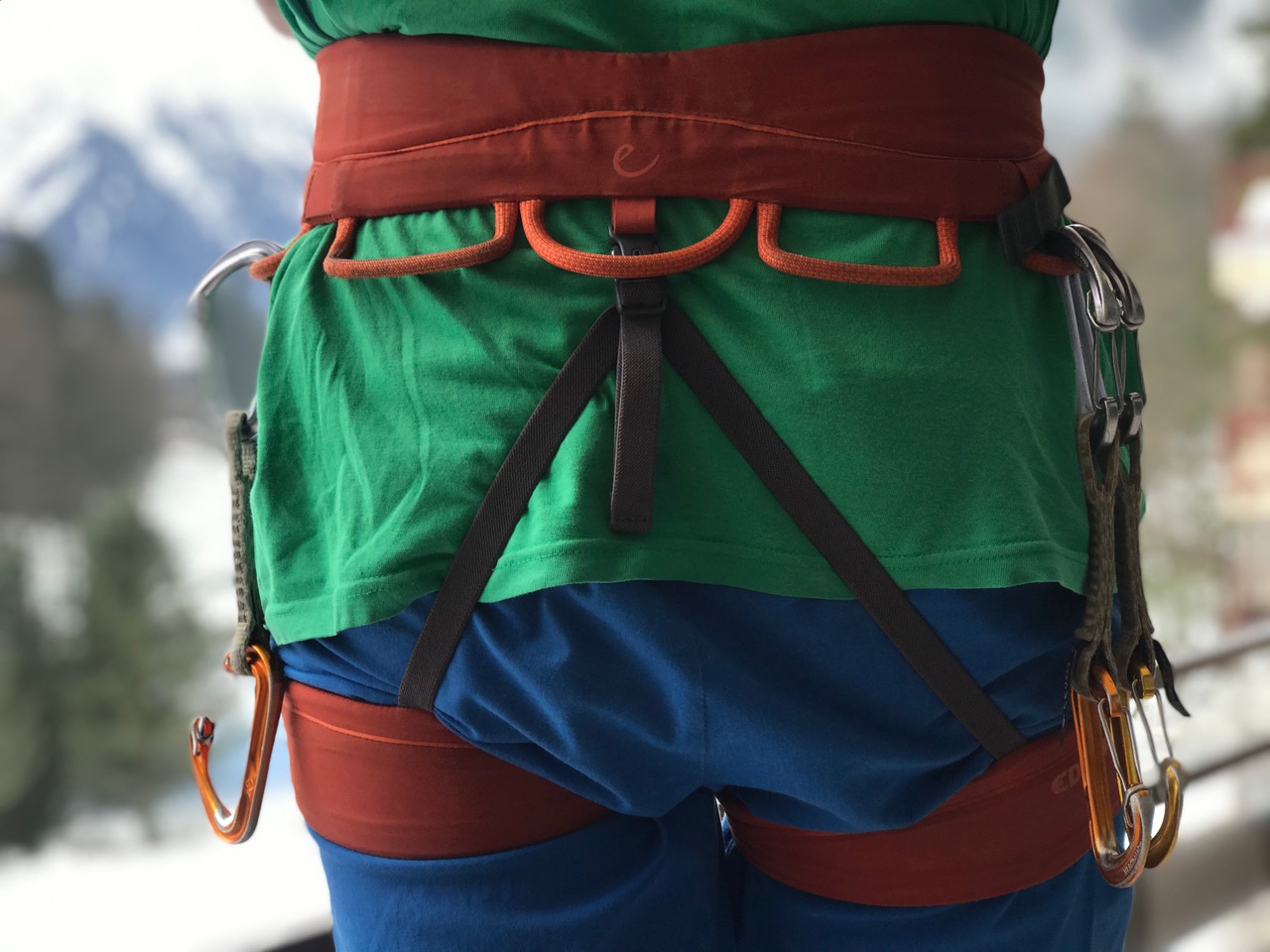 The Edelrid Sirana. Photo: Luke Davies

I've been using the harness for the past six months in a range of different styles of climbing: from alpine routes and ice climbing, to sport climbs (and even taken it skiing once). I've found it to be very light, whilst still pretty comfortable to wear for long days out, thanks to a decent amount of padding. It also compacts down to a very small size (smaller than any harness I've owned before), thanks to it's 'Soft frame construction,' which is a big plus for contested bag space. The only slight issue I've found is with the sizing.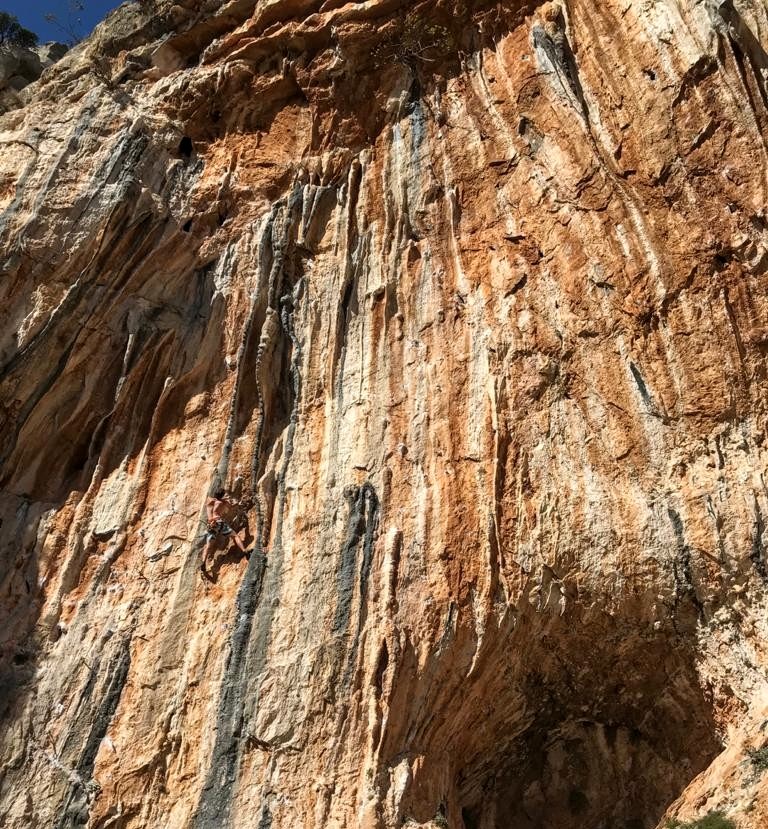 Sirana's sport climbing capacity being tested in Leonidio. Photo: Lindsey Dolan
Features
The harness comes with 5 gear loops (all of a decent size) and two screw clipper loops. All the gear loops are relatively stiff, making clipping and unclipping easy. The breakdown of the four gear loops is as follows: two on each side (which are very large) and one on the back (a lot smaller, but useful for storing trainers, tat or clipping a tagline to). Over my time using the harness, I've found this more than enough for all the climbs I've been on and never felt too tight for space. 
The harness adjustment is a single, auto-locking buckle on the right hand side. In my mind, this is quick and easy to use and reduces the amount of fabric that can flap around and get in the way.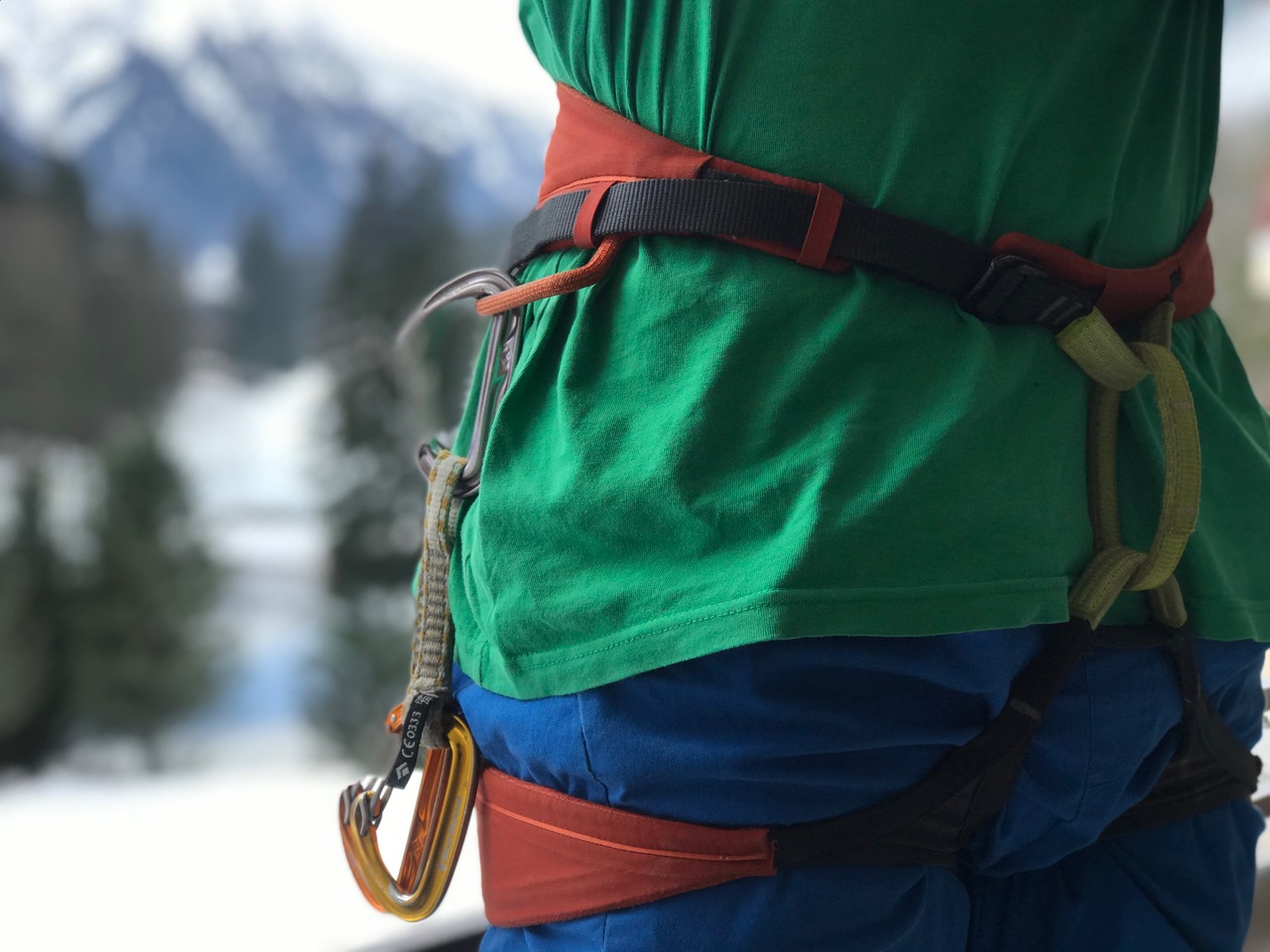 The Edelrid Sirana. Photo: Luke Davies
Sizing
The harness has an adjustable waist and non-adjustable leg loops (that do stretch, however). The advantage to these are the ease and simplicity to put on and also the lack of weight.
However, my main qualm with the harness is that I found the leg loops particularly tight in comparison to the adequately spacious waist. I have been using a Medium size harness and went to check on Elderid's website to see if I had disproportionately large thighs (I do quite a lot of skiing and mountain biking) and found that I sit firmly in the Medium category in both waist and thigh size, so can only assume that it is designed to be slightly tight. As someone that wears a range of different clothing with the same harness throughout summer and winter, personally I would favor slightly larger leg loops that would increase comfort. However, for others, particularly those with smaller legs in relation to waist size, the harness probably sizes well.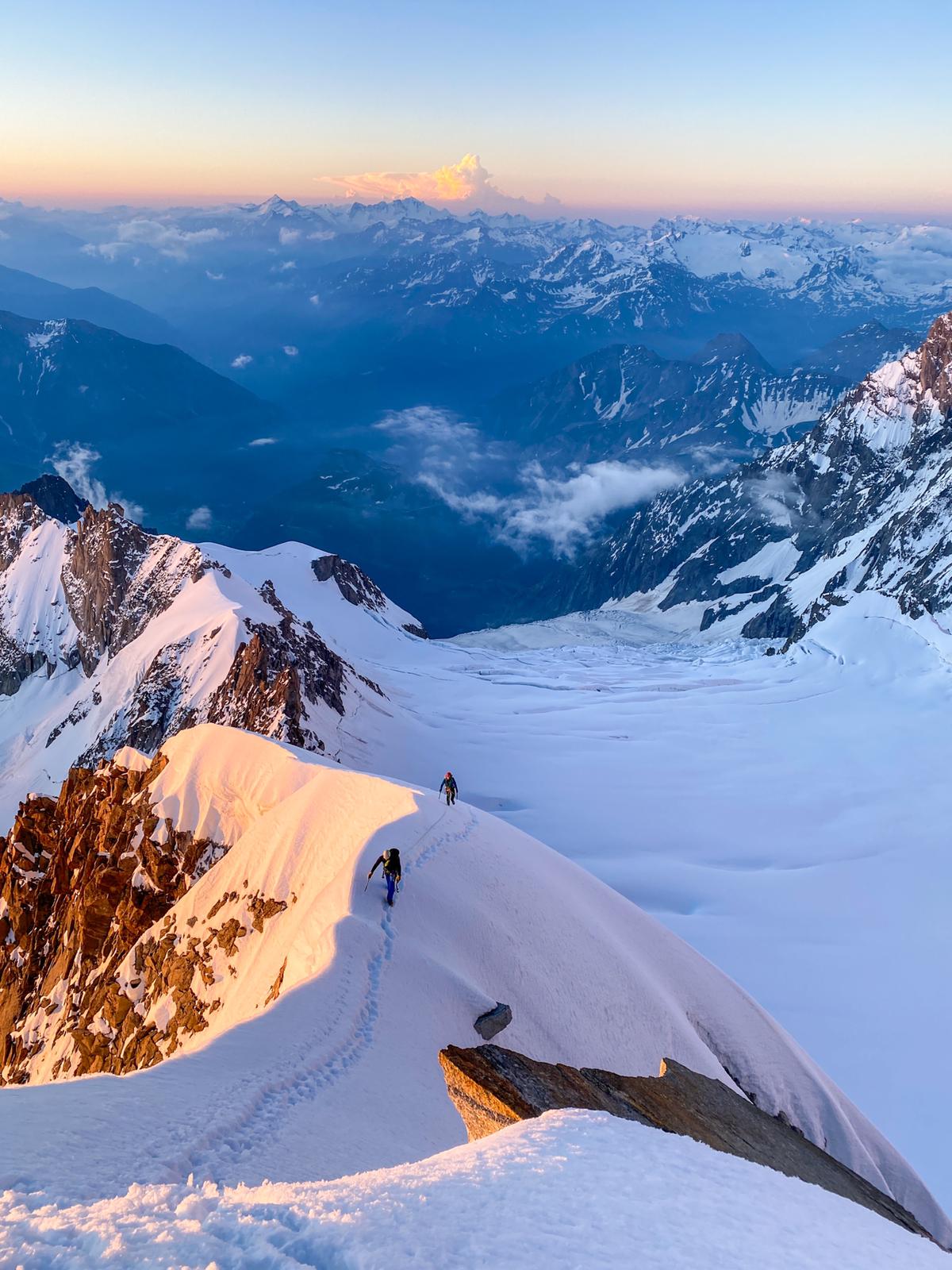 Sirana's light weight coming in useful on a quick ascent of the Kuffner. Photo: Charley Radcliffe.
Weight & Comfort
One of the harnesses strongest points is it's weight. Coming in at 282g for size Medium, it's as light, if not lighter, than 'all round alpine' competitors from Arc'teryx and Petzl and in Elderid's own range, it seems to sit (in weight and padding) somewhere between the ultra-light Ace and Prisma range, and the slightly heavier duty Sendero.
Elderid have done very well to keep the weight as low as possible whilst balancing the comfort level, as they have avoided a lot of the 'webbing construction' that other manufacturers use in order to reduce weight. This can have a knock-on effect in a lack of comfort and durability. The good comfort of the Sirana makes it a great all round harness for all types of climbing. The waist belt feels relatively comfortable thanks to the weight-spreading construction and lightweight materials. It's never going to be as comfortable as some of the larger harnesses with more padding and adjustable leg loops, but with the constant struggle to reduce weight in alpine climbing, it hits a good balance point between comfort and weight.

Pricing & the Environment
Another big plus of the harness is it's price (around £55 or €70). This is considerably cheaper than it's competitors from Arc'Teryx and Petzl, which are over £90/€100. This is definitely a consideration for the tight alpinist.
Lastly, the Sirana is made with the strict Swiss
bluesign
 system requirements. This means it's been made with fewer resources than normal and with the most environmentally-friendly materials possible whilst taking into consideration safety and weight. This is a nice touch for equipment manufactures in a sport that sees first-hand the effects of climate change in the alpine environment (and probably contributes to it with travel!).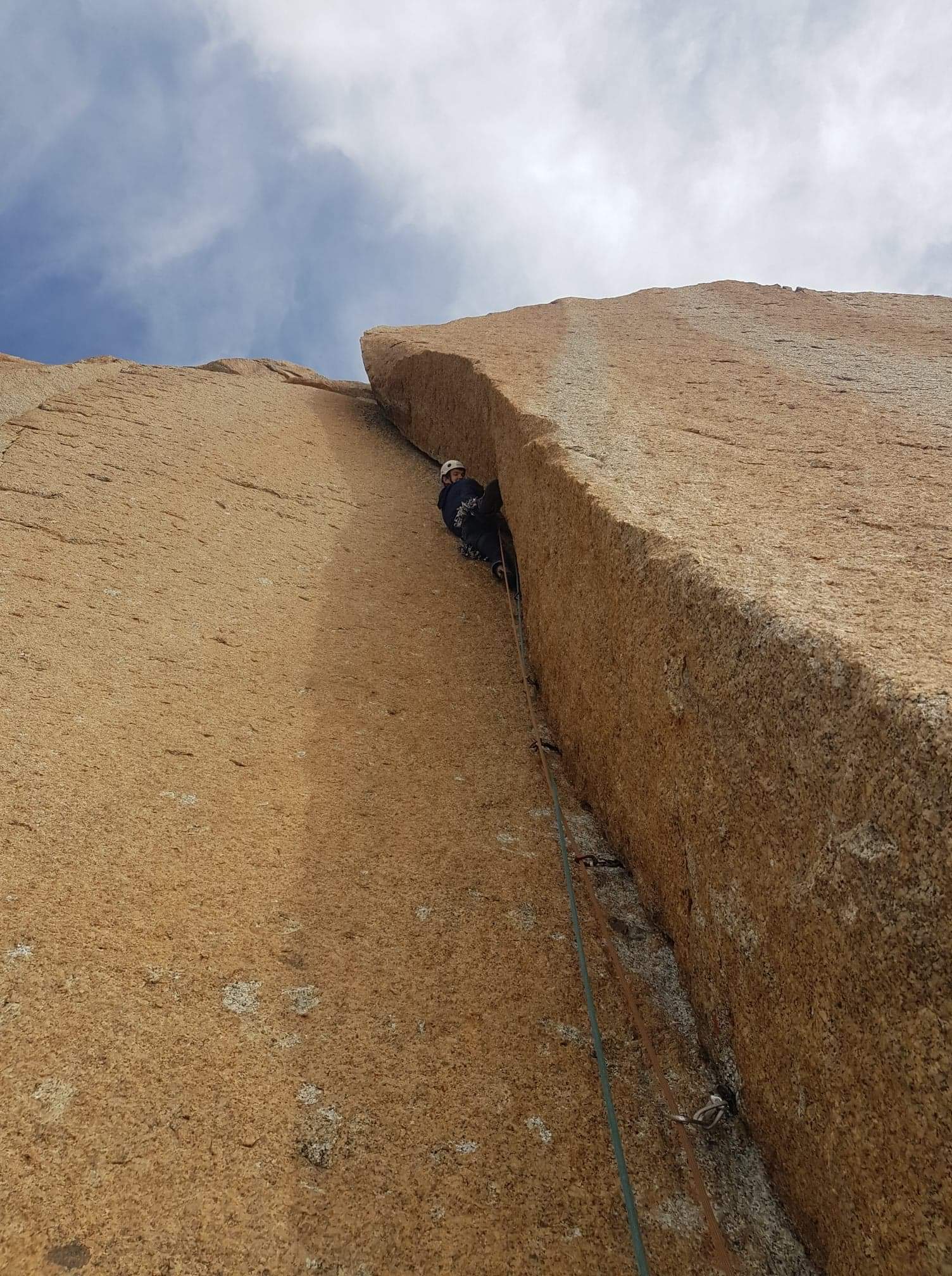 The Sirana racked up on the Aiguille du Midi South Face. Photo by Alex Kay.
Conclusion 
Overall, I think the low weight and compactibility of the harness really shines considering the price. It would be hard to find a harness that balances the level of comfort it provides with such a low weight and price range. This makes it a good all-round harness that can be used from single pitch sport climbing in the sun, to winter alpinism and long days in the mountains - and even skiing to approach climbs. My only critique is the leg loop sizing, so I would try it in a shop, if possible, before buying. For climbers concerned with weight versus comfort, and looking for a 'one harness does all,' the Sirana is definitely worth looking at.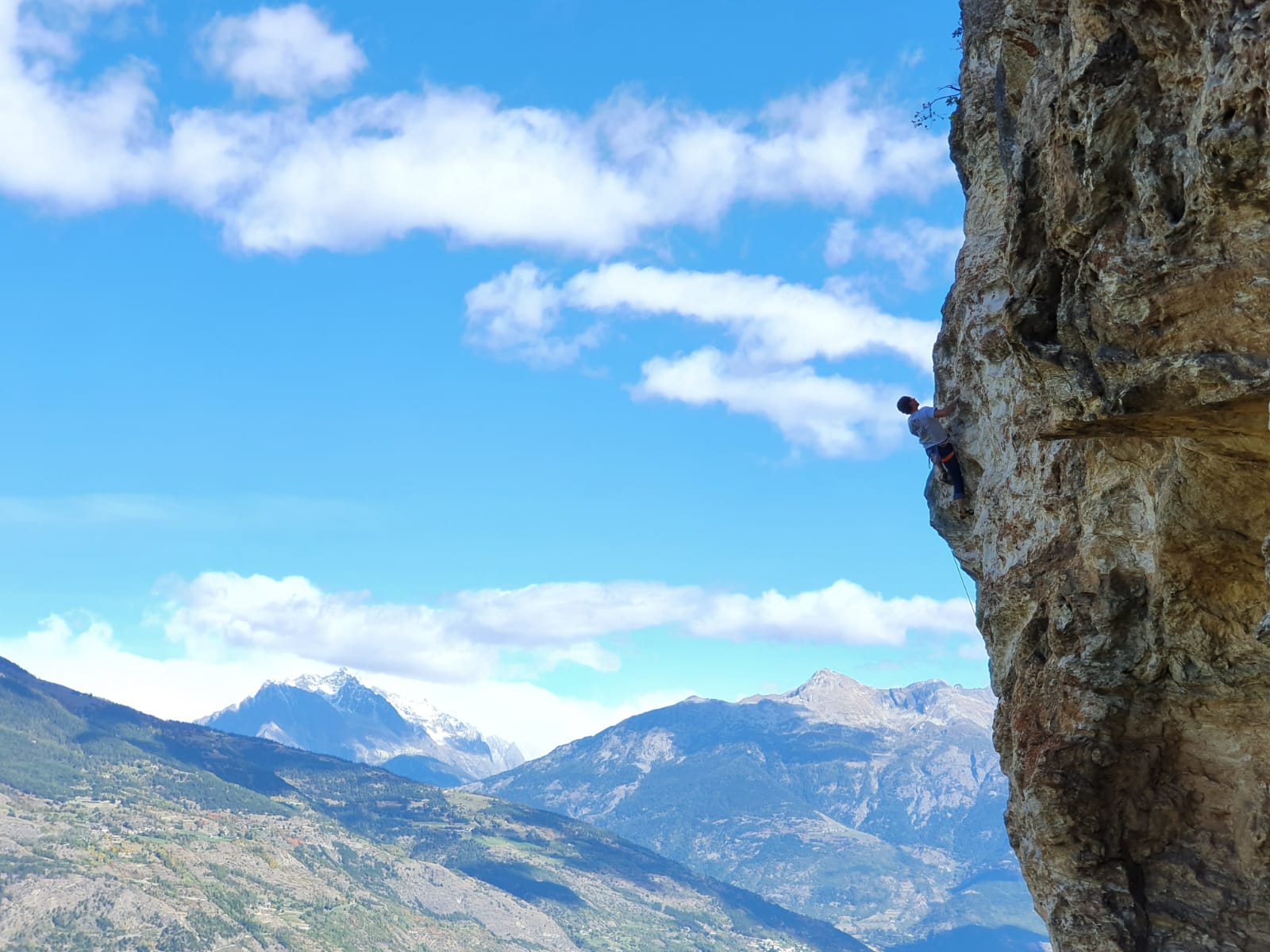 The Sirana enjoying autumnal conditions in Italy's Aosta valley. Photo: Tim Oliver.