Many years ago, the now defunct Climb Magazine ran an article by the great boulderer Bernd Zangerl on bouldering in the Himalayas. I've searched and have yet to find it, but I distinctly remember several things about it: firstly, a striking photo of a long, sweeping arête; second, the fact that here was someone who had travelled to play on the boulders; and third was a quote that I cannot remember exactly but whose sentiment said "I do not feel the need to stand atop mountains to be able to enjoy being around them".
I dearly wish I could find the actual quote but I have recently come across both the image and (somewhat unsurprisingly) the author in his new coffee table book Bouldering, Climbing: No Ropes Attached. For someone like myself, a climber who personally shuns ropes and harnesses these days in favour of pads and problems, the fact that this book even exists is a welcome sight. That it has come from one of bouldering's greatest exponents both adds credence and instant levels of respect.
The fact that Zangerl has managed to create a book dedicated to this single discipline to rival Chambre's 9th Grade tome may come as a surprise to some but Zangerl has managed to tread the fine line between succinct and detailed and he's done it brilliantly. Eleven chapters chart a healthy word count, suggesting that dragging this to read at the boulders may be optimistic, but interspersed the text with some staggering photography of some of the world's very best boulderers and photographers.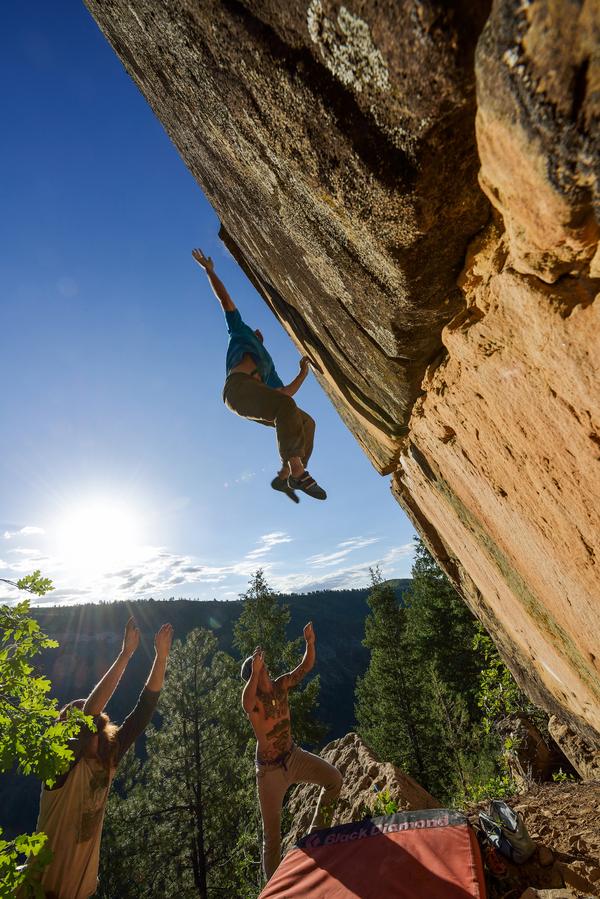 Photo: Ray Demski
Indeed, many of these same climbers are profiled in Chapter 5: Portraits of Boulderers, with 22 boulderers given a page a piece to explore not only their achievements and adventures but as the book itself states: "These are their stories". Many of their names are synonymous with bouldering – John Gill kicks it off before profiles of stars such as Jacky Godoffe, Fred Nicole, Nalle Hukkataival and Charles Albert – but considering the homogenous nature of our sport, there are five women on the list, as well as a healthy range of nationalities.
The book certainly seems to have a nudge towards inclusion too. Chapter 3 focuses on Starting Bouldering, peppered with advice to get people involved in the sport: a definition; the obligatory list of necessary kit that starts with "comparatively little equipment" before a sizeable list (this is pretty standard practice in any similar book); and some insight into training and while the pictures in this section may well inspire someone to take up the sport, the image of "Italian Niccolo "Niky" Ceria doing a front lever on a road sign in Norway" may have been better placed elsewhere… As much as it is admirable to attempt to appeal to beginners, I certainly felt this is much more a volume aimed more at dedicated enthusiasts than those dipping their toe in bouldering.
There's also a chapter on Bouldering with Children, whose inclusion is obviously influenced by Zangerl's own experiences both as a youngster growing up in Flirsch am Arlberg – found in the initial essay chapter: Inspiration – and as a coach in his native Austria, where he gives children their first experiences with the sport the author clearly and dearly loves.  However the chapter itself is written by "health philosopher, biologist and training scientist," Dr Josef Wiesauer and is possibly a little too scientific and deep, even including 14 academic references that seems slightly ironic given the chapter in which it appears.
Zangerl certainly seems to hold his views dear. Chapter 10 looks at Competitions although only touches briefly on what could be a much deeper topic. Likewise, Chapter 7: An Overview of Bouldering Regions Around the World gives far more attention to some areas than others. Yes, France, Switzerland and the US certainly deserve more attention than most but countries such as the UK and Spain and Portugal get one a single paragraph each. Zangerl does state "Unfortunately, I have not visited bouldering areas in these two countries myself and therefore can't give any personal impressions" but surely another contributor could've been found to offer a better insight. Nevertheless, the effort to highlight major climbing areas all over the world, on every continent, is certainly there and again, a great effort to appeal to a wide audience and the phenomenal photography throughout the book is literally scattered all across the world.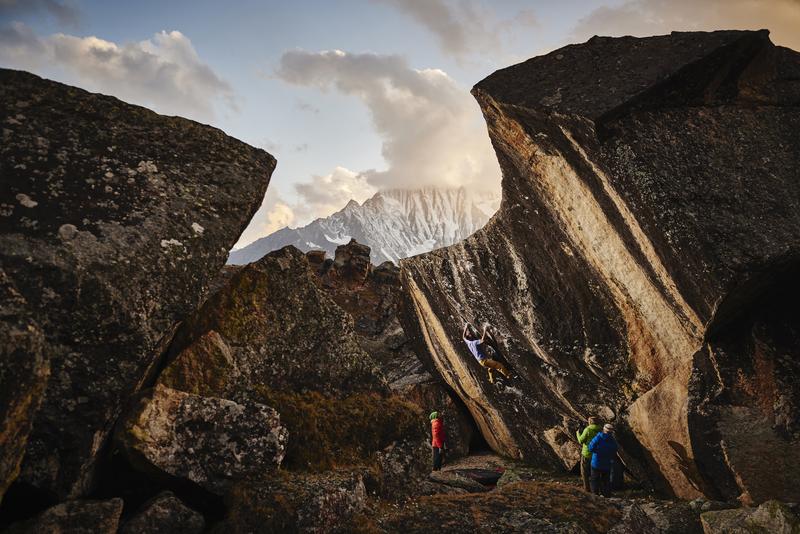 Photo: Keith Ladzinski
The world, and the importance of us looking after our planet, gets its focus in Chapter 8, written by journalist and editor Klaus Haselböck, culminating in "10 Principles for Sustainable Bouldering". The piece is more of a discussion style essay with common tropes but those that are no less real and important and are the type we need to be having repeatedly; both to those drawn in by the chapters discussed earlier, and to remind the old experienced climbers against becoming complacent when it comes to the places we dearly love. The Chapter ends with a case study of "the local people of Raksham" and their unique attempts to preserve their home by regulating tourism to the area carefully. It is certainly an optimistic point on what can often be a very finger-pointing conversation.
Other essay chapters are titled Motivation, The History of Bouldering and Projects and the Art of Failure but to be honest, I was entirely distracted by the pictures that instantly draw my eye from the text. More than simply good pictures of great moves, many incorporate unimaginable scenery around the climber and many more don't even feature boulderers at all, such as one of figures carrying Petzl pads and gas bottles into the high mountains, an image of Fred Nicole tending to rock shoes or pictures of the Kinnauris of Himachal Pradesh. However most are indeed of climbers and every single one is expertly chosen and entirely captivating.
Zangerl is well known as a passionate boulderer and one keen to share his love for his sport with others. He captures bouldering's essence well, returning to the notions at bouldering's core repeatedly, while not becoming droning. His passion clearly shines through, albeit through his own motivations and desires, combined nicely with collaborations from other, established professionals.
The final word has to go to the John Gill quote on the back page: "May the reader be inspired to chalk up and enjoy the boulders!" While I'm not entirely sure what I would be expecting from a book waxing poetic on the sport I love, and despite some flaws in the text, I must admit that I am pretty convinced that this book will do just that. 
From Bouldering - Climbing, No Ropes Attached:
Bouldering goes beyond being just a pastime, it is a sense of community that teaches you to challenge your physical and mental boundaries. Power, discipline, and pure focus that pushes you to new heights - Bouldering is a comprehensive guide that shows the different motifs behind the sport and the inspirational figures of this high-performance lifestyle.
The joy of experimenting teaches perseverance and how to deal with failure, bouldering forces the body to new limits. No ropes or strings attached, this is a climb into a community of people spurred by passion and adventure.
This book is available to buy on the publisher's website and Cordee.
Thanks to Pete Edwards for the review. Pete runs Prowess Coaching, a climbing coaching company based in North Wales, and the blog 'Chez de la Bloc.' To find out more information, visit the website or his Instagram.