Malcolm Bass has, for over two decades, been climbing in remote and adventurous places. From Scottish winter to Alaska and India, he seems motivated to explore and push what he knows. Working as a Clinical Psychologist, it's unsurprising that his motivations include both climbing and his mental fortitude. Notable routes include first ascents in the Himalayas: Vasuki Parbat with Paul Figg in 2010, and the first ascent of Janhukot (6805m), made into a film by Pertex. Read on to explore Malcolm's thoughts on high-altitude climbing, his attitude to bailing, and his involvement in the Alpine Club.
Malcolm Bass doing a 'greek kick' (?) on a 2014 attempt on Janhukot (6805m). Photo: Simon Yearsley

Did you feel any pressure (or any different) having a photographer on your India trip last year?
Hamish Frost was the photographer on our Janhukot trip. Hamish is a brilliant adventure photographer and took beautiful photographs and video of the expedition. Before we set off to India we worked closely with Pertex and the film makers Coldhouse Collective, and we all agreed that we would tell the story in a truthful way however it unfolded. This meant that on the trip Paul, Guy and I could just be ourselves when Hamish was behind the camera. We are delighted with the images and film series from the trip, and hope that they encourage people to get after it amongst some of the world's less explored mountains.
The film is here.
 
Your work as a Clinical Psychologist deals with the mind. Can you give some insight on climbing from a Psychologist's perspective; and vice versa, as a climber?
From a psychologist's perspective, it makes sense that climbing is so rewarding for so many of us. It engages three of our major psychological systems. We are presented with a rich array of striking goals, high peaks, steep faces, blank walls, and improbable boulders. Some we can get up now, but some are way beyond our current abilities. But because we have a drive to climb them, we strive to improve ourselves, to get stronger and more skilful, and this gives us a sense of direction, purpose and growth.
In many cases our goals are frankly dangerous, or at least they feel that way, so we must listen to our fear, then maybe press ahead despite it.
Usually we can't reach these summits on our own, or we daren't , so we need to make effective long-term alliances with other people who will come with us into these challenging situations. So our drive, threat, and attachment systems are all in play, and that makes us feel alive and engaged.

And, on top of that, we get the identity of belonging to a slightly deviant, yet generally respected , international sub culture with its own special language and an epic storytelling tradition.
The psychology lessons that climbing, especially alpine climbing, has taught me, are about both the immense power of the human will, and about its utter impotence.
The 'human potential' movement would have us believe that we can achieve anything if we believe in ourselves, think positive, and follow our dreams. But this is bollocks. If we try to use our will and positivity to climb a big mixed face before it has cleared after a three day storm we will probably die. There are real hard edges to the world. Disease , bereavement, disaster, and betrayal fuck up strong people no matter what self-affirmations they chant. If we don't have enough muscular endurance for 7c we will slump on the second bolt like a sack of spuds whatever happened in our positive visualisation.
Sometimes it's better to accept that a big nasty has bested us for now. And the last thing we need then is to be told that we need to change our mindset. We need carbohydrates, alcohol, love and validation. I have taken a long time to learn this; for years I felt ashamed about coming home empty handed from storm plagued trips, felt that if I was stronger I would have succeeded. But now I understand that the big forces of the world are far more powerful than even the best versions of us humans.
But, at the same time, climbing has taught me just how far our disciplined human will can take us when we are pursuing something that matters to us. I have climbed routes on high mountains that were beyond the dreams of my youth. At times I have surpassed the seeming limits of my ability. And I have seen my patients do this in many different ways in their lives. In common between us seems to be a big, clear dream or goal that really means something to us; persistence in its pursuit; and knowing what to do today that will help us reach our goal in two years time, be that another set of pull ups, an apology, or an hour's reading.
Both the climber and the psychologist in me agree that facing challenges with team mates in wild places tends to be good for our mental and physical health. But I worry about the cost to those wild places.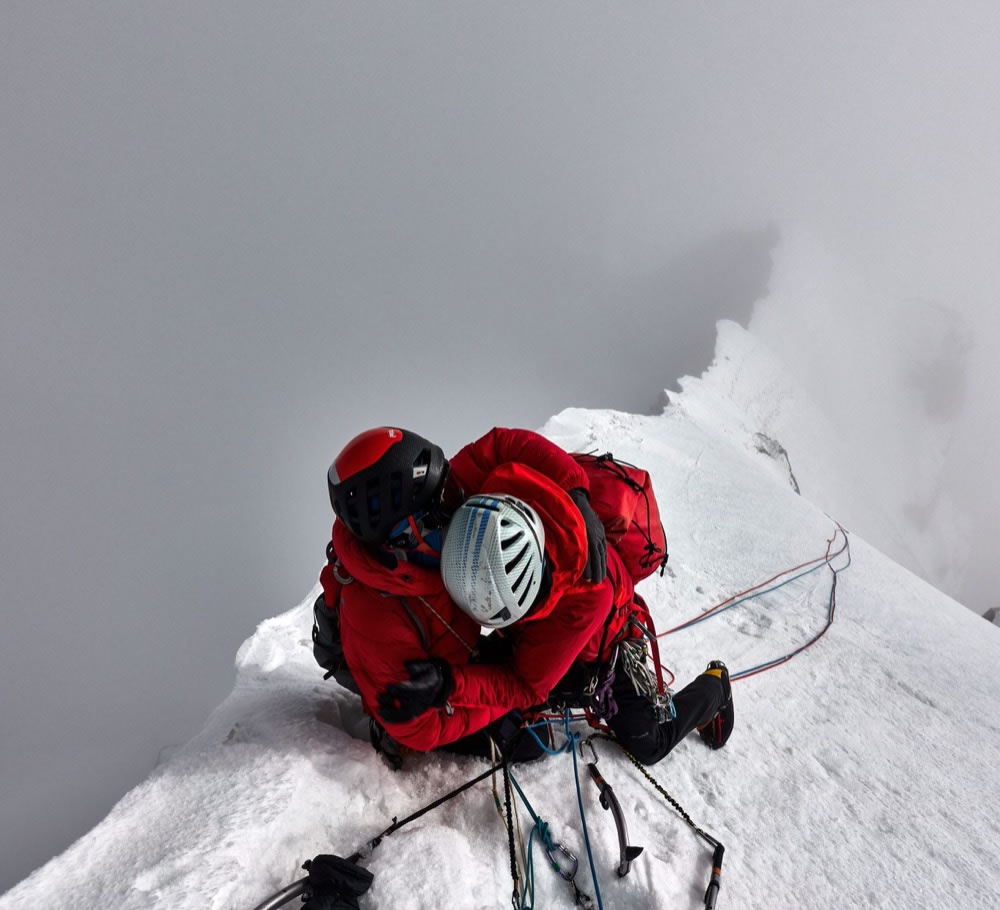 Malcolm and Paul Figg celebrate reaching the top of Janhukot (6805m) in 2018. Photo: Guy Buckingham
How have your motivations for climbing changed over the years (if at all)?
I don't think people, myself included, are very accurately aware of what drives us. Getting a better grasp of this in ourselves is a fascinating process, and the more we come to know this, the more safe and fulfilling our climbs become. Most of the motivations I am aware of in myself don't seem to have changed that much. I climb to see if I can do it, to see what it will feel like to be up there, to see if I can do better this time, and to overturn past defeats. I climb because I love the movement and I love the places. I climb to have something to talk about, for attention, to belong, to show that I am, after all, courageous. I climb because it's something very simple that I know how to do, yet there is still so much to learn. I climb so that I can tweak the blissed out euphoric exhaustion of a long day, or several long days, with ice cold vodka. And , of course, the allure of immortal glory is always tempting.
What's changed? Only that I know now, or can admit to myself, that I go on long trips for a rest as much anything else. A good base camp, as ours was on Janhukot, is a very peaceful place. We take minimal comms kit, and don't phone , e mail, blog or post. All we receive are weather forecast texts. No work, shopping, cooking or driving. Life slows down, and our brains gets a good rest. The climbing, when it comes, is a rude interruption.
 
How are Montane involved with the Alpine Club?
Montane and the Alpine Club (AC) jointly fund the Montane Alpine Club Climbing Fund (MACCF), a grant for AC members heading out to make first ascents and climb new routes in the Greater Ranges. You don't have to be grizzled alpine veteran to join the AC; you can join as an aspirant member with some sound Scottish winter or easy alpine experience, and aspirant members can apply for MACCF grants. For super psyched, mostly younger, alpinists there is the Alpine Climbing Group. The MACCF supports experienced teams attempting technical new routes on 8000ers, as well as people on their first expedition to an unexplored glacier basin.
 
Malcolm climbing in Scotland
L: Compression Cracks, Ben Nevis. Photo: Neil Adams. R: Bloodhound Buttress, Bheinn a' Bhuird. Photo: Simon Yearsley
You state, 'psychological and social factors are as important to the outcome of a big climb as is the ability to climb really hard.' Can you explore /expand on this?
When I said that, I was thinking mostly about technical multi day climbs in more remote places. It was meant as realistic encouragement for people, like myself, with modest technical skills on rock or mixed (on a good day I onsight E3 / VII).
What I've noticed, both on my own trips, and from reading other people's reports, is that it is very rare that a climb fails because the team haven't got the technical skills to climb the next pitch. More often, it is because we don't want to climb the next pitch because we are too scared, miserable, cold, lonely, tired, or down-hearted. We might then admit that to ourselves, or we might put our retreat down to lack of food, gas or bivvy sites, or to gathering clouds or impending darkness; I've said all these things. So a technically modest climber with a strong sense of purpose, who can maintain their drive over several weeks, who is prepared for the roller-coaster moods of an expedition, and who knows they will feel better when the sun comes up again, is more likely to start up the next pitch than a dispirited wad, or at least more likely to look round the buttress crest and spot that easy gully that cuts through the rock band. And the dispirited wad would have been less dispirited had they left home on good terms with their family, and if their team was a mutually supportive group of friends rather than an arena for clashing egos.
What I find encouraging about this idea is that we can train ourselves in the psychological skills at work, at home, or in the check-out queue, and, with a bit of thought, we can work the social factors in our favour. But it is important to remember that one key psychological skill is accurate self knowledge; you need to be totally clear in your own mind about the technical level at which you are solid, and whether this is adequate to the task.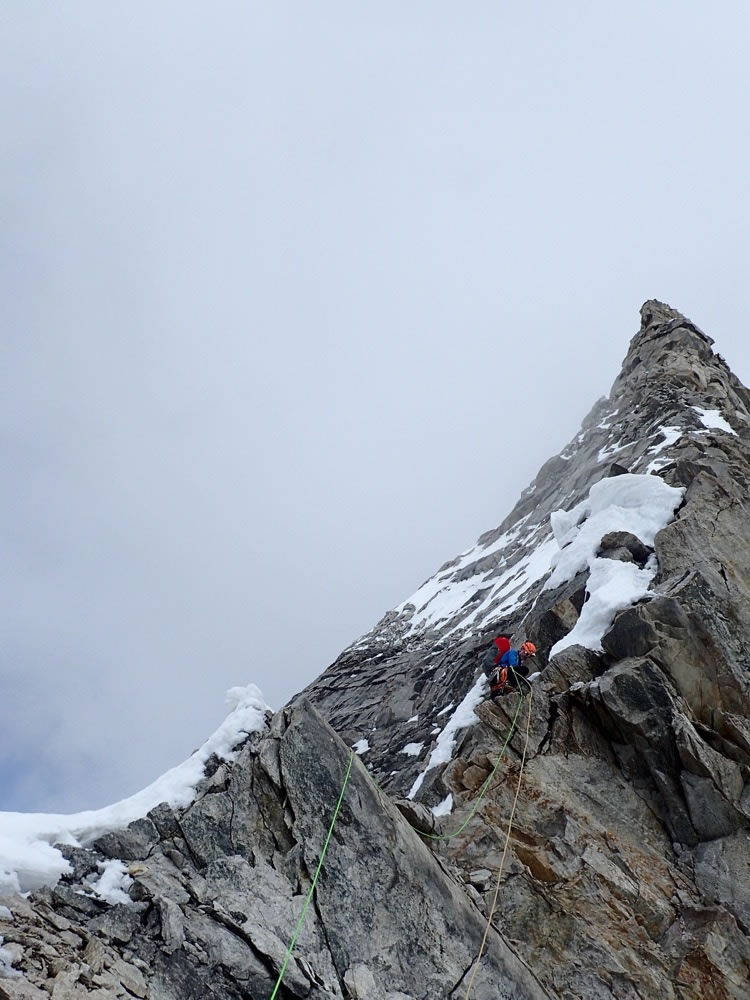 Malcolm on the NW ridge of Gangstang (6162m). Photo: Guy Buckingham 
Which ascents stand out as highlights in your career? Any epics or 'so close' efforts which are equally memorable?
The highlight for me is that I am still alive. I have been on 11 Himalayan and three Alaskan trips, all attempting new routes or first ascents. No one, no climber or porter has been killed or seriously injured on any of these; I don't think I could have gone on climbing if they had. As a psychologist, I know that culture has a massive influence on behaviour, and I worry that the current culture of alpinism has a tendency to glorify or romanticise death in the mountains. I think we should change that. One way of doing that is by being explicit that success depends on everyone coming home, and that dying in the mountains is a form of failure. We could tone down the veneration of those who have died and dial up the critical analysis of the circumstances and decisions that led to the accident (with sensitivity to the feelings of the bereaved). Currently the veneration is widely broadcast, but any critical analysis is done quietly behind closed doors by people who already know the score, so the knowledge doesn't spread far.
Particular climbs stand out in my memory for all sorts of different reasons, some because they went well, some for the fun we add, and some for the atmosphere of their time and place. But in terms of a sense of achievement, and, if I am being honest, public perception, it has to be the west face of Vasuki Parbat with Paul Figg in 2010. Vasuki is in the Indian Himalaya, is 6780m high, and the west face is 1700m high. We ground our way up it in eight days in super cold conditions carrying our big base camp pits, as our light climbing ones weren't up to the job. The face looks pleasingly fearsome and has some great technical mixed pitches at over 6000m. Looking back, our mental state, which felt right at the time, was more driven than was healthy, and that led to several poor decisions; if we could have dialled down our desire by 10% we would have climbed more safely. But we got away with it, and the traverse of the narrow two kilometre summit ridge at 6700m on the beautiful ninth day is burnt into my memory. (Possibly because I had dropped our only camera down the face at the end of day three). 
The improbably named Bekka Brakai Chhok (BBC) in Pakistan, in 2008, has been my most epic fail so far. I was climbing with the talented New Zealand alpinist Patricia Deavoll. BBC, at just over 6900m, was unclimbed then. Patricia and I had climbed for a couple of days 1000m up the south face to about 6000m, leaving 900m of narrow, double corniced ridge to the summit. Then the weather crapped out; light snow and thick fog. Narrow Karakoram snow ridges are no place to be in poor visibility; they are grim enough under blue skies. So we just sat there in our tiny tent, eating virtually nothing, for the next seven days. We had one book between us. At night we watched electrical storms light up the valleys below. I was worried about being us being badly overdue (we had no communication device) and suggested retreat, but Patricia was stalwart so we stayed. I'm glad we did. It cleared on day ten, and we went for it, only to be turned round by an evil section of snowy death ridge that we regarded as unjustifiable. I am really proud of the two starving climbers who staggered upwards that day. Patricia and I did several great trips together, and I learnt an enormous amount from her about how to move efficiently across moderate terrain in big mountains, and about how to try really hard. Italians Hervé Barmasse and Simone Moro succeeded on the BBC route later that same summer, and from that I learnt that if you have to get scooped, make sure it's by the right people. 
 
Finally, random question: if you were stuck on bivy, who would you like to pass the time with?
Mark Twight. His 1999 book "Extreme Alpinism" is the Old Testament to my UK climbing friends and I: ringing, wrathful injunctions from on high which make you long to join the Chosen People (Steve House's "Training for the New Alpinism" being The New Testament). I've never met Mark, but his climbing and his writing have had a huge impact on me; his Alaskan climbs were a big influence on me going to to Alaska with Paul Figg and Simon Yearsley in 2001, 2002 and 2003. I sense we both pretend to find talking about climbing boring, but, at some level, it's all we are ever talking about. I like how his utterances are both totally serious and utterly tongue-in-cheek at the same time. We could both smuggle Joy Divison lyrics into the conversation. There might be something in his pack to help pass the hours of darkness. We would both avoid the topic of sport climbing. We would have a fine time living in the night. And, if we bailed the next morning, we could jointly cook up some pseudo-poetic-bollocks about how we had got exactly the experience we had come for.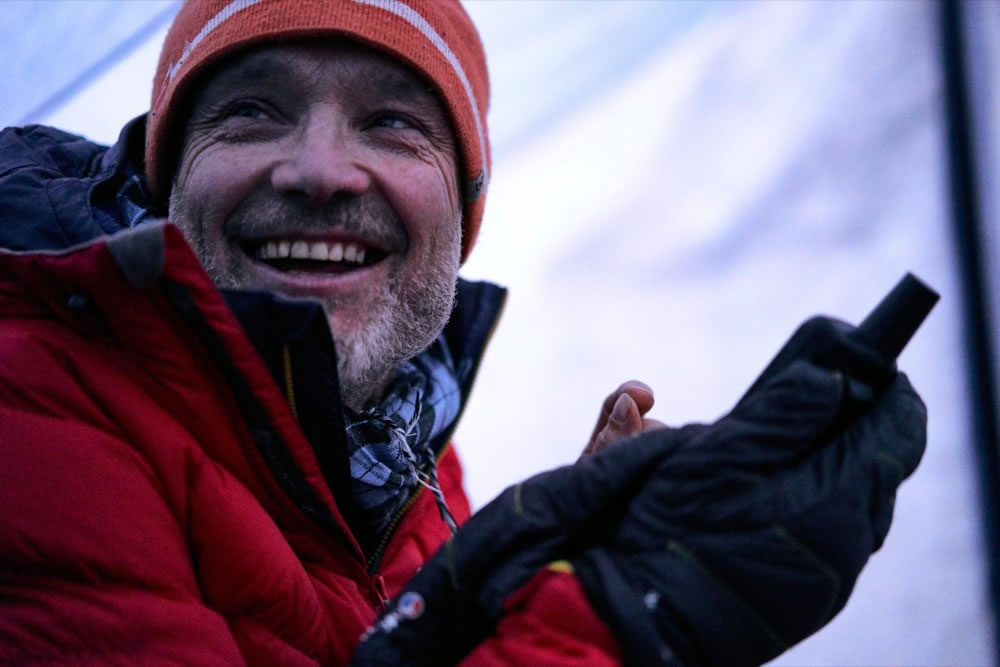 Malcolm after receiving a good forecast in India. Photo: Hamish Frost
Follow Malcolm on Instagram. Malcolm is sponsored by Montane, La Sportiva and Petzl