Want to get into dry tooling, or just curious what it's all about? GB Ice Team member Emma Powell gives us an overview.
What Is Dry Tooling?
Dry tooling is the use of ice axes and crampons (or fruit boots) on rock used specifically for this purpose. Dry tooling is a form of climbing used by mixed and ice climbers in order to gain the strength and technique required to climb long and strenuous routes. Dry tooling is also a specific sport in itself, as it's (in many cases) more accessible than ice climbing, and often on steeper angles of rock.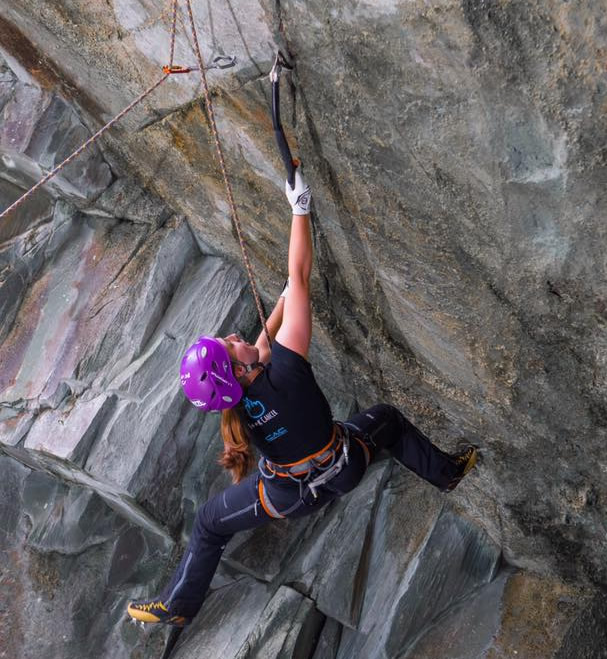 Emma climbing at The Works - Image © Andrew Rutherford Photography
What Equipment Do You Need To Try Dry Tooling?
Dry tooling requires some additional kit other than what is used for rock climbing. For example, you need technical ice axes which are designed for steep, athletic movements. The axes might need to hook small edges, so you need sharp picks. You might also need to 'torque' the axe, which is a bit like twisting it in a crack until it jams. One of the most unusual moves is to stein-pull the axe - this is where you use the axe like a can-opener, often upside-down in a crack, and can feel very precarious! I use Petzl NOMIC axes, as I find the geometry and weight favourable for dry tooling.
You also need some crampons fitted to your boots. You can use regular crampons on your mountaineering boots, or you can use lightweight boots with specific crampon points, called Fruit boots. The La Sportiva Mega Ice Evos are a good example. These boots feel precise and light, so they're perfect for overhanging or difficult routes.
I always wear a helmet when dry tooling - it's a good idea when carrying so many sharp objects! Some thin gloves can help you grip the axes, and then a lightweight sport rope and quickdraws complete the kit.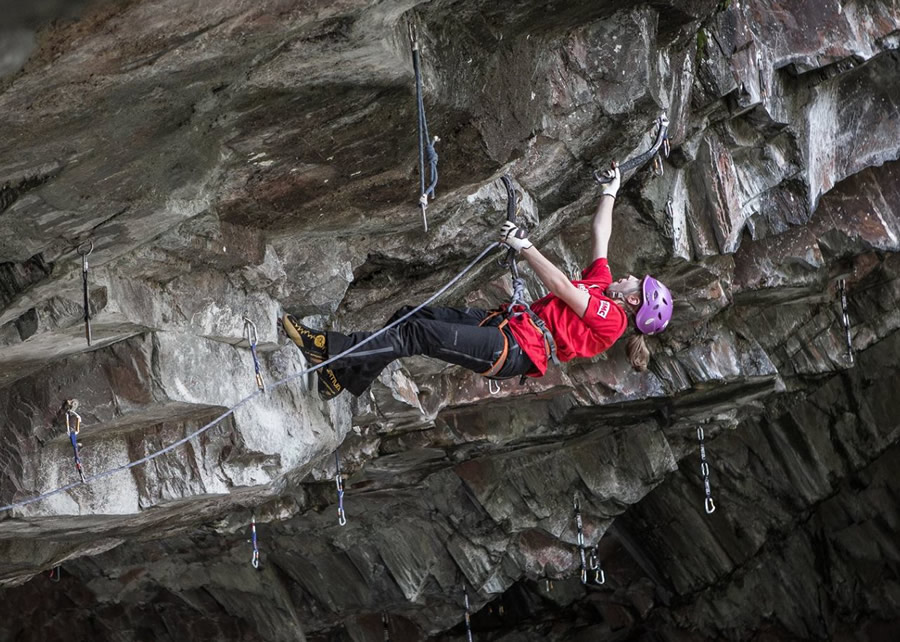 Emma climbing at The Works - Image © Andrew Rutherford Photography
Where To Dry Tool?
I first tried dry tooling at an indoor climbing wall. It was on a specifically set dry tooling route, which is a great place to learn. It's a friendly atmosphere and you can get used to holding axes, and placing them on small edges. Climbing with axes also feels steeper than normal, as you're further away from the wall. It's important to note that you can only dry tool at certain venues. Axes and crampons can scratch or damage the rock, so you must use dedicated crags where there's established routes. Old quarries are often perfect environments, with lots of steep roofs and (some) loose rock, which means they'd never usually be rock climbed on.
Places such as  'The Works' in the Lake District have routes of all types, and a good spread of grades. There's a specific global grading system, which ranges from D4 to D15+, and this gives you an idea of the difficulty. The Works's hardest routes are D12. Newtyle, near Perth in Scotland, also has a range of grades, and it's most impressive feature is a 20 metre long roof, with lots of drilled pockets for axes and crampons. There's a D13 here, alongside an E7 and an 8b! There are also many more amenable routes to get you started.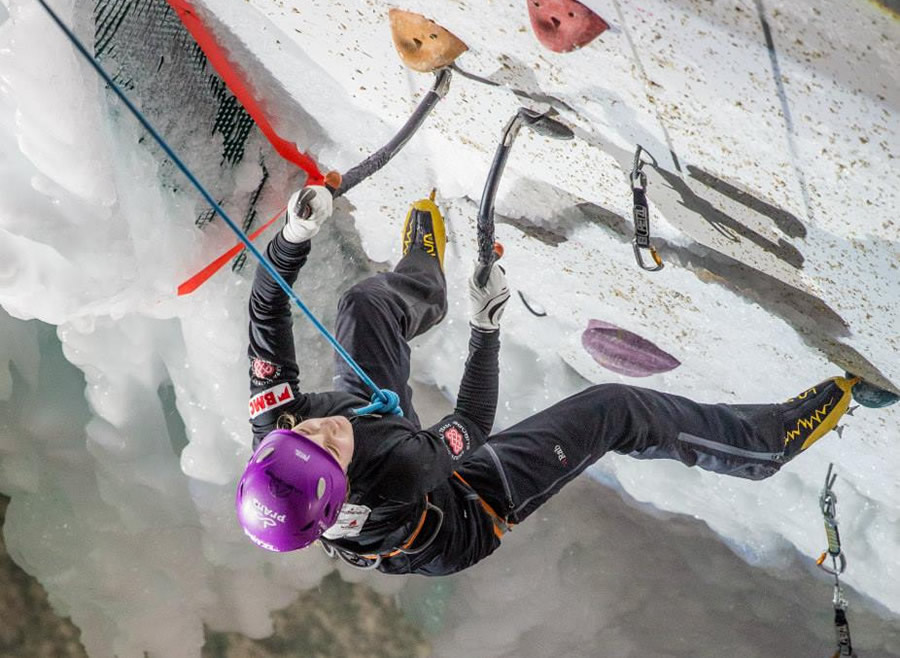 Emma competing and winning bronze for the UK at the Youth Ice World Cup - Image © Andrew Rutherford Photography
There are two locations in North Wales: White Goods and Mannod. They're very different in style - White Goods has many horizontal roofs, so the climbing is very powerful in these sections. Mannod is in an abandoned slate mine, so the climbing is almost exclusively on natural edges and hooks, on a gently overhanging wall. This place is perhaps the most realistic venue to train for Scottish winter climbing.
Finally, you can get involved in the British Tooling Series, which is a fun and sociable competition at indoor walls, and takes place every winter.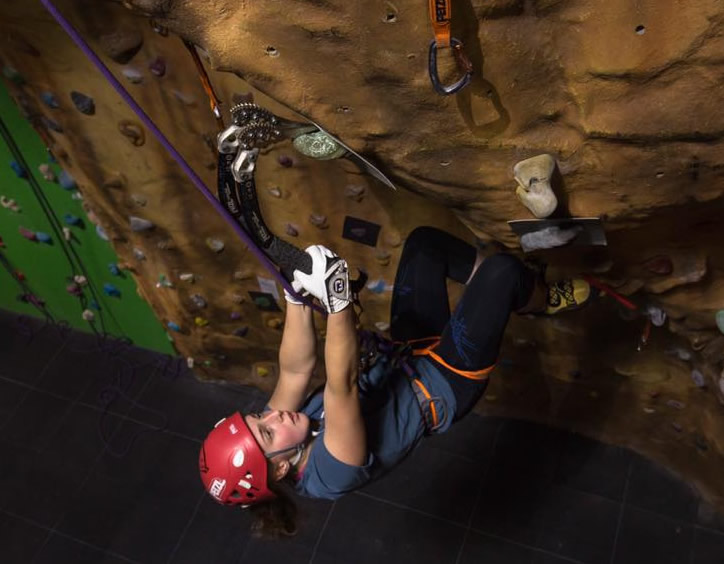 Emma competing at the British Tooling Series
You can transfer your skills, technique and strength to other areas, such as Scottish winter climbing and European mixed climbing. Perhaps the origins of dry tooling was when European and North American ice climbers started climbing rock in order to reach hanging ice daggers, back in the 80s and 90s.
With theses points in mind, go and try dry tooling, and stay safe!
Emma Powell is a member of the GB Ice Climbing Team and has won bronze twice in the Youth Ice World Cup
Emma is supported by La Sportiva and Petzl
You can follow Emma on Facebook and Instagram