Robbie Phillips applied years of training to climbing big walls in the United States, Chile and Madagascar. He's also climbed a number of multi-pitch routes in the Alps, including Paciencia (8a, Eiger), Project Fear (8c, Cima Grande) and End of Silence (8b+, Berchtesgaden). In between climbing trips, he works as a coach and gives presentations and is based in Scotland.
Can you tell us a bit about Cochamo? It looks like a wild place with plenty of potential!
Oh man! Where to begin? Cochamo is a jungle haven for the adventure hungry climber! Situated in Chilean Patagonia, but completely void of all that crazy weather that you get in the Chalten Massif and Torres Del Paine. It's been described as the Yosemite of South America, a title I think is fair given the monumentally huge granite faces everywhere you look; but with no road to access the valley, you won't have swarms of tourists at the bottom of your route, or hear the tannoy from the tourist bus screaming out "LOOK AT THE ROCK CLIMBERS!"
It's not as "out-there" as you'd think though. It's a 4-5 hour hike in from the trailhead and once you're in the valley, it's a climber's playground. Approaches are a few hours on average, but on comfortably trodden paths that wind their way through dense jungle. The granite is not glacier-polished like El Capitan, instead it feels coarse and rough by texture, kind of like gritstone! There is every sort of climb you can imagine; splitter cracks, techy face climbs, powerful overhangs and stemmy corners. There has been a lot of development in the last 10 years and there's still a ton of potential.
The one downside to all this is we're currently battling against big developers who want to exploit Cochamo for natural resources and tourism. There has been a lot of talk regarding building a road into the valley and with it the development of hotels and restaurants for the average tourist who doesn't like to walk up a muddy trail. Historically there was also talk of damming the river flow, something which they have been successful at in other areas, but some of the locals of Cochamo and the recently put-together "Friends of Cochamo" organisation have been fighting to stop this from happening in the valley.
Check out this UKC Destination Article on Cochamo here.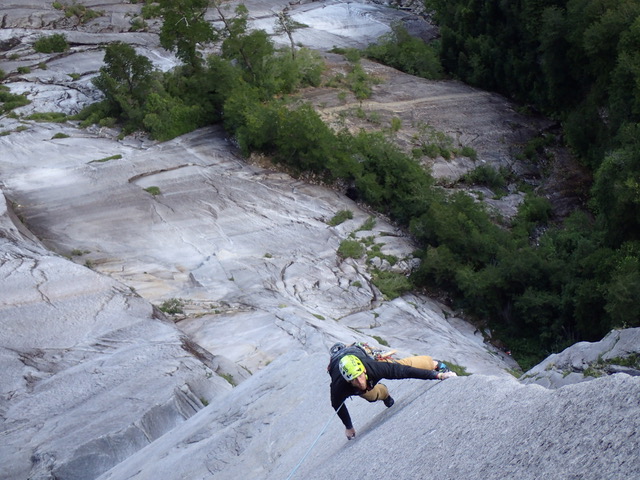 Robbie on 'La Junta Project' in Cochamo, Chile.
Did Yosemite's El Capitan live up to its expectations and reputation? What were your highlights?
When I first went to Yosemite I didn't really know what I was getting myself in for. To say that it exceeded expectations wouldn't be true, because honestly, I didn't really know what to expect. I had been told it was a really hard style to get into, but I had adapted to most climbing styles pretty quickly before and figured I would do the same in Yosemite. What actually happened was I got totally spanked, fell of loads of 5.9's and 5.10's, and had a really intense learning curve.
But El Cap is a wall unlike any other I've been on and irrespective of how difficult I found the style, I wanted to be up there on the wall! The rock goes from a light grey at the base of the wall to a golden desert of orangey glow on the upper quarter, probably the most beautiful time of day is in those last hours of daylight when the sun hits the rock and the world turns golden orange. I genuinely have found no better quality rock anywhere in the world than on the upper headwall of El Capitan
Probably my highlights were free climbing 3 Big Walls on El Cap in 2016 – "El Niño", "Goldengate" and "Pre-Muir". "El Niño" was the first, and it was arguably a very big jump into the deep end of the pool. There was quite a bit of climbing on pretty bold terrain; luckily my partner, Jacob Cook, was well averse in the style and could handle some of the weirder pitches. I was the sport-climber between us and so took on the harder face pitches – a partnership that ended up working very well on this climb.
"Goldengate" was my attempt to onsight El Cap, which I did all but for 2 x pitches, a 5.10 on the slabs at the bottom when I fluffed a move, and a 5.12c downclimb. I onsighted all the 5.13 pitches and even did all the hauling too! haha.
The "Pre-Muir" was when everything came together! I was literally flying up the wall, taking on 5.13 pitches one after another and feeling at home running it out on blank stem corners and techy slabs. Where "El Niño" and "Goldengate" had taken 6 or 7 days each, I did "Pre-muir" in 3 days.
I decided to take a couple of years out of Yosemite as I had realised that it could be easy to go back there every year and never go anywhere else. I wanted to avoid that and expand my horizon, so opted for some more adventurous locations like Cochamo and Madagascar. On that note, I'm going back to Yosemite this autumn! :)
Did having a film crew affect you in Madagascar? What was it like establishing a new route?
Firstly, Madagascar has been somewhere I've wanted to go since I was a kid, so finally getting out there was pretty much the culmination of a life-long dream. I had caught the bug of new routing in Cochamo the year's prior and thought Madagascar would be the next place to do it.
The difficulty arose in finding a suitable line. I wasn't at all tempted to put something up for the sake of it; I really was only interested in establishing something that would be a world-class climb. It took a lot of time to find the line and then to climb it, which ultimately led to a terrible accident in which my partner broke his leg (see "Blood Moon" film about our trip and the ordeal) – but in the end, after everything that happened, we were left with one of the best climbs I've ever done and some unforgettable memories.
We were joined on the trip by British Adventure filmmaker Alastair Lee, who was there to make a film of the trip. As Al said, "Going climbing to make a film is not better or worse than just going climbing, it's just different". We had a lot of ropes to set up and had a camera in our faces for a week or so of the trip, but honestly that didn't really bother me. It's great to have that memory immortalised in film and it was actually really fun having Al up there on the wall with us – he's a really cool guy, and has become a good friend.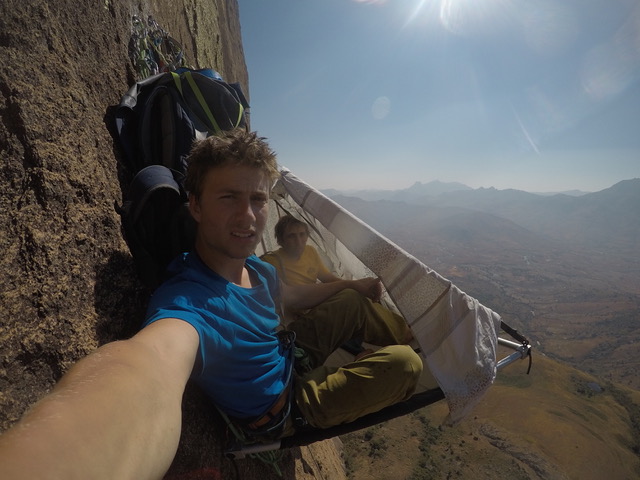 Robbie and Calum Cunningham about 500m up Tsaranoro Atsimo, sheltering from the hot Malagasy sun with a make-shift fly they made from their bed sheets. Photo: Calum Cunningham
You've climbed a couple of Scottish winter routes. What do you think of it?
Scottish Winter Climbing is basically a different sport. I won't pretend that I'm any good at it. In fact, I would say quite confidently that I'm utterly shit at it. Of course having fingers that can hang onto small edges for a long time helps when every hold is a jug, but if you're too terrified to move one hand to the next jug, you're not going to get very far. It's a work in progress and I'm keen to keep at it. Living in Scotland, some of my oldest friends are winter climbers, and if anything, it's a great excuse to get out with them and witness their unholy abilities in the mountains.
Greg Boswell comes to mind when I say that – I got to second him on his ascent of "Anubis" which was pretty flippin' cool! I'd like to see if I could flip the tables on that and get Greg to follow me on a summer ascent of "Anubis" one day!
You seem to embrace sponsorship and that lifestyle. What do you think of the balance between share and spray, killer and filler, honest and authentic?
This lifestyle came pretty natural to me, as a 9-5 job just wouldn't have given me the freedom to climb as much as I wanted, but I also feel I have a natural affinity to this sort of work. I love public speaking, writing and storytelling; and it's these skills alongside the climber lifestyle that allows me to share authentic tales that people enjoy reading about. Social media is the main medium I use to share content (alongside blogs, websites and magazines), but I really do try and limit the number of posts I create, focussing more on the quality than the quantity.
My general direction with content is to share authentic stories, to always speak my mind, to share knowledge and evoke conversation, and probably most importantly, to share an honest reflection of my life. As to whether there is a balance between it all, that's probably more of a personal thing. But if there was such a thing as a standard to which you should meet, I'd say it would be to become as #unfiltered as possible. I've become increasingly aware of how much Social Media is affecting our mental health. I think those people who have influence on it need to start thinking of how their influence can both positively and negatively affect those who view it. By sharing nothing but amazing images and stories of a perfect lifestyle unhindered by the difficulties of a human life, we put out unrealistic expectations on people to achieve this, which if you spent hours of the day scrolling through social media, would probably not set you up with the best frame of mind.
I do like to think that what I share is more "killer" than "filler", but hopefully it's ebbing towards a more realistic view of my life. Regardless, it's written with passion and good intentions, and that's all I can really do.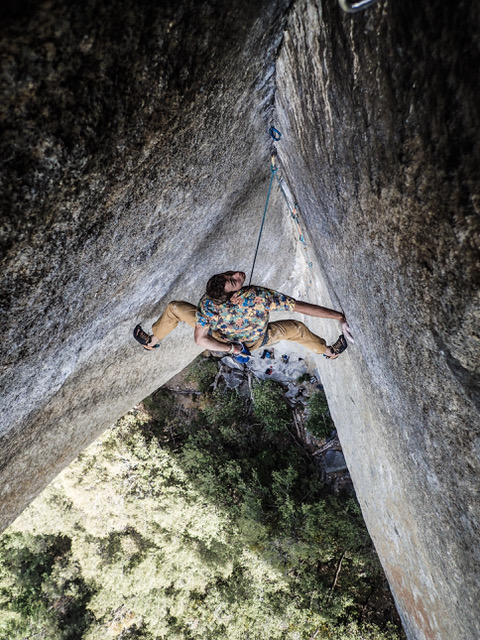 Robbie climbing "Book of Hate" (8b), Yosemite. This iconic corner was originally climbed by Randy Leavitt in the late 90's.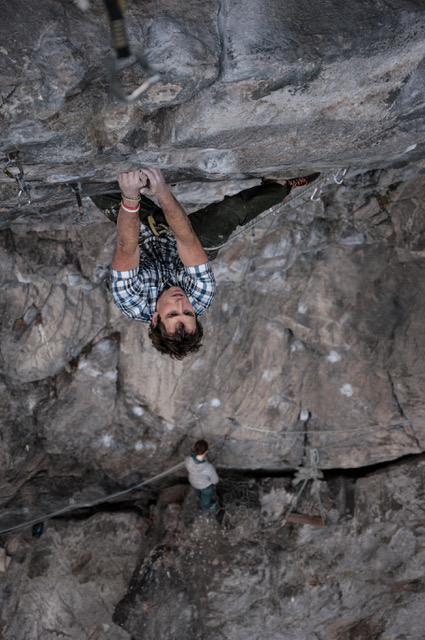 Robbie on a classic 8b+ called "Seewachter" in Öeztal, Austria.
Visit Robbie's Instagram and website.
Robbie is sponsored by Patagonia, Scarpa, Edelrid, EICA Ratho, Urban Uprising, Clif Bar and Friction Labs