Holly Rees has quietly been crushing for several years, but recently made headlines when she climbed Mecca (8b+ at Raven Tor, in the Peak District). ChalkBloc caught up with Holly to find out more.
How was Mecca (8b+ at Raven Tor)? Was it an enjoyable process to learn the moves and then climb it? Are you still buzzing? 
Yes, I really liked working out the beta, and becoming more efficient on each section by just making small foot movements. It was good seeing how much difference this made, progressively linking longer sections together until it flowed well. Yes, I'm still psyched that I climbed it, and psyched to find a new project to try!
It's an impressive route and grade, regardless of 'for a man' or 'for a woman.' What do you think of 'First Female Ascents'?
I'm in two minds about this. In one respect, it does feel sexist and I am a believer in equality. In another, although there are so many women climbing just as hard as men (and harder), I think there are still a greater number of men climbing hard - possibly because, although more and more women are climbing now, there are still more male climbers, so proportionally there will be fewer women climbing at each grade. It seems to me that 'First Female Ascents' mark the rise in women climbing as hard (and harder) then men, rather than it being condescending - I think by using the phrase, people are trying to say they are equal… whether it comes across that way varies.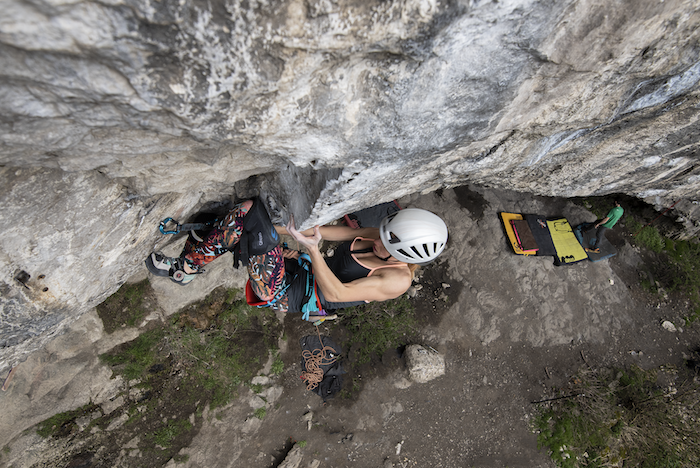 Holly on Mecca. Credit: Jonathan Bean
You sport climb with a helmet on, which is becoming increasingly popular and is very sensible. Have you always worn a helmet, or has this been caused by something in the past?
I started regularly wearing a helmet in Kalymnos, where the tufa routes were very three-dimensional and unfamiliar to me, and, being pretty clumsy, I thought I was likely to lean back/stand up into one! From then on, I was just used to wearing one. In September last year I sustained a (non-climbing related) orbital fracture, so I now also bear that in mind as a weak spot. I honestly don't notice it when I climb any more, it clearly doesn't negatively affect my performance and I think my head is just one less thing to worry about getting injured!
You currently live in the Peak District. Do you think it's important to live near good climbing, or would you just be as motivated if you lived in London, for example?
I think it probably helps to live near good climbing, though I guess in a city maybe your training routine would just change and you would plan more. I've lived in mid Wales, Glasgow and here, so don't really have experience of living in somewhere like London where it's a big planning operation to get out. Glasgow is so close to Dumbarton Rock that it can be a last-minute evening out! I think maybe if you lived in a big city, more trips abroad would be planned, as around here there is so much local climbing.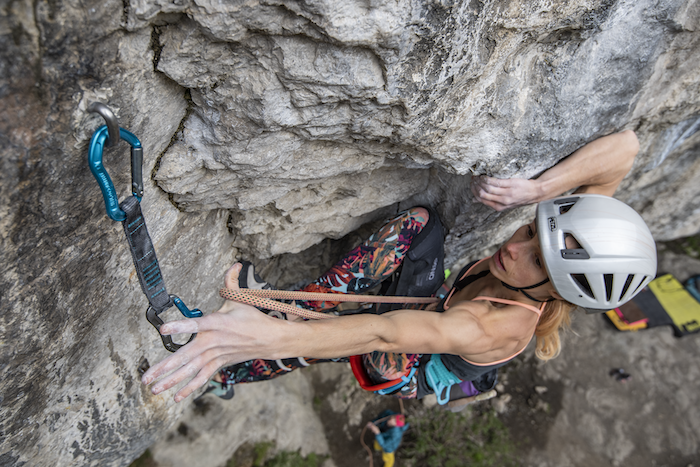 Holly on Mecca. Credit: Jonathan Bean
One of the photos of you on the 3rd Rock website looks like you're bouldering in Switzerland (Magic Wood perhaps?). Where are your favourite places to climb, and why?
Yes, that's Magic Wood. I love to go anywhere really, especially if it's a new place. Magic Wood is great as it suits me (crimpy), and most limestone also suits (so most Spanish venues). I recently visited Kalymnos. Font is ok, though I don't get on with slopers so well, but it's a nice place to have a chilled out few days of bouldering and eating pastries! I'm excited to head to Frankenjura this autumn as its reportedly off-vertical, pockety bouldery limestone - just my thing!
Do you mainly sport climb and boulder? What is it about these aspects that you enjoy?
Yes, I mainly sport climb and boulder. Both can present different challenges, and I enjoy these differences. I like how boulders are often short, with powerful or finicky, techy moves. I also like how sport requires potentially similar 'bouldery' sections but you need to stay in the zone for longer - once you've got through one crux, there may be another, or a lot more climbing to go, and you may need to fight the pump for that! I think the reason I rarely trad climb is that I enjoy the movement of climbing on the rock, which with sport and bouldering is uninterrupted, not having to place gear and worry about whether it will hold a fall - this added mental aspect is what keeps me at low grades in that discipline, and I like pushing myself to climb harder. Having said this, in June I'm likely to be heading up to Scotland to try and climb some sea stacks with a friend, so watch this space!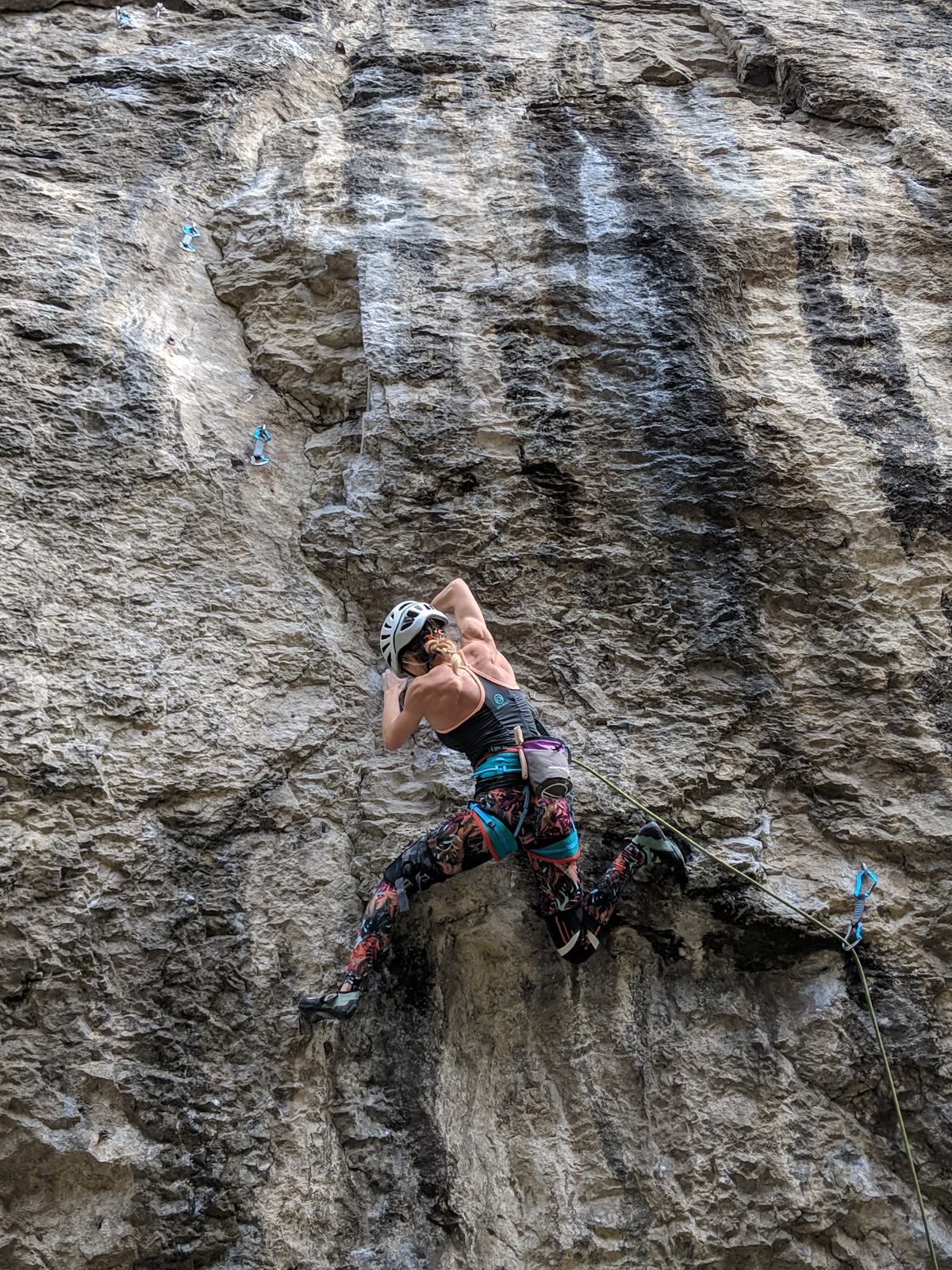 Holly on Mecca. Credit: Jonathan Bean
Follow Holly on Instagram.
Holly is sponsored by 3rd Rock and Beta Outdoor Sports (Tenaya, Wild Country, Lapis and Climb-on).