Ed Booth is one of the Shropshire-based climbers who'll turn up at a crag with a friendly 'hello,' climb your brilliant routes, and disappear off again with a cheery wave. He's climbed extensively throughout the UK, but started at his local crag (Nesscliffe) under the watchful eye of Nick Dixon. Understandably, Ed took the local ethics of headpointing and ticked many hard routes around the country, but he's also onsighted to a high level. Now working as a fireman and with a family, Ed's still psyched to drive to Wales or Yorkshire for the day. Ed's brother, Adam, is also a keen climber...
Which headpoints are particularly memorable - either because you've climbed something which was really hard for you, or because you've got into a spicy situation (e.g. not worked it enough)?
For starters, there's Rare Lichen E8/9 and Gribin Wall Climb E9 in the Ogwen Valley - two great routes climbed by Leo Houlding and Nick Dixon, two of my heroes. I did both on double-ascent days, Rare Lichen with Angus Kille and Gribin with Calum Muskett, creating two very memorable days. When I did Rare Lichen, I was pretty sure I would never be able to lead Gribin as I thought I would never have enough reserve. A return visit a few years later and I knew I could do it with a good level of control, which is the only way I would want to do this route.
Then there's Zero Direct E7, Suicide Walls, Ogwen. It's a route that doesn't seem to get much attention. I believe the FA was made in mistake for the original E6 Zero, which misses the groovlet/headwall by bailing right to clip a peg before rejoining at the top-out. I heard a story about Pete Robbins onsighting this. The story goes that Neil Dyer tipped him off that there was a small sideways wire in the middle of the upper wall. Pete committed, couldn't find the wire and had to press on totally committed... It stays meaty to the top and he would have been looking at hitting the floor from the top of the wall, had he fallen. It's techy climbing and bloody dangerous. Even with the wire in, and having practised the moves and cleaned the lichen off the holds, this still felt a big deal for me at the time. Probably techy Fr 7b+ on sidepulls and smears, dirty and run-out on small/crap kit.
Also Self Harmer E8, Harmer Hill. A necky number at another good esoteric venue in Shropshire [Ed's from Shropshire]. There's a hand-placed blade peg for the top move - if you can stop mid run-out to place it . I couldn't stop, and did this terrifying slap to the top of the crag.  If I'd blown it, I'd probably have decked. This route put me off dangerous routes for a while. Great climbing though.
Finally, Local Rite E8, Nesscliffe. A first ascent I did with Nick Dixon, a stunning line up a huge arête.
I found it funny when I first met Dan McManus. He said him and Andy Reeve had nicknamed me 'The Archbishop of Headpoint.' I'd say I actually do lots of styles nowadays. I think I'm just as proud, if not more so, of onsighting Way of The Jive Monkeys and flashing Dalriada, both E7. I look at some headpoints in a funny way now; I did many because I wasn't good enough to do harder, safer stuff, so just did dangerous stuff at my limit. The headpoints I'm now keen for are basically the safer but harder routes, which are more like hard sports routes but on the mountain crags.
I don't buy into the modern day 'put-down' of certain styles like headpointing. All styles have their own merit. They can be just as hard as one another, it's just about finding the right level of challenge you want on any given route.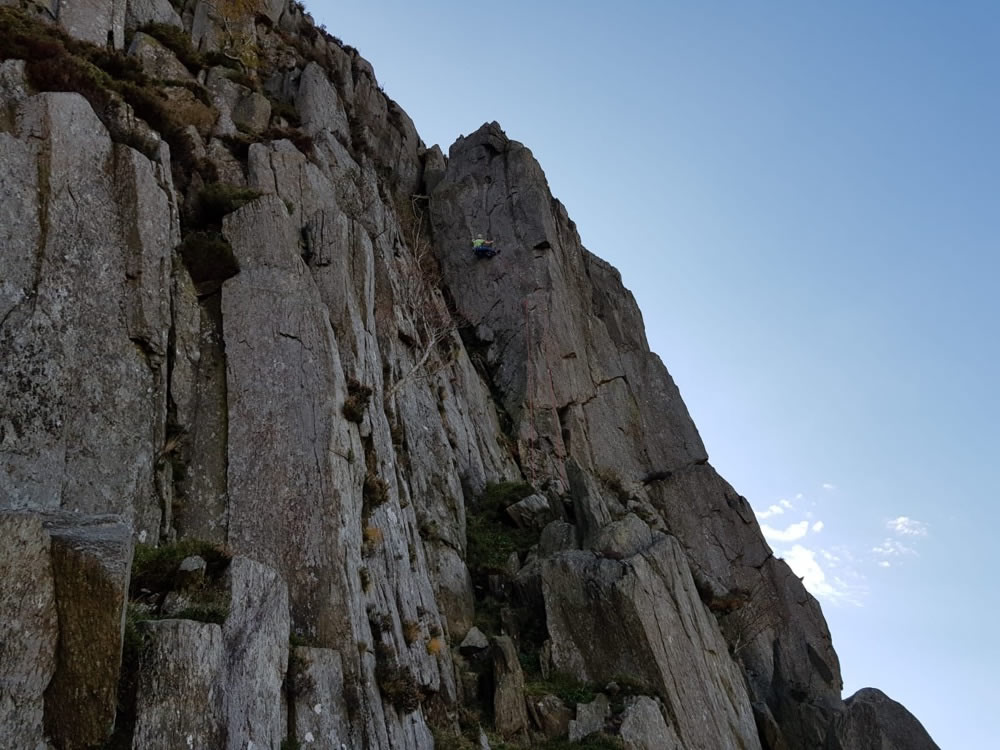 Ed Booth climbing Gribin Wall Climb (E9 6c), Ogwen Valley. Rare Lichen climbs the arete a few metres to the right of Ed.
Photo: Matt Lamb
You've climbed a few routes in winter. Are there any moments where it got exciting? (e.g. Mankini with Adam, your brother)?
Generally, most of my winter experiences were pretty steady. I was a bit of a wimp with the cold, so haven't really done much for a good few years. The winter in early 2018 had a mega cold snap, and me and Nick Dixon climbed an amazing frozen waterfall at Craig Rhiwarth by Llangynog. It was mad, I was between night shifts, it's 30 mins from Nick's house and had a 5 minute walk-in. It felt like Norwegian ice cragging. It's hard to not get the tools out for stuff like that.
Whilst Adam was making the first ascent of the Mankini start (VII,7) to El Mancho [Clogwyn Ddu, North Wales], he informed me that he had a small cam in an icy crack, and only on two lobes. He went a few moves higher before an axe ripped and he took pearler; amazingly, the cam held. My first real winter climb was Moss Ghyll on Scafell with Will Sim. We were 16, it was out of condition, and like felt a massive adventure... we topped out late at night.
It must be good to climb with your brother, Adam Booth, a lot over the years - having a similarly psyched partner is a big part of trad climbing?
Yeah, climbing with Ad is great. It's still important to climb with other people - you learn so much from climbing with lots of different people. But fundamentally, me and Ad have a very solid partnership, and even though we sometimes wind each other up, we know where we both stand and know each other's strengths and weaknesses. We have done so many amazing routes together, and long may it continue. Ad's always keen for an adventure.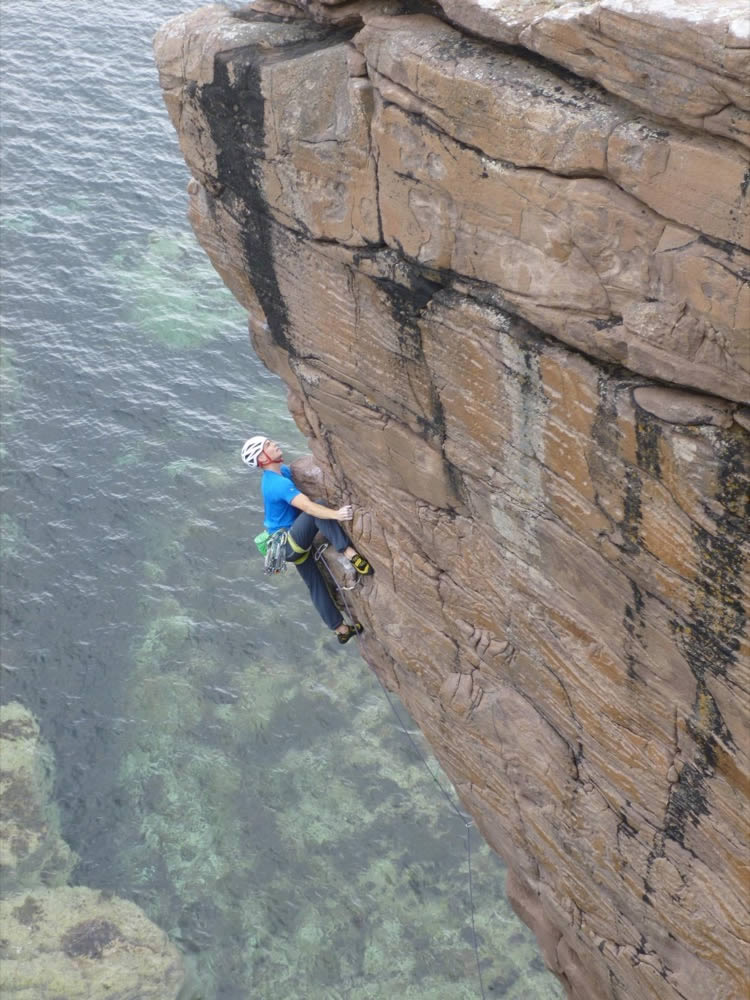 Ed onsighting The Gift (E5 6a), Reiff, Scotland.
Photo: Adam Booth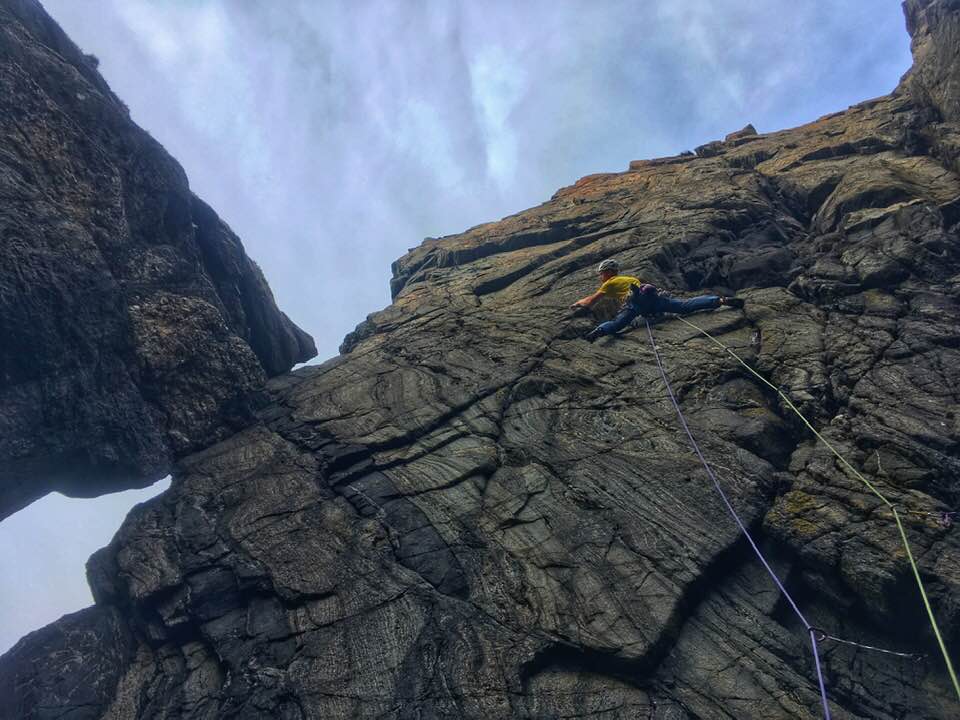 Ed climbing Blessed are the Weak (E5 6a), Dalbeg, Scotland
Photo: Adam Booth
Nick Dixon has been a sort of mentor to your climbing. What's that been like?
Climbing with Nick whilst growing up was amazing. He's a technical master and is bloody good on crimps, and he excels on bold stuff. I hope it has had some effect on my climbing. It certainly opened my eyes to a lot of the stuff in North Wales I've enjoyed in recent years, and I enjoyed repeating lots of his Nesscliffe routes, many of which hadn't been repeated when I started going there.
Nick is 50-something, has 4 kids, and has just done The Bells, The Bells [the country's first E7, North Stack Wall, Gogarth]. Nutter ;-) He's still totally mad for it. I'd say I definitely have a different style now, and I'm into slightly different routes, like generally safer and less crimpy, or steeper. But I always aspire to his great crimp strength and footwork.
I really hope he leads GreatNess Wall from the floor, which I reckon he definitely has in him.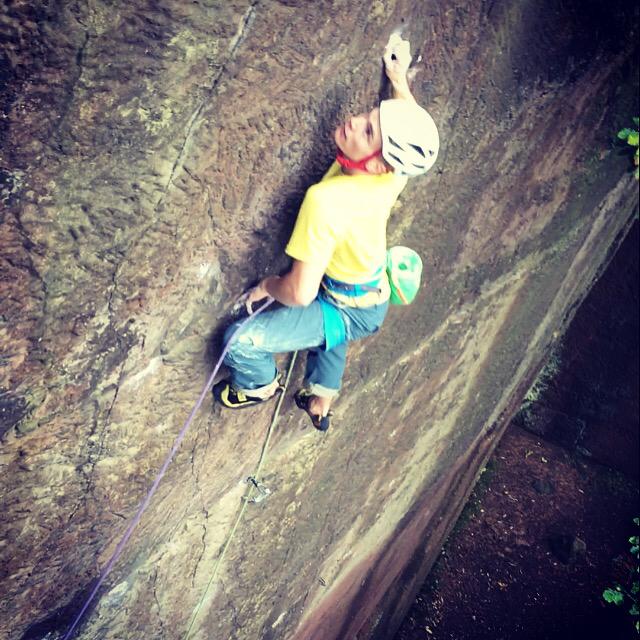 Ed headpointing Cassini (E9 6c), Nesscliffe.
Photo: Ed Booth collection
You're one of the most psyched people I know (regularly driving 2 hours from Shropshire to Wales just for a day's climbing). What keeps you motivated?
​My wife and I recently had our first little girl, and family has always been important to us both. We took the decision that we wanted to stay in Shrewsbury because of the importance of having family close by. I just took the early decision that, if we didn't move somewhere closer to a big climbing area, then I'd just have to be psyched for commuting to Wales and Yorkshire. I've never really struggled with psyche for this. Some of the Yorkshire days can feel hardwork driving 3 hours+ each way.
I know if we lived in Llanberis, for example, we'd struggle to get as much family support for childcare, and I probably wouldn't get much more climbing done as a result. Also, I would still want to drive to Yorkshire anyway.
I've also recently built a massive wall in my garage, inspired by Dave Macleod's. It's basically the same size as Dave's, with a big 20 degree and big 40 degree wall. Hopefully I can gain some of Dave's legendary skills and put it to use on the crags.
If you could take just one UK crag to a desert island, which would it be and why?
I was going to say Ceuse until I noticed the 'UK' bit. So perhaps Sron Ulladale if I can guarantee that there is no midges on the desert island. I haven't been there yet, so it could be a gamble, but it looks decent ... or would I take Kilnsey?? Tough question!
Ed works as a Mountaineering and Rock Climbing Instructor with the MIA Award. Follow Ed on Instagram