Hazel Findlay is a professional climber based in North Wales. Amongst thousands of trad and sport routes, she's climbed El Cap four times, including the Pre-Muir Wall (5.13+). One of the pitches involves a technical open-book corner, high on the route. James McHaffie said Hazel's ascent was 'one of the best bits of climbing I've ever seen.' Hazel's also interested in the mental aspects of climbing, and openly talks about the mind, its powers and its limitations. You can find out more or learn from Hazel's coaching courses on her website.
You often speak about the mental side of climbing. To what extent do you think the common phrase, 'the mind rules the body' is correct in climbing?
Well, it's correct for anything right? If someone turns the lights off in your mind, you turn in to a vegetable. Everything comes from the mind. Having a strong mind is particularly useful for climbing, since climbing can often feel quite uncomfortable. We are psychologically hardwired to avoid cliff edges and falling through the air. Overcoming this pre-conditioning can be one of the biggest challenges facing a climber.
Was climbing Mind Control (8c, Oliana, Spain) personally significant not only in your climbing, but also as a return from injury?
Yes, Mind Control was significant. I tried it right after I did Fish Eye (8c) in 2014. I really loved the route and felt like it was possible. But that's right when my shoulder injury became unmanageable, which eventually lead up to the operation in 2015, and what ended up being a two year recovery from that. When I did Mind Control in 2017, this signalled the start of my shoulder being strong enough and pain-free enough to climb as I wanted to.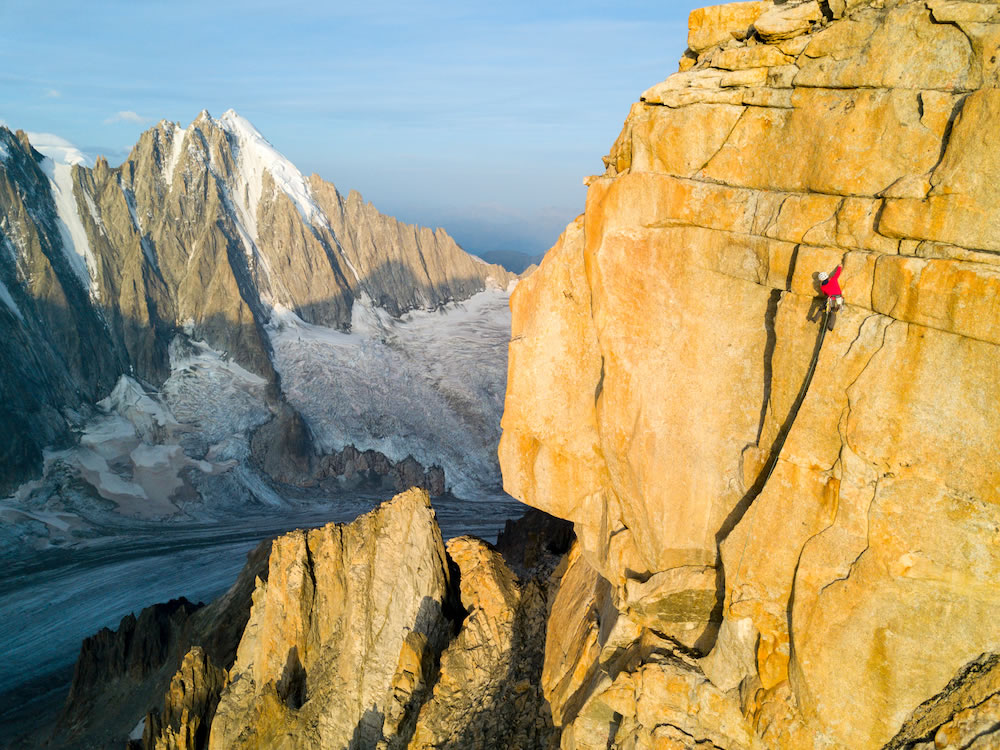 Hazel on Piliar Bettembourg, Piliar Sud, Aguille d'Argentiere, Chamonix. Photo: Jon Griffith
Your four free ascents of El Cap are a really good effort - but what are the real, standout moments from these journeys? Could each route only have happened at that particular time, with the accumulated experience/knowledge?
I think going from being really terrible at crack climbing (as many British climbers are), to freeing Salathe headwall (which might be one of the world's trickiest cracks) was a fun progression. I absolutely love granite climbing, especially the climbing in the Valley, so each of these times up El Cap feels super special and memorable.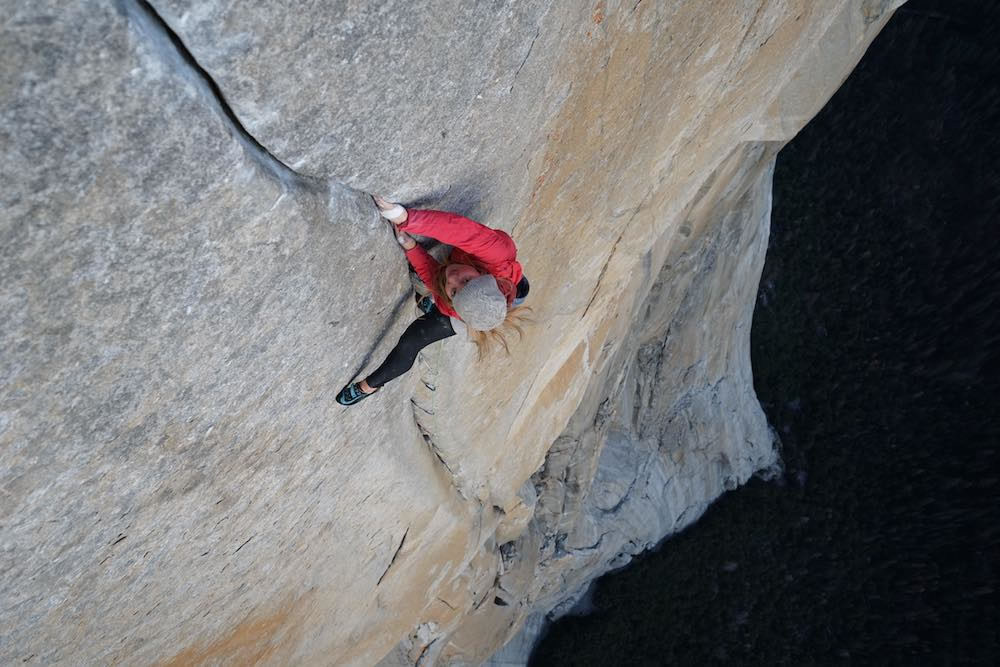 Hazel on Salathe, El Cap, Yosemite. Photo: Jonny Baker
You've recently moved to North Wales. What is it about the UK (and UK trad climbing) which appeals?
To be honest, I didn't really move back for the climbing. I do love UK trad climbing, but it's not my favourite. I definitely love bigger, cleaner walls more now. But it's home and most of my friends and family are here. Also, life is not all about climbing, there are other 'needs' that are good to meet, and having a base somewhere familiar feels like the right thing for me to do after 10 years of shuffling around the globe. The climbing is fun enough here to keep me entertained, but I'll definitely still be doing lots of trips abroad.
You're a professional climber. What advice would you give to younger climbers about sponsorship, and conversely, is it easy for you to find a balance between thoughtful content and spray; authenticity and selling a brand?
Sponsorship is mostly about social media these days, so I guess I would say to anyone who is thinking about being a professional climber: are you comfortable with that? If not, then maybe get a different job. Even the best names can't avoid it because (and people don't realise this) professional climbing is still a job. You're not a value to a company if you just climb well, you need to climb well and talk about it in a way that's authentic to you and interesting to others. So yes, I guess you do need to 'spray'. However, I try not to think about it in those negative terms, or otherwise I wouldn't be motivated to do what I do. I consider the voice and following I have in the climbing community to be a huge responsibility, which I take very seriously. I only endorse brands I actually support. I try not to waste people's time with shallow or dishonest social media posts and I try to create content or talk about things that I think are interesting, positive or inspiring. This can often be very hard to accomplish especially when you want to maintain some personal privacy. However, in return you get to do the thing you love and share that with whoever is interested.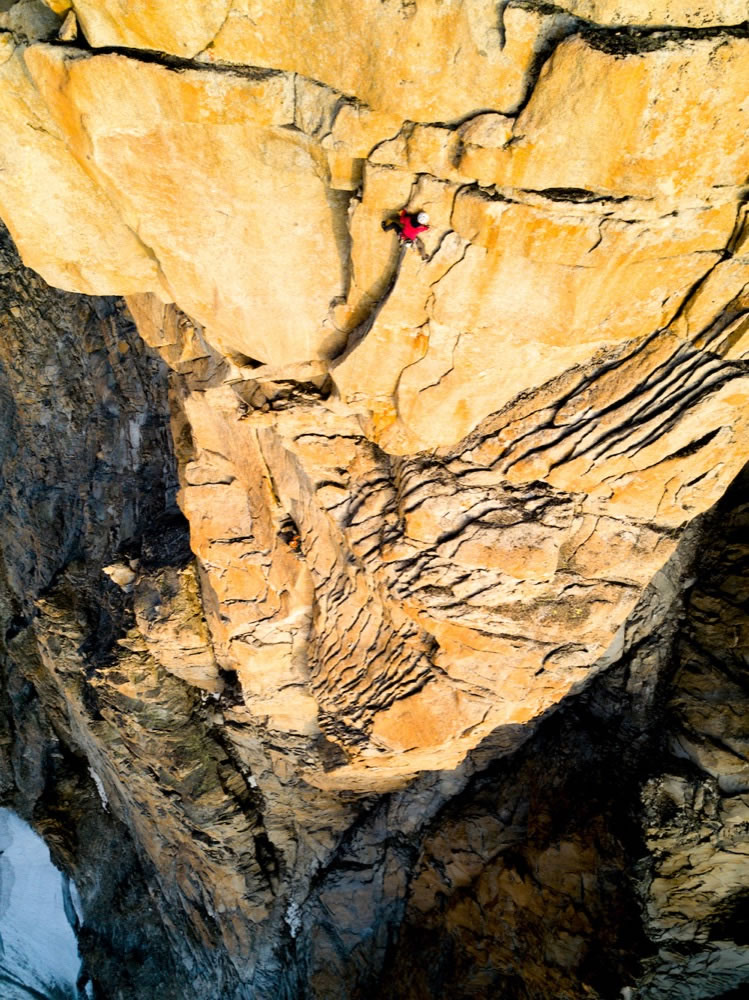 Hazel on Piliar Bettembourg, Piliar Sud, Aguille d'Argentiere, Chamonix. Photo: Jon Griffith
A fun final question: if you were on a belay and you could pass the time with anyone in the world, who would you choose to join you, and why?
Sam Harris, because he's intelligent and he's interested in the same things as me. Hopefully we'd be on something easy, because I doubt he can belay.
Follow Hazel on Instagram, Facebook, or visit her website. She's sponsored by Black Diamond, La Sportiva and Sea to Summit.