Stefan Morris is a Pembroke-based climber with a passion for photography. He's climbed extensively, visiting Greenland, Yosemite and Norway in search of high-quality granite. Stefan consistently produces interesting and honest climbing photos. He'll often publish an edited, enhanced photo alongside the original, illustrating an open approach. Climbing photos are rarely perfect to compose (poor lighting conditions, for example), so it's great to see Stefan's psyche for both climbing and photography. 
In the summer of 2017, you travelled to the Tasermiut Fjord area in Greenland and repeated a route called War and Poetry - what do you think of the climbing, and the trip in general?
It was an enormous step up for my climbing partner, Andrew Cherry, and I. It was more committing than anything we'd ever done, but I think this instils a good amount of self reliance. You're having a great time (most of the time), but you're also extremely aware of what a faff it would be to get evacuated. We'd applied for the grant funding half assuming we wouldn't get it. The climbing was ace, a good mix of slabs and steep cracks, cementing my love of high friction granite. We did have a ton of bad weather though, which was rather frustrating. It also demonstrated how having 'something else' on a long trip is good for variety, such as a skill you can develop on top of the climbing. I took a shed-load of photos and my mate Andrew painted mountainscapes in coffee. More than anything, Greenland whet my appetite for big walling and shooting in interesting places.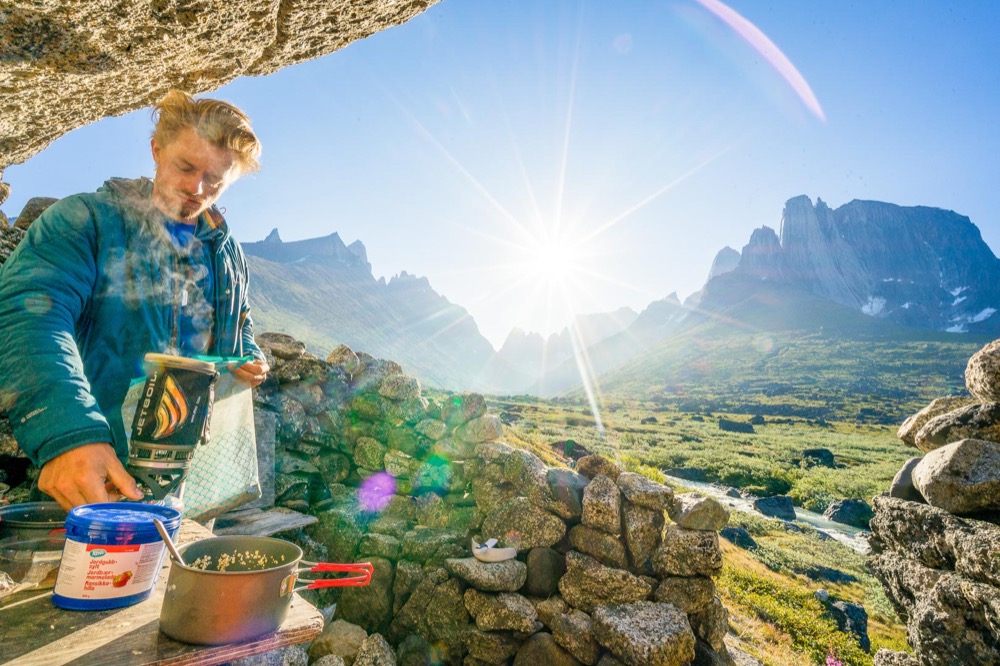 Andrew Cherry making morning coffee in the Tasermiut base camp kitchen, Greenland. Photo: Stefan Morris
Your photography seems to be a consistently high quality. Has it got the attention it deserves?
Thanks! I've been working pretty hard at it for a while now. I've had a couple of articles on UKC, but I've never been straight-up paid for a photo or published. That's not to say I wouldn't relish the opportunity to shoot professionally. The slow burning dream is to shoot on assignment, on big-walls and expedition climbing. Photography is a great vehicle for meeting new people. Many of the people I've shot this spring and summer, I'd only met that day or a few hours before.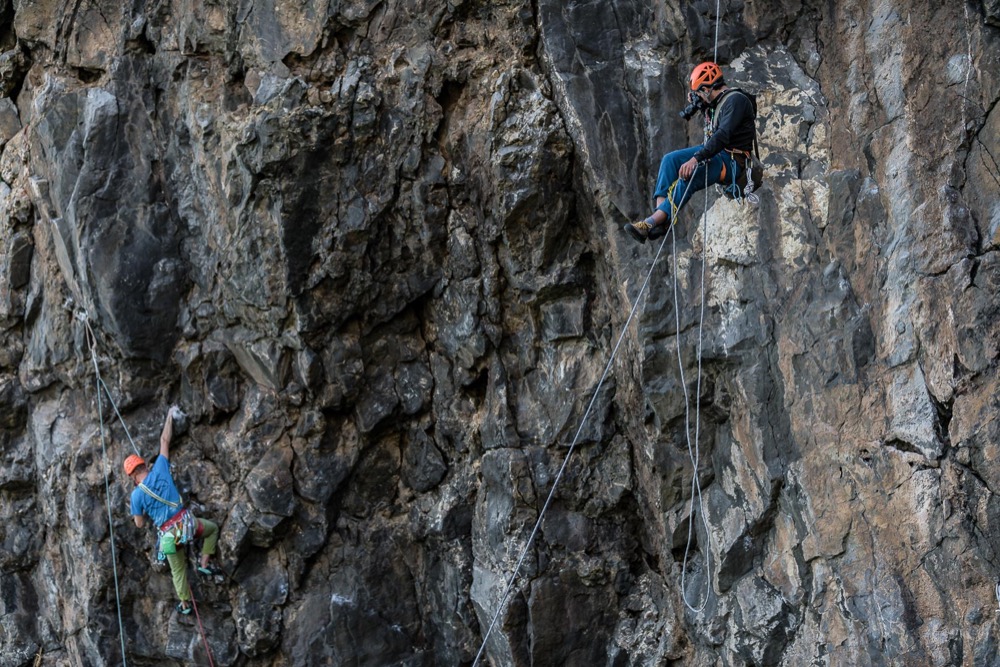 Shooting Ramon Marin as he climbs 'Just Klingon' (E5 6a) on Mother Carey's Space Face, Pembroke. Photo: Tim Harper
You seem to be equally psyched for photography and climbing. Is this correct?
Yes, that's pretty much spot on. Although it does wander from one to the other and back again. This year I've consciously focused on taking more photos to improve, and try to push it up a notch. Motivation has come from the pure enjoyment of doing it, kind words from friends and a general feeling that I'm not bad at what I do. Much like the hit you get from climbing well, as soon as you shoot a nice picture you want to go out and better yourself. All I know is that I get a huge amount out of making a nice photo, so in a sense it's a purely selfish endeavour!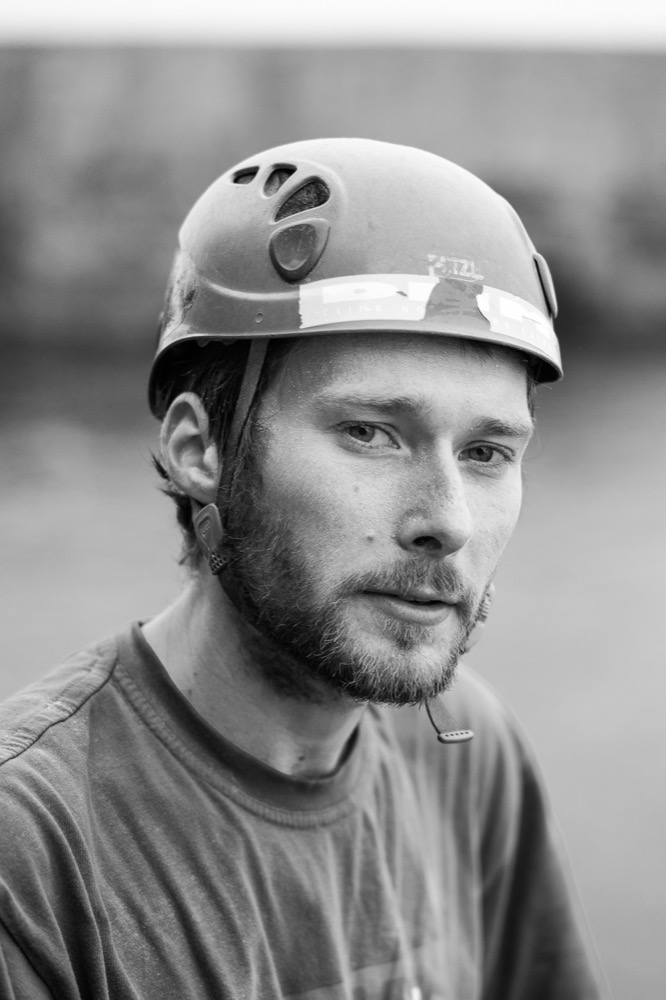 Stefan says: 'I really like this portrait of my brother Edmund. It is entirely unposed (yes really!) hence the slightly quizzical expression. I feel it captures his quiet, thoughtful and very measured approach to onsight trad climbing. For crag nerds, it's at Gun Cliff and that's mowing word in the background.' Photo: Stefan Morris
Your photography is also very honest - you'll post a photo online, but also show the original. Why do this? What do you value in photography?
Climbing is complex, exciting, and tedious. All the photographer does is immerse themselves in it, and capture as much of it as they can. I definitely look up to Heinz Zak and Ray Wood for their honest style and obvious knowledge as climbers themselves. Heinz Zak also has a pretty mad stilts technique I've been wanting to try for a while.
A few years ago I read an interview with Ray from 2006. His one piece of advice was to care. Integrity and honesty are integral to a UK-bred trad climber and I try to convey this through my photos. I aim to be clear, sharp and colourful with balanced (in my opinion!) composition. I think the photographer should be part of it and really know their subject, but the photographic element should be as non-intrusive as possible. I don't like to ask people to reverse things or repeat moves. You just shoot what you see and know when to be invisible. I bought a camera with a silent shutter and rarely take it out of silent mode... *cue many 'long lens in the bushes' jokes*
Sharing a 'before and after' edit comparison is just another part of trying to be as down-the-line as possible. If you want to get creative with the edit then fair enough, the edit is a lot of where a photographer's identity seems to come from nowadays. I also do it because it shows that taking a nice photo is only half about having a good camera and being in the right position. It demonstrates the work than goes into a good photo even after shooting. Good editing is an art, and I'm forever trying to improve.

Andrew Cherry on the summit of Ulamertorsuaq, Greenland. One of my favourite edit comparisons. I shoot everything in Raw and underexpose by a stop or two. This gives the most options for edits and ensures whites are never blown out. Photo: Stefan Morris
What do you think of Pembroke - surely it's one of the best trad venues in the…?
I'm a big fan. I grew up here so I feel I'm a bit biased, but it really is quality. There are very few places with such concentration of route of all grades, access, wildlife and setting. You can't not take an interest in birds and sea life when you get a front row seat to so much. Shouts of 'SEAL!' will forever turn heads. I also think of it as a great base to come back to after a long trip away. It's got a very small but active and supportive local climbing community who, despite the vast quantity of crags to choose from, invariably spend wednesday evenings at St Govans Head.
However, the winters can be tough. But that's when weekly pub trips after the wall are needed.
However, since it's sea cliff climbing, have you had any spicy moments involving rusty pegs, big swells, nasty falls etc?
Touch wood, I've never had a really dodgy moment... that or I've wiped them from my memory. I've had to swim out of a belay with my chalk bag tied to my head once, been soaked by big waves, abbed over roofs into the sea and trundled my share of choss. One of the virtues of climbing a lot with my brother [Edmund Morris] is that neither of us is really keen for any of the truly dangerous stuff. There's just no point when there are so many well protected, quality routes.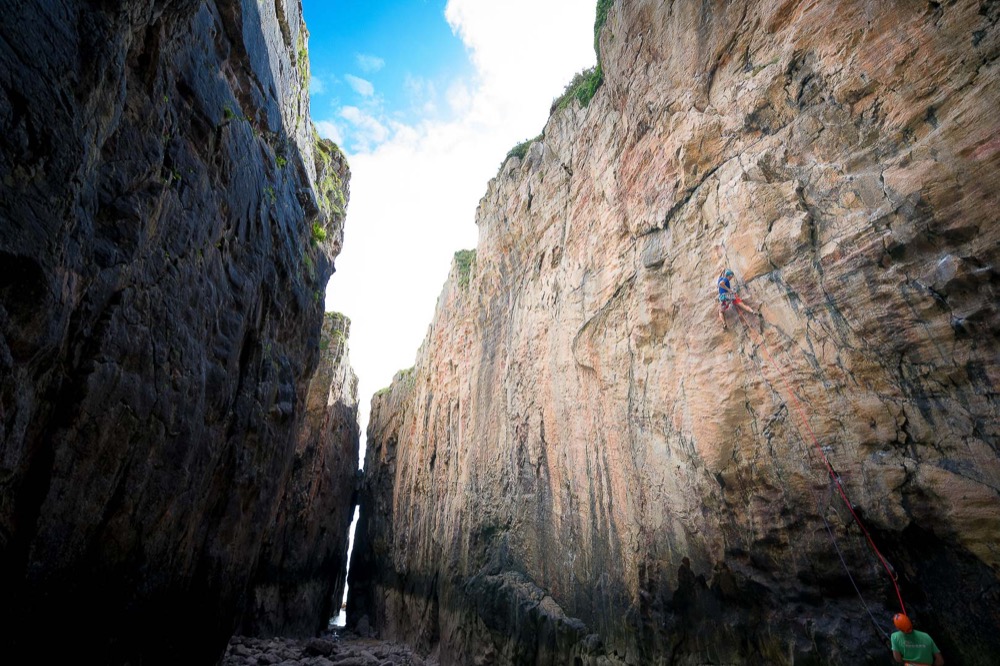 Edmund on Wicked Witch of the West (E6 6b), Huntsman's Leap, Pembroke. Photo: Stefan Morris
If you could take just one UK crag to a desert island, which would it be and why?
I'm going to be really basic and say St Govan's Head, Pembroke, simply for it's variety. I seconded Edmund on In Orbit a few weeks ago. It starts right underneath a chimney that looks like its about the collapse. We both agreed it was quite unlike anything else at the crag. I'd probably take the Pembroke Co-op shop with me too, it's a big part of mine and Edmund's Pembroke climbing routine.
I also want to add how grateful I am to everyone who lets me shoot them. And if you'd like me to shoot you.. please get in touch.
You can follow Stefan on Instagram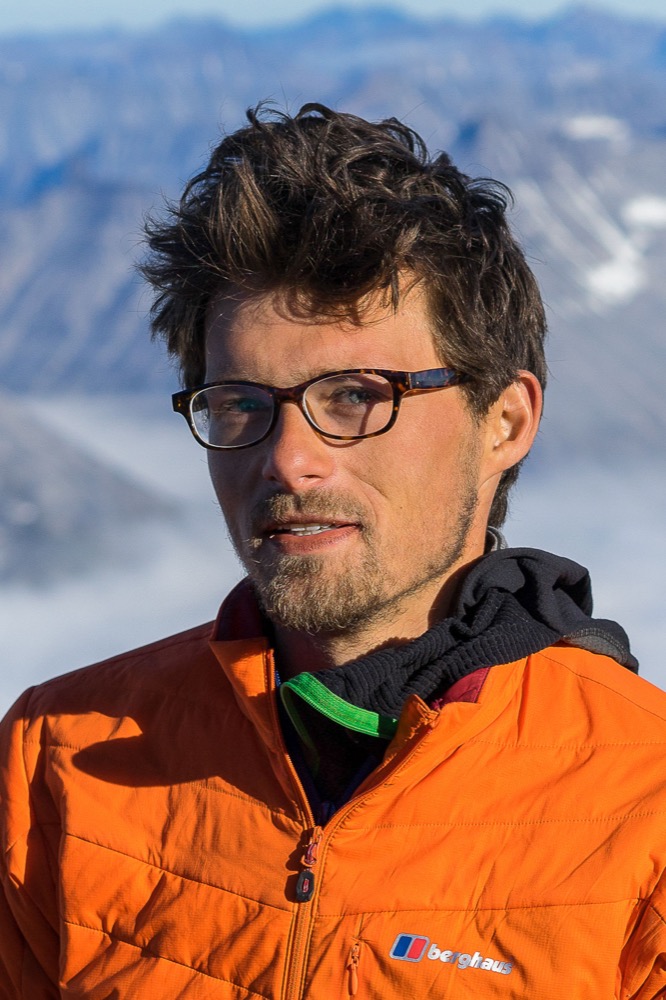 Stefan in Greenland. Photo: Andrew Cherry