Alex Mason is a climber based in North Wales with a knack for finding quality new routes. Most recently, he forced a way through one of the steeper sections of Gogarth's Main Cliff to add Democide (E8/9). After being part of Bangor University's infamous climbing club (the 'BUMS') in 2010, he now works at the Beacon climbing wall, and splits his time between climbing and his family.
Which of your new routes stand out, and why?
I guess they all bear some significance in their own way. When I tried Smear Campaign (E7) with James Mchaffie, I'd just gone to give him a belay. He declined the lead and offered me the sharp-end, so I had a punt and managed it. I learnt a few invaluable lessons from this but primarily, if there's an unclimbed bit of rock, go and check it out, there's probably enough holds and gear. This just kind of set the ball rolling. The Rising Son (E8) and Cwm Face (E7) are both cool too, as they take really obvious lines on really obvious crags.
Probably the stand out route for me is Democide, for a lot of reasons. Firstly, I love Main Cliff. Second, doing Skinhead Moonstomp (E6 6b) was a huge milestone at the time. Thirdly, it took six years, three injuries and a lot of determination to keep going back and finally get it done. Not to mention, it's an absolute quality endurance pitch and bound to become an absolute treasure of a climb for those who make the effort.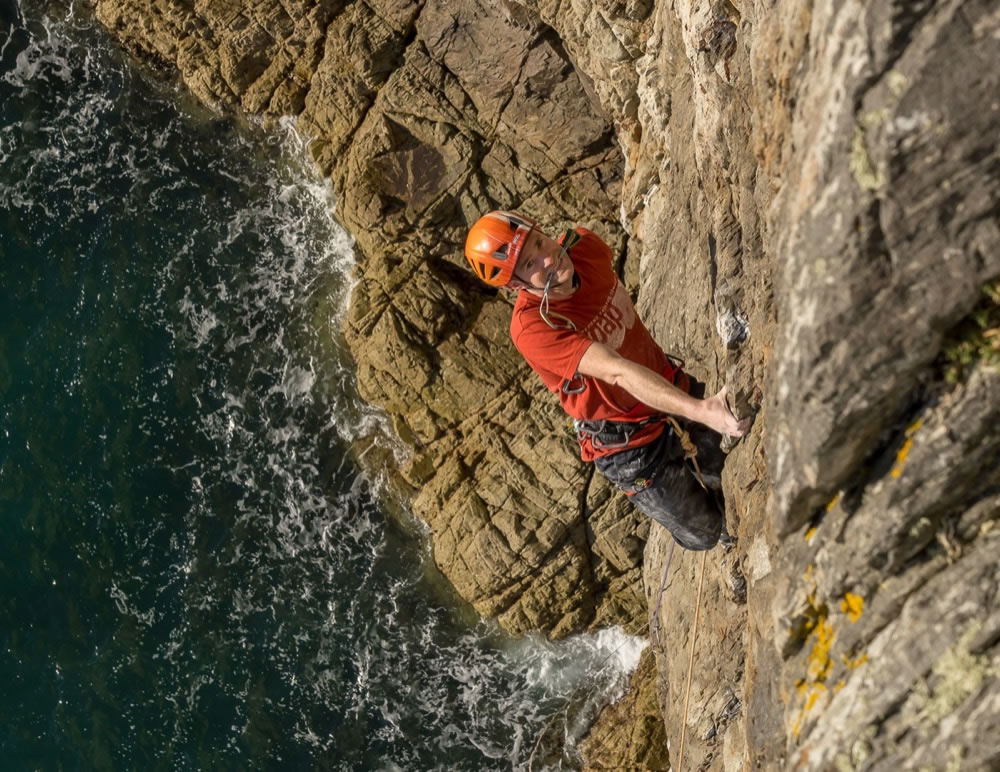 Alex climbing the Skinhead/Positron section of his new route on Gogarth's Main Cliff: Democide [meaning, the killing of people by a government].
Photo: John Bunney

What's it been like to balance family, work and climbing?
If anything, it's made me more focused and efficient. I used to spend a lot of time not getting on the routes I wanted to. I basically realised that the idea of 'mileage' is just an excuse to play it safe and not get on with your true objectives. In terms of life-balance, I'm very fortunate that both my work and family life involve climbing. Family days are often spent bouldering or sport climbing and working as Manager at Beacon Climbing Centre I get to do a fair bit of route-setting which keeps me fit.
You recently climbed a new route which is a counter-diagonal 'through' Cockblock [a popular E5 in the Llanberis Pass]. What were some of the suggested names before you called it The Rising Son (E8 6c)?
Ha! as you can imagine a lot of names were put forward, some of the more memorable ones were: Dickbrick, Fannyallow, Monumental Mason, Cocktopussy, Knob Slapper, The Golden Phalus... You get the idea!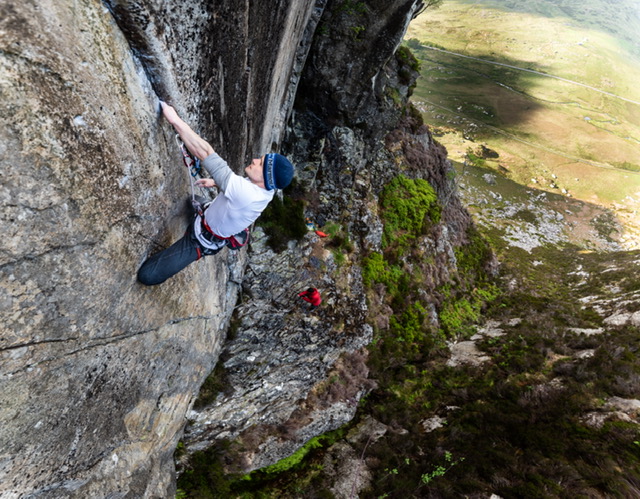 Alex making the second ascent of The Dispossessed (E7 6c), Gallt yr Ogof, Ogwen. Ben Silvestre first climbed this finger-crack a few hours before.
Photo: Jethro Keirnan
Due to having a family, you must've become better at seizing quick training sessions or after-work cragging opportunities?
Yeah, totally. I think it probably helped me not to take climbing so seriously in some respects, freeing up nervous energy for the task at hand. Not partying every weekend has given me a lot more drive and motivation again.
I guess efficiency has become key now. I often do a quick core session (10 mins) in my lunch breaks and it has meant that rather than spending four hours on a bouldering session, i'll just do an hour and a half which, it turns out, is much better for obtaining a bit of power. Most sessions now, I'll only have time to warm-up and then have one or two goes at something so I try and make them count by picking the things I really want to do and then trying really hard on that one thing.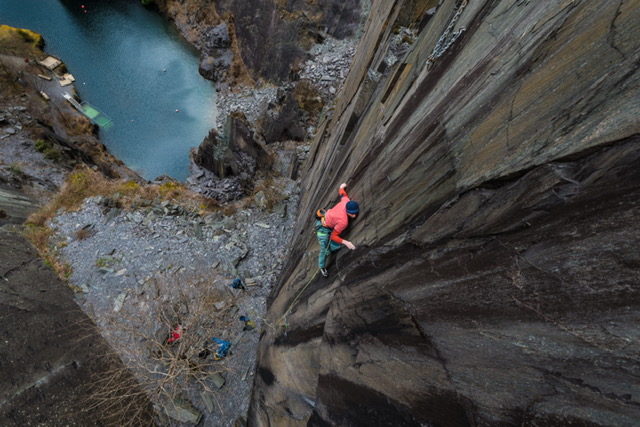 Alex climbing Manic Strain (8a) on the Slate. Photo: Jethro Keirnan
What do you remember from your time as BUMS [Bangor University Mountaineering Society] captain?
Haha, not a lot. I think I had this view that everyone could climb quite hard, so sometimes it would just be me on the minibus with a load of pads on the way to Parisella's Cave. Really, I should have been going to Lion Rock or Holyhead Mountain or something. I think when we did go to more accommodating venues, I would end up over-estimating people abilities: I once sent Laura Perry off up Seamstress on the slate for her first ever lead climb with a set of wires and said 'just look for constrictions in the crack and stick one of these in'. We were together at the time, so it didn't end well... for me.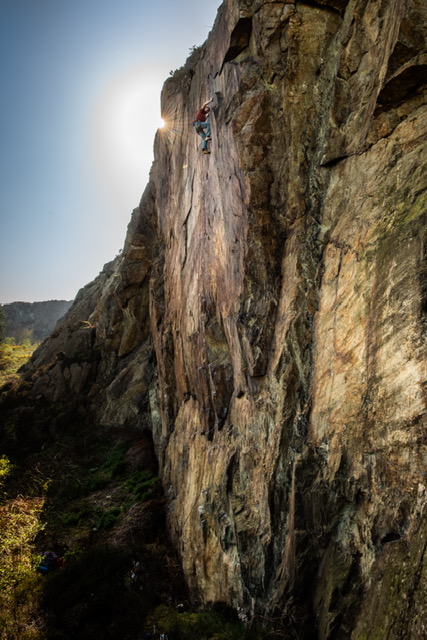 Alex making the second ascent of The Dispossessed (E7 6c), Gallt yr Ogof, Ogwen. Photo: Jethro Keirnan
Alex is sponsored by Beta Outdoor Sports, Snap, Wild Country and Tenaya