Becky Coles is an expedition and adventure travel specialist who has led expeditions, travelled and climbed on all 7 continents and in over 70 countries, giving her a unique breadth of experience and knowledge.
Becky also has a Geography PhD from the University of Sheffield and is a qualified International Mountain Leader and Mountaineering Instructor (MIC) along with being a Fellow of the Royal Geographical Society. 
Can you tell me about Project Alpine Spirit? 
This year myself and a small team are attempting to climb all the alpine 4000 m peaks. This hasn't been done by an all-women's team before. We are attempting the UIAA list which is 82 peaks but, as far as our research tells us, no all-women's team has completed any list, over any amount of time. A big part of the project also involves telling the stories of historical female alpinists. You can follow the project on our facebook page.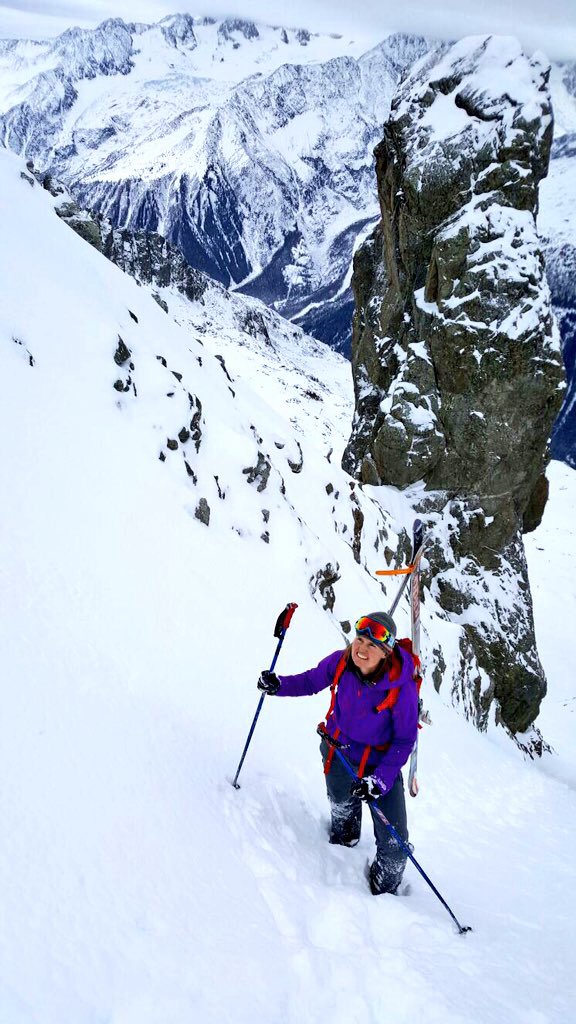 Becky ski-mountaineering in Chamonix. Photo: Simon Verspeak
You're involved with the Mount Everest Foundation. Do you see a growing number of grant applications, or is it fairly consistent?
I sit on the MEF screening committee and look at all the applications but particularly review the geography and glaciology applications because I have a PhD in Glaciology. The MEF attracts an excellent number of applications each year. The science applications have been on the increase in particular. However, the demographics of applicants has changed. We now get a lot less applications from younger people and university teams. I'm always inspired by the proposed expeditions which is why I'm really enjoy my role on the committee.
You have your MIC - good effort. What was your journey like to receiving the award, and what advice would you give to others aspiring to it?
The award formerly known as MIC, recently rename the Winter Mountaineering and Climbing Instructor (WMCI) – we've got to try and spread the word on the new name of the qualification. Yes, how did I end up here?! When I started out with the Mountain Leader it was because I enjoyed being out in the hills and wanted to share that with others, mostly working on my weekends. I never thought I'd be good enough to become a mountaineering instructor. I enjoyed my easy grade mountain routes and didn't see any reason to venture beyond that. Over time I began to think that I wanted to work more in the outdoors and that the Mountaineering and Climbing Instructor awards could be achievable. I then made a concentrated effort on my rock climbing and gained the MCI. The Winter MCI was a natural progression for me as I'm a bit of a winter weirdo, happier on harder winter routes than rock routes and love my Scottish winter climbing. I move up to Scotland each year for the winter and soon had enough experience to progress through the WMCI.
In the last year, which work days stand out?
Well last winter was pretty unseasonably warm in February and although this was terrible for winter climbing, it was warm dry weather, rather than the usual warm wet weather, so I had a great time rock climbing. I climbed the Old Man of Storr in mid-Feb and then that afternoon walked into the bothy near Suilven and scrambled over Suilven the next day which is a magical place. I managed to climb a few good personal routes before it got warm too, notably Crypt Route (by removing all the rack off my harness I got through the squeeze. I also may have owed the swear box a lot of money after that move) and Savage Slit, a classic I'd not done before.
Another stand out personal route, was the North face of the Lenspitze and Nadlehorn traverse which I did after working with a school group in Switzerland. I've often squeezed in some decent alpine routes between the alpine trekking work I do. There's something quite satisfying about coming back to work and being able to reply to the question what did you do at the weekend? The Eiger.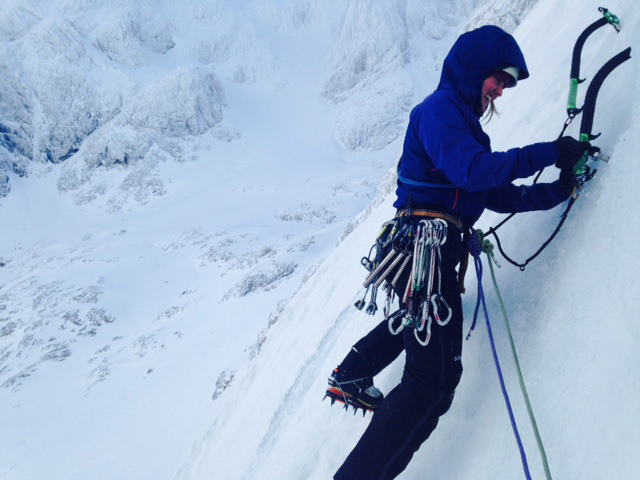 Becky winter climbing on Ben Nevis. Photo: Ed Chard
You lead expeditions around the world. Which destinations would you like to return to - either for travelling or activity?
I love Central Asia, particularly Kyrgyzstan. I've also enjoy the challenge of going to some really out the way places. I've made several trips to the Wakhan Corridor in Afghanistan and would love to go back again to mountaineering. Last November I had a really enjoyable work trip to the Lut desert in Iran. We made the 5th ever crossing on foot of the desert.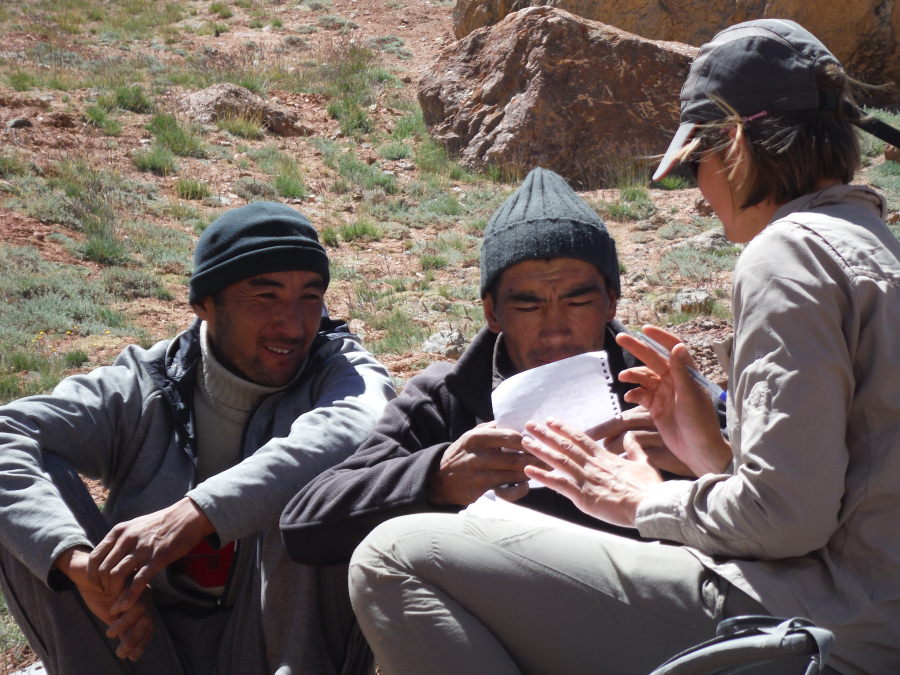 Becky organising expedition logistics with locals in Tajikistan. Photo: Simon Verspeak
You spend some time in Sheffield, and some in North Wales. Are they both good in their own right, or good seasonally? North Wales in the 'monsoon season' (winter) can be pretty dark.
Hahaha, I do struggle in North Wales in winter. I'm up in Scotland from mid-Jan, based on the west coast and then in Sheffield in the early Spring and late Autumn. It might be a bit strange to say as someone who enjoys spending time in the outdoors, but I like living in a city, being able to walk and cycle everywhere and the anonymity that can be easily found in a crowd. Sheffield is a pretty unique city however, with the Peak District being so easy to access. In the summer North Wales is a dream though. I can walk to the lake and swim for kilometres, I've even swum home after finishing work in Llanberis. The evening cragging is world class and having the amazing coastline so close is something I miss when in Sheffield. I'm really very lucky to be able to take advantage of both places at the best times of year. Although it's guaranteed that the stuff I'll need will be in the other place!
Finally, random question. Who would you most like to share a belay with, and why? You can choose anyone!
With the research I've been doing for Project Alpine Spirit I've become fascinated with the lives of historical female alpinist. Meta Brevoort is particularly interesting to me, she was climbing in the 1870s and she pioneered not only winter ascents in the Alps but also the high mountain bivi. She climbed mostly with her nephew W.A.B. Coolidge who published multiple books about the Alpine climbing history but fails to mention his aunt in the books, so I'd love to know more about her.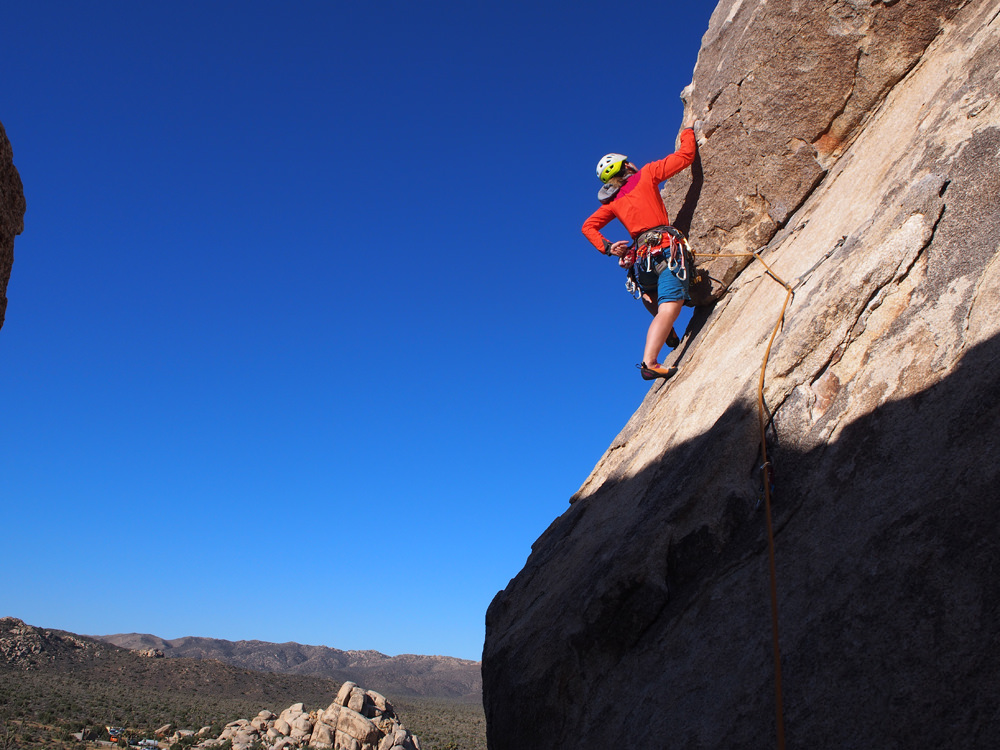 Becky climbing in Joshua Tree. Photo: Simon Verspeak
If you like what we are doing with Project Alpine Spirit, you can support us here.
It's worth visiting Becky's website, Facebook and Instagram page along with following Project Alpine Spirit, which is supported by the BMC, Stance Socks and Firepot Meals.
Becky is supported by Montane, Ellis Brigham, Cicerone & Julbo Eyewear