Simon Verspeak is based in North Wales, and runs an outdoor instructing company called Oranje Bergsport (the name is homage to his Dutch ancestry and means Orange Mountaineering). Simon holds the Mountaineering Instructor Certificate (MIC), the highest level of climbing/mountaineering qualification in the UK. Find out what it's like to be an outdoor instructor both in the UK and abroad, and to work on the local Mountain Rescue Team.
You've worked in the outdoor industry for a while. What's your job like, and what aspects do you enjoy most?
My job has changed and evolved significantly in the last few years. My background was originally in the delivery of multi-activity outdoor education to young people. Today, my work is predominately with adults; split between skills; high-altitude treks and climbing; instructor training; and assessing and development. This is mainly mountain-focused and quite seasonal. I have always loved the variety in the outdoors and I am lucky that now my year is still very varied.
I work up in Scotland over the winter months delivering walking, mountaineering and climbing, during the spring I go home to Snowdonia and spend my time working on Mountain Leader courses and scrambling courses. I try and go to Scotland (often to Skye) again in the spring and autumn. Summer time is either youth work, climbing or trekking work. Usually I go to the Himalayas in the autumn and work on instructor courses. Busy.
What do you think of the industry at the moment - outdoor activities have certainly come 'in vogue' in recent years?
I love seeing people out in the outdoors, it's incredibly healthy. But I have two concerns, one is the desire to fast track experience and people biting off more than they can chew early on. Mountaineering is a journey and any sort of progressive apprenticeship will be worth it in the end. The second is rise of people deciding not to go through the qualifications but to buy a good website and market themselves above their level of training, qualifications and experience. Unfortunately, it's hard for the consumer to know what they are looking for.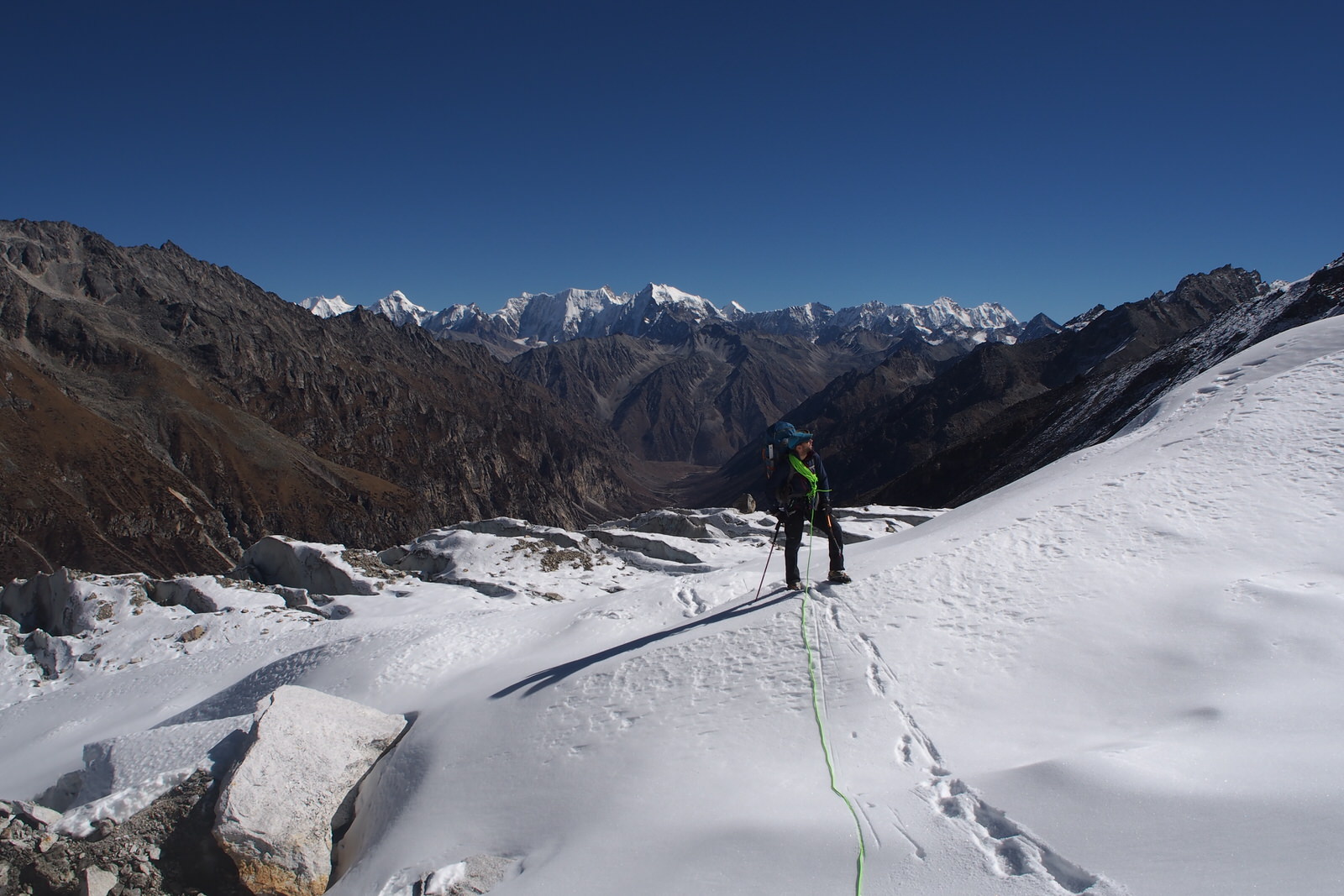 Simon in the Nepalese Himalaya. Photo: Becky Coles
What was your path through the qualifications - anything you'd advise your former self to invest more/less time in?
I was inspired by a few characters early on to become a Mountain Leader and that early goal grew and grew. After university and time in Scotland and the Alps, I wanted to be able to work in those environments, so I set longer term goals of becoming a Mountaineering Instructor and an International Mountain Leader. 
I have always done other sports too such as kayaking, mountain biking, surfing etc. I think I'd be climbing better now if I hadn't done these things as well but some how life wouldn't have been as rich, so I don't have any regrets.
I've been lucky with the people who have kindly supported me throughout my development, so now I try and pay this back to others. These aren't the same people but I'd encourage us all to pass on some time.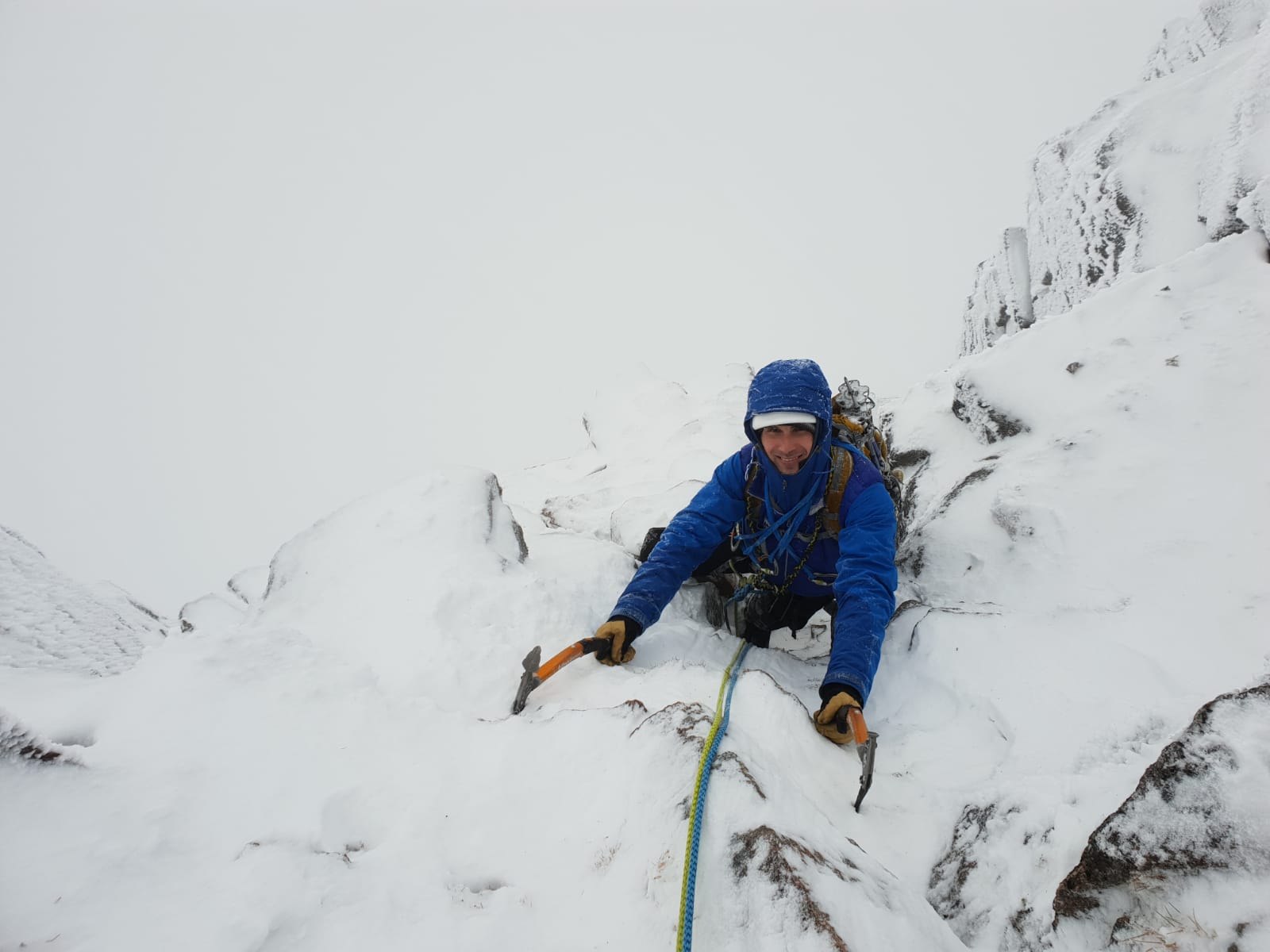 Simon winter climbing in the Cairngorms. Photo: Gwilym Starks
Do you get satisfaction through other's experiences/improvements in the outdoors? It must be great seeing others learn new skills?
Yes, I get loads of satisfaction out of seeing my clients become independent of me. Ultimately, working longer term with people, my aim is to make myself redundant. 
But then again, is it occasionally a difficult environment to work in: managing people's expectations, the weather, conditions etc?
Yes definitely! However 90% of how hard or easy or successful a day will be is making the right decision at the start. We joke in winter that you go home, look at the weather and avalanche forecast, have a shower, look at the weather and avalanche forecast, cook dinner, look at the weather and avalanche forecast, brush your teeth, look at the weather and avalanche forecast, go to bed, get up, look at the weather and avalanche forecast etc!! Decision making in winter is the trickiest, but a really essential part of the process and very rewarding to get right. If you can go to a safe place, challenge your clients but give them a great day, then it's a super feeling.
In your personal climbing, what are your highlights over the last few years? Any goals you've set for the future?
I have become happier over time with the realisation that unless I want to specialise I will never climb really hard. However I love winter, I love trad, I love alpinism, skiing and bolt clipping, and manage at a reasonable standard across the board - so it's far from bad.
For example, in 2018 I managed to do Orion Direct on the Ben, and ski lines on the west face on Aonach Mor on consecutive days off. Trad was a bit of a slow start due expeds to Kilimanjaro and Nepal in the spring, but things like Fantan B were good adventurous days out in the autumn. The summer alpine best tick had to be North-East face of the Lenzspitze with my partner in perfect conditions, and I was determined to go back to sports climbing over the winter of 2018; a month in December spent in Thailand was just the ticket.
This year, I'm trying to even up my life/work/climbing balance in the hope of improving a little. I have goals in the Alps every year and I also try and do at least one big personal expedition every few years; at the moment I have my eye set on Alaska next spring. In the long term, I really want to do another ski season so I can get better at skiing 'steeps.' I also try and have local ticks each year, usually routes that I have somehow missed. Sometimes I succeed on these, sometimes I don't, it all depends on how busy I am.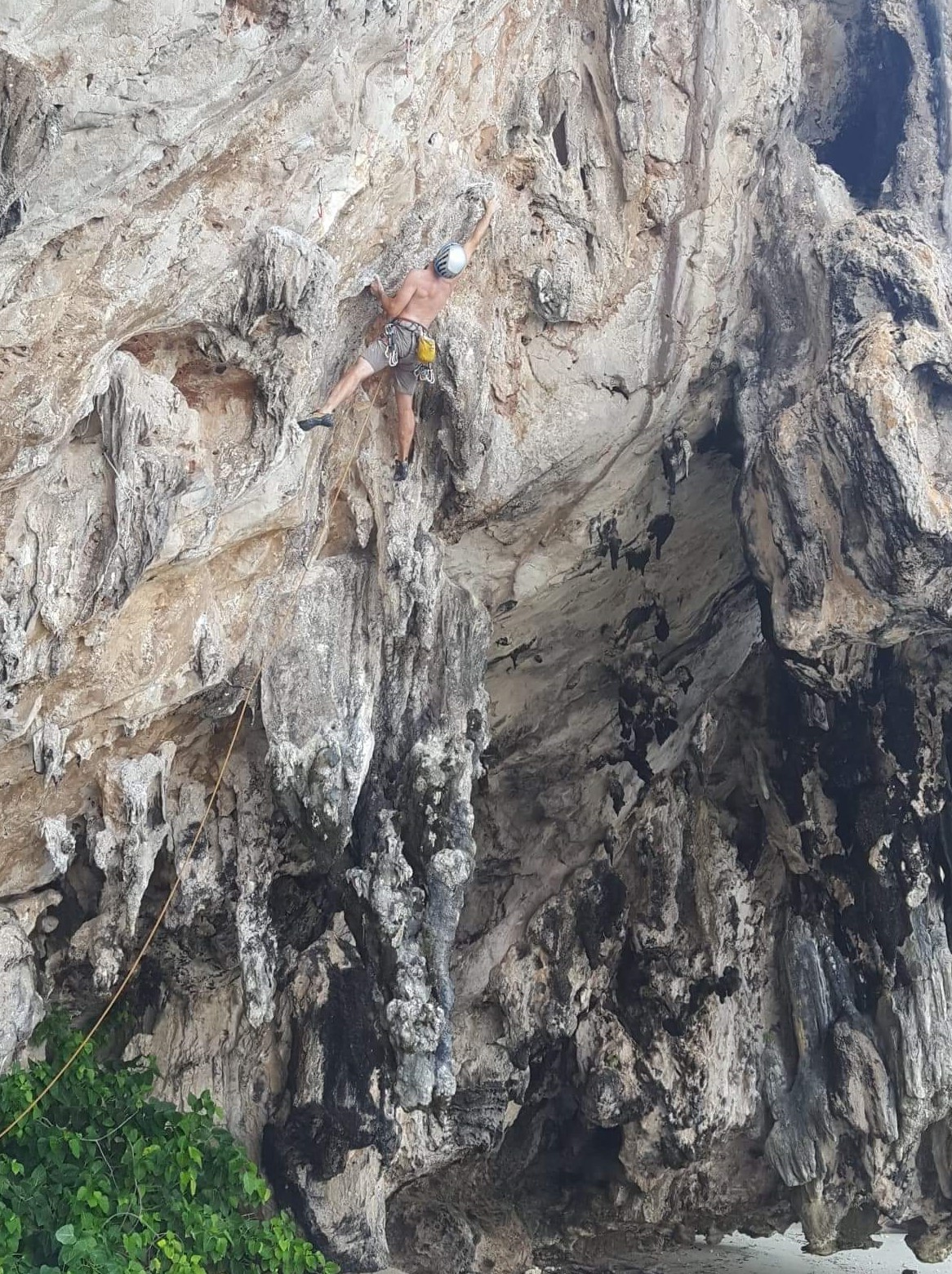 Simon clipping bolts in Thailand. Photo: Desiree Verbeek
Have you had any exciting moments leading expeditions around the world? Any countries you'd really like to return to?
Over the years I have had several incidents on expeditions mainly around weather and medical issues. In Nepal in 2015 it was the fuel strike which caused most of the issues leading to a very drawn-out retreat from some snowy big hills! Nepal is a country I keep going back to, but I'd also like to go back to Kyrgyzstan some time. 
You're a member of the LLMRT, which I always think is very altruistic. What drew you to being part of the team?
When I decided that North Wales would be my long term home, I felt I wanted to do something to support the community and to integrate. I've now been on the (Mountain Rescue) team for 12 years, and still enjoy the adrenaline rush from helping others in need. Some years I can give a significant amount of my spare team to the team, sometimes life is too busy, but as clichéd as it sounds, I joined as a long term commitment, not just for a season.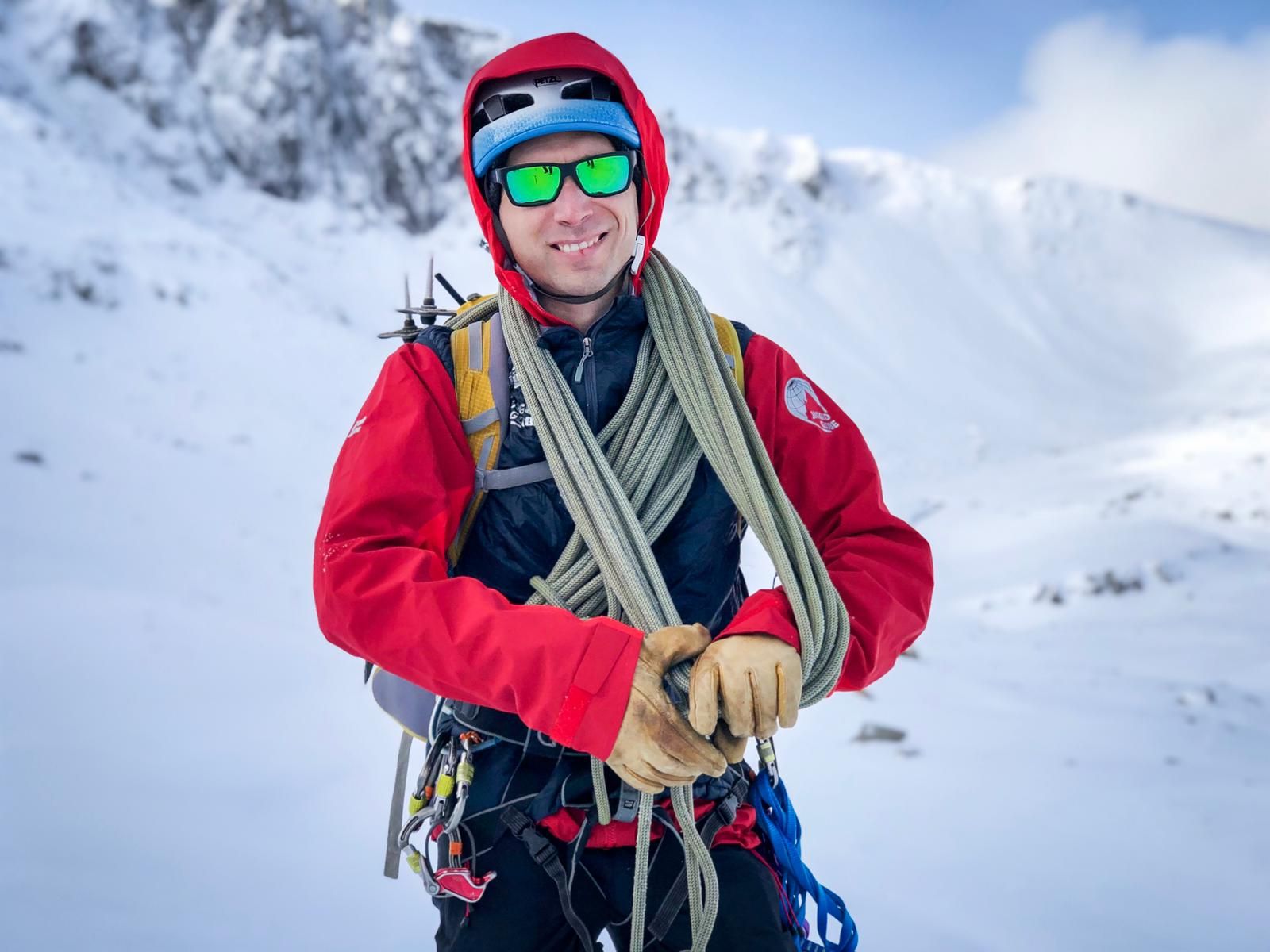 Simon in Scotland. Photo: David Haygarth