Calum Muskett started climbing aged 13 in his local area of North Wales. He made quick work of many classic trad routes throughout the grades, and has since established a few new routes of his own. Calum famously onsighted The Cad (E6 6a) aged 14, which is good going! Ever energetic, he's training to become a British Mountain Guide, is finishing a Master's Degree at Bangor University, and takes an active role in issues close to home.
You're a busy man! What have the last few years looked like - British Mountain Guide's Scheme and Master's at Bangor University, for example. Can you fill us in with some details?!
A bit too busy. I should be handing in my thesis this month and I'm finishing off my final few days as an aspirant guide as we speak, so by the end of the month I'm hoping to be a free man! Qualifying as a guide and doing a master's would have been more or less ok, but fitting that in with working pretty much full time to earn money has been a real squeeze on energy levels. I normally have really busy summer's and winter's working and then a bit more time in spring and autumn to get out climbing. This lack of consistency has made me a bit of a binge climber, but I'm looking at kicking that habit and becoming a more devoted and regular addict again.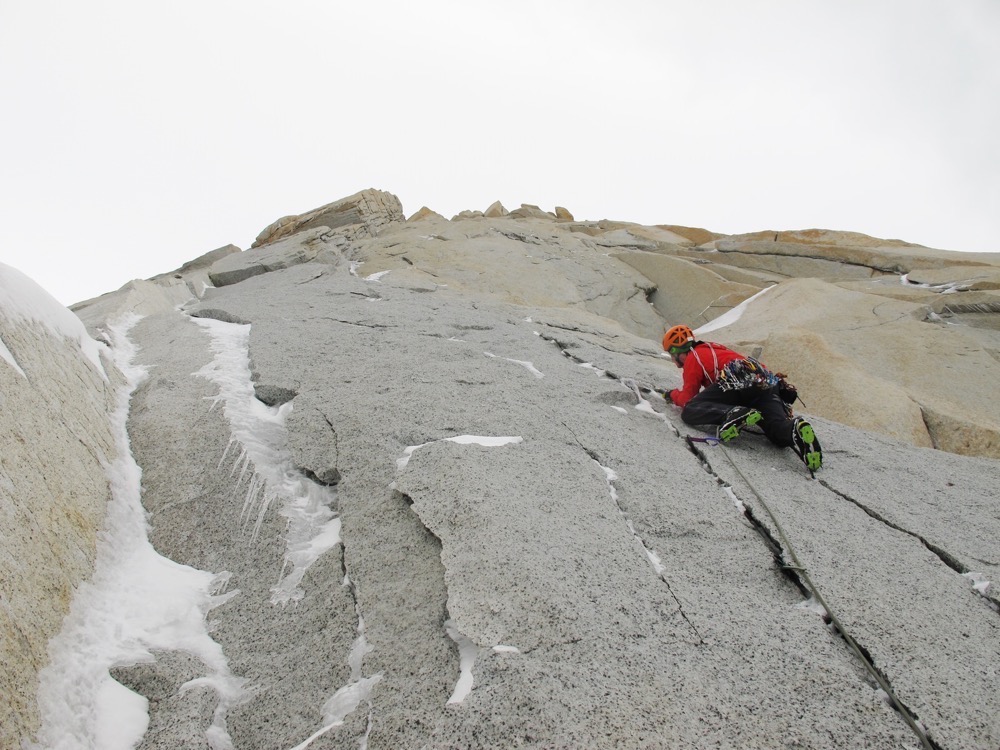 Calum on the FA of the Macleod-Muskett, VIII 8, Guillaumet, Patagonia. Photo: Dave Macleod
You're actively involved in issues local to North Wales, and the BMC (such as advice booklets). What drives this enthusiasm and energy?
I'm really passionate about increasing participation in the outdoors. I think it's a great shame that in places like Bethesda [in North Wales], where I'm from, there's such a cultural disconnect with the outdoors that surrounds the town. There haven't been many opportunities for people to get into outdoor activities in places like Bethesda and I think trying to provide opportunities for local people is crucial for mental and physical health and also for people to take an interest in their surrounding environment. If the local people, who are caretakers of the area, enjoy the outdoors, they are more likely to educate themselves about it and actively respond to threats to access and fight for improved access and conservation. At the moment, it seems like relatively few locals fight this corner, but I think a generational change is beginning to occur.
Whilst we have good access to the outdoors in Wales it shouldn't be taken for granted. Access to the coast, legislation to allow wild camping, legislation for shared access to footpaths for mountain bikers and crucially some clarification to benefit river users such as kayakers and fishermen, would be of great benefit. At the same time, there have been threats, most recently from micro-hydro schemes, that have caused large amounts of ecological damage for relatively little yield in energy production. Yes, micro hydro's are part of a renewable energy network, but these should be considered on a case by case basis, not driven by multi-nationals taking advantage of promising feed in tariffs. Belying this is also the lack of reasonable conversations between landowners, such as farmers and many conservationists. Townie's telling farmers that they don't understand conservation just creates division and cognitive dissonance on either side. Farmers often care about the local landscape more than anyone, but it's unreasonable to expect them to take steps to make their land completely unprofitable for farming. I think we're at an interesting crossroads for preserving the outdoors with the greater worldwide push for renewable technology and tackling climate change, but this increase in awareness can be a double edged sword whereby steamrolling over one obstacle can create a further two.
Do you think it helped to start climbing at a young age? What do you think of the influx of strong youngsters getting into climbing?
Without a doubt, although by modern standards, I started relatively late at the age of 13! Climbing is a really complex sport bringing together different factors both physiological and psychological. Underpinning that are the movement skills and tactical factors that take many of hours of practice to learn and the younger that you build up these skills the better. The top comp climbers seem to have been climbing at about 8b by the age of 12-13 and even at the local climbing wall there are loads of strong young teenagers burning off all the old timers – it's inspiring to see and these kids will be the future custodians of climbing. The comp scene will keep hold of some of them, but the majority will put their skills to sport, bouldering, trad and winter climbing when they get to university age and beyond. Just imagine where that will leave us in a decade's time!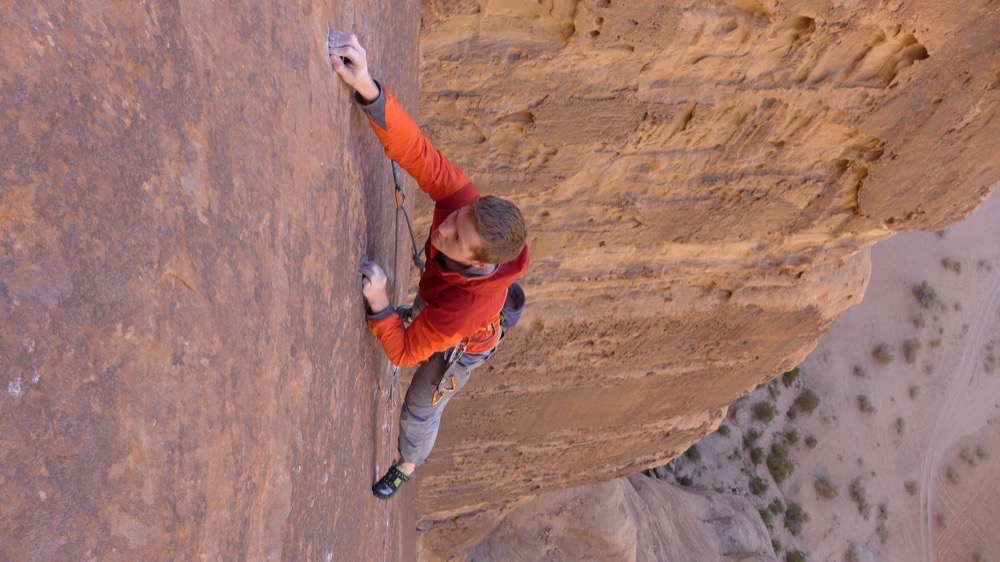 Pitch 3 (7c+) during the FA of Yolo Shabab, 8a, Wadi Rum Jordan. Photo: Gabriel Muskett
What have been your alpine and trad highlights?
The great thing about climbing is that you recalibrate your highlights as goals change and memories fade, so choosing highlights can be very difficult. I suppose the ones that felt like a real challenge at stand out. Paciencia on the Eiger was a great experience on a historic wall and a real fight. I wasn't particularly fit and most pitches felt like a bit of a battle. Although I managed most of the pitches on-sight, that doesn't really reflect how hard I found it because if I'd failed to climb them first go, I'd have probably lacked the stamina to red-point! It's also a place I'd love to return to for the amazing looking mixed routes that are also on the face.
Closer to home, routes like the Quarryman and more recently Margins of the Mind stand out. Historic routes in great settings, with fantastic climbing that are still challenging leads today. They're two of the finest routes in the UK with relatively amenable grades by modern standards but neither has seen many complete ascents, or on-sight ascents.
Have you had any good/bad moments on descents from routes?
I'm not sure if I have a very selective memory but there are no really bad moments on descents from routes, other than being a bit exhausted or cursing when I've had to unjam abseil ropes. The worst I can remember was when I was 18 and I'd just climbed Divine Providence on Mont Blanc with Miles Perkin. We reached the summit of Mont Blanc at sunset and started to return via the Troi Monts. The cloud moved in and the wind picked up (which meant we actually had to navigate!) and I was really dehydrated and hungry. I remember us stopping to melt some snow on Mt Blanc du Tacul and just feeling destroyed. The final ascent to the Midi was like walking through half-set concrete!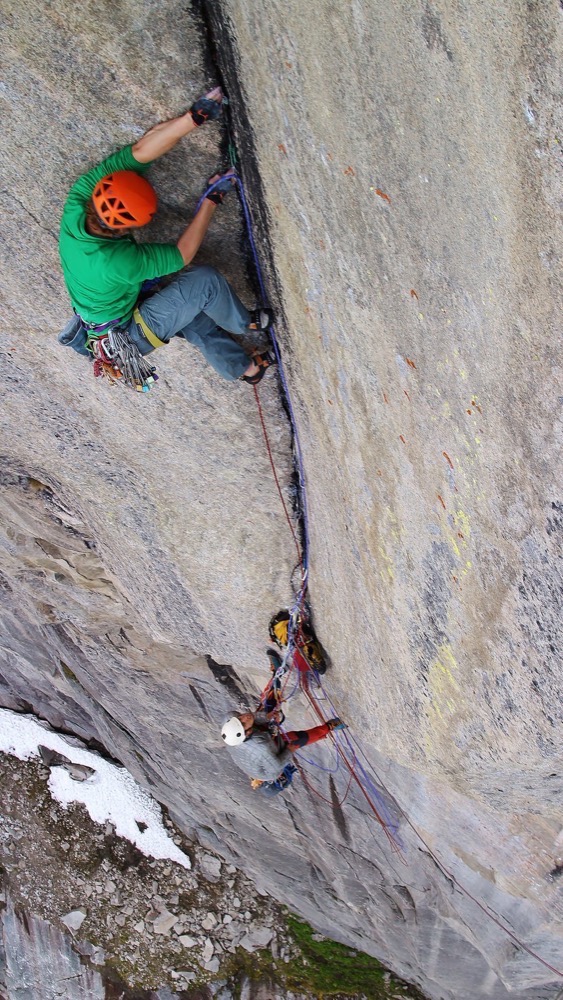 Calum during the FFA Disco 2000, 8a+, Blamman Norway. Photo: Dave Macleod
Finally, random question: if you were stuck on a belay ledge and you could choose someone to be there… who would it be?!
I would have to say my wife Gabby, of course. But if she wasn't there and I couldn't choose you as big spoon Tom…. I imagine George Orwell would have made for some interesting belay ledge discussions. So many of his works and essays have such relevance today and he was a man who appeared to live a very full life. Not sure what he was like at climbing though…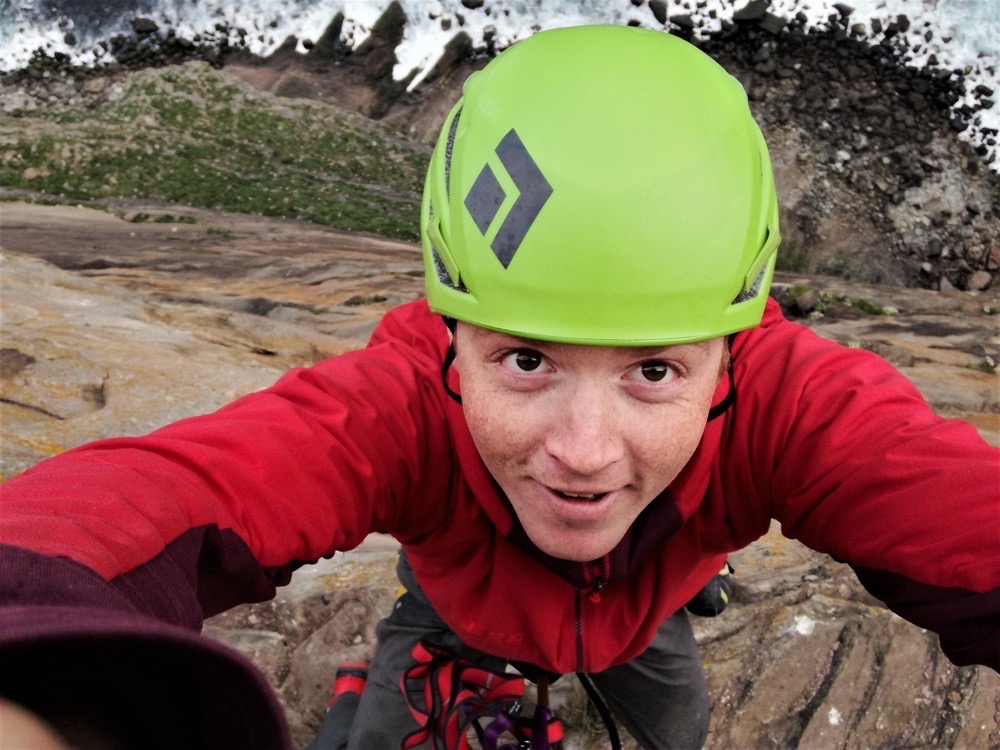 'Let me take a selfie!' Calum on Foula, Scotland.
Visit Calum's website, Instagram and Twitter.
Calum is sponsored by Rab, Scarpa and Ellis Brigham.