Introduction
The Edelrid Canary is a dry treated, triple rated rope, with a diameter of 8.6mm. This is one of the skinniest single-rated ropes on the market. I have had the rope on test for nearly 18 months, and whilst I've not used it every day, I have been impressed with its durability. In fact, the rope looks almost like new, partly due to the colour; it's available in neon green and (shocking) pink.
The Canary weighs just 51 grams per metre, making it one of the lightest triple-rated ropes on the market. Weight all added up, and you can easily feel the difference between this rope and a more conventional (9.2mm) rope when they're both coiled. Whilst the Canary is remarkably light, it's also particularly impressive that a rope of this weight has a sheath percentage of 47%. The sheath is the outer material, which protects the white core inside. The Canary has a far greater sheath proportion than two of its competitors: the Mammut Alpine Sender (36% sheath percentage) or Beal Opera (39%). In my experience (having used, abused, and destroyed a lot of triple-rated ropes from just about every rope manufacturer), the greater a rope's sheath proportion, the more durable it is. This ties with my experience of the Edelrid Canary, which has only minimal wear-and-tear or fluffing to its sheath after 18 months of use - impressive!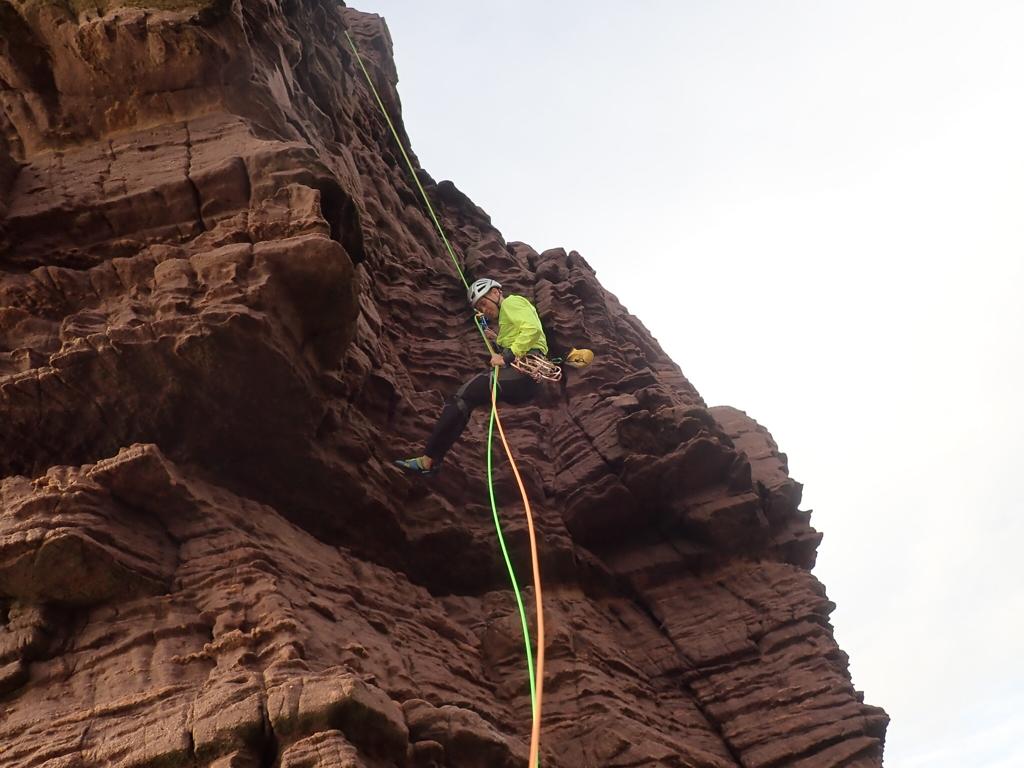 The Canary in action abseiling from the Old Man of Hoy, Scotland. Photo: Tom Ripley
Usage
My Canary is 60 metres long, and I mainly use it when climbing winter routes or more serious rock routes as a three. It's also a good rope for scrambling and classic alpinism, but I'd only use the Canary on its own if I was climbing with just one other person. When mountaineering with two people tied to the back/bottom end of one rope, it might be possible to overload the Canary or cut it on an edge. For climbing as a team of three, I think an Edelrid Swift Protect is a much safer option.
A classic example for the Canary rope is when climbing as a three on the long route 'Observatory Ridge' (V, 4) on Ben Nevis. The Canary, paired with a Swift Protect, could be the perfect combination: low down on the route, when the climbing is most technical, each second could climb on their own rope. Higher up, when the terrain becomes moderate but speed is important, both seconds could climb together on the single Swift Protect, which offers a greater margin of safety. The lighter Canary could be coiled and carried in a backpack.
Triple-rated ropes like the Edelrid Canary are also perfect for mixed sport and trad days out - be that an afternoon at Pen Trwyn in North Wales, or a two-week road trip across the Western US. For trad routes, the Canary can easily be paired with a classic 8.5mm half rope, whilst for sport it will work perfectly with a assisted braking belay device like a Grigri. There's no reason not to use the Canary for sport climbing (it's rated as a single rope, after all), but for constant use and working routes a thicker rope is a much more durable option, giving an increased safety margin. Personally, I'd use the Canary for onsighting and my best redpoint attempts, where every gram counts.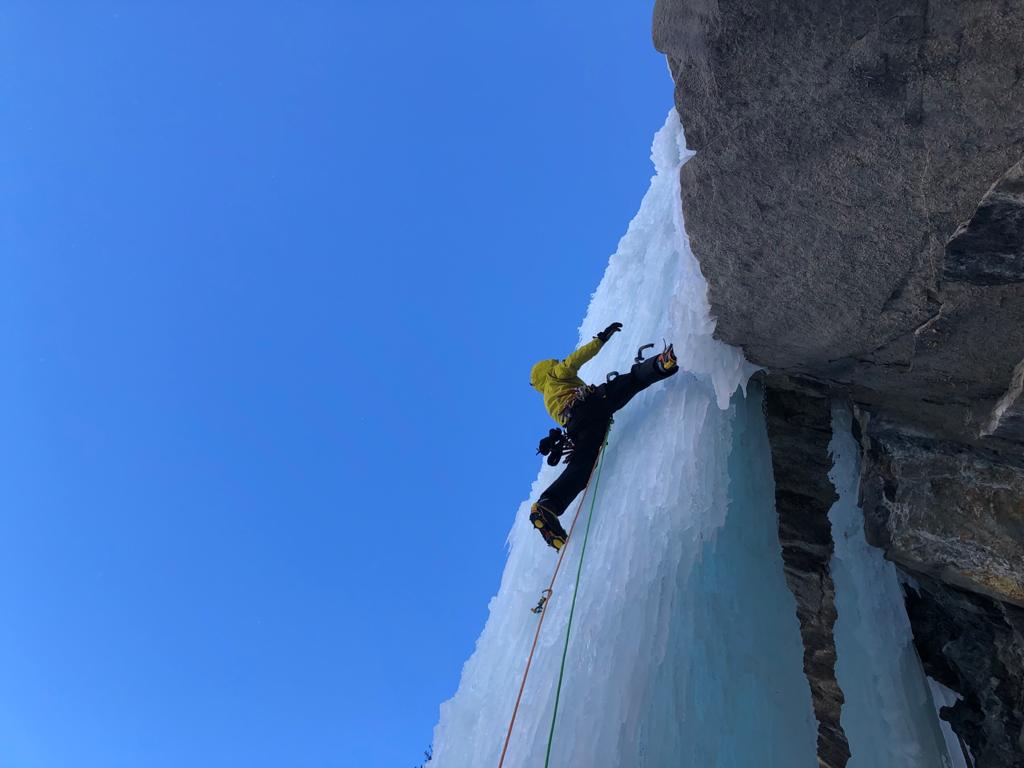 The Canary ice climbing in Europe. Photo: Tom Ripley
Features
All Edelrid ropes are '
3D lap coiled
,' meaning they can be unwrapped from the packaging and then used straight away, without kinks. This might not sound like much, but try unwrapping a rope which doesn't have this feature - it's easy to create a spaghetti nightmare! In a nod to Edelrid's sustainability, the rope is also made in Germany, which means it hopefully hasn't travelled far to reach you, and is created according to the industry standard 'bluesign' system. This means it uses around 60% less water, energy, chemicals and creates less carbon dioxide to produce the rope, than without adhering to the bluesign system. Edelrid are the first manufacture to adopt the Swiss bluesign system and now claim 'our ropes are eco-friendly.'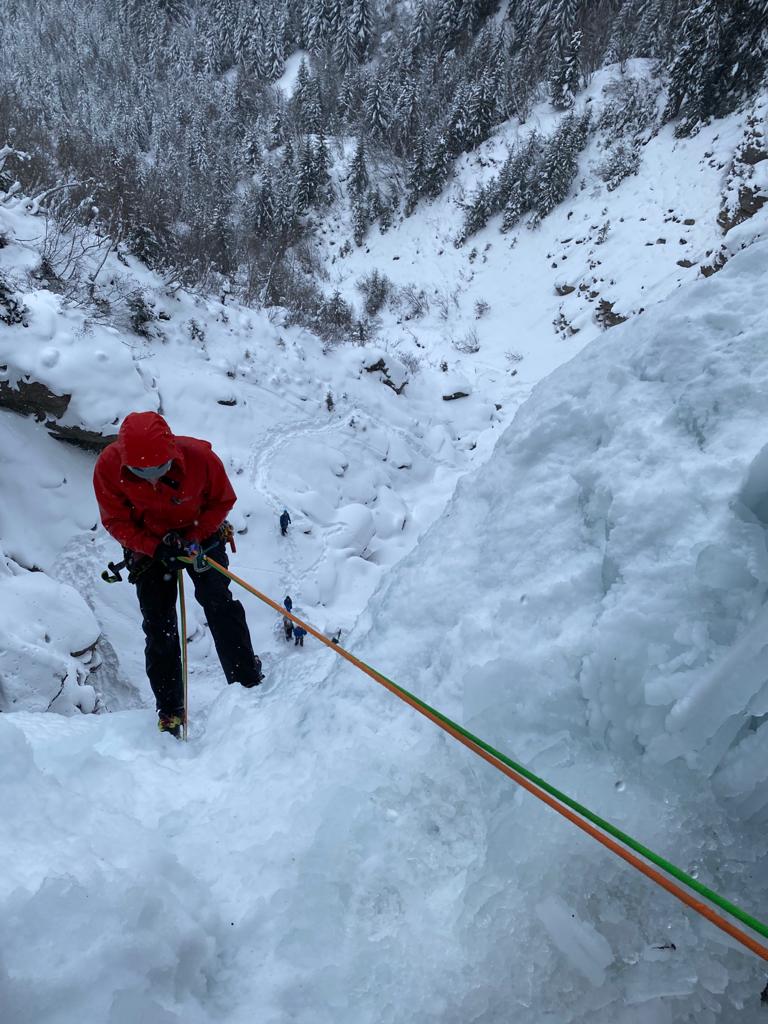 The Canary abseiling in Europe. Photo: Tom Ripley
The rope also features Edelrid's '
Pro Dry
' treatment, which complies with the UIAA's water-repellent test. This means the rope only absorbs between 1% and 2% of its weight in water. Therefore, the rope will handle just as well in wet conditions, such as ice climbing and Scottish winter routes. In my experience of winter climbing with the Edelrid Canary, it doesn't absorb much water, and while the rope gets a little stiffer when cold, it still handles well. This is a major benefit, since ropes can easily double in weight if they're full of water, and become covered in snow, meaning your gloves get wet, too. Again, the durability and long-lasting effects of the Pro Dry treatment are very impressive. Another interesting feature to note is that, when used sport climbing, it doesn't seem to get too dirty or dusty. This can be a real problem at popular sport crags, which often leave a black mark on one side of the rope after they've been dropped into the dust a few times.
The rope also has the '
Thermo Shield
' technique - another treatment to increase the durability of the sheath. If you're going to spend money on something, it's great if it lasts a long time (both for your pocket and the environment!). Thermo Shield also claims to create a good balance between handling and flexibility. Often a rope can be soft and supple to clip, and very flexible, but less hard-wearing and stiff, so it's best to find a balance.
It's worth noting the Canary Pro Dry is available in lengths between 30 and 80 metres, which is useful if you've got a specific usage in mind.
A 60m Canary retails at £200. This is clearly not a budget rope, but the price is comparable with similar triple-rated, dry-treated ropes from other manufacturers.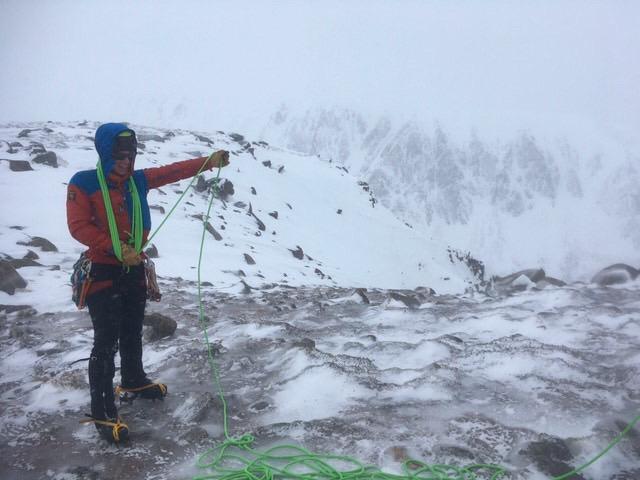 The Canary in winter. Photo: Tom Ripley
Conclusion
The Edelrid Canary is a lightweight triple-rated rope with an excellent dry treatment. It's surprisingly durable, partly thanks to its high sheath proportion. I've climbed, abseiled, coiled and re-coiled this rope for 18 months, in summer and winter, and it's held up very well.  I would particularly recommend this rope for sport onsights and redpoints, Mountain Guides and Outdoor Instructors, or anyone who regularly climbs pitched routes as a three.
Tom Ripley is an Aspirant British Mountain Guide. You can view his website, Instagram and Facebook.