Introduction
When I was offered the chance to test out a new waterproof jacket I was super keen. I live and work in the mountains of Snowdonia, basing myself in the old mining village of Llanberis, nestled at the foot of Yr Wyddfa (Snowdon), so there's plenty of opportunities to test out a waterproof jackets. Just walking to the local shop can involve donning full waterproof layers as the Welsh mountains attract a lot of rain. 
The Women's Manaslu Jacket is one of Mountain Equipment's top-of-the-range jackets. Retailing at £400, it's on the pricier side of things, and is being sold as a mountaineering jacket that can cope with all weather thrown at it. So far, my testing has involved working in the Welsh hills, delivering navigation and climbing instruction, Mountain Leader training and assessment courses, and training for (and completing) the Welsh 15 peaks - as well as having my own mountaineering  and climbing adventures.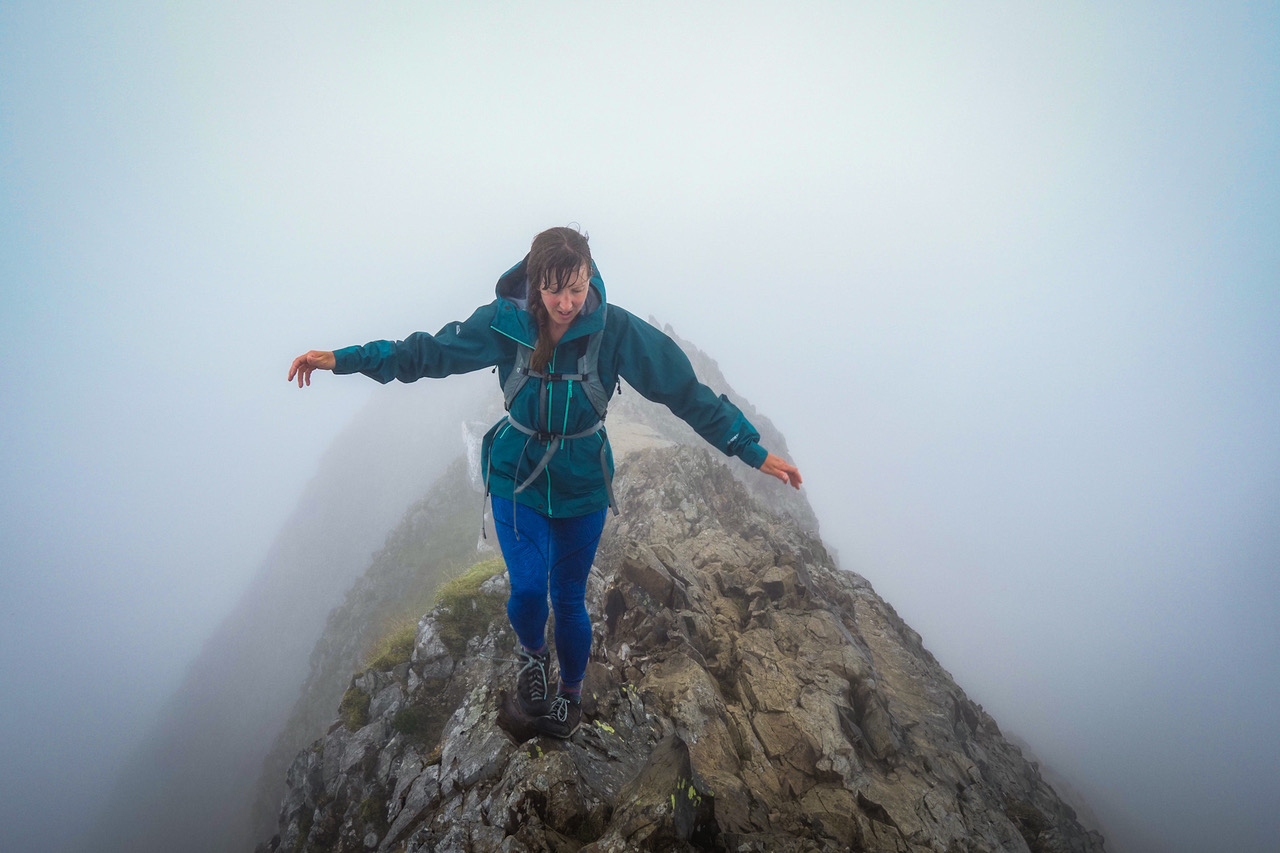 Photo: Matt Stygall
Fit
When it comes to waterproof jackets, I generally go for a size up. I often wear a women's UK size 8/10, but when it comes to waterproof jackets I like to have the option of fitting lots of layers underneath. This is especially important if I am working in the British hills or winter climbing. I tested the size 12, which is roomier than previous Mountain Equipment size 12s I've worn. It can come across as quite big without the layers underneath, but I prefer to have the ability to accommodate lots of warm layers.
The first thing I wanted to know was, are the sleeves long enough? Despite being only 5ft 3" I have really long arms and a positive ape index, so I find a lot of jackets are too short in the arms and I get cold wrists. With this jacket, it was great to have nice long sleeves that are articulated and allow for good movement. The velcro on the cuffs is also grippy, so it can be cinched up tightly to stop the rain on those torrential weather days. It also has dual-tethered hem drawcords which you can cinch up to keep the wind and rain out.
The jacket has a nice long fit, so it keeps the kidneys warm and doesn't ride up, giving the wearer good overall coverage. This longer length works nicely if you wear a harness, as the jacket stays in place when you tuck it it. The hood is easy to adjust as it has cohesive cordlocks to cinch it down, and most importantly it fits really well over a helmet - even with layers underneath. I haven't tested this out in the snow yet, but judging by my experience in the pouring rain, it'll cope well with the Scottish winter.  With the hood fully up and wearing a helmet, I get really good face coverage, which will give protection against the hail and sleet on my face.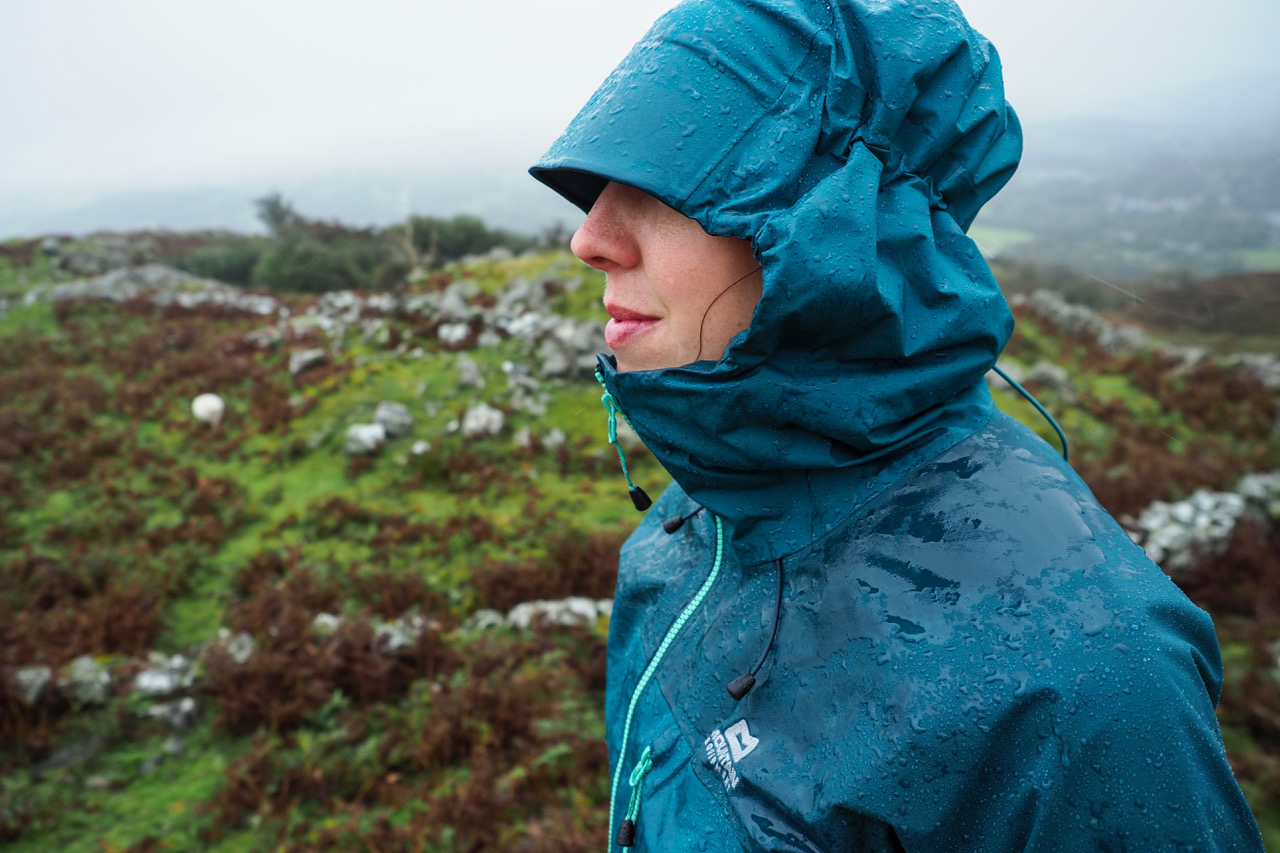 Photo: Matt Stygall
Features
A lot of women's jackets don't have decent-sized pockets, so it's really nice to have three large pockets (including a large chest pocket that can fit a whole map). There's even a neat inside pocket, perfect for keeping your phone handy - but out the way. Being quite short, I still have to loosen my rucksack waistband to get the map out of the pocket. There isn't much a designer could do about this, as I simply don't have enough space on my body. Taller women or those with longer length bodies probably wouldn't find this a problem. The zips are YKK so slide well, and on the Deep Teal colour they come in a nice contrasting colour. I like the fact that the front zip allows for two-way zipping, which is handy if you want to put on a jacket while you have a harness on.
Not everyone is a fan of [arm]pit zips. I've always liked them, as we often get quite wet and muggy weather in the UK. Having this option definitely helps to stop you overheating and sweating too much on those rather damp walks, especially walking into a winter route. Some people might argue that it's something else to break or let in water in, but I think they're really useful and they haven't leaked yet.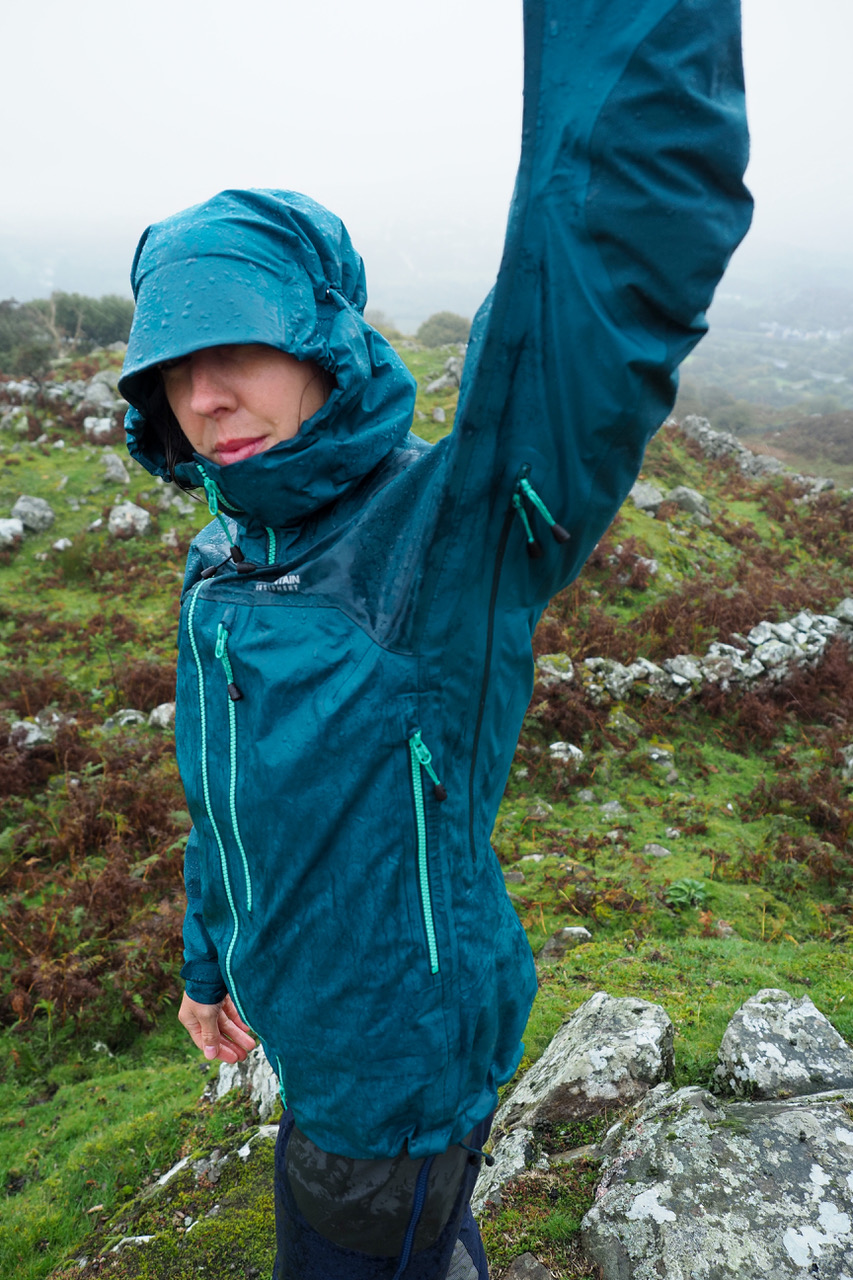 Photo: Matt Stygall
Fabric
The fabric is made of 3-layer GORE-TEX Pro 40Dernier fabric, which basically means it can cope with heavy rain and is still quite breathable. It has reinforced sections where rucksack straps might rub. For a robust jacket, it packs down remarkable small and is fairly lightweight at 460g. Like any waterproof jacket it needs to be cared for. I think people forget to give their GORE-TEX a bit of attention. During the wet winter mouths, I'll regularly wash my GORE-TEX with Nikwax Tech Wash and TX Direct, which definitely helps prolong the lifespan of any GORE-TEX products.
I did a bit of reading about the fabric and assembly of a GORE-TEX PRO Jackets, as quite honestly I had no idea what goes into making one. Here's some cool facts I found out:
58 is the number of individual pieces that make up a jacket.
13 meters is the amount of seam tape used in a jacket. 
5 is the number of hours it takes for a skilled team of 30 people to assemble one GORE-TEX PRO jacket. 
203 is the number of procedures involved in making one jacket (for example the woman's Manaslu Jacket). 
The hood alone requires 34 procedures.
I guess this explains why the hood is so good. It also explains where your money goes. Once you know how it's made, it seems completely reasonable to pay £400.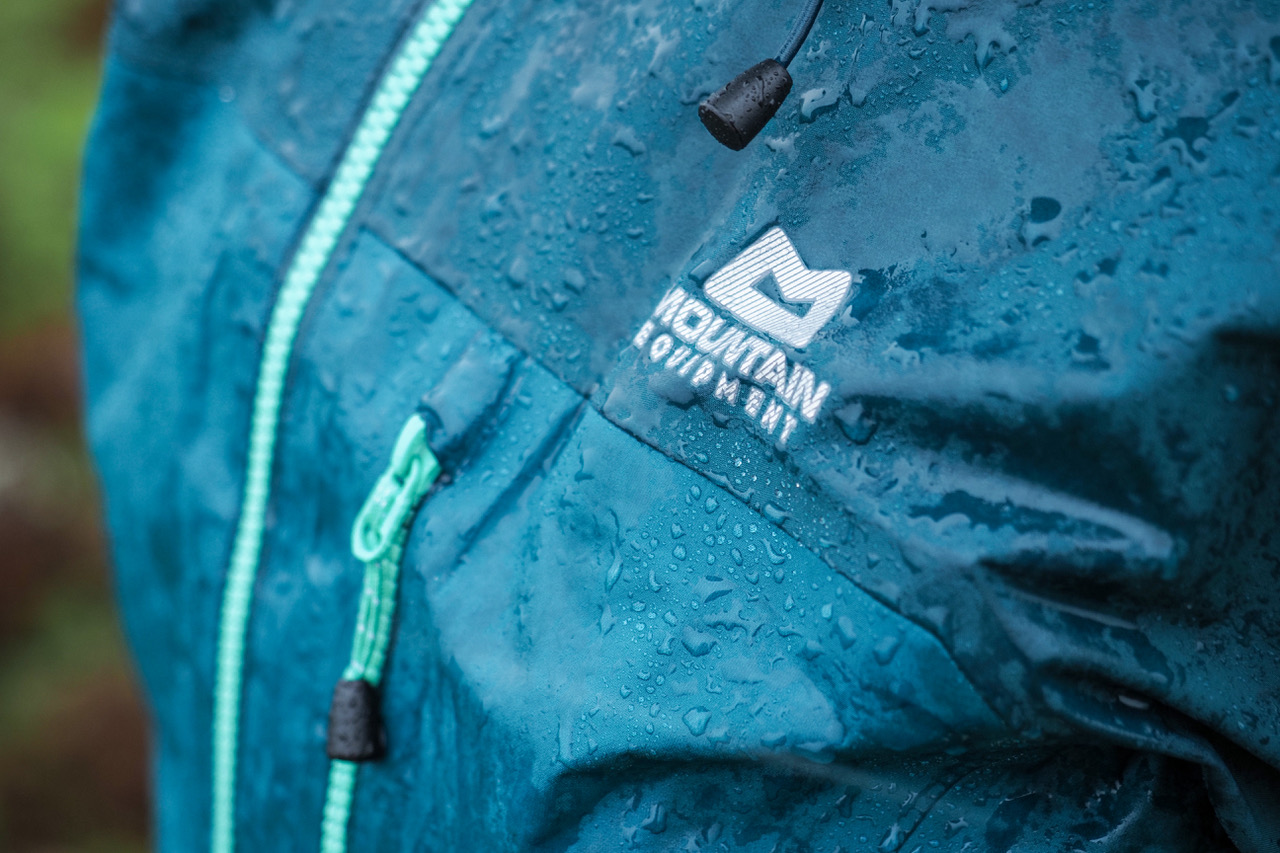 Photo: Matt Stygall
Colour
Some people aren't fussed by the colour of their jacket, but I do love bright colours. Mountain Equipment are embracing colour. They've given a choice of three colours in the women's Manaslu jacket: Imperial red/Crimson, Han/Tyrian Purple, and the one I tested was Spruce/Deep Teal. In the rest of their jacket range, they've even more fab colours. The Deep Teal has received many compliments from friends, who like the fact it isn't the standard pink or purple that many women's jackets come in. 
Let's hope the British population start to embrace bright colours, more like the Europeans. The bonus of a bright colour is they make your photos much more interesting and fun, and if you need help you can be found easier.
Conclusion
If you're wanting to have serious adventures in the mountains and need a jacket that can cope with all weathers, the Manaslu definitely feels robust enough. A great helmet-compatible hood, articulated long sleeves, a proper sized map pocket, and GORE-TEX Pro fabric make it hard to beat. I'm looking forward to wearing it this winter.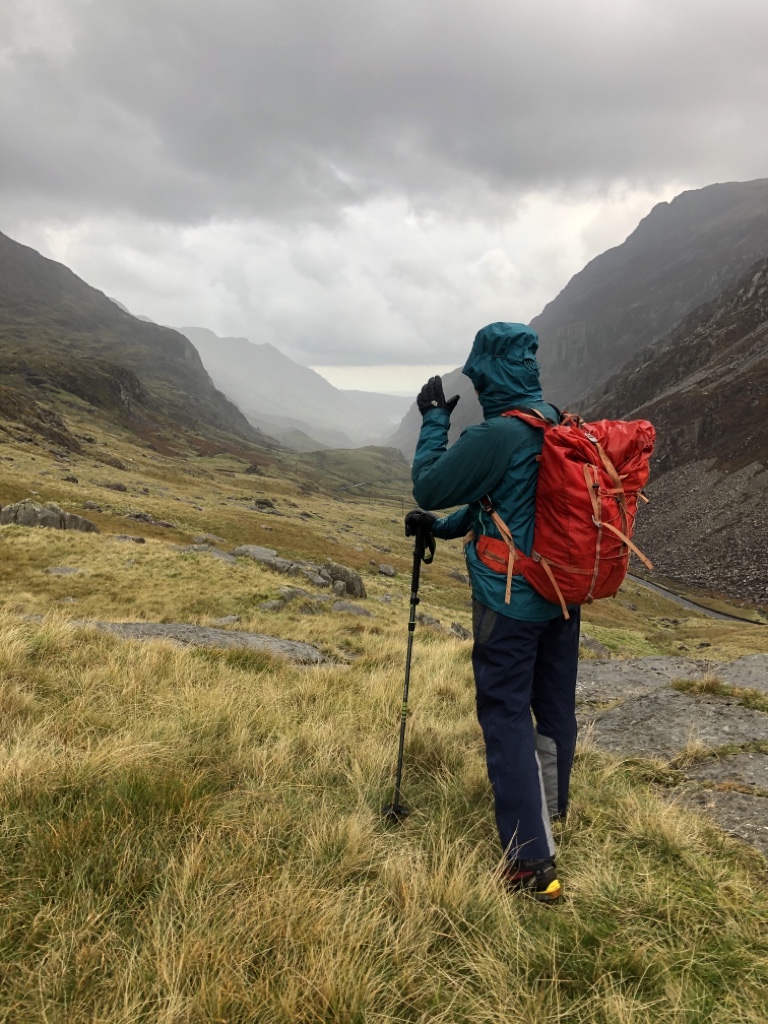 Looking down the Llanberis Pass. Photo: Matt Stygall
You can find the Mountain Equipment Manaslu jacket here.
Emma is an outdoor instructor and holds the Mountaineering and Climbing Instructor award, International Mountain Leader award, and is a Winter Mountaineering and Climbing Instructor trainee. She is based in north Wales, and can be found at 'Walk Scramble Climb' on Instagram and Facebook