Regular contributor Pete Edwards takes a long hard look at opportunities missed in his formative climbing years...
In 2002 I moved to Lancaster to start my undergraduate degree in Physics. I'm deliberately resisting the temptation to say I "read Physics" or "studied Physics" as both of those would give a false sense of my time there; in my three years there, there was precious little reading or studying of anything academic. Instead, my education came in the form of climbing. But even then, I left myself with some gaping holes.
As one ages, reflections show one to see not so much the mistakes and regrets of one's past the missed opportunities. Obviously, after failing my degree, there lies the pretty obvious academic opportunity but I've long since made my peace with that; that particular failure breaking me from a pre-set path that then allowed me to experience a more wholesome and full life. But looking back, even in the choice I made in how I spent my time (i.e. going climbing week in, week out) I wasted a glorious opportunity. Let me explain.


A V5 Climber On The Same V5s
In much of my twelve years in North Wales exploring the local bouldering, I've often looked at some other climbers with an air of scorn; primarily those fixated on venues when the simplest approach to repeat the same problems over and over. I maintain there are climbers around here that have completed the traverse on the roadside face of the Cromlech boulders, Rampless 7b but have not even tried the far superior King of Drunks 7a on the Wavelength boulders a short walk up the hillside on the other side of the valley. The reason? Simply the difference in getting there. However, to slight these people is the height of hypocrisy.
Back during my second and third years at university - once I had my first car and freedom to go where I pleased - I did exactly the same. As all students do, in that weird British hang up of early-close Wednesdays once shops were permitted to trade on Saturday mornings, I had Wednesday afternoons free of lectures, usually dedicated to sport (notice this happens in the vast majority of educational institutions in the UK). I also, as luck would have it, was given Thursdays off as well. Granted, I didn't tend to attend lectures on any other day of the week regardless, but I had no obligation to on Thursdays whether I wanted to or not.
So I would spend them in the Lake District. I would drive a little over an hour from my house in Lancaster to the National Trust campsite in Langdale early on Wednesday afternoon. I would have dinner at the Old Dungeon Ghyl pub nearby and on Thursday, would go bouldering, usually alone. More often than not, I would go to exactly the same crag: the Langdale boulders near Chapel Style.
Now, you might say "that's great! It gives you the chance to project the harder climbs there, such as [insert hard climb at the Langdale boulders]!" but that would be to disregard the other rather substantial handicap I placed on myself during that period: a very restrictive attitude to grades.
I had made it, somehow, to become a steady V5 boulderer. I could complete most climbs at this grade, usually within a session. And yet, at this point, I had stopped and declared myself a V5 climber. As such, I didn't try anything at V6 as that was deemed to difficult for me. V7 seemed astronomical and the idea of getting one a comical notion on the face of it. No, I was a V5 climber and so I climbed V5s and that was that.
The issue comes when you combine a rigid attitudes to returning the to same (small) venue repeatedly with an almost religious handicap on my ambitions. What I was left with was trying the same climbs, week in, week out without fail. Ironically, I wouldn't have stood for that way at my local wall - indeed we didn't and set about setting out own problems at the university wall art the sports hall - and yet for some reason, actually went out of my way to do just that.
To say I had no knowledge of other destinations would be ludicrous and plain false. I had a copy of the Rockfax Lakes Bouldering guidebook and regularly spent my time in the Physics computer room printing crag topos from the Lakesbloc website, which I knew intimately. Likewise, on my travels around the rest of the North Of England, I would happily visit somewhere new and often off the beaten track. Yet my Wednesday-Thursday habit became almost unbreakable.
I'm not about to start discussing possible motivations for this, or reasons why I might have chosen to do so; the internet is already filled with pop-psychology enough and it doesn't need any more coming from me. There are many reasons why I continued to repeat the same tired pattern every week, many issues I had back then, some of which I have moved past and others which I still have now. What's important now is not necessarily what caused me to behave that way then but what I can take from that period into the way I behave now.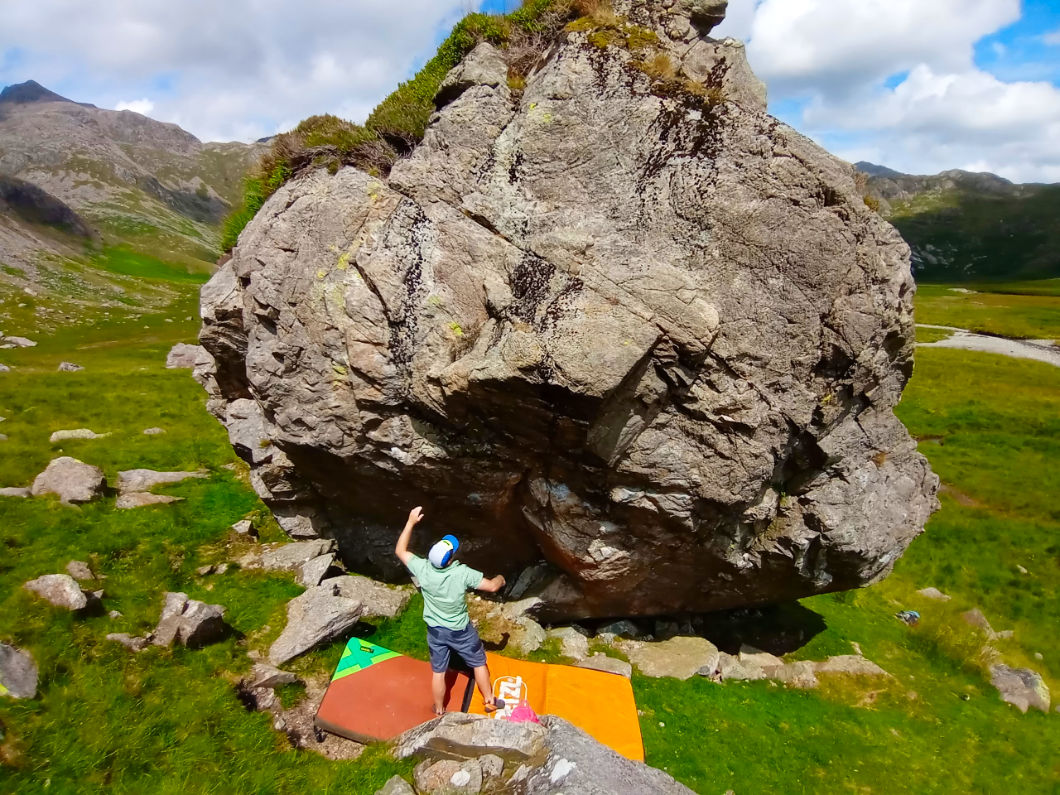 Grades as Guides
I have no doubt I could've become a significantly better boulderer by now if I had simply tried harder climbs, that much is obvious. Simply from the frequency with which I went climbing, if I'd just tried the occasional V6 or V7 I would've found one that suited me and even if I hadn't completed one quickly, I'd have got close enough to inspire me to try more of them. In doing so, I would've continued to improve and would've eventually completed one, which in turn may have led me to try a V8 and so on. Simply trying them would've broken the plateau that I never managed in all those years.
It remains the biggest single piece of advice I would give to any climber, especially in bouldering. It is slightly different with trad climbing, where adding a grade increases the risk to one's safety - often significantly - and shouldn't be taken so lightly. But in bouldering, where the risk to one's health is not so great, there is no reason at all not to try the occasional problem just above one's perceived ability level.
It is this ingrained trad climber mentality in the UK that often holds us back. The nature of our most popular discipline still holds that "the leader shall not fall" and to be cautious when pushing limits to stay within the boundaries of what is safe. These ideologies still run deep in our collective mindset and while it is becoming much more common for people to go against the grain, in many social groups, it is still not the done thing.
As I slowly creep towards my late-30s and with a substantial list of personal responsibilities to also climb against, that is becoming harder and harder. While I hesitate to say I regret not taking a more ambitious approach in my youth - more on that in a moment - especially having seen younger, newer climbers appear and overtake me over the years, there will always remain the question of what if.


The Greater Experience
The other major learning point is in the experience and how I wish to spend my time. In many ways, my Lake District excursions were an anomaly; not fitting with the way I travelled as I grew older. Over the years, I have gone out of my way to experience the road less travelled, sometimes to my own detriment, to visit places others would simply gloss over and let pass them by.
Perhaps these two are related; my desire to seek out the new stemming from a knowledge that I missed my chance to truly get to know one of Britain's best and most extensive climbing areas while it was practically on my doorstep.
Still, I can't help but think back on my chance to simply drive to a different crag once in a while. The current guidebook for the national park is some 600 pages long and yet I missed almost all of it. There is no way I can honestly look back at that age be content with myself.


Making Amends In Some Small Way
In the last few years, I've attempted to right the wrongs of that time in my life, with largely a high success rate.
In little more than the past two years, I've managed three trips back to the Lakes; impressive given my time constraints and the limitations places on all of us by Covid-19. I've banished the demons of inferiority by completing problems on both the Bowderstone in Borrowdale and the Shelter Stone at Trowbarrow. This past trip alone, I visited four separate venues in three days.
Yet it is a double edged sword. Give up on my challenge of truly experiencing the Lakes bouldering and I really have failed myself. Continue and I'm left with the question "why didn't I do this the first time around?!" I have left myself in a situation where there is now way to win.


No Regrets?
I have always lived by the adage that if I am happy with my life as it is right now, I can have no regrets. Our errors are part of the story of us, the journey that has led us to this point in life. Without the lessons from those errors, we would not be where we are today, thus to say we have regrets is to say we are not happy with that we have and who we are now.
While that may be true for some people, I am perfectly content with my life today and I genuinely wouldn't change it for the world. The difficult times I have experienced have only gone to strengthen me and improve my resolve.
Yet as I get older, perhaps I believe it less.
Pete runs Prowess Coaching, a climbing coaching company based in North Wales, and the blog 'Chez de la Bloc.' To find out more information, visit the website or Instagram.