Pongoose is a unusually-named brand making clipsticks - extendable poles which enable you to clip a quickdraw into a bolt when sport climbing. Traditionally, this was virtually all they could do, but thanks to clever engineering, Pongoose have created a product which can also remove the quickdraw from the bolt, and have made it easier to clip the rope through a quickdraw. When sport climbing (a mostly 'safe' activity), there's no point risking a broken ankle in order to clip a high first bolt; you can also save lots of energy when 'working' a route (practicing it before a redpoint), by having the rope clipped above you, avoiding numerous falls as you try hard sections. Pongoose's '3-in-1' clipsticks are reviewed by After the Send.
For years, clipsticks have been a controversial bit of climbing kit. Everyone's heard the term 'cheat stick,' or noticed someone murmuring 'they may as well be top-roping,' but things are changing! I'd argue the Pongoose has been the instigator of this change. More and more, people's opinions are swaying.
Rob and Katie Rendall, local Dorset climbers, have been working tirelessly over their Pongoose brand, slaving away for several years to produce a quality product. Their clipstick has forced major international companies to re-design their sticks, in an effort to make them as versatile as the Pongoose. The basic design (apart from a telescopic pole) is a metal head which can be rotated in different ways, allowing you to place and remove quickdraws, and clip the rope into existing draws.
The best function is the ability to not only place draws, but remove them as well. It's easy! After owning the clipstick for an hour, I could remove draws as fast as I could put them in. This is especially useful for venues such as The Promenade at Swanage, on the south coast of England. The steep, overhanging nature of this crag means there is a real possibility of getting wet trying to remove the first couple of clips. This is where the Pongoose shines. Ok, I know it's easier if the quickdraw are free-hanging. But the Pongoose's sturdy, extendable stick, along with its ingenious head design, means it is also possible to remove draws on vertical walls and slabs. All you have to do is put a loop of rope in the head, slip the loop around the top carabiner of the quickdraw, gently pull the rope so that it grips the 'biner, and simply unhook it from the bolt. There's no extra equipment like springs, velcro or extra quickdraws needed.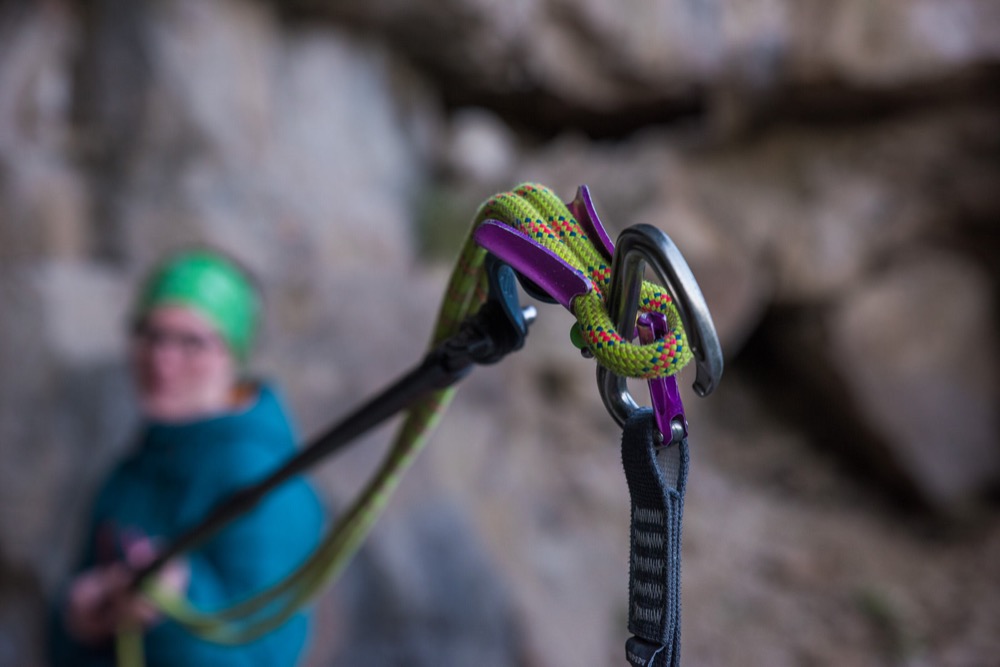 Photo: After the Send
We keep banging on about it's ability to remove quickdraws, but of course it can place them as well. You can place the quickdraw on its own, or with the rope in situ - it really is that easy. The telescopic pole is sturdy and barely wobbles when fully extended, meaning even high first bolts can be reached. The third function of the '3-in-1' clipstick is the ability to clip the rope through a quickdraw, useful if you've come down from the route and then want to go up again.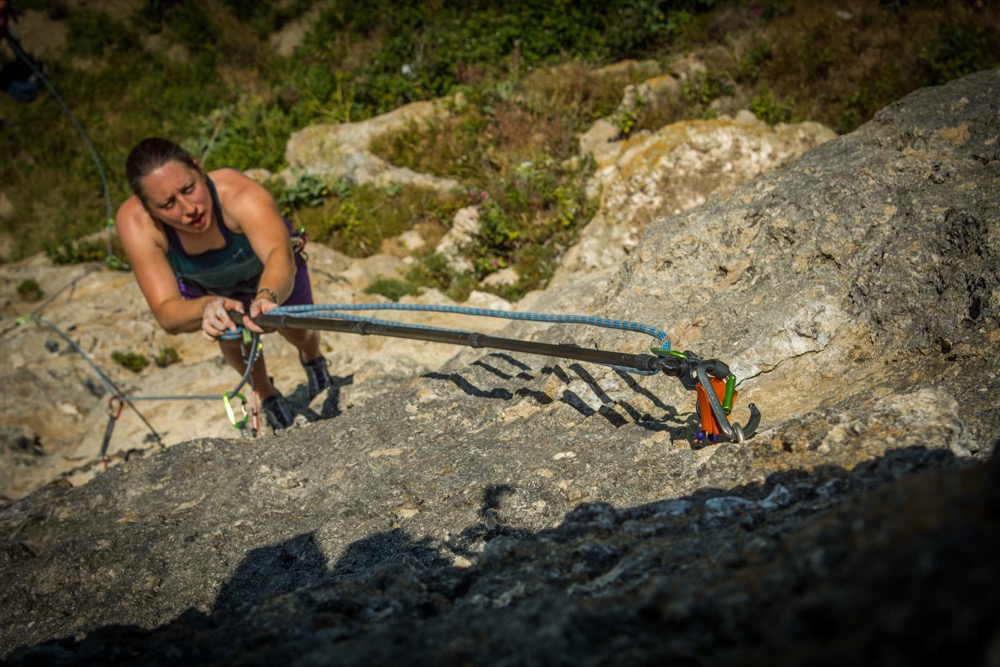 Photo: After the Send
If that isn't enough for you, Pongoose offer a Beech wood and Boar's hair brush for an extra £10 as part of a package or separately, complete with a sweet illustration of a 'Pongoose' for an extra £10. When the head of the Pongoose is removed, there is a thread that the brush easily screws into. This ¾ UNC (otherwise known as the thread on the bottom of a camera) means you can also use the Pongoose as a monopod or a GroPro extender handle. And to top it off, you can pick the colour of the head so that it matches all your other gear! They currently come in purple, orange, green, turquoise and gunmetal. The purple is our favourite!

Photos: After the Send
I think you can tell: here at After the Send, we like this clipstick. It's an essential bit of kit for sport climbing, and we're sure to take it to the crag every time we go. It can be used when projecting routes by clipping higher bolts, saving energy for the redpoint; it can be used for a nervy first bolt; and it can be used to remove those hard-to-reach quickdraws. But you don't have to take our word for it: Scottish strong man Robbie Phillips says 'I'm not saying other clipsticks are bad, I'm just saying the Pongoose Climber is way better.' Or how about notable crusher Emma Twyford: 'It goes to every sport crag with me.' Or how about the big man himself, Steve McClure, 'The Pongoose is the Rolls Royce of sticks'.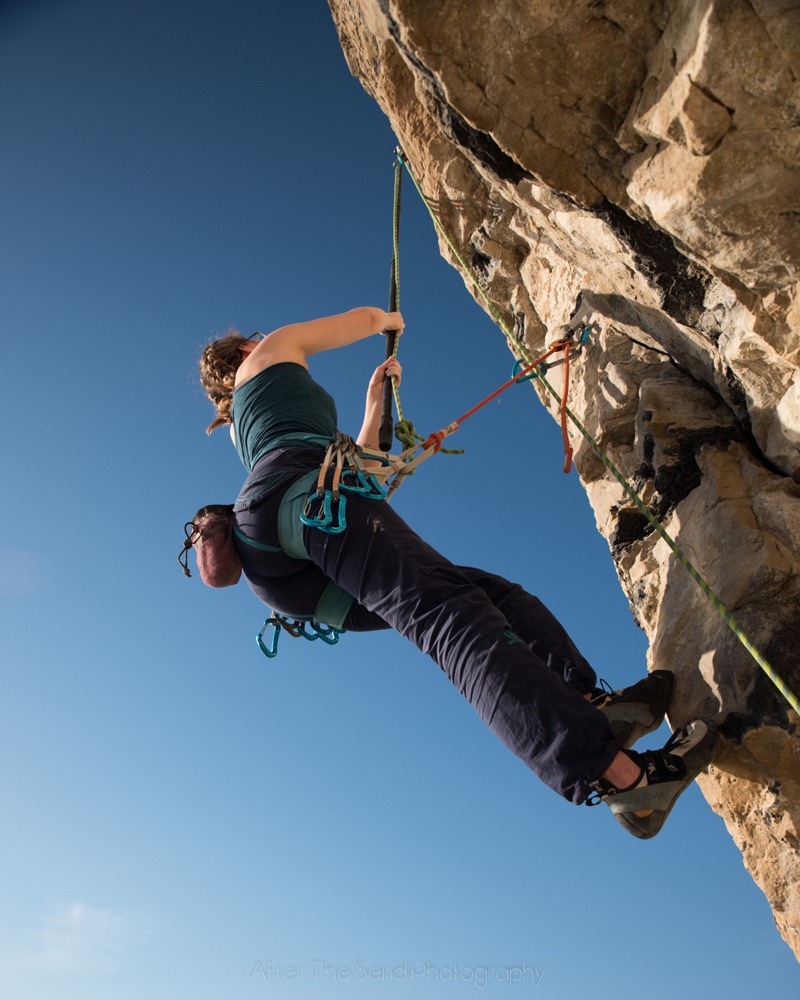 Photo: After the Send
The Pongoose currently comes in two sizes: the Climber 700, which is 72cm long when collapsed (perfect for your bag when flying) and extends to 2.85m. The Climber 1000+ is 102cm long when collapsed, and a massive 4.3m when extended. They retail between £85 and £89 with the option to add on an environmentally-friendly brush at £95 for the shorter length or £99 for the longer.
This review was written by Sam Parsons, of After the Send. They're a south coast-based group of psyched climbers.
You can read more about Pongoose on their website.