GB Ice Climbing Team member Emma Powell takes a look at Mantis Tools, which are birchwood and aluminium training 'axes' made for indoor climbing, and designed to replicate - as closely as possible - ice climbing and dry tooling. Mimicking the ergonomics, balance and kinaesthetics of ice axes, but with rubber pads which grip onto indoor climbing holds, you can now train and have fun tooling all year round, on all sorts of walls...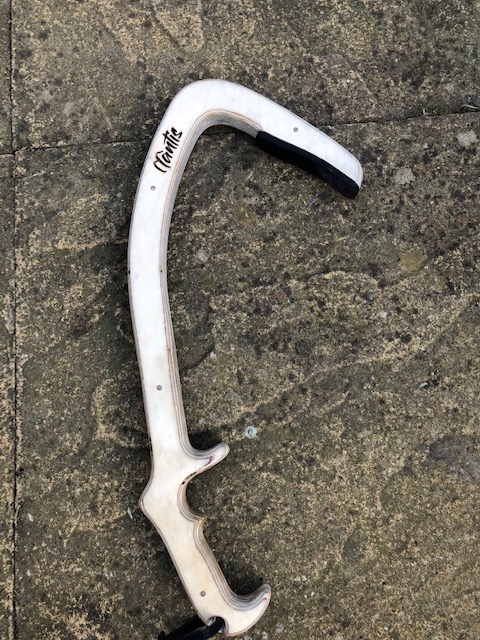 Some beautiful sculpturing on the Mantis Tools! Photo: Emma Powell
Dry tooling and mixed climbing are niche sports which require some very specific equipment. Unless you're lucky enough to have a home climbing wall which you can use with your normal ice axes, it isn't easy to train. This is where the new Mantis Tools come in - they're designed to combine the convenience of training on indoor climbing walls, with the specificity of dry tooling and mixed climbing. I recently had the pleasure of testing a pair of Mantis Tools, which are training aids for everyone: beginners learning to 'tool', experienced climbers wanting some fun, to climbers like myself who regularly compete in World Ice Climbing competitions, allowing us to practice indoors regularly as part of our training regimes.
From Mantis...
"Designed to give you an experience as close as possible to climbing indoors on real ice tools. The Mantis Tools have been developed to provide you with the opportunity to climb at your favourite indoor spots all year round. Whether you're pulling on holds with ropes or cranking out fig 4 reps in the training area, the Mantis Tools have got you covered. The unique design combined with high quality wood and aluminium construction means the Mantis Tools are built to perform, either as part of a regular training regime or when it comes to finally sending that project.
New to ice tools? Mantis Tools are great for folks looking to get into ice climbing and dry tooling with minimal risk. They're just as comfortable on a vertical wall as a burly overhang. Whatever the grade you're working, Mantis Tools cater to all levels of experience.

We'd already tried a few alternatives that are available but they just didn't match the experience we were looking for in our tooling training. We wanted as realistic as possible an experience as climbing on real tools but inside. Something we could chuck in the climbing bag and take to every indoor training session. We wanted to increase our ability to train tools when we weren't able to get near a mountain or crag."

After using the tools for a while, I think the design and performance of Mantis Tools is a big leap in standards when comparing with the other training devices on the market. I've found other tools to be heavier and not as well-balanced compared to the 500g Mantis design (a similar weight to 'normal' ice axes').
Mantis have also developed the front of the tool so it replicates, as close as possible, the placement of real ice axes in a dry tooling scenario with a nice aggressive pick angle. Previous training tools typically didn't feel as realistic and often used a design which prevented precise placements which are vital when training.
Mantis Tools are made with a comfortable (and beautiful!) birch laminated shaft, which contains a strong aircraft grade 5083 aluminium insert running the full length of the axe, and several stainless-steel pins to keep everything in place. This all helps to replicate the strength, shape and feel of ice axes currently found on the market. The tools also have upper and lower handles, as found on most technical ice axes. This is great, as it allows the user to swap hands on one axe, directly replicating dry tooling and ice climbing. This technique is used both outside, and during competitions.
I found the grips to be very ergonomic and comfortable, allowing long training sessions with little or no damage to my skin. The handles are a reasonable size, which can accommodate a wide range of users. The bottom horn of the both handles, where the little finger rests, is also a good size and curve, which ensures the two smallest fingers don't get pinched - even after spending lots of time on the tools. The shaped wood also has the benefit of feeling 'warm' to the touch unlike normal axes and they can comfortably be used glove free.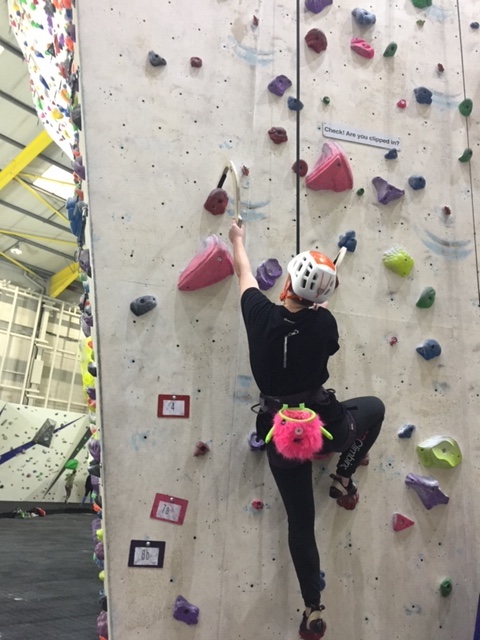 Emma climbing at The Big Depot Leeds. Photo: Emma Powell Collection
Looking at the heads of the tools, you can see they're designed with a chamfered point, similar to the pick of regular ice axes. This pointed section means I'm replicating the precision needed when placing ice picks on a climbing hold - just like the precision needed when placing your pick on a small rock edge. This encourages care and thought when placing your tool, just like in the real world where you need to concentrate to keep your axe steady and pulling in the right direction.
On the underside of the chamfered point is a rubber 'foot/pad.' They're extremely sticky and made from 5mm Scarpa Vision climbing shoe rubber. They feel grippy on holds, giving confidence in placements and helping to make smooth movements and in the transition between holds when climbing routes. These rubber 'feet' are replaceable (4mm Vibram XS pads are also available), and can be bought from the Mantis website at £4 per pair. I've found the rubber feet to be extremely durable after some intensive use and not yet needed a pair of replacement pads. Mantis suggest pads will last a good 2-3 months with regular use and the pads can also be turned around to give them more life before needing to replace.
One of my favourite things about the Mantis Tools are their versatility - they allow me to train on all sorts of different angles and walls. I can use them on everything from vertical to overhanging, and from technical moves to Figure-4s. They're a better option than previous training tools, as you can use them as indoor walls to climb routes (other models weren't allowed to be used on routes at UK climbing walls, and you had to use circuit boards instead). Furthermore, because you're on routes with the Mantis Tools, you can then practice clipping, route reading, etc as well.
Speaking of technical moves, Mantis Tools allow you to throw all sorts of shapes, from straight downward moves to laybacking, and everything in between. This opens up loads of routes you can try at your local wall (always check they're happy for you to use them beforehand, remember the contact patch is climbing shoe rubber!).

It's worth noting some moves can create large amounts of stress on climbing wall holds themselves, which might make holds break! If you're at a climbing wall avoid stein-pulls (where the tool is held upside down, 'pick' facing upwards as if you're pulling a stein of draught ale, and the tool acts as a lever between the back of the head and the hold). Also avoid torquing the tool (placing the tool in a crack and twisting it to one side in order to lock it in place). You don't want to damage the wall or hold.
The tools themselves are built strong with the Birch laminate/aluminium construction and a strong resin with testing to 4500psi and also tested to hold up to 200kg on the pick tip to the grip, more than double what you need to be T-rated (Mantis are currently waiting for a T Rating for vertical pull and lever pulls, the CEN standard for technical tools)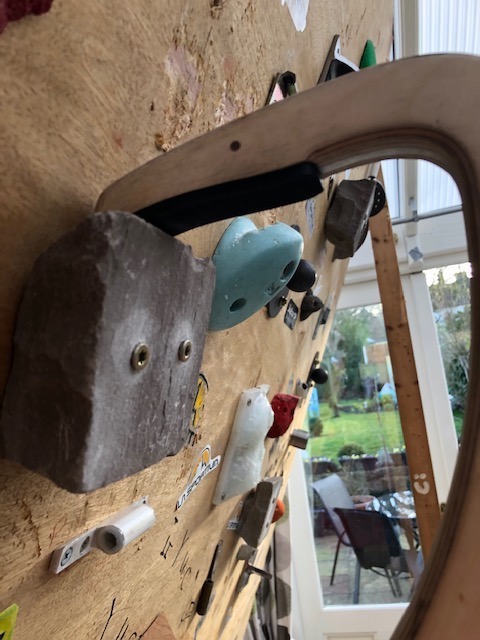 Mantis Tool. Photo: Emma Powell Collection
Remember to be as safe as possible when tooling and always wear a helmet, whatever axe you're using. A neat feature of Mantis Tools are small recessed holes at the bottom of the shaft, which allow leashes to be attached. This'll save you dropping the tools if you fall off when route climbing, and potentially injuring your belayer!
Overall, I think these axes performed well and have impressive technology which makes them the most realistic training aid for dry toolers and winter climbers. Their comfortable and confidence-inspiring 'feel' gives me confidence to try routes similar to Ice Climbing competition style, with overhangs and small holds. This means I can incorporate the tools in a lot of my training. Mantis Tools can also be used to train your endurance and aerobic capacity on indoor routes - and this translates to better performance on winter routes.
An excellent training aid for any winter-focussed climber or dry tooler!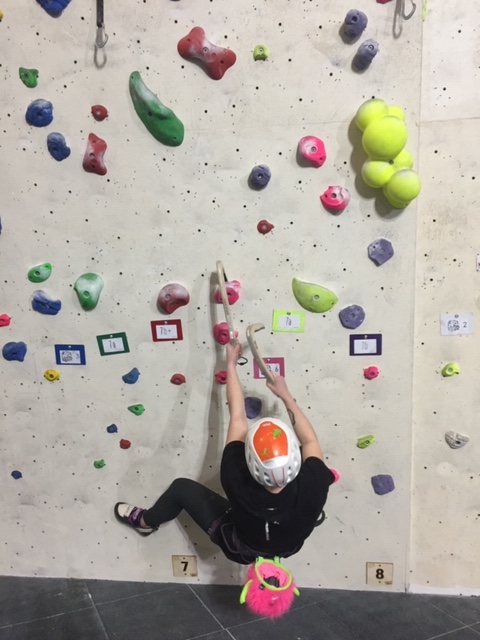 Emma climbing at The Big Depot Leeds. Photo: Emma Powell Collection
Emma Powell is on Instagram, Twitter, and has a Facebook page.
Emma would like to thank The Big Depot Leeds for allowing her to test Mantis Tools.
You can find out more about Mantis Tools and purchase here.