The Ace is a premier climbing harness from German manufacturer Edelrid. They describe it as a 'super-light harness with 3D-Vent Lite technology for demanding routes on rock and ice.' With easy-to-use features like a single waist buckle, fixed leg loops and four wide gear loops, it caters for a wide range of activities: from sport onsights and redpoints where every gram counts, to long days in the mountains and hanging belays. The Ace fits the bill, and it fits Tom Ripley. Hear his thoughts about this bright green harness below.
I've been using the Edelrid Ace harness for much of my climbing for the past year. The Ace has four gear loops, a single waist buckle, and fixed leg loops. This is my preferred style - nearly every harness I've owned in the past ten years has been of this design.
To my mind, this style of harness is perfect for 99% of climbing, from indoor and sport, to winter and alpinism. I've never understood the obsession with adjustable leg loops - but perhaps my legs fit the 'standard' size. As far as I'm concerned, adjustable leg loops only add, weight, bulk, cost, and complexity.
In use, I've found the Ace to be at least as comfortable as other similar harnesses from comparable brands. It's one of the lighter all-round, properly padded harnesses on the market. The padding on the waist belt and leg loops is low in bulk, and it folds down really small when not in use. If you were only going to buy one harness for everything from sport climbing to the Alps, this would be a fantastic choice.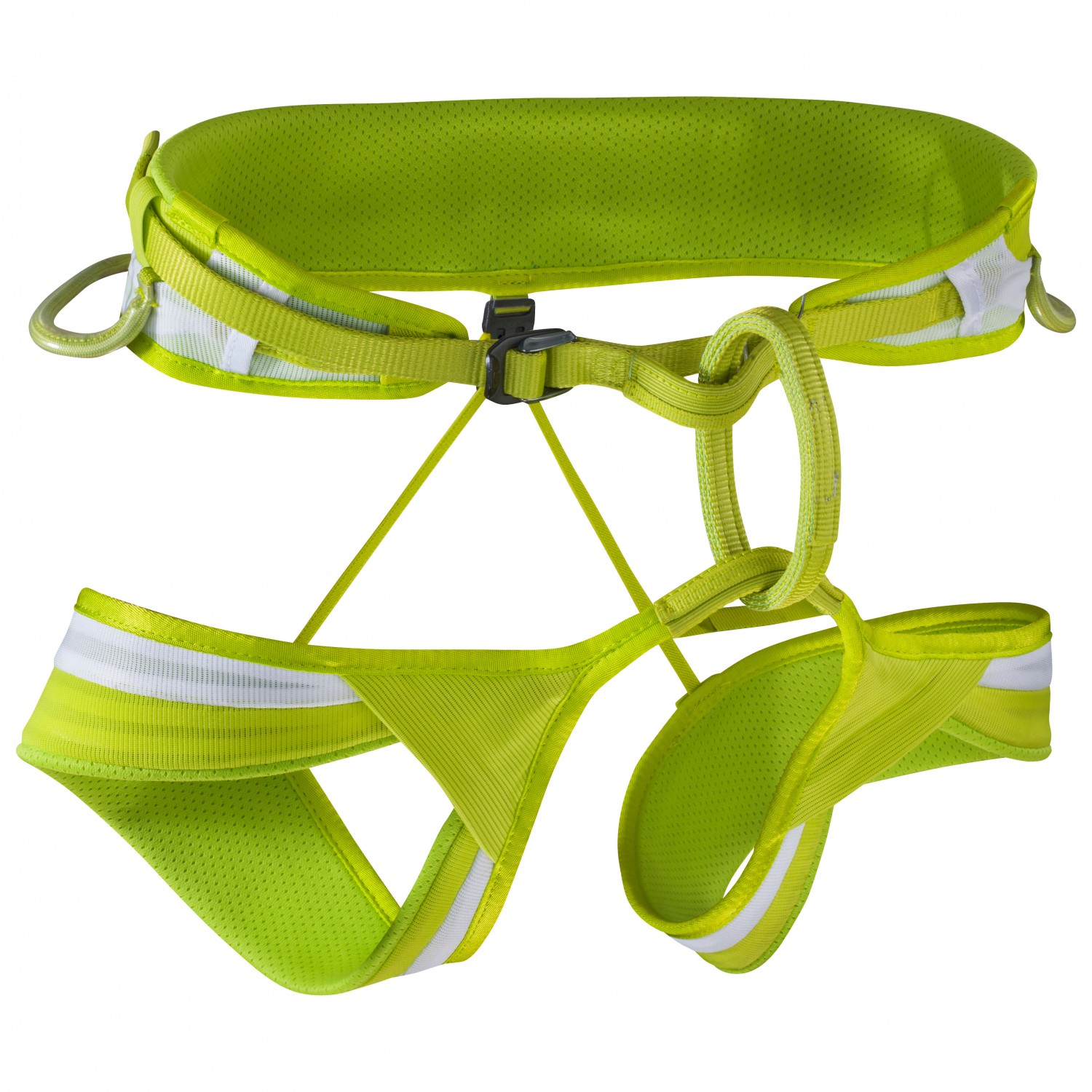 Edelrid Ace. Photo: Edelrid 
Comfort
The Edelrid Ace is exceptionally comfortable to hang in. The waist belt and leg loops are constructed from HDPE (High-Density PolyEthylene) webbing that spreads the load. Edelrid call this 3D-Vent Lite technology, and they allege this ensures maximum breathability without adding bulk, but I don't think the Ace is any more or less sweaty than other similar harnesses I've used.
I've used similar harnesses from Arc'teryx, Black Diamond and Petzl in the last few years, but I was really impressed with how comfy the Ace feels. I particularly like the legs loops, which are nearly always the first thing to dig in and cause discomfort on a long, hanging stance. 
As I said in the introduction, I'm a big fan of the Ace's fixed leg loops, because they're generally cheaper, lighter and simple to use. That said, lots of folk like adjustable leg loops, so with this in mind, Edelrid have produced the Gambit, which is an 'adjustable leg loop' version. It does cost £30, and weigh 21g, more than the Ace, however.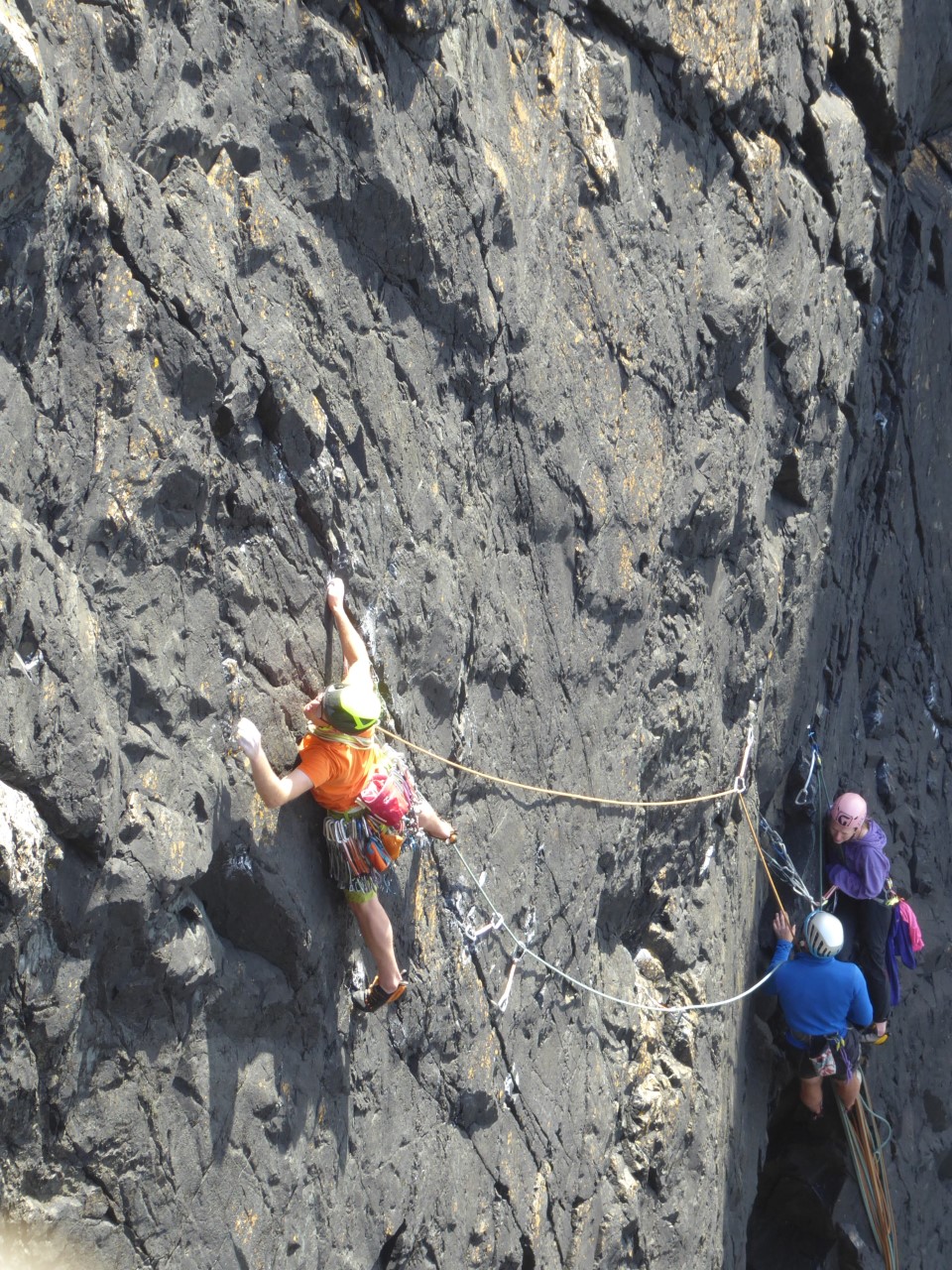 Tom wearing the Edelrid Ace with a full trad rack. Photo: Marion Wyllie
Sizing
The Edelrid Ace is available in Small, Medium and Large. If you have disproportionally different thighs, it's possible to purchase a small waist loop with medium leg loops, and medium waist with large legs. Having spent much of my life walking up and down hills with a heavy bag, I have a pretty big set of thighs, and thus I requested the Ace with a medium waist and large leg loops. It turns out my thighs aren't too out of proportion and I had to return it for a regular medium size. Still, this is a useful option from Edelrid, especially for ex-climbers who have taken up road biking.
Features
The buckles on the harness are of the auto-locking variety, rather than traditional thread-back buckles. Most manufactures seem to favour auto-locking buckles these days, and now I wouldn't buy a harness that didn't have them. A slight niggle with the Ace is that the little loops designed for retaining excess webbing from the waist belt aren't very good. This results in the extra webbing wriggling free. While this isn't a safety issue, it is pretty annoying and gets in the way when you're racking gear.
The Ace features four big gear loops. These have a slightly unusual design: they're effectively two massive gear loops on each side, split by a central divider. They work just as well as conventional gear loops, and I am yet to fail on a climb because I haven't been able to access them. Generally, I rack the bits of gear that I use most often on the front two loops, and less frequently used pieces on the rear loops. I like to carry a large rack, and have found the Ace's gear loops to be more than sufficient. Both gear loops are quite stiff, and I've had no problem clipping either. There is also a little tab at the back for carrying prussic loops, trainers or a tagline, which sits just above the elastic buckle to remove the leg loop risers. The Ace also features webbing loops which can be used to fit ice clippers (for carrying ice screws), if you use such things.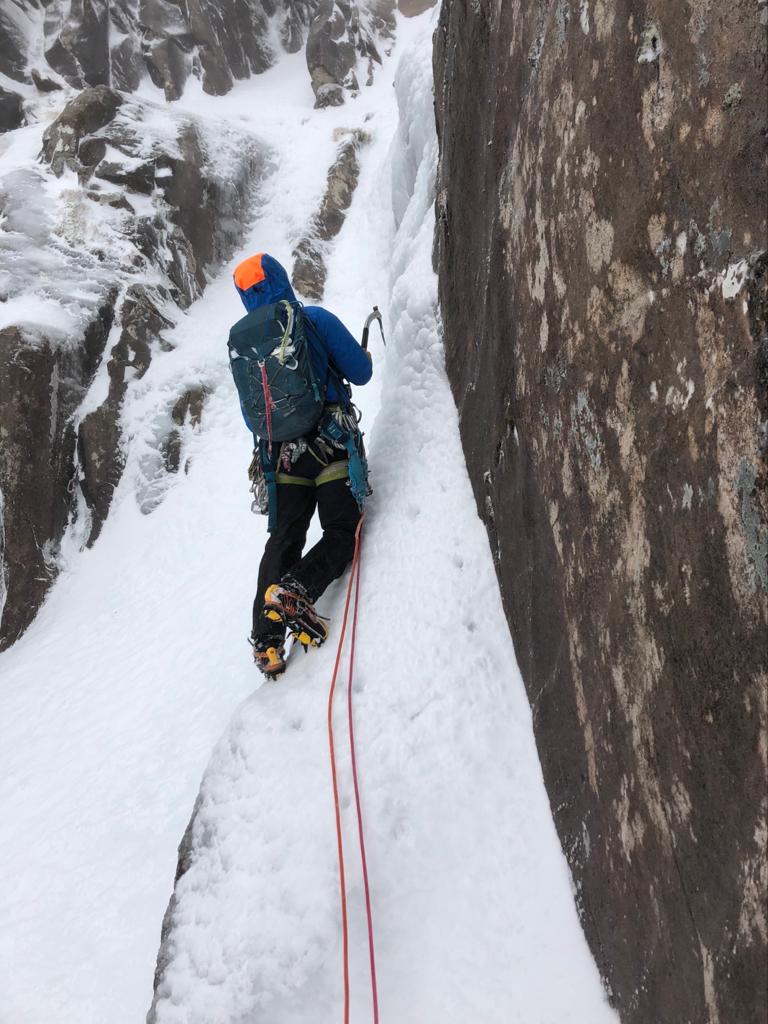 The Edelrid Ace getting testing in Scotland. Photo: Tom Ripley Collection
Weight
Perhaps the most impressive thing about the Ace is how light it is. According to my digital kitchen scales, my size Medium comes in at 304g, which is substantially heavier than Edelrid's advertised weight of 277g, but still a fair bit lighter than the comparable Arc'teryx's C-QUENCE (370g). Bearing in mind how comfy the Ace is to hang in, Edelrid have done well to keep the weight so low.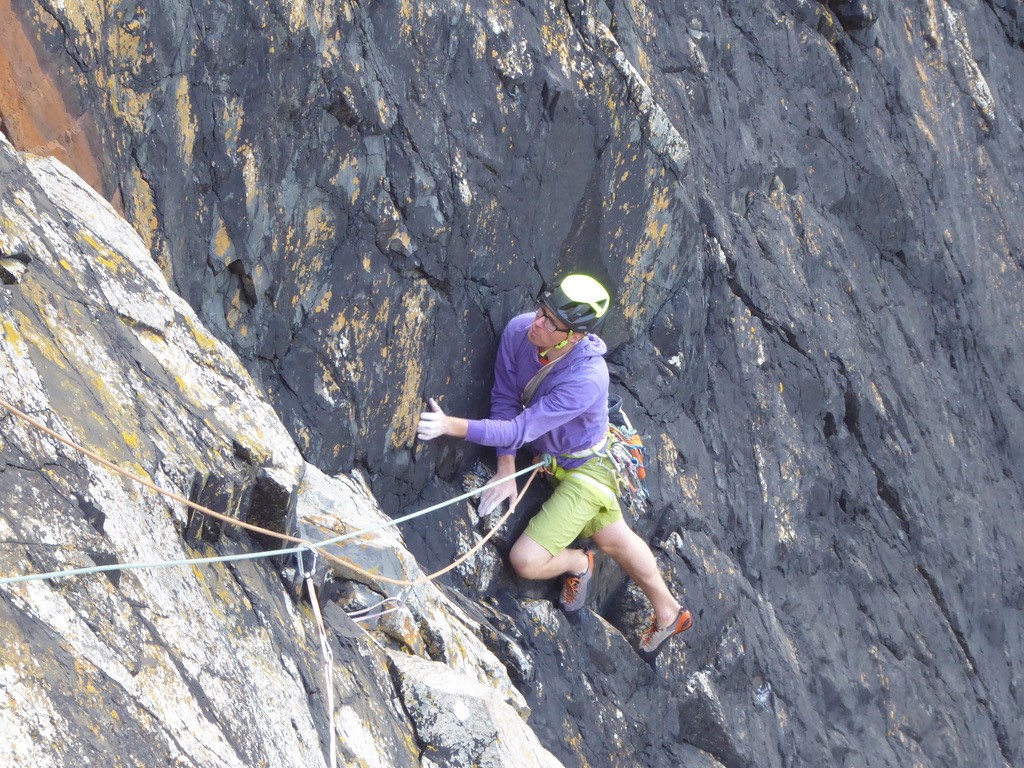 Tom testing the Ace whilst climbing in the West Country. Photo: Marion Wyllie.
Summary
In conclusion, the Edelrid Ace is a very comfortable and compact harness. Weighing just 304g, it's one of the lightest fully-featured, harnesses available today. It's a great around harness which is perfect for a wide variety of disciplines, from sport onsights to alpine routes. My only critique is the excess webbing doesn't always stay put. With an RRP of £110, it also represents good value for a top-end harness, and I'd recommend it to any weight-conscious climber.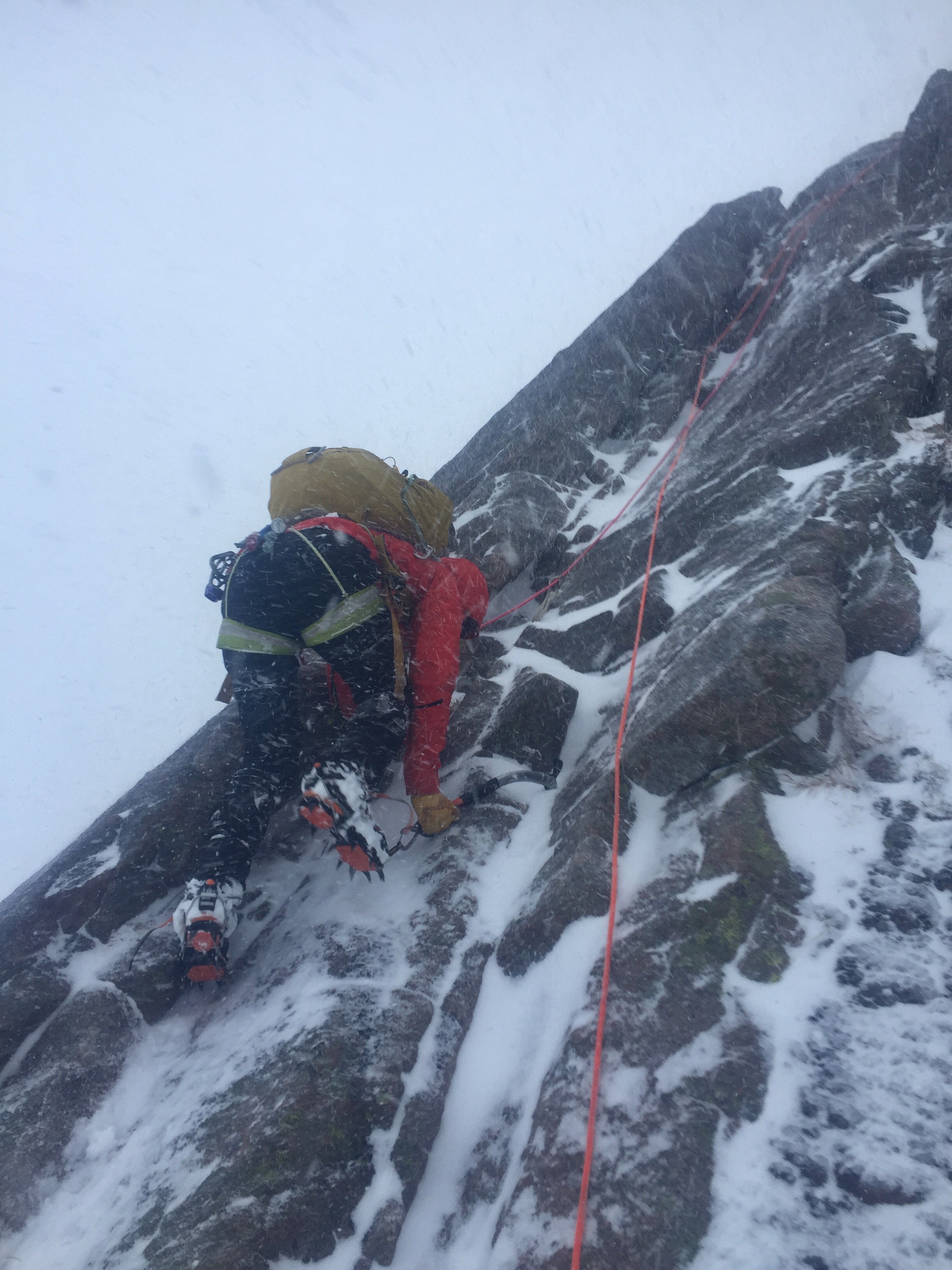 The Edelrid Ace on a fine Scottish day. Photo: Tom Ripley Collection
Tom Ripley can be found on Instagram, or you can visit his Guiding website. Tom has also reviewed the Edelrid Salathe helmet.