Priti and Jeff Wright have tested ONCRUX CRUXGRIP liquid chalk and CRUXCARE salve in some harsh conditions: hot and humid climbing in Hawai'i, climbing single and multi-pitch sport routes (up to 5.12c) in the heat, salt and humidity near the beach. Read on for their review.
There are many pros and cons of liquid chalk. The biggest benefit is the absence of chalk dust that can be really irritating on the respiratory system, making it a great option indoors and for people who are sensitive to chalk dust. Also, if you're not quite ready to ditch the chalk bag altogether, it makes a great base layer. Once you have the moves dialed on your project, you can save weight and ditch the chalk bag for the redpoint! We found this brand gentler on the skin in general, so your hands and cuticles don't get as dried out afterwards.
The liquid chalk needs to dry for 30 seconds before it's ready to go, so it's less useful while cruxing out mid-route. But if you find a good rest, you can use the clip-on squeeze bottle one-handed and let it dry while shaking out. If you don't want to top off with dry chalk, mid-route, you can put a smear of liquid chalk on your forearm to reapply to your fingers on route (semi-PRO tip!). You can also use the chalk as war paint!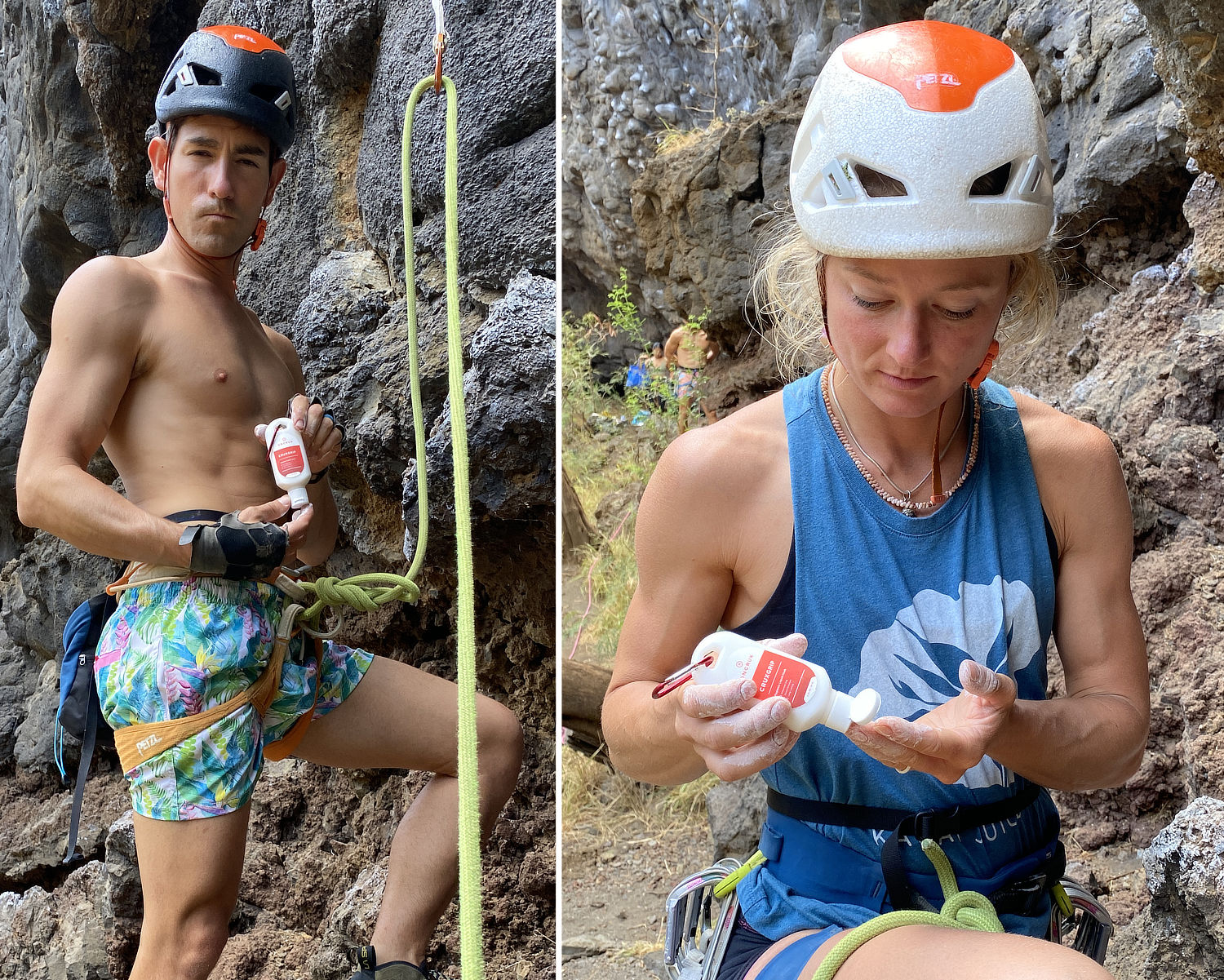 I found this brand to be less greasy feeling after it wears away, compared to other brands I've tried. Make sure to shake it up really well before using it for the day! I used a generous amount on my fingertips, a light smear on my palms, and then waited for it to dry out well.
Jeff would often climb a whole pitch without needing to resort to the backup chalk bag, while I usually found myself chalking up mid-pitch.
It works as a fantastic base layer, making dry chalk work even better while using much less of the powdery white stuff. It draws out some of the excess moisture on your tips, as it dries and the alcohol evaporates. Lots of climbers start off with a base layer of liquid chalk, which can last an hour or much longer in a dry climate.
There are environmental impacts of dry chalk that we often don't recognize, and using liquid chalk means generally using less chalk, leaving less visible graffiti while also getting less chalk on your belayer below! See more on chalkbloc's related article "The Surprising Environmental Effects of Rock Climbing Chalk".
Another ONCRUX product, their hand salve, is also much less greasy than many other brands we typically use. It has helped us heal our hands faster after getting destroyed on this sharp volcanic rock. Plus, our hands don't stick to the steering wheel on the drive home. It smells divine too!
We and all of our friends at the crag were pleasantly impressed by ONCRUX liquid chalk. We will continue using it in the gym, at sport crags, bouldering, and even on alpine multi-pitch routes. Pssst, gram-counting Alpinists, sharing one small clip-on bottle of liquid chalk between two partners is much lighter than two chalk bags! The leader just chalks up with ONCRUX, leaves the bottle with the follower, then you don't have an awkward chalk bag to contend with under your backpack.
Learn More about Oncrux products here or follow them on Instagram
Priti and Jeff Wright are currently on a climbing sabbatical and have recently completed a first ascents of K6 Central and a Third Ascent of K6 West, follow their travels on alpinevagabonds.com