Patagonia DAS Light Hoody - Mens
The DAS Parka was (and still is in many ways) 'THE' jacket when I started getting into alpine climbing; It was the one that you wanted desperately but never had; It was the one all the other competitors tried to copy (and failed); It was the one that Steve House talked about for his ascent of Nanga Parbat. So when I heard that Patagonia had made the DAS Light Hoody I was genuinely very excited.
When you first see the jacket the build quality is obvious and you can feel it in your fingers; made from ultra-light ripstop fabric with a water-resistant coating with a PlumaFill insulation this jacket exudes class. The fabric feels light but not of the bin-bag esq quality that has become a little prevalent in recent years from some manufacturers, meaning this jacket should last you a decent alpine season.
The PlumaFill (I had to Google this bit) is made up of a continuous synthetic material that mimics the qualities of down including the packable nature but with ability to remain warm when wet that you'd expect from traditional synthetic insulation. To enhance the warmth of this very lightweight jacket further Patagonia has minimised the seams and therefore the cold pockets that occur in some jackets - another of the little things that Patagonia products absolutely does perfectly. The lack of seams on the outer shell also vastly improves the wind resistance of the jacket, something that the more breathable out fabric competitors lose out on which leads to a huge loss of warmth from what is sometimes a more heavily insulated jacket - a devilishly sneaky trick by Patagonia, not only do they come in lighter but they are warmer! The only way heat is lost is through the lightly elasticated wrist and waist closure, but more on this later. As with any belay jacket or alpine jacket, it needs to be worn in a variety of situations and weather conditions from snow to sunshine, walking uphill to being sat freezing on a belay for hours.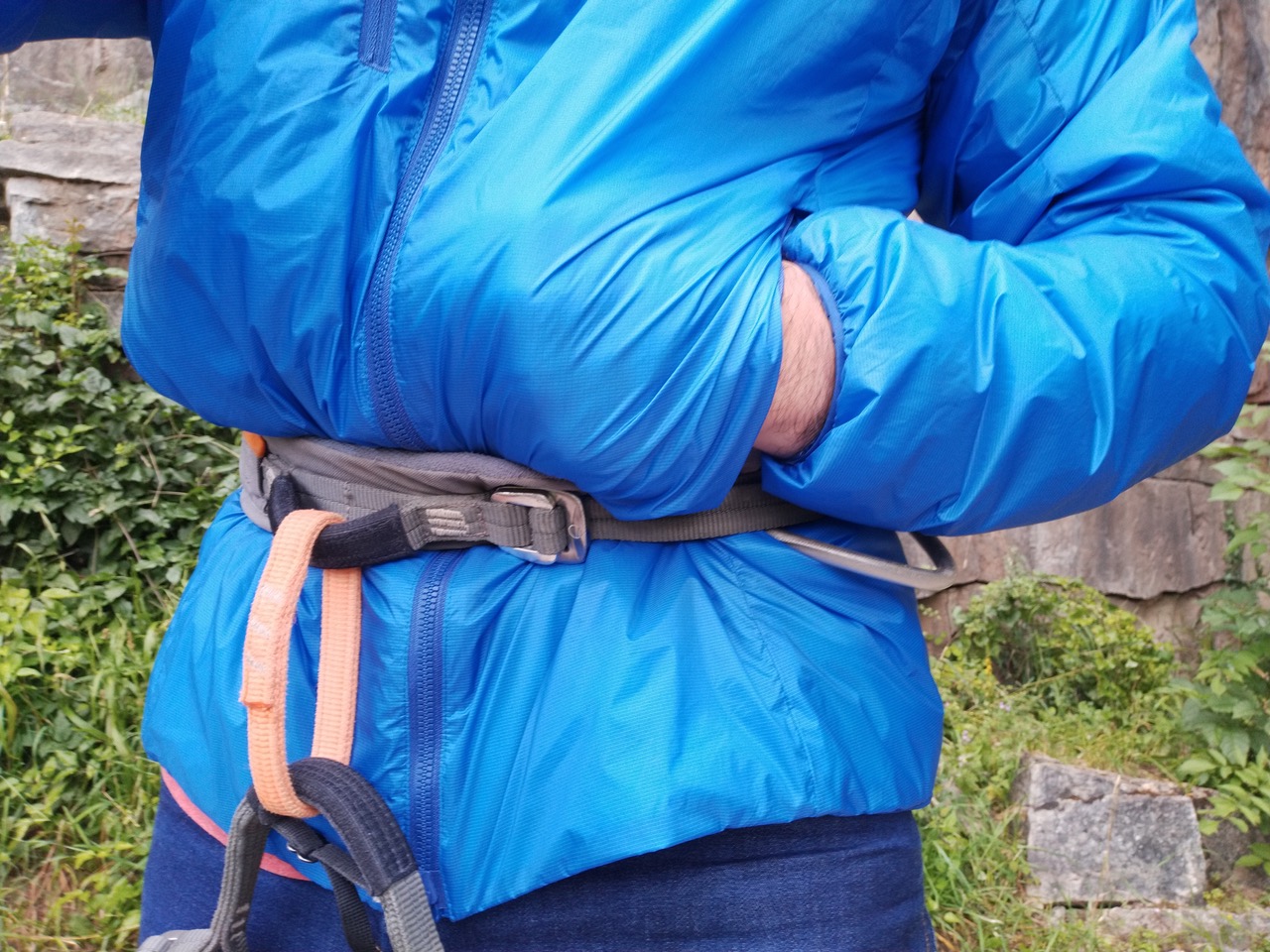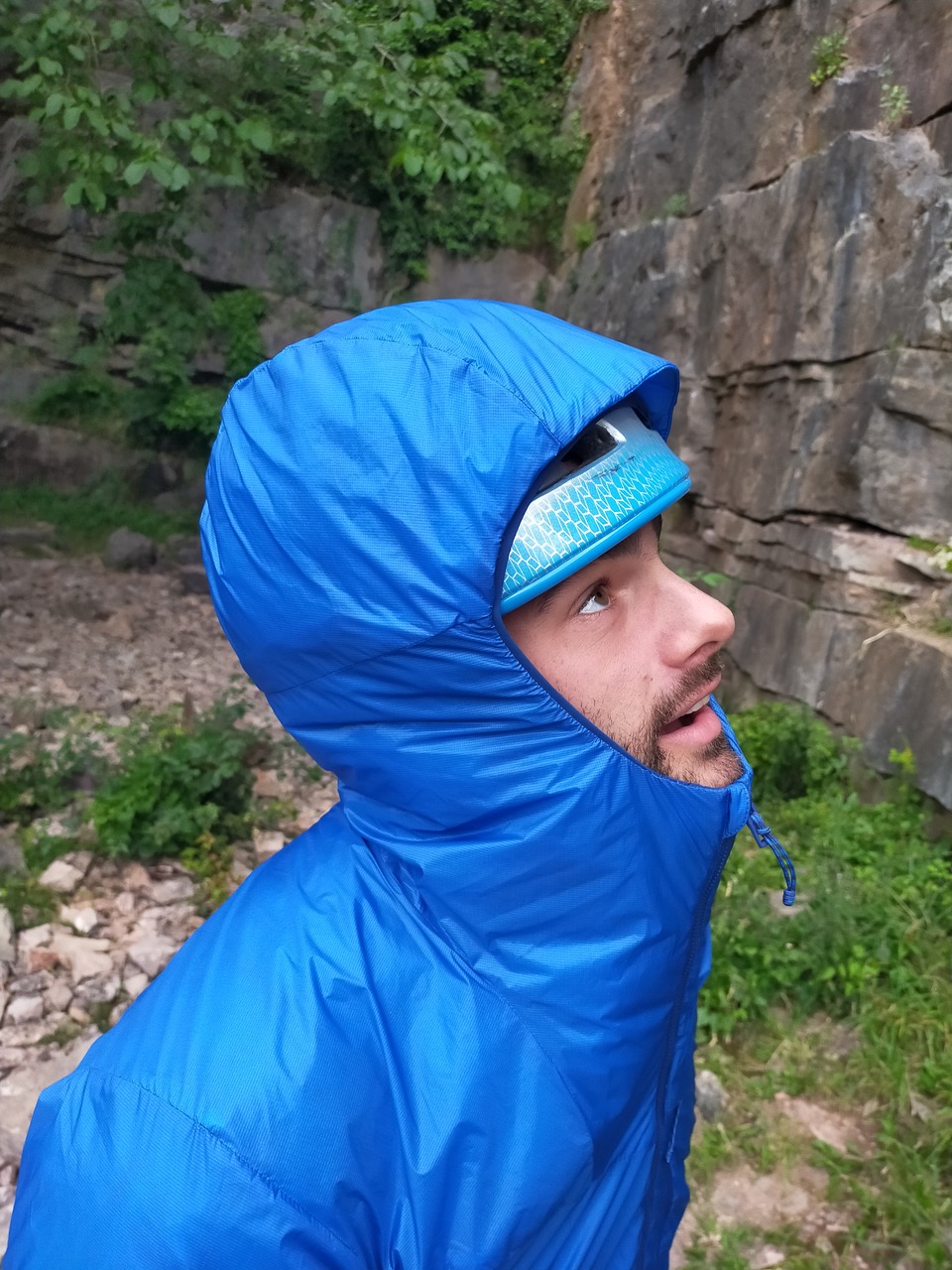 With the DAS Light Hoody you have a single jacket that happily contends with anything you throw at it. It is the perfect alpine jacket that works just as well ski-touring, cragging, or as a general jacket in winter and is now my go to jacket as I walk out of my front door almost regardless of what activity I'm doing - even if it's just drinking down the pub.
With two hand pockets that sit just above a harness line (a must on any jacket in my opinion) and a chest pocket big enough for snacks, compass, phone and head torch, the thought that has gone into this jacket shines through yet again. The two way zip enables unencumbered toilet breaks whilst hanging from your harness; well semi-encumbered, it's never the most easy of tasks regardless of zips but a two-way zip is definitely the connoisseur's choice and can make or break a route's enjoyment.
They have also included a helmet bearing hood; Patagonia have used a single drawcord cinch to enclose the hood area which is both comfortable and usable to wear with both a helmet-less and helmeted head. It moves well as you turn your eyes upwards (essential belay requirement) and in all other directions as belay boredom takes over.
On a more serious note, belaying is a responsible job, the author accepts no responsibility for inattentive belaying whilst looking around to test the hood of the DAS Light Hoody.
It's ability to be worn as a stuffed pack on the back of your harness gives the DAS Light Hoody another string to it's bow. As with many items from Patagonia's arsenal the pocket is a little on the snug side to fit the jacket into easily, but it does fit and this snuggness makes it a much smaller thing to have swinging about on you whilst actually moving. However, as with all fabrics of this nature when you have wet and cold hands from snow or rain it does infuriate even the most patient and calm individuals and may drive others over the brink. But it is just one of two small niggles in what is a brilliant item of clothing and piece of garment engineering by Patagonia. The lack of drawstring or velcro closures on the wrists and waist certainly mean that the jacket is one of the lighter alpine belay jackets on the market (320g - Advertised), however this does create the issue of an air seal in these areas. After fighting so hard to get yourself all warm inside the jacket, it is always a nightmare when it begins seeping out of all the holes required for limbs and torsos. I get why Patagonia hasn't put them on this mid-layer jacket, and it has become a hallmark of jackets in this bracket. However, as it is such a good all-round jacket and in many cases could easily replace many of its heavier weight siblings, it is a shame that these haven't been included and the titans of insulated jackets taken out in one fell swoop. Saying that however, in nearly all scenarios bar the most invasive of cold weather scenarios, this is a minor picky point in what is a fantastic and brilliant executed jacket.
This jacket could be written about at length; the comfort; the fact it doesn't ride up with your arms desperately searching for gear above your head; the durability and adaptability; how genuinely good it looks on the mountain/at the crag/ in the pub. But all good things must come to an end.... The DAS Light Hoody is a cut above the rest in the field of lightweight alpine jackets and is a clear step above the micro-puff genre of the range. It is a fantastically thought out, lightweight and warm jacket that has become my staple jacket regardless of what I am heading out of the door to do, and this is not set to change any time soon. Bravo Patagonia, you have laid down the gauntlet yet again and I dare say it will take something very special to surpass it.
Thanks to Ollie Burrows for the review. Ollie is a weekend warrior with a brief sojourn into trolling that loves to fondle the brown scrittly rock of the Peak. He is not sponsored by anyone other the local council but hopes Bosch will take him on board soon. He can be found on Instagram here: https://www.instagram.com/og.brrws/
Patagonia's DAS Light Hoody is available to purchase here.