Uisdean Hawthorn has an ever-expanding portfolio of photographs taken from wild alpine routes around the world. CHALKbloc sits down for an interview...
Uisdean Hawthorn is on his first cup of tea. He'd say he's 'a climber and photographer.' But that wouldn't tell you he grew up in the remote North West of Scotland, herding sheep in the mountains behind his family home. Once he started climbing in his late teens, he quickly built up an impressive resumé of alpine routes: the Hyper-Couloir on Mont Blanc; Gandiva in the Indian Himalaya; the House/Anderson on Mt. Alberta to name a few. He's come away with a portfolio of stunning images, and a desire to capture photos exactly as he sees them - real and in the moment. 
What makes you pleased with a photo?
The image has to tell a story. For example, I like it when I'm climbing in the mountains and I'm totally knackered, and I really can't be bothered to take out my camera… but I force myself to get a photo. The result is (usually) very satisfying; the image is real and raw. It'll tell a vivid story, or show the involvement in the scene.
Most people don't force themselves to get the camera out in these situations. It's easy not to. If you're on an alpine route, and you're exhausted at your third shitty bivy, and you've got a million other things to do, and you can't be arsed… that's often when you get the best photo.
Another example is on Day 2 of a new route on Mt. Jezebel, Alaska [below]. I turned back to look at Tom and thought, 'that would make a cool photo! But I'll have to unzip all my jackets, I'm tired, I just want to get to the top.' I'm glad I made the effort, because I'm pleased with the image. Even though it's technically not perfect (if you look closely, you can see my footsteps and Tom is seconding), it still looks striking.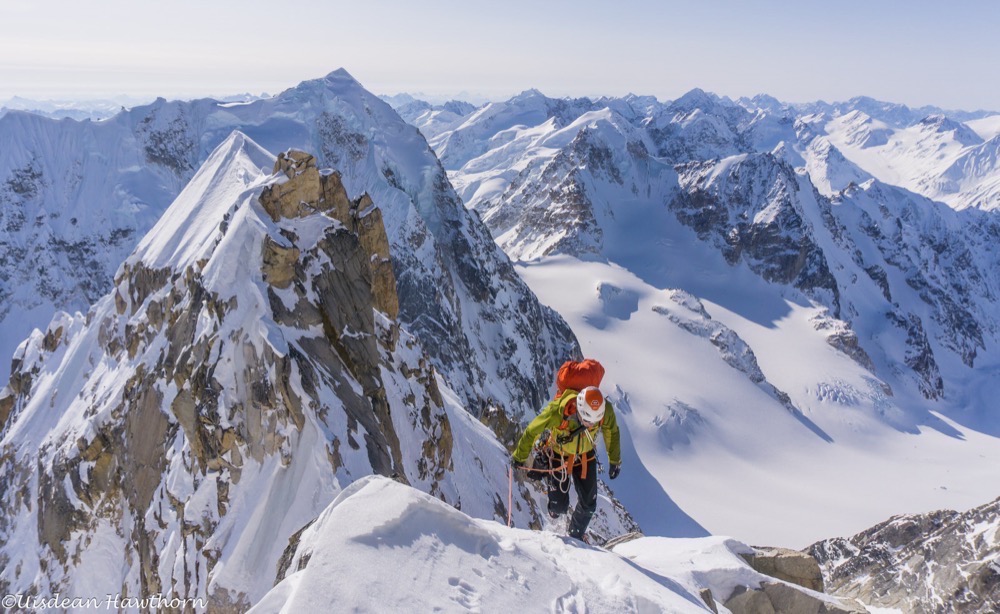 [Uisdean pauses to drink tea, then says, 'Oh my God, tea is so good']
Do you think your photos always tell a story?
Sometimes they do. Occasionally, I get everything I want out of the photo - or even more. The viewer can sense a lot of the story in the portrait of Raphaela in Canada [below] - she looks freezing cold. But it's often difficult to show how shit the weather is, or how hard the climbing is.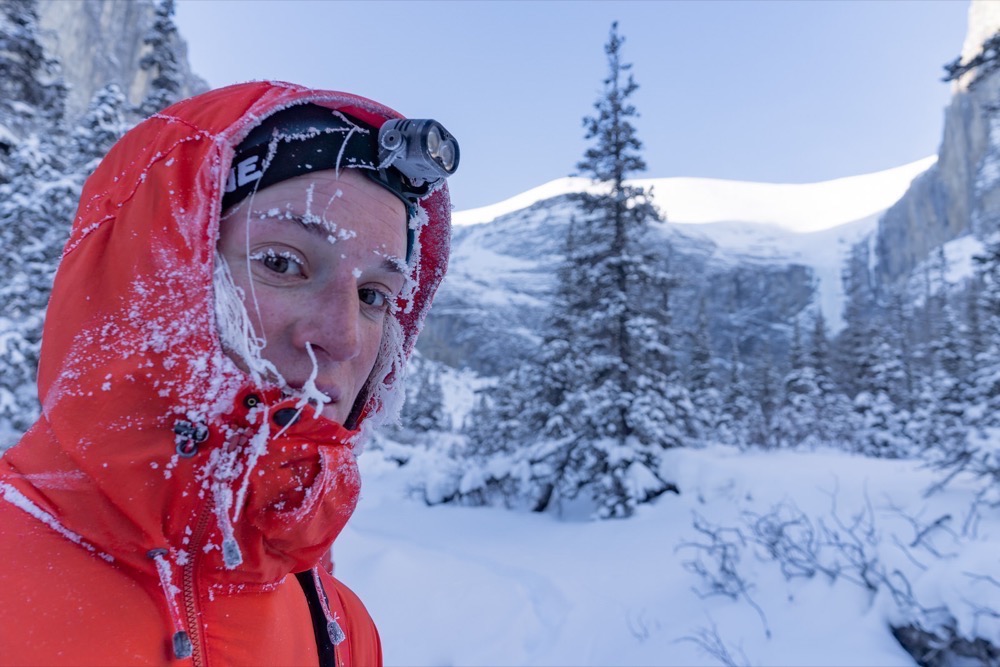 Is it possible to make a perfect photo?
Photography is a creative art. It's subjective. It's hard to get a perfect shot if you're just documenting your own climbing - which is mostly what I do - because you're generally too busy climbing, or you're not in the best place. You tend to get bum-shots. Its harder to get high quality images when your not directing the climbing on a commercial shoot.
Photos from 'real climbing' aren't perfection, but that's just the point. They're the reality. They capture raw, in-the-moment images. If the photo was perfect, you'd most likely be on a commercial shoot, and hanging from a rope above the climber, for example. The result might be better in a commercial sense, but as an actual story, I prefer to document the reality. I'd rather have a photo like this, than a perfect advert or piece of art.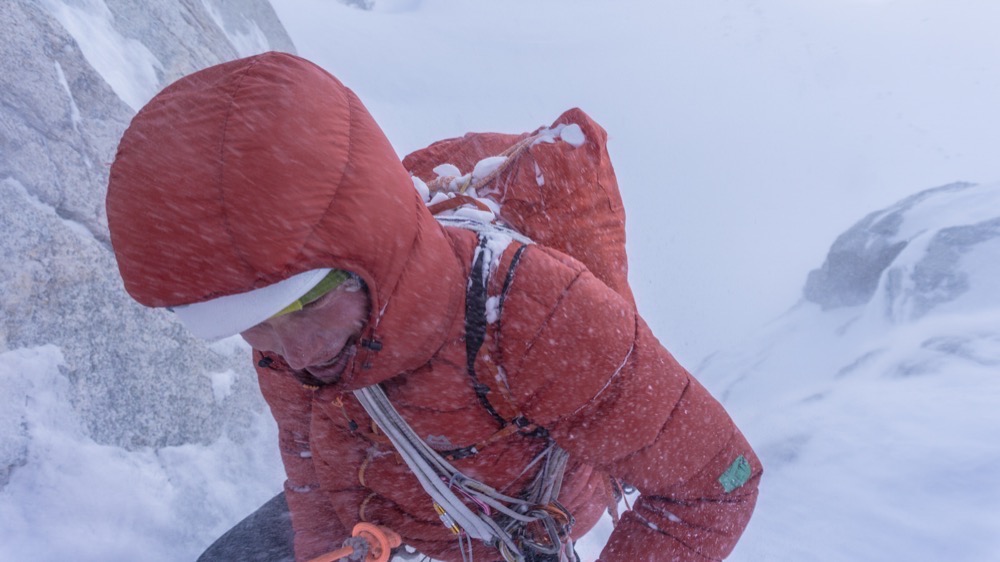 [Uisdean gets up for another cup of tea.]
Do you have anything against staged photos?
No, because they're a totally necessary part of life. A climbing company needs lots of very specific, high-quality images to showcase different products, and this generally means they're staged. Of course, staged photos can allow you to get a different perspective, or a new angle, which is cool. But it seems there's an abundance of 'looking down at climber' hero shots at the moment.
Of course, there's a lot to be said about shooting from above, and it's possible to take striking images. Do you feel comfortable in these circumstances?
If you're taking professional-grade images on a big route, you've got to be comfortable. You've also got to be really switched on, like keeping yourself warm, fed, and climbing hard - as well as getting into position and taking the shots. You've also got to be careful not to affect the climber, or knock anything down on them. I enjoy all these elements and challenges.
Let's go back to motivations. What are the components of an image? Are you satisfied with just documenting a climber looking knackered, or do you ideally want an impressive landscape, for example?
I don't want to be a landscape photographer. I enjoy taking photos of people. Either the photo tells a story, as I was saying, or it produces an impression. Ideally, the viewer connects with the photo, and instantly imagines themselves there - that's satisfying when it happens.
Photos have different layers. When you first see an image, you're struck by the overall look. But then you start to explore the detail, and this second part is what matters to me. A top-down hero shot is cool, but it's not the way you naturally look at a climber, so I don't like it as much. 
I really like Guy Robertson's book, The Great Mountain Crags of Scotland. It's filled with climbing images which are taken by climbers, whilst climbing - they're bum shots, or a climber traversing away from the belay, or someone walking out in the dark. They're real.
Who, or what, influences you?
The routes I'd like to climb are still what influence me more than anything. I think, 'what can I go and climb,' rather than 'where can I go to take pictures.' I guess I'm a climber that photographs.
What advice would you give to climbers that want to take good photos?
Get camera insurance! Don't be scared to break your camera, which means, have your camera accessible when you're in the mountains, and don't be scared to take it out when the weather's bad. Cameras are surprisingly tough, and you might get the best images when you're in the thick of it.
I climb with my camera (I have a Sony a7 III and an a6000). I either clip it to the back of my harness, (the a6000), or on a shoulder and waist strap so it stays tucked behind my back (the a7). 
When you get to the belay, make sure you have a good system - get your camera out, hang it round your neck, and keep it clipped to a bit of elastic too. Look for the best potential shots. Adjust your belay so you can move around and lean out, too.
Mentally prepare the photo. Imagine where the person will be climbing, and create the ideal photo in your mind. For example, in the photo of Mt. Jezebel, I turned around and saw Tom would be climbing against this backdrop, so I already visualised what I wanted to shoot before he arrived. 
Take lots of photos, but make sure you can sort them out quickly and easily. You need to separate the good from the rubbish. I use Lightroom, but there's loads of other free programs available.
Try lots of different things - frames, settings, positions, lenses etc. Afterwards, you can look at what worked well, and learn from every photo.
But the best bit of advice? Go climbing! Get out lots, in different places, routes, cultures, mountains. If you climb a 20-pitch alpine route, you'll probably get a couple of good shots - if only because of the situation.
Give an example of one of your favourite photos.
I like this photo of Murdo Jamieson on Heavy Flak (a FWA on Beinn Eighe). It looks exposed, and it sums up Scottish winter. It's a classic image - it promotes not just a visual pleasantness, but also shows fear, or cold, or warmth, or stress. Personally, I think a landscape can look impressive, but it doesn't give me the shivers, or make me think, 'shit, look how thin that hook is!' Or, 'look how wide their eyes are!'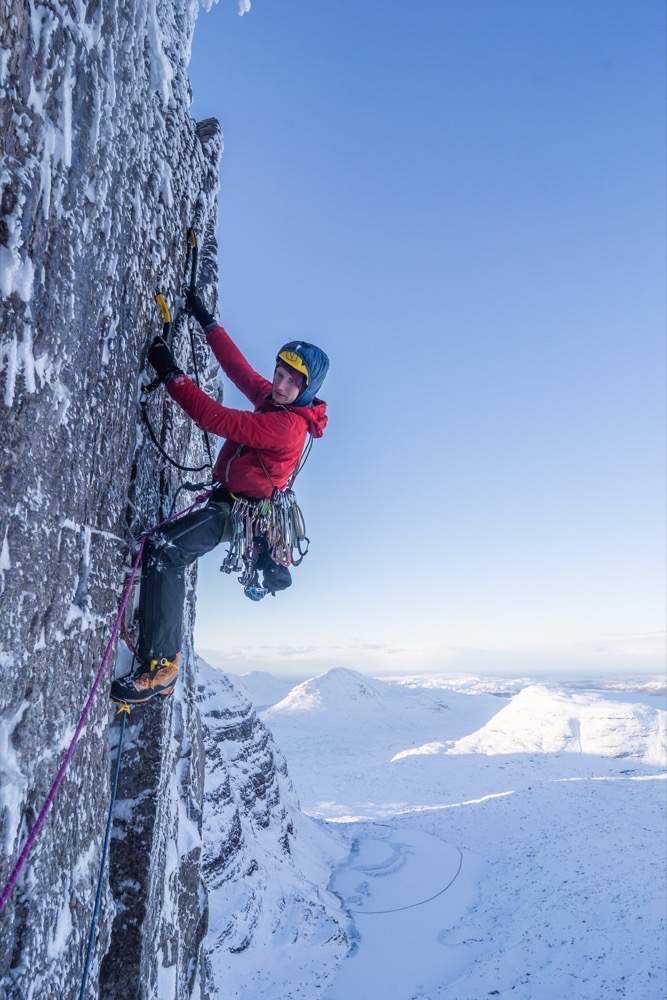 [Uisdean pauses again, then says, 'tea is great. I think I'll have some more!']
All photos credited to Uisdean Hawthorn. See more of Uisdean's photography here.

Uisdean is supported by Mountain Boot Company, Mountain Equipment, OTE Sports Nutrition and TRAC Oil & Gas