Angus Kille gives us a look at his personal (and essential) climbing gear, which he takes on every trad route. Describing himself as 'a climber that teaches climbing,' Angus has over 12 years of experience on many of the UK's hardest routes, and as a qualified instructor. Angus has had plenty of time to refine the gear he always takes, and to use it to get out of some awkward situations.
---
There's a weighty bundle of kit I've lugged around for years that has always been one of my most cherished possessions - my trad rack. Its size depends on how much anodised aluminium I'm likely to need on any given adventure, and throughout my dirtbag years it's constituted about 50% of my net worth.
But there's a smaller clutch of essentials that lives separately from my main rack and makes the cut on every trad trip - whether we're using my rack or not. I learnt long ago that turning up at a sea cliff without a belay plate or prussiks because you forgot to extract them from your own rack can easily be avoided by keeping the must-haves separately. This might mean leaving them on your harness or giving them permanent residency in your trad bag.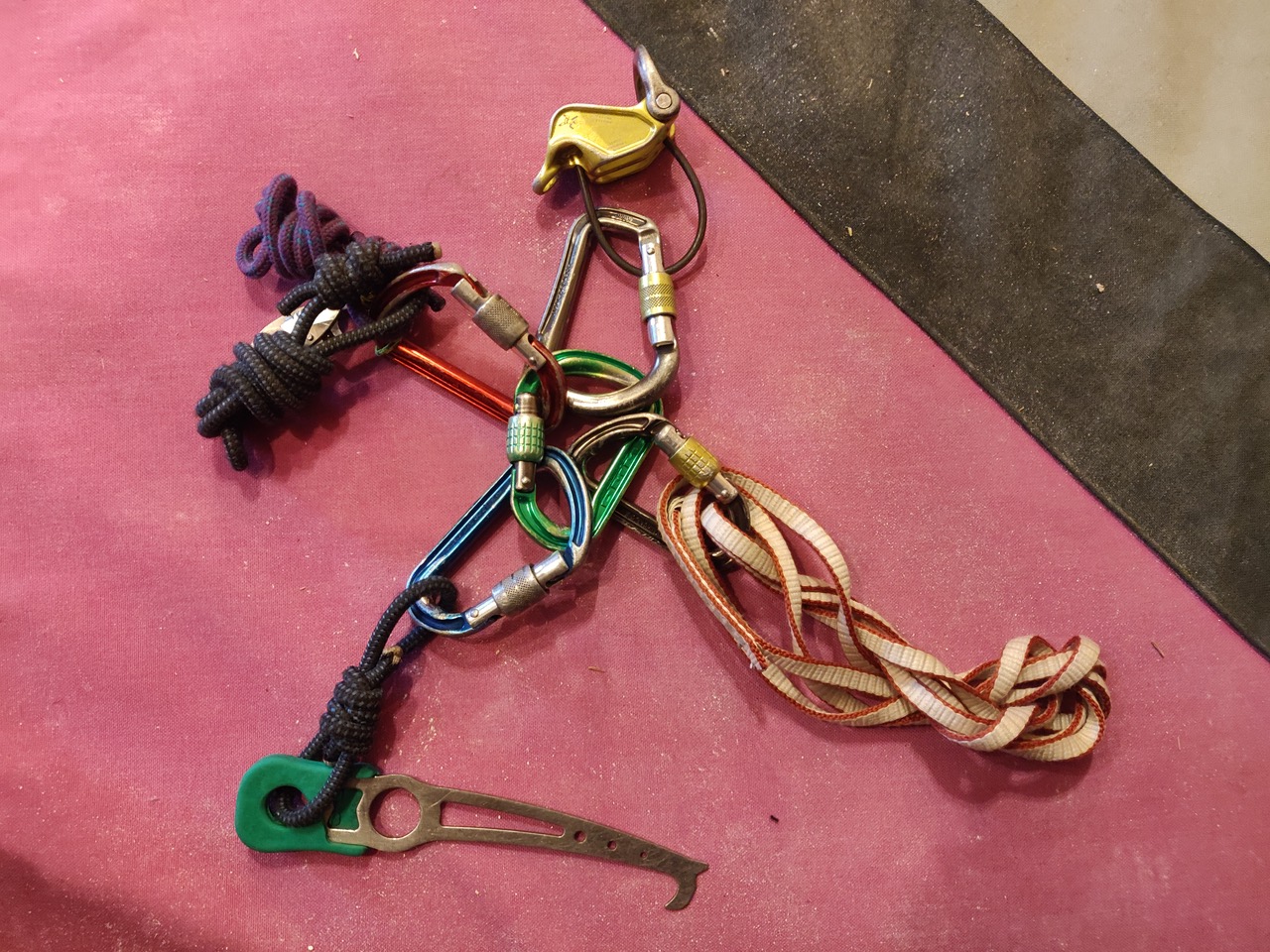 Angus's essentials. Photo: Angus Kille
It might not seem especially clever, but it's made me feel a lot less stupid over the years!
So what are my trusty essentials?
Belay device - obviously. If you're abseiling in to the base of the crag or multi-pitching, you're not going to get away with borrowing your partner's belay device. If you're single-pitch cragging, you're going to look like a punter asking for your mate's device every time, and if they're a punter then you're going to have to put up with their weird belay device. I have a DMM Pivot with me all the time, because it's the best guide plate I know and it works smoothly with a lot of different rope types, but of course, use what you know. I also use a Rhino screwgate as its round top bar keeps the rope movement slick and it's open enough that I can tie-off the plate with double ropes easily. You might want to use something that prevents cross loading a bit better, but beware of the added faff and the reduced space for tying-off.
Prussiks - lifesavers. These modest bits of cord can really get you out of some tight spots (literally, sometimes). If you're abbing in to somewhere, use one. If you ever need to escape on a fixed line, you'll need two (or a mechanical equivalent). If you're ever in an improvised rescue situation, these little things might actually save your neck (and your partner's too). I carry two of these on a small screwgate, this way I don't have to find another screwgate to use them with. I also carry a tiny knife on there, which ends up being rather useful.
HMS carabiner - the trusty biner. You're always going to need a locking biner for something, often clove-hitching yourself in at the belay, so it's best not to rely on your partner's in case they haven't saved you one. Some climbers take extra lockers with them, but I've got in the habit of keeping this stuff on screwgates and using this one to clip it all together. I go for the Phantom HMS to get all the width with less of the bulk, and it's just a really slick little biner.
Sling - you'll always need one. Much like the HMS, you're always likely to need a sling, whether it's using as a cow's tail while untied from the rope or just hanging your bag from a piece of kit so it doesn't roll away. I use a dyneema 120cm sling but nylon or kernmantel structured slings are popular for a go-to cow's tail. I also keep this on a small screwgate because you pretty much always need a locker with a sling.
Nut key - earns its keep. This little jangler will often snag on your slings or spike you in the leg, but it's no freeloader. The amount of welded-in wires or lost cams this thing will extract easily pays for the bother. This can be ditched if you're going fast-and-light, so that only the second in your partnership carries one, but they're still pretty useful on lead when threading slings or excavating dirty cracks. I keep it on a bit of cord so it's jangles less and it's easier to manoeuvre and I have one with rubber so it doesn't bruise my palms. You can keep it on a snapgate but I save myself a bit of weight by using the screwy-G as a back-up locker.
These items can feel like good friends with all of the adventures they join you on. I use different coloured bits of kit so they're distinct and easy to identify when you're faffing about on lead and your forearms start filling up. Of course, use kit you're familiar with that's UIAA rated and well designed - snagging belay plates or rattly screwgates shift the climbing-to-faff ratio in the wrong direction. If you're unsure, send me a message or contact another professional. Happy climbing.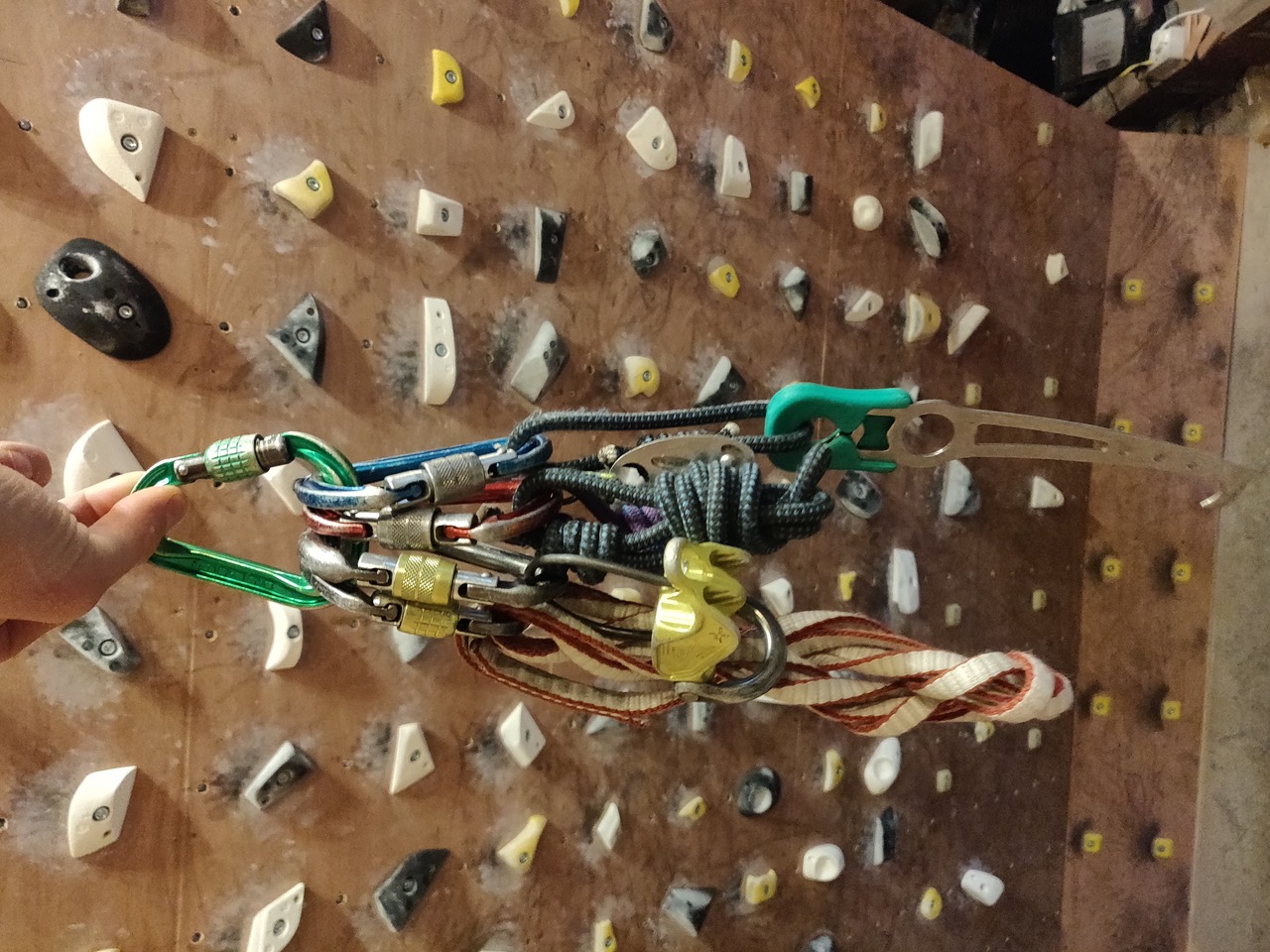 Angus Kille is a climber and Outdoor Professional. He holds the Mountaineering and Climbing Instructor award (MCI) and is based in North Wales. He offers guiding and instruction, and more information can be found on his website, Facebook page and Instagram.
He is sponsored by DMM Climbing, Rab and Scarpa.