Harriet Ridley gives her top Mountain Equipment recommendations for climbing, particularly suited to warm summer and early autumn months. Being technical items, these garments come into their own on multipitch rock routes, exposed sea cliffs, remote mountain crags and, perhaps most importantly, in inclement summer weather...
The summer climbing season has been in full swing here in Wales. Long days, long walk-ins and long belays abound, and everyone seems well into the groove of summer rock. Yet the unpredictability of our temperate maritime climate means we still need to greet each day prepared to be cold, hot, sweaty, sunburned or rain soaked, perhaps in quick succession. Fast-drying apparel is key, jackets are still a pack essential, and all-day-comfort is required.
These women's products, new or updated for this year, are my top Mountain Equipment recommendations for climbing, particularly in these warm summer and early autumn months. Being technical items, these garments come into their own on multipitch rock routes, exposed sea cliffs, remote mountain crags and, perhaps most importantly, in inclement summer weather.
Comici pants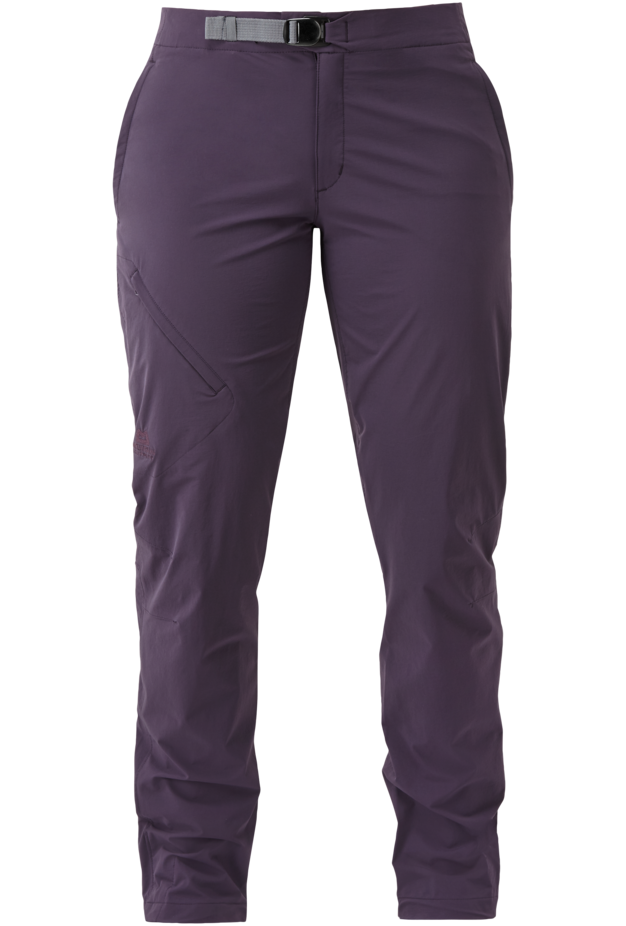 For several years now the
Comici Pants
have been my go-to climbing trousers and I cannot rate these lightweight, stretchy trousers highly enough as an all-round trouser. They offer unrestrictive softshell protection against wind and light rain showers, and dry in mere minutes—a real bonus considering the uphill sweating, inevitable rain showers, perpetually boggy uplands, rogue waves, mountain streams and seeping rock that characterise climbing in the British Isles.
First to the fit: I find the waist-to-leg ratio on these trousers to be really good, something I know many women, including myself, struggle to find in outdoor clothing. The slight stretch in the material means the trousers feel unrestrictive through the thigh and the waist belt allows for easy adjustment. These two features make these one of the best-fitting outdoor trousers I've worn, and I imagine would ensure a good fit on a range of body shapes and sizes. As a bonus, for 2021 the waist belt is now hidden within the waist band, so it can't be accidentally snagged when removing or attaching kit to your harness gear loops—something I fell prey to with the older iteration of these trousers.
The ankle cut is tapered and neat, so there's no excess material flapping around and obscuring the view of your next foothold, which I really like. The only drawback to this is that you can't roll the trousers up very far, so if you're forced to hobble across a river, your trousers are either getting wet or you're stripping to your pants. But as I mentioned, the trousers dry super-fast, so dive in. The updated 2021 pants also include drawcord ankle hems, which I didn't think I cared for until I realised how well they keep the wind out when synched down: invaluable for long stints on multipitch belays or for countering unexpected shifts in weather.
The two hand pockets are zipped, which gets a big tick from me, and the thigh pocket is particularly useful, sitting below the leg loops of a harness so small items can be accessed easily while on route.
The Comici quick-drying trousers are also
available as shorts
for those delightful warm days and these form another staple of my summer rock wardrobe.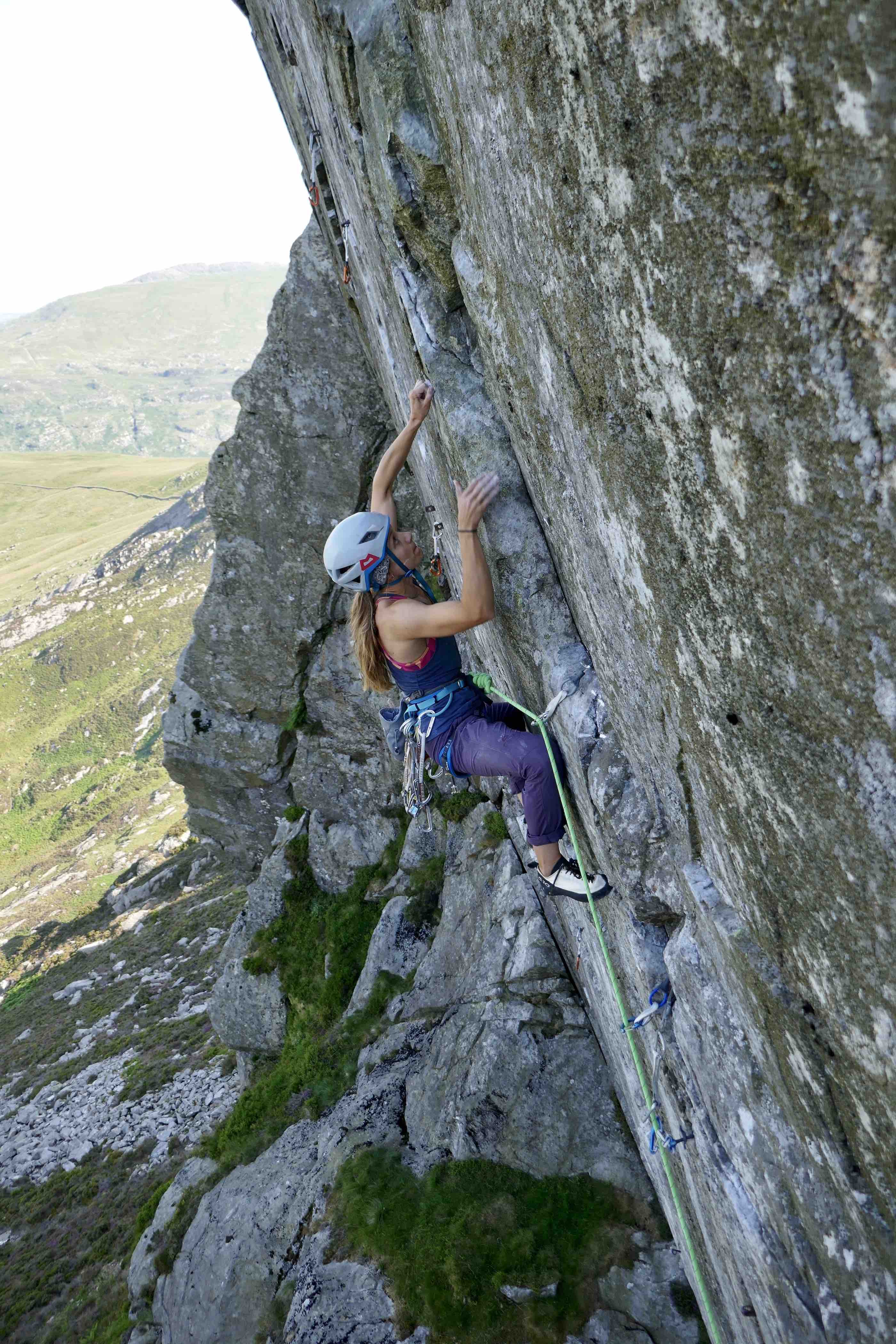 Heart Of Stone © Andy Moles
Aerofoil jacket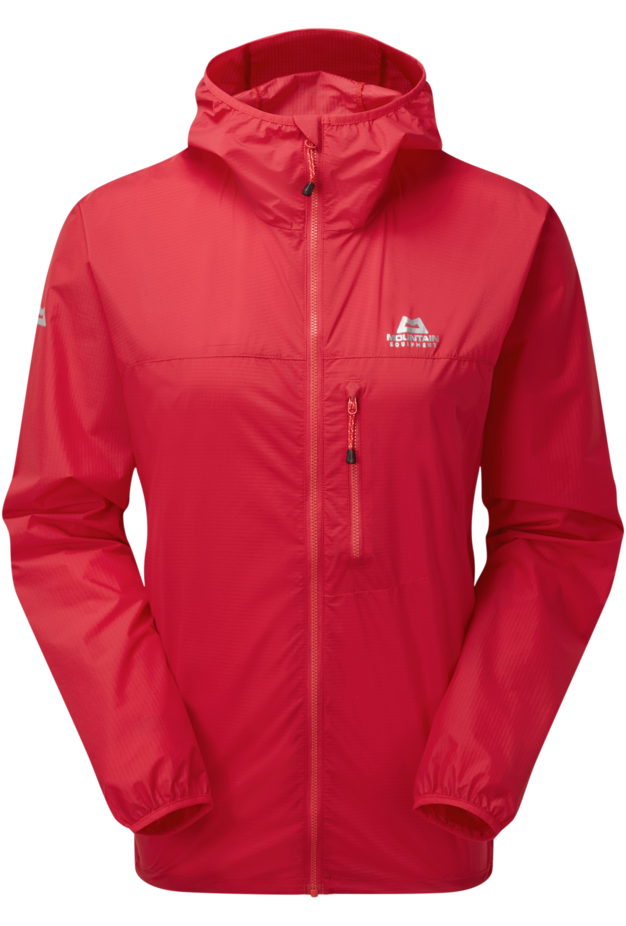 In summer you would amiss to venture out rock climbing or into the mountains without at least a light jacket, and the
Aerofoil
is top of my list. Faced with a stiff sea breeze only last week at the base of Gogarth Main Cliff, I marvelled anew as I shrugged on this small but mighty windproof jacket that comes in a most un-cumbersome package. When packed away into its chest pocket, the Aerofoil is little bigger than a GriGri and doesn't weigh much more than a quickdraw. This means you don't notice it in your pack, on your harness, or even tucked into a running belt, until you need it.
When you do need it, it is amazing how much protection this uber-thin layer can provide. By keeping the worst of the wind out the jacket makes a real difference, and the slight stretch and articulated sleeves mean it doesn't feel restrictive to climb in. That said, I can fit the hood over my helmet when I'm belaying but I find it too off-putting for climbing, so if I'm really cold, I opt to put the hood up under my helmet instead.
The Women's Active Fit is neat and slim through the waist, eliminating excess material and allowing the jacket fit nicely underneath a harness. You can also synch in the hem using a drawcord, further keeping the jacket neat and the wind out. The material is tougher than it looks, too—mine has withstood considerable rock scraping so far this summer and it currently lives in my climbing pack as an absolute summer essential. 
Switch Pro Hooded Jacket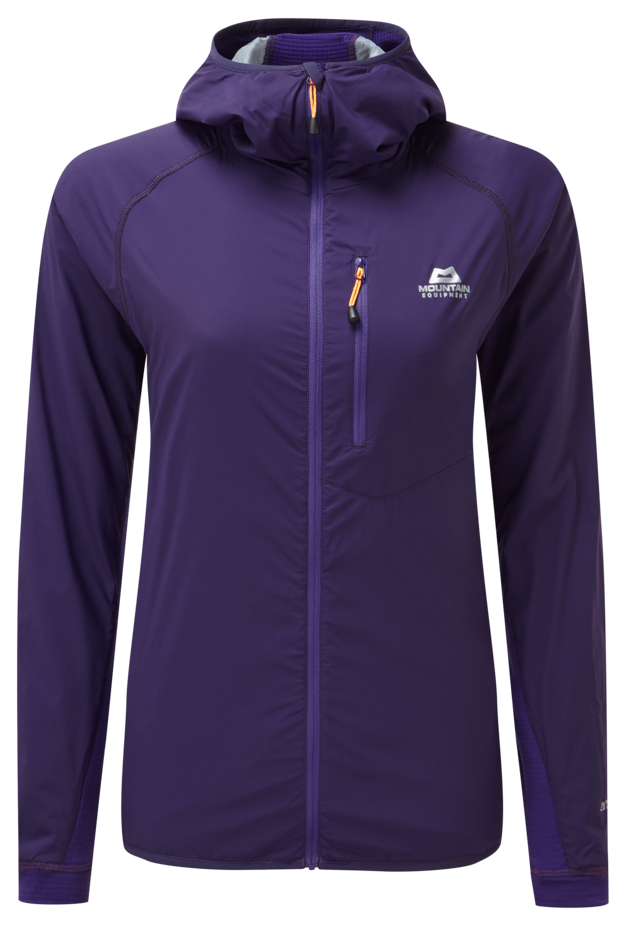 If it's still the warmer months, onn principle I don't want to take my K2-worthy down jacket to the crag. Some days I need to, but I've found that the
Switch Pro Hooded Jacket
, which is a staple in my climbing wardrobe year-round, is up to most of those shady belay jobs or cooler summer evenings.
Designed as a mid-layer for ski-mountaineering and fast-moving alpinism, the Switch Pro is warm, wind resistant and breathable, and, in my opinion, a great lightweight jacket for summer rock. It has stretchy fleece panels on the underarms, hood and the sides, meaning it's completely unrestrictive when climbing or scrambling, and it wicks moisture well. I get the hood on over my helmet when I'm cold or I pack the whole thing away into the chest pocket and clip it to my harness using the twin carry loops when I'm warm. These features are essential for me when climbing on cooler summer days or up at shady mountains crags.
Also of note is the Women's Active Fit cut, which is neat and non-bulky through the waist and therefore works really well under a harness. For climbing, the outer is pretty tough too and can withstand a fairly good thrashing on the rock; I'm yet to make a hole in mine and I'm all about full-body rock contact where possible. Another thing I really like is that the lining of the jacket is soft, so it can comfortably be worn with just a vest or tee underneath, although usually I team it with a mid-layer.
One final big tick for the chest pocket: large enough for a phone, snacks or other small sundries and an important feature when access to the two zipped hand pockets is prohibited by a harness.

Broadsword E2 5c © Kris McCoey
Lumiko Women's Zip Tee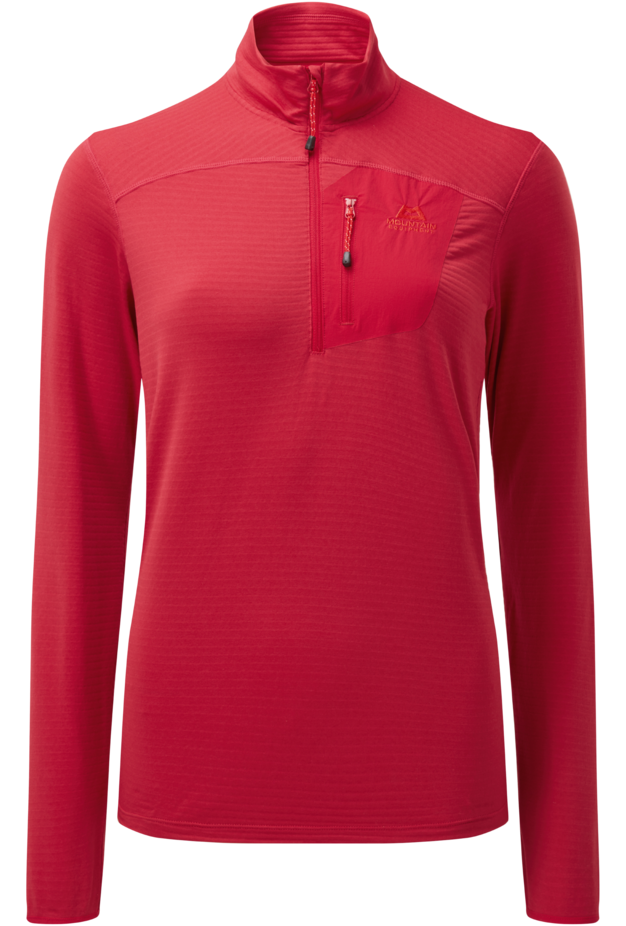 The
Lumiko
is a thin, close-fitting fleece that's new this year and isn't dissimilar to the Solar Eclipse Zip Tee, which is another long-time favourite of mine. To differentiate between the two, I think of the Lumiko as being just a half-step closer towards a full-blown fleece than the ultra-lightweight Solar Eclipse. I find the lightweight but warm Lumiko to be just the right level of warmth on unpredictable or mixed weather days. It also has the uber bonus of a small chest pocket. This may seem like a small feature, but on summer rock routes where you want to be light, having an extra pocket can be a game changer (and means you don't need to stuff snacks down your sports bra).
As with all items here, the Lumiko is breathable and dries quickly, doesn't hang on to sweat, and is soft against the skin. It's also got elasticated cuffs, which are a nice addition and help prevent snagging. Furthermore, it's made of 93% recycled polyester fibres, thereby helping to "close the loop" in the garment industry and to lessen the environmental impact of the item.
As a very lightweight fleece it's perfect for summer and early autumn months, although for me it will certainly retain its value in the cooler seasons as mid-layer.
Headpoint Women's Vest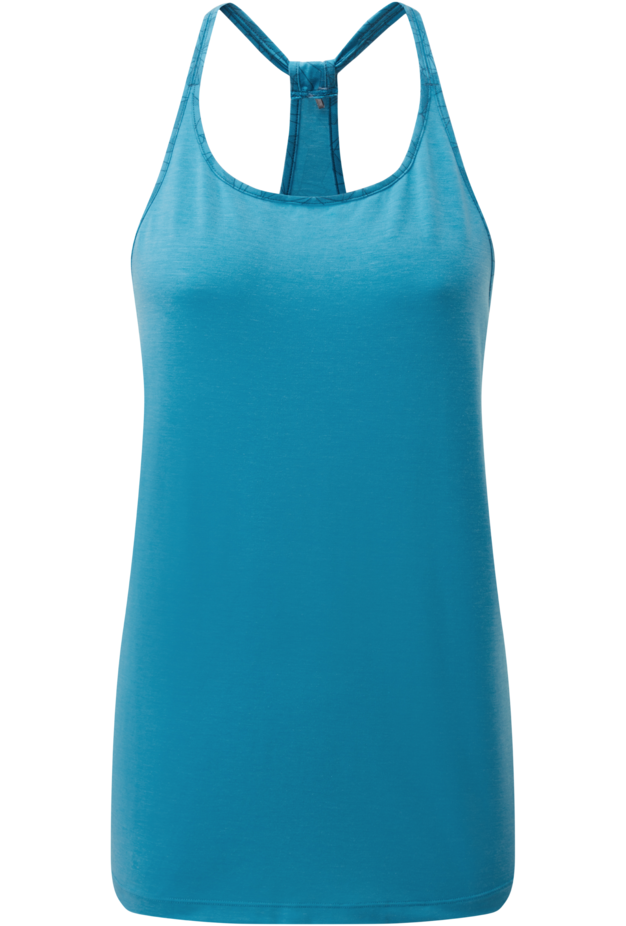 In the interest of reviewing a full outfit, I present to you the
Headpoint Women's Vest
: a simple but well-done next-to-skin layer for summer. The cut is flattering, the back detail is lovely, and the technical TENCEL© cellulose material (made from sustainable fibres derived from wood pulp) is cool in the heat, dries quickly when damp and is more environmentally sustainable than synthetics. The main thing that I really love though, is just how soft the vest is. Not only does the softness feel wonderful, but it reduces chaffing and discomfort under a pack, even when damp, and is generally a delight to wear.
The vest also incorporates HeiQ Fresh odour neutralising technology. Claims of magical odour control generally elicit a raised eyebrow response from me, but loose subjective testing suggests that after a long day in the hills the vest does indeed fall into the "less offensive smell category". Jury's still out though.


Harriet Ridley works in science communication and outreach, and has a PhD in Climate Geochemistry. She's a passionate climber based in North Wales. Harriet can be found on her 
Instagram