Gritstone. Where do you start? The rounded brown outcrops and edges of the Peak District have been waxed lyrically about for decades - nee centuries - and this review is going to add little in the way of poised and profound prose on this. I will however say, that gritstone holds a special place in my heart and the memories it elicits are seared into my body, such that even the mention of it brings on sensations of the cold rough crystals; the smell of the spring ferns on the way to the crags; the blue blue skies of a crisp winter's day and the laughing and social scene of any grit crag on a stellar day, friends and randoms alike.

This book almost sets out to complete the impossible task. To comprehensively compile all of the gritstone crags within the Peak District in a single volume of information. The ultimate grit book of instructions. The author has managed to do just this, with over 2000 routes covered across 32 crags (Stanage is broken into 7 sections but I've counted it as one - info for the pedantics out there) and in a mere 542 pages. With all the traditional routes you could ever lust after covered; ranging from Mod to E10 within it's spine there is quite literally a route for all in it. Clear topos, descriptions and action shots adorn the pages from illustrious photographers such as Keith Sharples, Mike Hutton and Adam Long giving a clear impression of each of the crags and the inherent feel of each different venue.
With a locals eye for detail but a visitors sense of confusion, the approaches, access and general information are well thought out and enable first time visitors and regulars alike to deepen their knowledge and get an intimate understanding of the crags covered in this diverse volume - and prepare their next outing down to the minute detail: pubs and all.
None of this would have been possible without the drive, enthusiasm and knowledge an avid grit climber such as Graham Hoey (the author) possesses. Calling upon his almost 50 years of experience climbing on, writing about and publishing numerous guides and historical books about the region. He has split the volume into 3 distinct sections; Eastern Grit, Staffordshire Grit and Moorland Grit - each with their own flavour and character.

So reviewing a book of this nature is an unusual task: a single book that aims to cover the same level of detail and routes as the wealth of singular definitive guides that already weigh down the shelves of thousands of climbers who have frequented the Peak. There aren't many who would have taken up that mantle. But I genuinely believe if there was a man up to the task, Graham is such a person. It is a great addition to the fray and in many ways provides a welcome reprieve from the definitive volumes that litter the shelfs: a single volume that does it all, only one thing to remember on a trip and providing multiple options on any outing in case the weatherman had it wrong (again). This is one of the guides clear strengths, you need to only take one book to the crag and if you are as undecided as many of my climbing partners are about where we should go (even when we arrive somewhere) then this book has your back and has got you covered.  It is clearly segmented into the areas mentioned previously allowing quick changes of location en route or alternatives to be weighed up with minimal fuss and hopefully a successful day snatched from the jaws of disaster. The topos and descriptions add flair and brilliant detail to what could otherwise become monotonous drivel - "Climb the crack" etc. allowing the psyche and inspiration of the Peak to seep through into your pores through it's pages and images.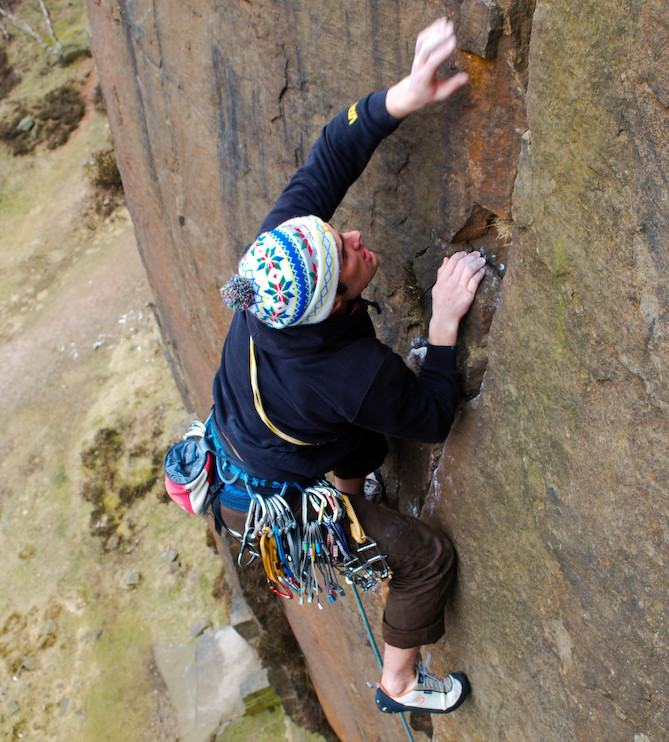 The author on Bond Street. © Sam Bennett
An addition to this guide that hasn't appeared in any Peak guides up until this point is the inclusion of the French grade for the harder routes that are what has made the grit the mecca it is today. Although used in guides to Pembroke in recent years the "funny" nature of grit and it's complete lack of (usable) holds - ignore what Johnny said here- have made this addition an unusual choice. For example Heartless Hare at Frogatt, a classic slab frightener of some repute at the E5 5c grade has been given F6a+. Now there are two key points to note with this, firstly E5 5c and F6a+ are very different beasts and so could lure in unwanted attention from those fresh off the plastic, but also it could somewhat demean the value and inherent experience gained from these frightener style routes. With a sport grade in Pembroke it gives a great and usable layer of information to the route description, however the grit is not Pembroke, and not just for the lack of sea do they vary. A sport grade does give you some information but as they appear to be somewhat lower than you would expect (Hurricane F6c+; Knockin' F7b; Obsession Fatale F7a+) they may be giving the wrong sort of impression and therefore information. However, a grade is merely an indication of the difficulty of a route, and as an extra layer of that difficulty-description the inclusion of these is something I am really intrigued by. Will it make me jump on the harder routes- unlikely. But has it made me think about it a bit more than I would have based on the UK subjective and tech grade - definitely.

As a comprehensive guide that gives representation from the whole Peak area Graham has had to make some minor compromises. One of which is the text size, something those of us without glasses may not have even considered, but when asking for the description to be read to me by my more sight defective friend he struggled - yes this is a little pampered but what else are belay bunnies for. Not to say that it's unreadable, anything but! However it is worth bearing in mind for those moments when you may need a description shouted up to you; which of those onlookers would be best suited to reading the actual text not merely shouting back some unintelligible waffle about "getting on with it" and "being cold"?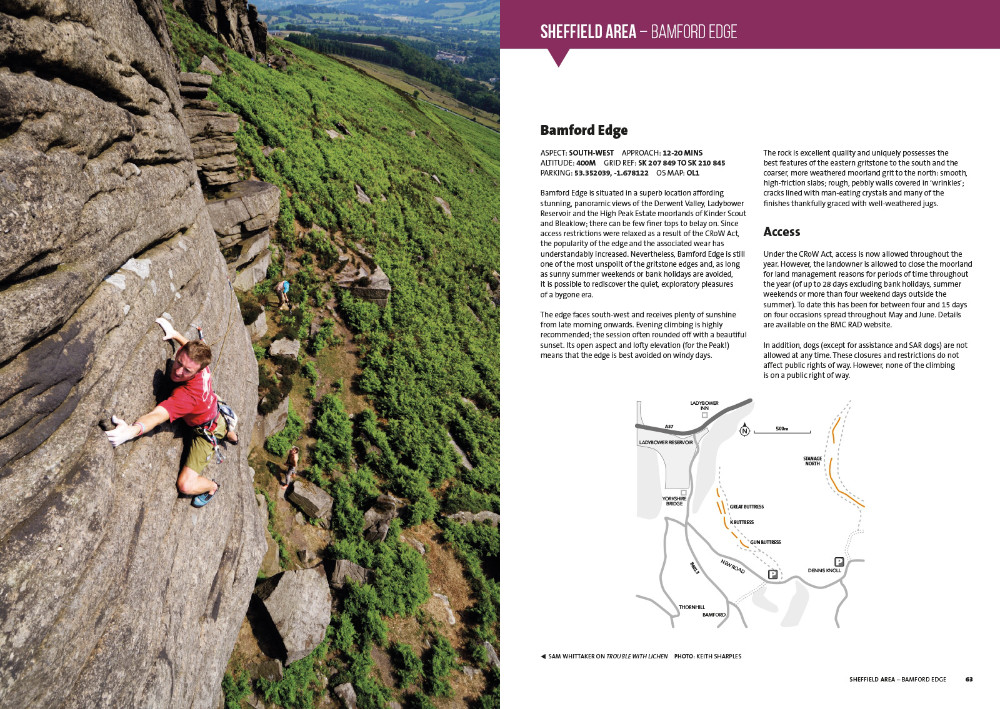 An excerpt from the guide. Nice images & good levels of information throughout
Overall, this guide provides a fantastic wealth of information with a some excellent additions in a guide that is easy to use, gives clear well thought through descriptions, maps and condition information in a visually appealing book that I believe will stand the test of time and use. It is one for all who frequent the Peak; as both a regular local or once a year warrior.

One question or should I say point I shall leave this review with is that as I perused the pages looking fondly at familiar routes and crags; one thing struck me more than anything else previously mentioned. Quietus - E3….?

Ollie Burrows is a weekend warrior with a brief sojourn into trolling that loves to fondle the brown scrittly rock of the Peak. He is not sponsored by anyone other the local council but hopes Bosch will take him on board soon.

Peak District Gritsone is available to purchase here.