For 2019, the Petzl METEOR has had a make-over and now comes with enhanced impact protection and a cool new look, Chris H gives us his review.
A Brief History Of My Helmets
My first helmet, passed down to me in the late '80s was a red, Joe Brown one – glass fibre and resin constructed, apparently styled in 1940's war time Germany. Cool in image it was not – but it made me feel like a proper climber. This was replaced by a much 'lighter' Phoenix (remember them?) bowl shaped, fibreglass helmet, chosen in white to keep me cool on my first trips to the Alps – it didn't. An Ecrin Roc followed with its awesome cogs for cradle adjustment and ventilation holes – possibly the lightest 'indestructable' helmet I've owned.
Then, in 1996 Petzl brought out the first METEOR – borrowing materials and construction methods from cycling helmets, this expanded polystyrene helmet, despite looking like a tortoise shell – truly was 'light'. Some would say a game changer – elite climbers were photographed using them at the peak of the hard grit era and many more climbers began wearing helmets.
I first saw the appeal of a very light lid for my first Himalayan trip and I bought a METEOR III – in 2006 a very futuristic looking head protector, styled in silver and white with an angular profile and a low back for better impact protection. At 235g for me it was a game changer for comfort and that 'forget you're wearing it feeling'.
New Protection Rating
Fast forward to 2019 and Petzl have produced the latest evolution of the METEOR – with some significant developments in protection standards and intended use. Perhaps most significant of these is its "TOP AND SIDE" protection rating - Petzl's new in-house standard that helps its newer helmets provide greater levels of all round protection, also a feature of the SIROCCO, BOREO and kids PICCHU. The oversized ventilation holes have slightly recessed cross members of supporting EPS whilst maintaining the full coverage to the front and rear.
It's reassuring that a helmet manufacturer has researched and understands that impacts often occur from multiple angles whilst swinging against the rock or from rock fall. The METEOR does indeed feel more robust across its circumference and is very obviously deeper at the rear than previous versions, producing a more protected feel when in an environment where you want your helmet to look after you in the event of an unavoidable encounter with nearby geology.
Construction
The METEORs construction features a combination of EPS foam covered with a thin polycarbonate shell that improves its robustness. This combination is both lighter than ABS shell helmets, while being easier on the wallet than the uber light EPP foam helmets, offering a great compromise for someone who appreciates a tough helmet without the weight.
Ski Touring Rating
Furthermore, the new METEOR is the first CE rated 'ski touring' helmet. Essentially this means the METEOR meets the usual standard for mountaineering helmets (EN 12492) while also having the above mentioned enhanced protection against lateral, frontal, and rear impacts commonly associated with skiing. The METEOR is also now designed to be more compatible with ski goggles and is well ventilated for those long ascents under a strong sun.
I think in practice, in the absence of objective danger, many hot tourers baking in the white room of late spring touring would still be more inclined to remove it and clip it to their harness to improve heat loss. I wonder why Petzl, keen to appeal to the emerging ski touring market, don't offer a totally white version with a more glossy finish to the shell, to maximise sun reflection. Having done some of the more hair raising ski descents in the Alps while wearing a lightweight kayaking style helmet, I love the idea of not hearing my goggles pinging off my helmet every time I lift them off my face and the more goggle specific design of the METEOR does seem to work better at retaining goggles slid up onto the helmet front,  the rear elastic also prevents them totally detaching from the helmet in a fall.
Fit
The fit and comfort of the new METEOR has been reworked for a far more comfortable fit than its predecessor but for me perhaps feels a little firmer round the internal circumference with just the faintest hint of pressure on either side of the forehead. This may be particular to the shape of my head, but certainly not something I had noticed on the previous version. I work in a variety of environments and often switch between thick beanie, buff and no head insulation – being able to easily adjust the cradle size and achieve the correct tension is important and with bare fingers or thin gloves this adjustment is certainly much easier than the METEOR III but obviously needs a little more skill and time with thick ski gloves on. Overall it produces a reassuring snug fit with no wobble in any orientation.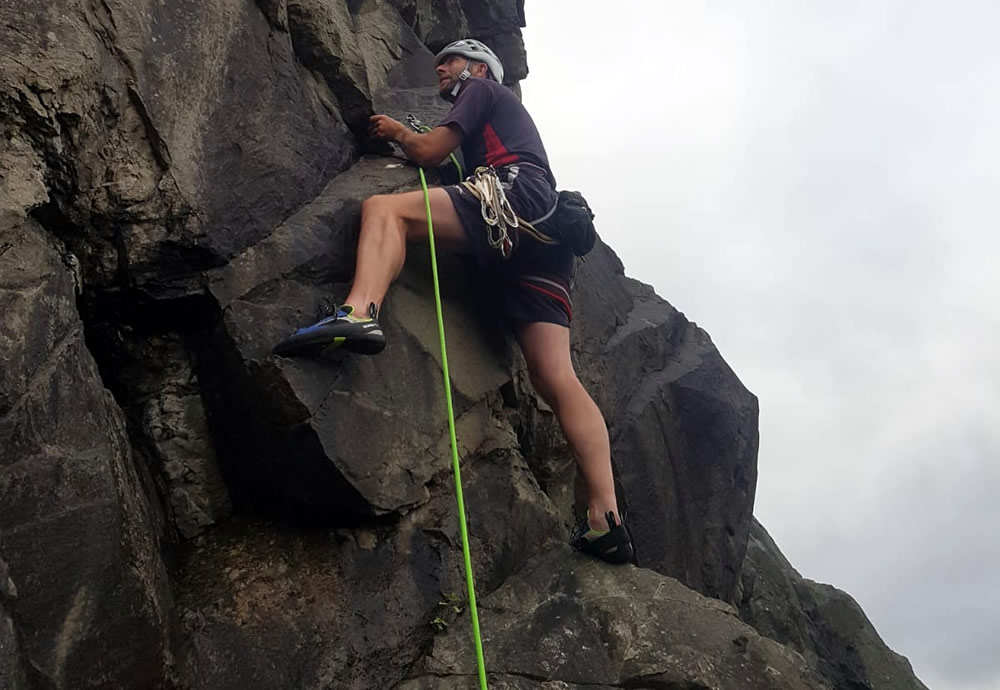 Weight
By any standards this is a light helmet – not as minimalist (or as expensive) as its leaner sibling, the SIROCCO, but at a mere 70g more it 'feels' robust and durable. Those who climb overseas will appreciate this when it's packed away in a kit bag and subject to the rigours of abuse from baggage handlers. (Perhaps the good people in Brussels should create a CE rating for helmets being dropped in a bag 4 metres from a plane cargo door).
Look
In terms of looks – and we all want to look good at the crag in our head protection – this is a very cool looking helmet. This contrasts not only with my Joe Brown from the '80s but is also an upgrade over all earlier METEORs. Clients have commented to this effect and remarked on its aesthetics. It looks significantly more modern than the METEOR III and certainly holds its own alongside similar helmets from other brands, many of whom seem to have at least in part copied the aesthetics of earlier METEOR models.
Overall, the latest METEOR is great all round helmet, balancing weight, protection and ventilation. I would highly recommend it to the general climber, mountaineer or ski tourer, looking for a single helmet for many activities.
Chris works as a freelance instructor here in the UK and also further abroad for Adventure Peaks. Chris has summited Everest twice and was at base camp during the earthquakes of 2015. Other summits include Aconcagua, Ama Dablam and Island Peak and multiple alpine peaks and ski tours.
The helmet reviewed here is his own and was purchased by Chris independently.