Ella Russell gives her thoughts on the new Holdbreaker X, a sports bra made specifically for climbers. From cool bouldering sessions to hot training days, and over six months, Ella's been able to thoroughly test the bra. Holdbreaker, a climbing company solely run by women, have spent several years designing the product; it seems worth the wait.
I first met the inspiration and brains behind Holdbreaker, Emine Güler, at the Women's Climbing Symposium in Bristol in 2016. Whilst we were both waiting to speak at our talks, we got chatting about her passion for developing a new sports bra specifically designed for climbers. I was impressed by her motivation and high levels of psyche to create a product which catered to the climbing athlete, a.k.a. well developed lats and upper traps. We parted with a promise that once she was happy with her product, she'd send one over for me to try!
Two years later, and I was delighted to receive the culmination of Emine's hard work and dedication through the post. As an added bonus, Emine included branded Therabands and chalk, which have actually proved very useful and handy for my training!
Having put the bra through its paces over the past six months, I feel confident that I can provide a thorough review.

The Holdbreaker X. Photos: Holdbreaker
Fit
When I first tried on the bra, I was immediately aware of how secure I felt wearing it. I've worn a few different brands of sports bra over the years, including mainstream sports brands and climbing-specific brands, but many of these felt like they didn't quite give the support you needed. This bra is different – there's a decent amount of fabric and the material doesn't stretch that much (even after multiple washes). My only tip would be to make sure that you get the sizing right for you – and if it isn't right when you first try it on, exchange it for a different size.
Comfort
My number one criteria for any clothing I'm wearing whilst climbing or training is not noticing it, or having to adjust it in any way. I've had a few pretty uncomfortable areas of soreness around my lats with other bras in the past so I was very conscious of this when testing the bra. I'm pleased to say that I don't notice the bra at all whilst climbing or training, which makes it a resounding success on the comfort front. The design of the straps on the back is also pretty darn attractive.
Climbing & Training
So far I've tested the bra on sport climbs and boulders in hot, cold, and typically high humidity British conditions. In addition, I've lifted heavy weights, run, hiked, and cycled in the bra. What I particularly like about this bra is that I feel comfortable wearing it on its own in high temperatures (for me that means anything above 18 degrees celsius!). Although it's been designed with climbers in mind, I think it would also be a great choice for other sports, particularly those where upper body strength is important!

A short bouldering hit at Lees Bottom. Photos: Alex Barrows
Wrap Up
Overall, I'd say Emine has achieved her mission. If you're looking for a climbing specific sports bra that's designed for performance, then this one is well worth the investment. Yes, it's at the higher end of what you might expect to pay for a sports bra, but in my mind it's totally worth it.
The Holdbreaker X also comes with a full refund if you don't like it. Find out more about the Holdbreaker X here.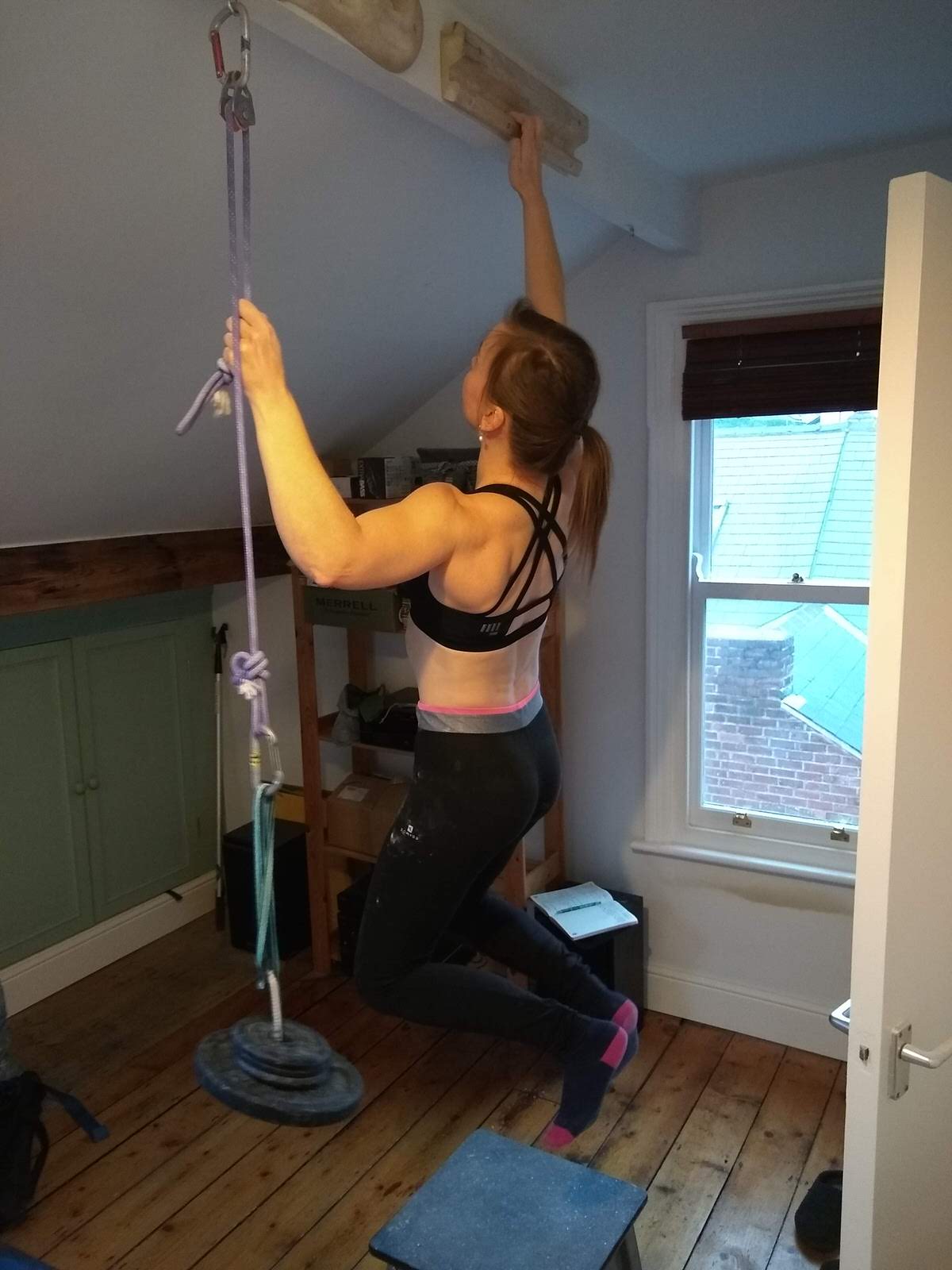 Ella training with the Holdbreaker X. Photo: Alex Barrows
Ella is a part of Lattice Training
You can read Holdbreaker's article on Climber's Physique here.