Tom Ripley reviews the Salathe helmet, a smart-looking lid from the German brand Edelrid. Distinctive in it's green and black colours, the hybrid helmet gives reliable protection and excellent ventilation - all for 200 grams. Read on to find out more.
Wearing a Helmet is Sensible
As chat-up lines go, this was unusual: "head injuries aren't cool. Of course you're going to wear your helmet." However, it's the first thing my future wife ever said to me, as I stood beneath Vector [the classic E2 at Tremadog, North Wales], a callow youth, deliberating whether or not I should wear my white, plastic lid. Of course, I wore it.
These days, I wear a helmet for the vast majority of my climbing, on an almost daily basis. It's become second nature to put it on at the base of the crag, and I don't need reminding - head injuries aren't cool, and the brain is one of the few parts of the body that can't be easily repaired.
I was excited to receive the Edelrid Salathe for a couple of reasons: First, I'm a fan of Edelrid helmets, having used their Shield model for the last three years; I found it comfortable and well-ventilated. Secondly, weighing just 200 grams, the Salathe is even lighter than the Shield. Weight is a big consideration when it comes to helmets - not because helmet weight makes much difference in the grand scheme of things, and a lighter helmet might not be a stronger one - but because the lighter it is, the less you notice it; and the less you notice it, the more you'll wear one.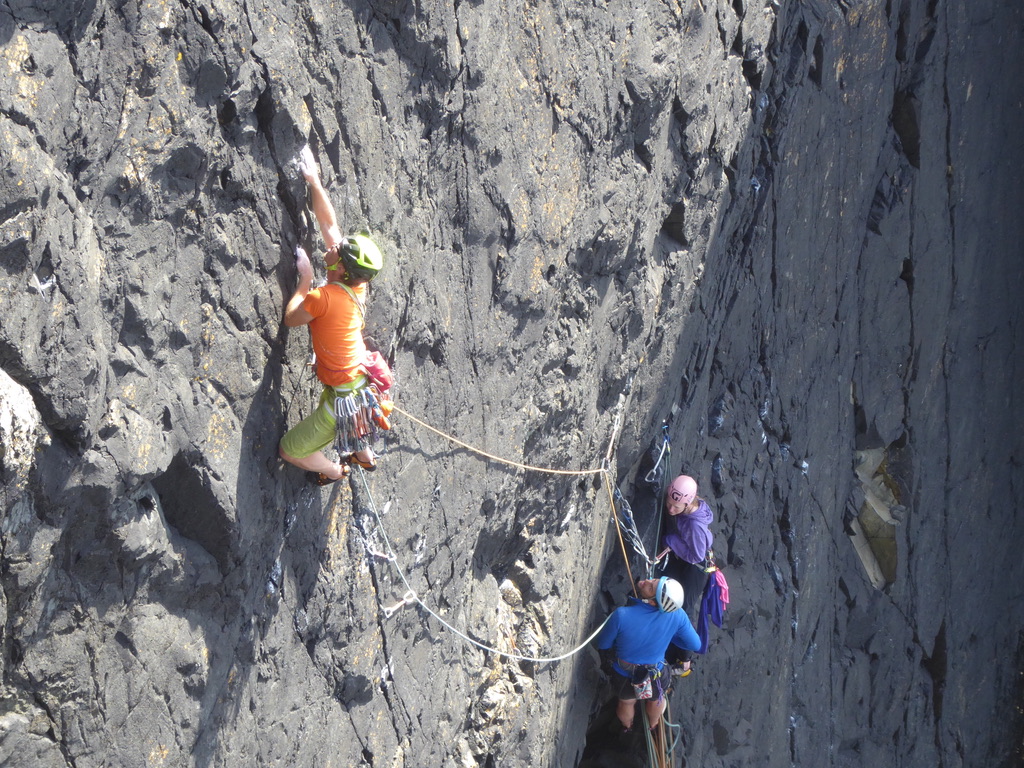 Tom wearing the Edelrid Salathe whilst climbing in the West Country. Photo: Marion Wyllie
Features
The Salathe is lightweight helmet, predominantly made from black expanded polypropylene - a material that has origins in car bumpers, and has superb shock-absorbing properties. Described as a hybrid helmet because of the bright green ABS plastic shell over the centre of the helmet, it has increased protection from rockfall in this area. This combination gives the Salathe a low volume and aesthetically pleasing shape.
It's available in two sizes. Having a largish head, and normally being the larger, size two in helmets, I opted for size two. I would suggest climbers with smaller heads opt for size one. That said, there's more to helmet fit than just the circumference of your head. Depth and shape play an important role too. I'd always recommend trying on helmets in a specialist climbing shop, rather than taking your chances and ordering online.

The helmet has a simple-to-adjust webbing cradle, which is very comfortable, and appears less susceptible to damage than plastic cradles I've used in other helmets. It allows for a snug and stable fit. The only negative of this design is sometimes the webbing can get a little tangled when stowed. The chin strap is closed by a low profile plastic buckle, that is well made and easy to operate with both gloved and bare fingers. Inside the helmet is a removable foam insert, which makes wearing the lid more comfortable. On the Salathe, these inserts are larger and spongier than other helmets I've used, which makes it more comfortable and also does an excellent job of absorbing sweat.
Whatever helmet I use, I normally find the foam starts to get pretty gross after about a year of hard use. To resolve this, I un-velcro the foam and give it a gentle wash. Sadly, after a couple of years of regular use, I find the foam inserts start to disintegrate and can get irritating, whilst the rest of lid is still going strong. At this point, I normally contact the manufacturer, who can send out replacement foam inserts free of charge. I'm pleased to say, the Salathe foam inserts are still going strong.
The only negative I can think of with the Edelrid Salathe is the black colour, which can get a little hot in the baking sun. In an ideal world Edelrid would also offer it in a different colour.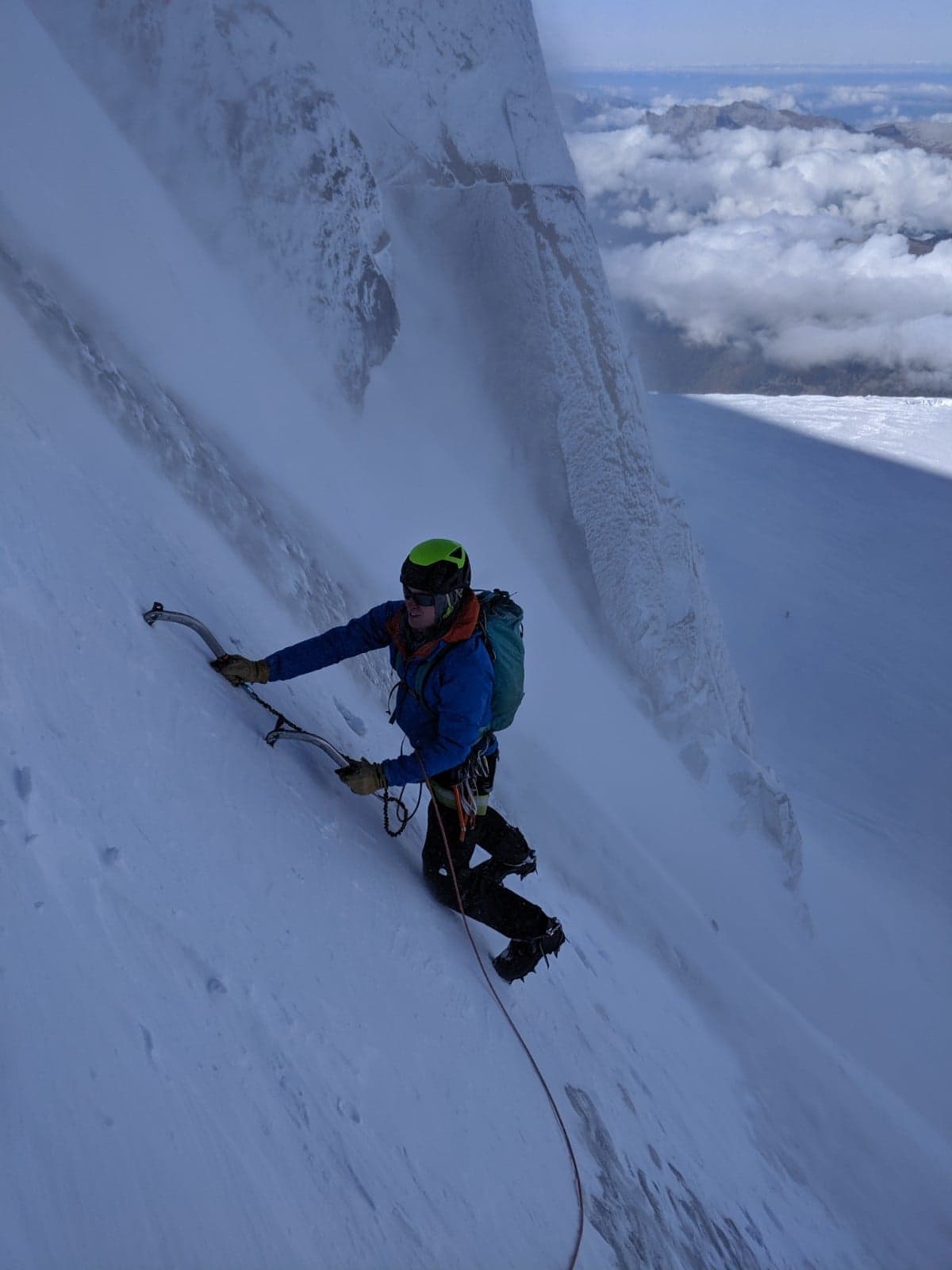 Tom climbing in the French Alps this autumn. Photo: Colin Haley
Extra Features
The Salathe is also relatively low profile, which means all the hoods of my jackets fit neatly over the top. It also features large vents on the back of the helmet, and two small vents on the front of helmet. This allows air to channel through, keep you cool when trying hard, especially in hot weather.
The helmet also features two plastic head torch clips on the front, and a large elastic strap at the back, offering secure fixings for both headtorches and ski goggles. I've found them to be safe and low profile.
Lastly, the Salathe has a retail price of £80, which is very good value, considering comparable helmets from other brands all retail for over £100.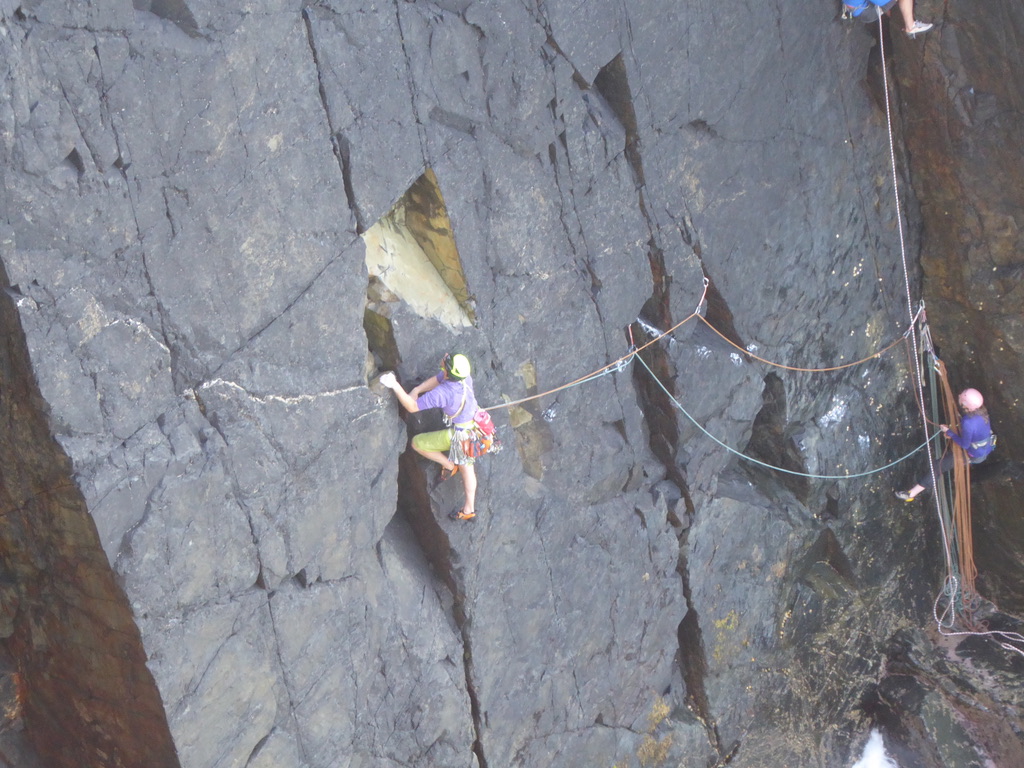 Tom climbing in the West Country. Photo: Marion Wyllie
More information about the Edelrid Salathe can be found online here. 
You can find Tom Ripley on Instagram here, and he's supported by Alpkit. He's currently in the process of becoming a British Mountain Guide.