It's not an exaggeration to say James McHaffie ('Caff') is one of the most accomplished climbers in the UK. With a dark wit and a keen eye, he's consistently been operating at a high standard across many disciplines - from bold trad to hard sport, from big walls to new boulders. Just read his highlights in the seventh question... In recent years, Caff has become more involved in the BMC Youth Meets and has helped young climbers to learn the skills of the trade. Chalkbloc asked Caff a few questions before the techno party started.
In 1987, Ken Wilson compiled a book of the finest Extreme-graded rock routes in the UK. Nobody has climbed all the routes... yet! Thanks for the interview, Caff. How's the Extreme Rock 'challenge' going - and why did you decide to do it?
Extreme Rock challenge is going well thanks. I've got Scansor, Unicorn, Clearances, Megaton and Revelations to do. My wrist is fixed and I've been quite on it the last month so it's the strongest I've been for a couple of years. It should be a long weekend in Scotland for the ones left there when it warms up and a few trips to the Tor. I'll be keen to try and do it before the end of July: Lakes party etc.
I realised in 2012 that I'd done about 2/3rds of the routes. When I did Indian Face in 2013 I knew I could do it and when Ken Wilson passed away I thought it would be good to polish it off. Ken obviously loved UK climbing and so do I. I had a lot of time off in the summer last year which let me break the back of it in terms of the final real difficulties, getting Dubh Loch dry and the more remote ones like Big Lick. The little trip to Lundy with Georgia Townend for Controlled Burning and Promised Land almost finished me off from that deckout. Masters wall was also close being 2 grades out!
There must be some fantastic routes, but also some choss. Do you think you could/would compile your own, updated, Extreme Rock routes? 
There isn't too much choss in the list, to be honest. Most of the routes in there are brilliant, admittedly some more than others. I would compile a more modern list, yes, but I really like how Extreme Rock was put together with stories from first ascentionists, protagonists or people who the climb meant a lot to. Rob Greenwood and Calum Muskett are compiling a more modern list which looks good. I'll be making a list of good E7s, partly for give people info on soft or well protected ones to go for. I'm a geek for some lists: I want to do The Scoop, Chisel and Shadowdancer before finishing the list.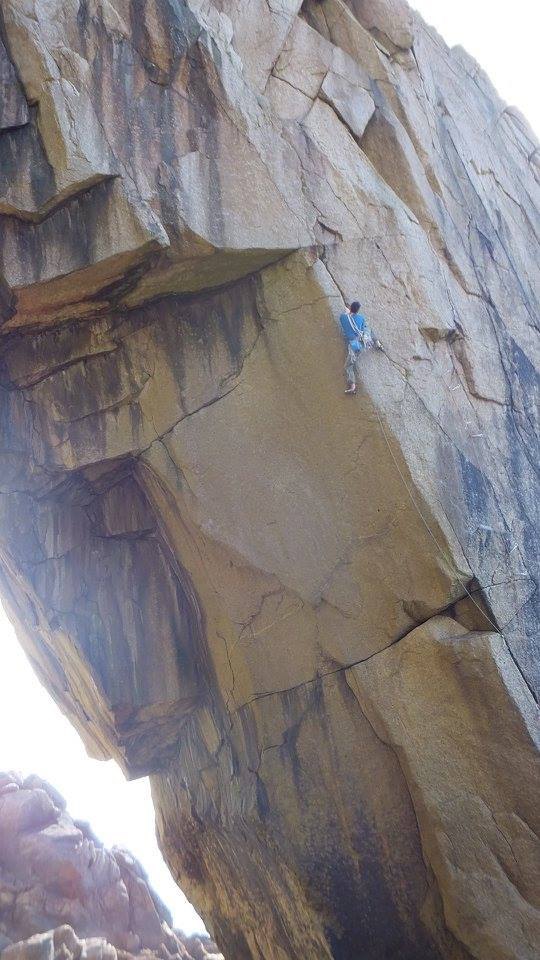 James on The Flying Dutchman (E7 6b) on Lundy. James returned to Lundy last autumn to finish some outstanding Extreme Rock routes, but had a nasty fall and injured his wrist. His more recent visit was safer and more productive!
I imagine it's a great work/play balance to work for the BMC and as a freelance MIA? 
It is great work, yes. Working for the BMC is the best job I've had by a mile: varied, interesting and the people who work at the BMC are great and super supportive to work with. I mainly work for them nowadays and do the odd bit of guiding and Mountain Training coaching courses. I guess the ideal will be 3 days of BMC work setting up youth courses and opportunities and a bit of guiding around that. Big ups to the BMC office crew, apart from Niall, he's a card.
Have you ever lost a game of Shithead to Ryan?
I can honestly say hand on my heart I have never, nor shall I ever, lose to Ryan at shithead [the card game]. His karma is far too poor to beat mine.
Does Ray Wood ever forget the memory card?
Ray Wood doesn't forget a memory card or a pretty face but God, he can be slow. He's a classic 'artistic' personality. Fair play to Ray though, he's always super keen, loves the history and scene within climbing and really goes out of his way all the time to capture a moment. We have our gentlemen Club lunches pretty regularly. He's a great friend. 
I guess the 100 Lakes Extremes felt sweeter than 9a (The Big Bang at LPT), but both required huge (contrasting) efforts?
The Lakes did feel better, yes. It felt like laying a dream to rest which didn't seem probable and it played to my strengths. When I was younger and when I'm in the right mood I could solo very rapidly up many mountain crag extremes and recovery/endurance is another strength, unless I overcook my vices. On the day I did it the weather was amazing, crags bone dry and plenty of friends I didn't expect came out to support and heckle. Got to the pub for last orders which was also a priority. [Adam] Hocking still hasn't done anything with that video footage he got.
Big Bang just meant learning to rest (minimum of 2 days for a redpoint), not booze, eat well (and less) and have double training session days (before and after work) and repetition. When I'd decided to try Big Bang seriously it didn't actually take that long: 6 weeks in 2011. I got on it mid-June, then went nuclear for that 6 weeks and did it the 31st July. That's the fittest I've been in the following month, although I got close for Meltdown [9a(?) on the slate] too.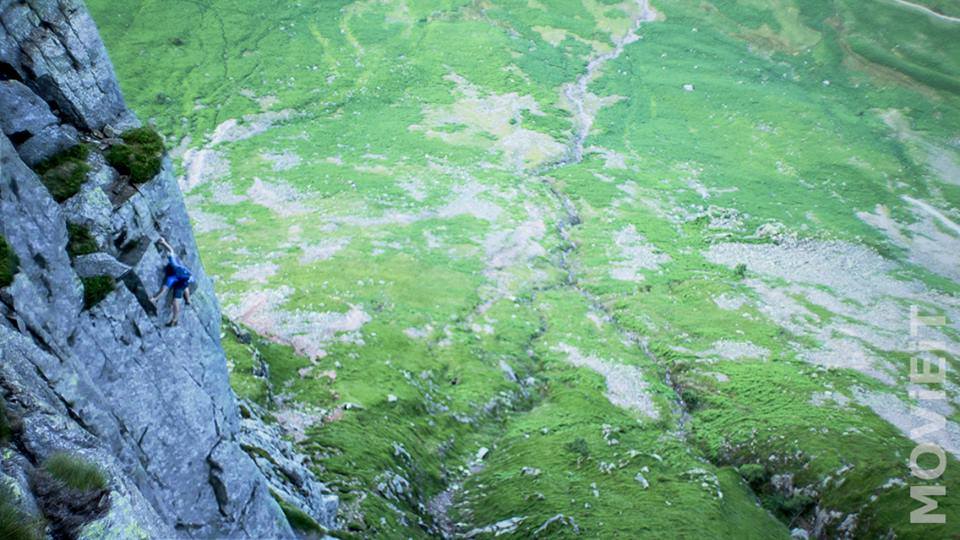 James climbing Gimmer String (E1 5b) during his solo of 100 Extremes in the Lake District. Photo: Adam Hocking/Movieit
What are your real, stand-out climbing highlights?
Hmm. Tricky. Most years I'll have a few climbs/trips with friends which are really good fun. I guess it always feels good on those times when you are climbing well, my friend Ken Thoms who passed away a few years back said it was the best feeling he'd ever had.
The Lakes 100, onsighting three E7s in a day in Pembroke, onsighting Great Escape (E8 6c) with Ryan, and Skye Wall and a new route on the same day with Dan Varian felt good. Voie Petit (8a) and Longhope with Bransby, Walk of Life and Once Upon a Time (E9) over two days with little prep was good, but a lot of that was the team, Emma, Ryan, Maddy, Ray all being on top form, then doing Ricky Bell's Rathlin Effect later the same month.
On El Capitan, the Salathe and El Nino with Dan McManus was a stellar trip, as was the one with Hazel and Dyer for the Premuir Wall. Big Bang and Meltdown were highlights in terms of being much harder sport routes than I've done or would even have inclination to do to be honest, something just caught me about them and grabbed my motivation. Moonrise Kingdom was the best of the 'blow your fucking mind out' routes and El Commandante with Sophie Evitt as a brilliant new route in an esoteric place with a great person, with the grandson of Nia Morin who randomly got pictures of us topping out.
Most of the things I'm happy about are where I've not inspected/top roped and managed not to fall off. I've just got three routes left in Huntsmans Leap, but I'm probably going to lob on 1 of them!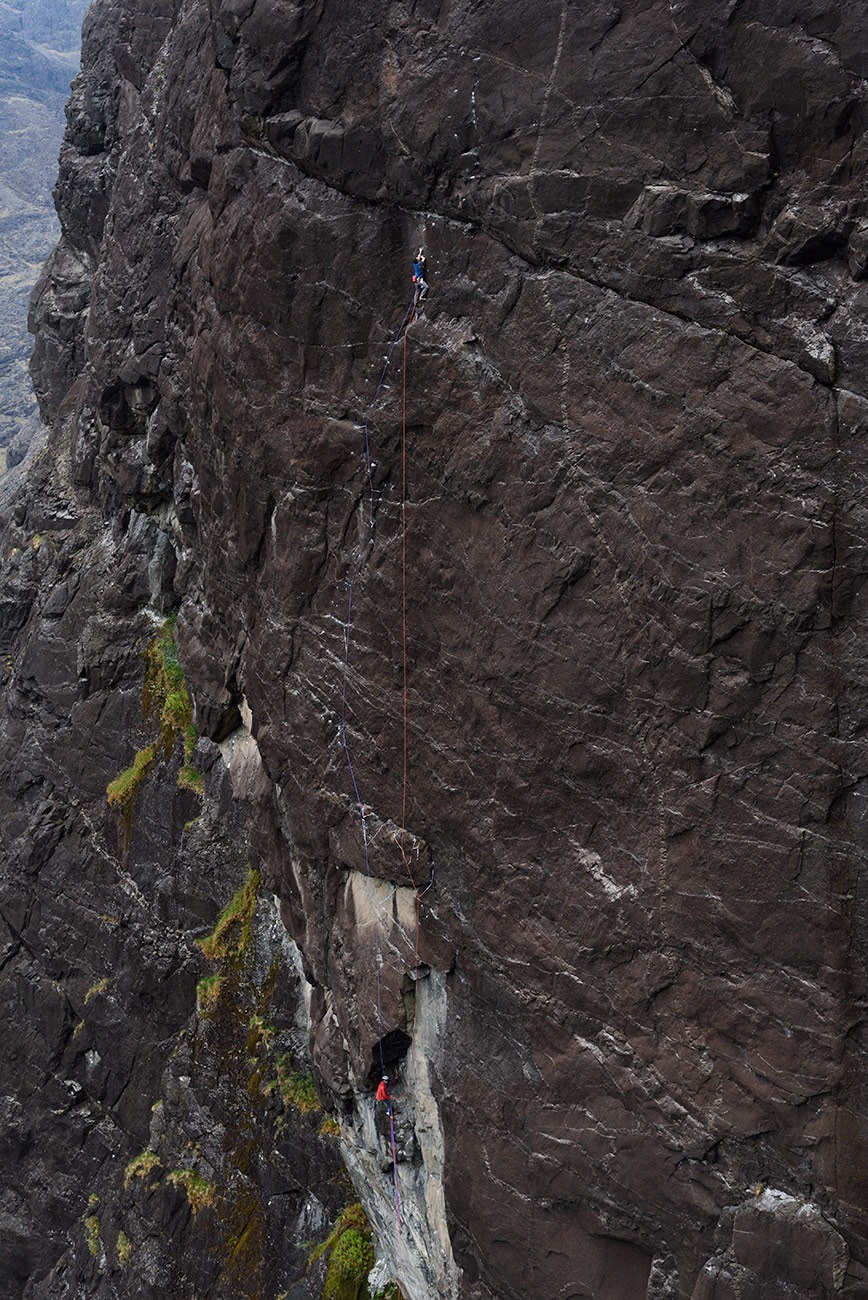 The stunning Skye Wall, with James and Dan Varian on their new route, Moonrise Kingdom. "The best of the 'blow your fucking mind out' routes." Photo: Ray Wood
You've advised younger climbers on social media and sponsorship - any more thoughts?
The article about 'pro-climbing' was to highlight how good Wiz Fineron was and that it was tragic that he didn't get a decent sponsorship deal. I also (enjoyed) highlighting that 5.10 were truly naff to lay off Fran Brown, the UK's then Paralympic champion as well as Emma Twyford and Pete Robbins. 
The other piece I wrote in more recent times was directed at Rab and I'm delighted to say that it hit the mark and I had a good chuckle in front of my fire with a glass of wine when I learned of its effect. I would have let them get away with being rude, dishonest and highly patronising to me but how they dealt with my friend Emma Twyford forced my hand to action. Never has anyone taken more joy behind the keyboard than me with that blog, and anyone from Rab who feels hard done by: don't worry, it was aimed at 2 people at Rab, but Niall's story was crying out to be used.
I think I'd reinforce what I've said previously regarding social media and sponsorship for young people. That is: people would usually find it a much better use of their time to apply themselves to education or a vocation of some type. Regarding social media, I should be taking young people's advice rather than giving it.  As ever, it's worth sitting on anything angry for a week or so (I do normally do this, honest) and if you still feel sore about it then come up with a measured response.
Finally, good to see you being active about climate change. Is the planet going to wake up and just kick all humans off, what with Trump, Brexit and climate change?!
If I get up my Nesscliffe project (before any other thieves) I'll call it the Endarkenment. A word coined by David Mitchell in his book The Bone Clocks. It's a dystopian future, fake news, anti-science brigade on the rise etc., and with the last few years since 2016 it captures my view of the world. 
The youth climate strikes and Extinction Rebellion are two of the most positive (and successful) environmental movements and I would urge people to get behind them both. My personal view is pessimistic, however. We have 11 years to make drastic change! It's not likely to happen with the likes of Trump in power, and the clock is ticking. My money's on the shit really starting to hit the fan in the 2030s or before, probably from some of the feedback mechanisms they can't put into the climate models. But, I still think it's worth trying, and trying hard, and if people have kids, they should start to try really fucking hard - as Greta Thunberg mentioned: it's in the course of her generation's lifetime that a huge deterioration in the environment will occur.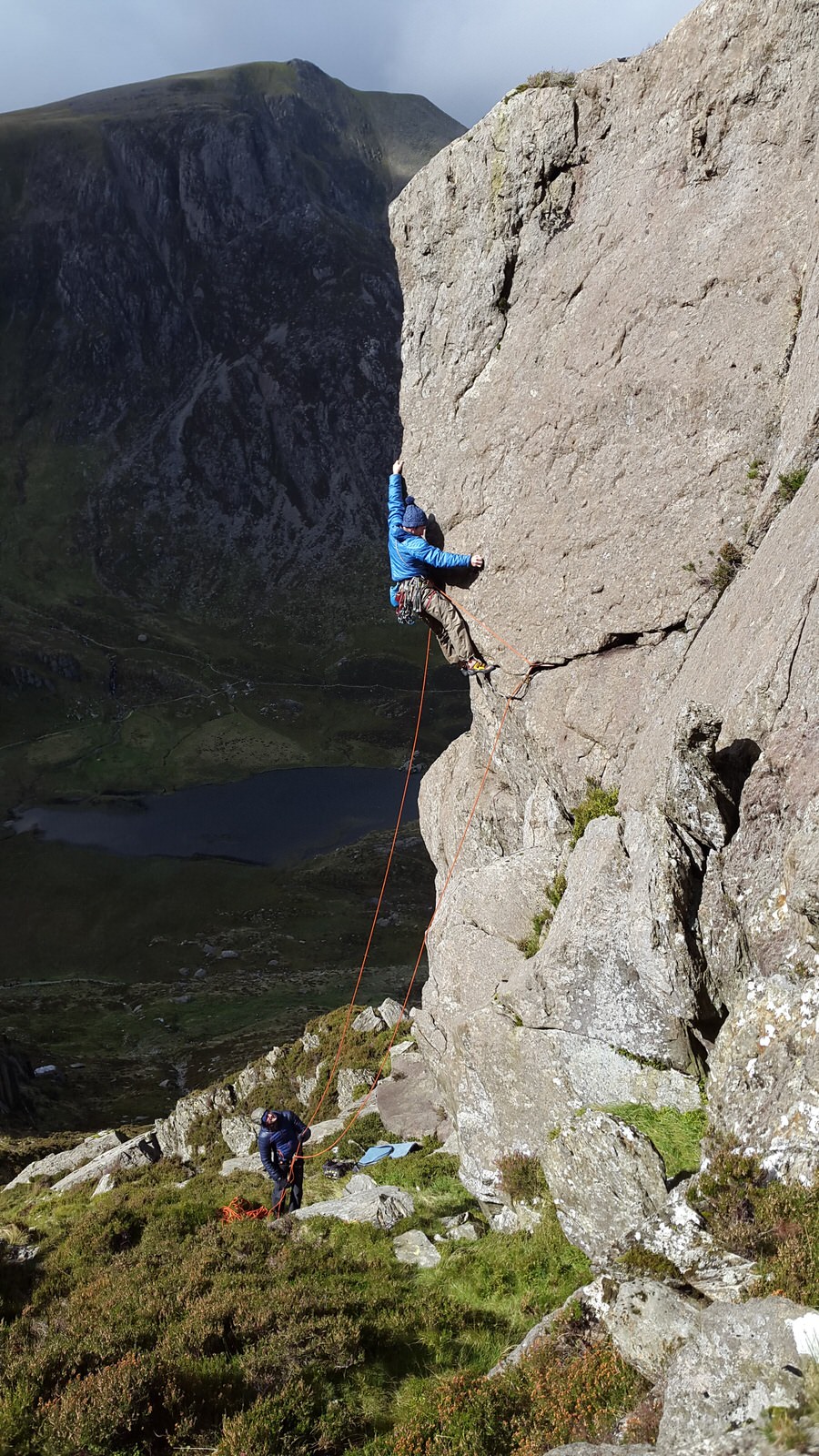 Knife Life (E6), Ogwen Valley, Wales. Photo: Pete Robins
Follow Caff on Instagram and make sure to read his blog.