After our recent interview with Stefan Morris we thought it would make sense to chat to Edmund Morris too! Edmund is based in Pembroke and gives us an insight into climbing in Pembroke while working for YHA along with some local beta on routes.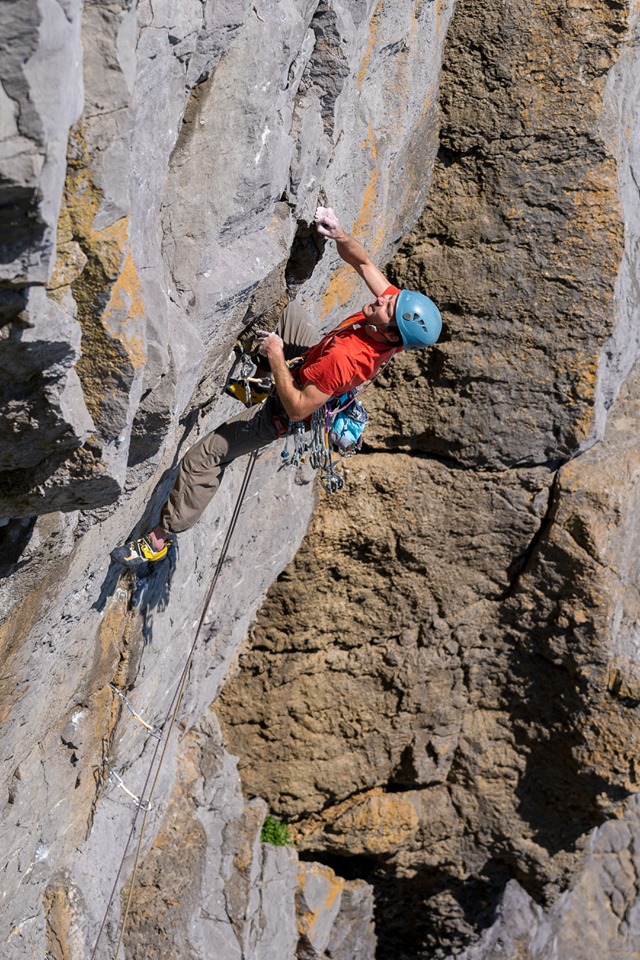 Edmund Morris nsighting the neglected 'Silent Running' E4 6b. Photo: Stefan Morris
You seem to have a great time cruising about Pembroke. What have been the highlights in recent years?
I grew up in Pembrokeshire, starting climbing around aged 16 alongside my brother Stefan. The Pembrokeshire climbing club gave us a grounding in placing gear and kept an eye on us from early on. Trad climbing was all we thought climbing was until somebody explained sport and bouldering to us! In my final year studying at Plymouth having sampled some of the best trad in the South West I realised the last thing I wanted was to get a job in engineering. Back in Pembroke I spent a few grim months labouring on a building site. A friend offered me a few shifts at the local youth hostel. That was 6 years ago. Since then me and my brother have spent the last few years romping around low to mid E grades rather like bumble bees collecting nectar. I love pembroke, partly I think because crimpy off vertical wall climbing suits me but also because of the variety especially away from the trade routes. Highlights include pulling through the roof onsighting Hungry Heart E5 6b on a late summer evening. Onsighting My first E6 at Trevallen with Orange Robe Burning. More recently working through the Mother Careys Space face has been really entertaining, Tiger Tiger yielding a proper scrap complete with snapping footholds on the headwall. North Pembroke is easily worth the hour drive, I scraped through an onsight of All or Nothing E6 6c at carreg-y-barcud this spring, the crux revolves around a ballerina type footswap and a mono crimp! Whoever said slabs were just endless rockovers.      
It must be good your brother is keen to get photos of you - any personal favourites?
Stefan sees his photography a little like I see my climbing. As an ongoing learning process, never really satisfied and never lacking in self-criticism. Stefans considerable big walling experience seems to serve him well getting into the best positions with tensioned abseils and awkward rigging. His most recent challenge was rigging a Y hang across huntsmans leap. I really like the photo of me on 'Arettica' an E5 at stack rocks. It really captures the fly on the wall feel of the route and the scale of the crag. The one of me headpointing an E6 in the leap really showcases the leaps contrasting walls.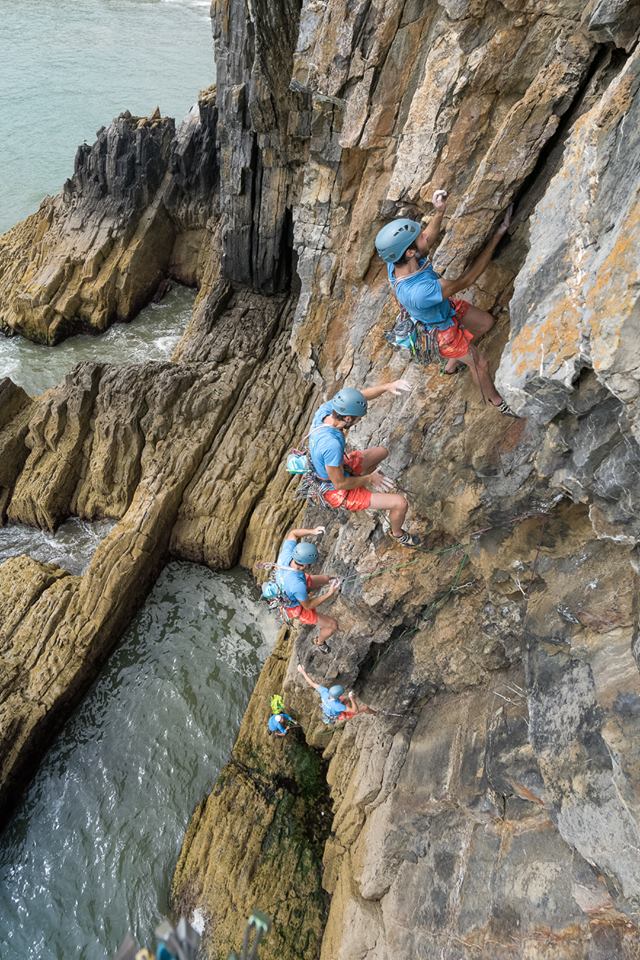 Edmund Morris faaaaalling from 'Gorak' E5 6b! Photo: Stefan Morris
What are the winters like living in Pembroke?
Rough! Although that's my immediate reaction it's a little unfair. We do have a small wall not far away and the occasional sunny winter day. If you want to maintain any sort of fitness then trips to Spain are the way to go. A friend and I did Preposterous Tales on a drizzly day February but being almost terminally wet anyway the rain hardly made a difference.
You work at YHA Manorbier (is this correct?). Have you ever been late because you were climbing, or is it an incentive to climb quickly?!
Youth Hostel Work i can't recommend enough if you want to live very close to good climbing and work flexible shifts. I am fortunate that my Manager (also a keen climber and runner) appreciates that lots of people do hostel work for the freedom it allows rather than opportunities to climb the greasy pole. I get around 5 hours off in the afternoon to nip out for a couple of routes. I love the satisfaction of doing a 10 hour day as well as getting out. I vividly remember midway through the runout on Ghost Train in Stennis Ford thinking 'Who's going to cover my evening shift if this all goes wrong'. Luckily it didn't.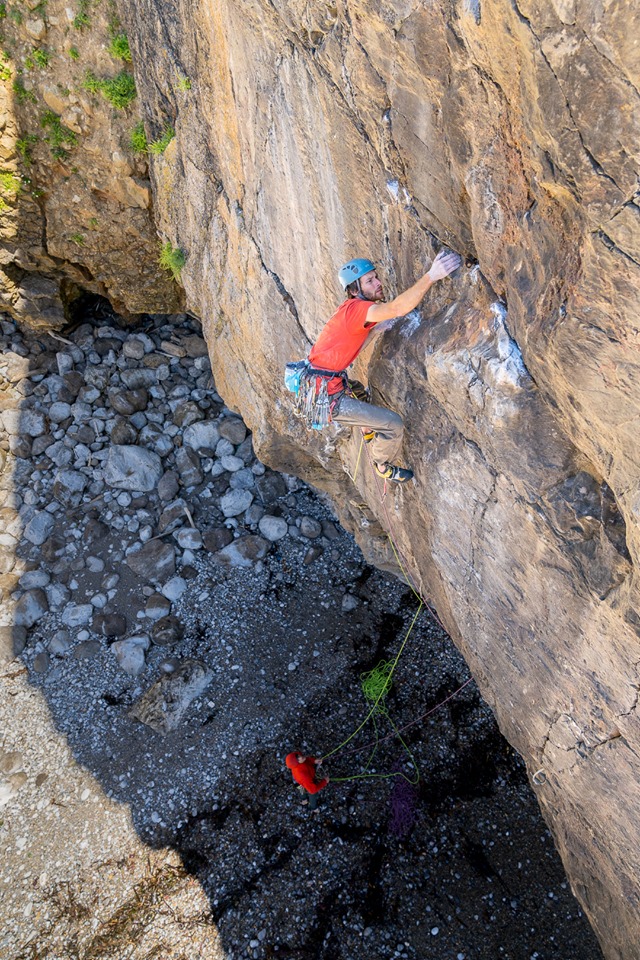 Edmund Morris repeating 'Losing Control' E5 6a. Photo Stefan Morris
Can you big up a couple of undiscovered/under the radar classics in Pembroke?
Pembroke seems to be becoming the graveyard of Gary Gibson E5s. It makes sense really, the threads look tired and the pegs rust resulting in an exodus away from some really quality routes. This year myself and others have made an effort to literally dig out some old routes from the 80s which had fallen into disrepair. There's something satisfying ripping out old tat and re-threading. I repeated 'Manimal' at Gun cliff whilst Ramon Marin unearthed 'Losing Control' at Raming Hole' both routes giving fun entertaining climbing. I think the whole of the main wall at gun cliff deserves a lot more attention, the rock is mostly perfect, the majority of the pegs are bomber.
The Plum line is Martin Crockers 'Double Glazing Salesman' straight up the middle featuring a heartbreaker last move. Although not under the radar 'Tasmanian Devil' at Greenham Common makes the Range West briefing worth the trip. Ploughing your way up through numerous threads will have you grinning from ear to ear. Finally, the interestingly named 'Deutschland Niche Uber Alles' E5 in Stennis Ford produces some perfect runout wall climbing with an odd feeling of isolation, even if you are only 5 minutes from the car park.
Have you got any trips planned for the year?
I've spent a fair bit of time in Spain sport climbing in previous winters. Siurana, Terradets and the Costa Blanca are great for maintaining a bit of fitness over the winter. I struggle with redpointing and my redpointing head game is fairly poor. It's a big weakness that I want to improve on. I'm pretty keen for a trip to Chuilla as I have a hunch the crimpy walls would suit me quite well! I love North Wales for it's interesting and diverse trad. I really need to get there more. It's sometimes worrying that Pembroke is to me what Royston Vasey is to Tubbs and Edward!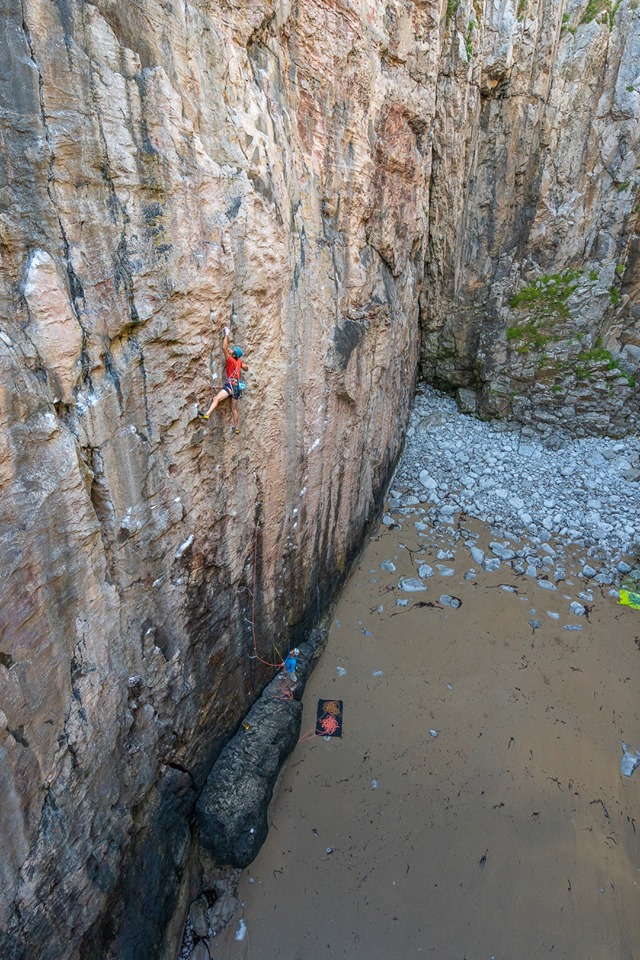 Edmund Morris enjoying 'The Subterranean' E6/7 6b in Huntsmans Leap. Photo: Stefan Morris
If you could take just one UK crag to a desert island, which would it be and why?
Huntsmans Leap for sure, I was down there yesterday and a friend asked if I was keen for anything else on the west wall, I said quite honestly 'yes everything'. It really is one of the most inspiring bits of UK trad rock I've ever seen. The west wall is immaculate, oozing quality. It's a shame a lot of the old E6s are becoming pretty terrifying as the pegs corrode to nothing. It seems there is a bit of a double standard with peg replacing in Pembroke. If a route is popular e.g From A Distance then nobody seems to mind. A few thoughtfully placed titanium pegs would greatly improve the Leap.