Franco Cookson is well-known for his bold, technical first ascents, predominately in the North York Moors. He's recently published a new guidebook to the area, and, whilst pushing standards, has been pushing the 'H' grading system, which gives specific grades for headpointed ascents (trad routes climbed after practice). Franco also had a bit of a reputation for his online comments, but that's all behind him now...
Congratulations on publishing the new North York Moors guidebook. What was it like to write it, and did you have any idea about the process before you started?
It was a wild experience. I kept expecting to encounter a phase that I didn't enjoy, but every part was interesting in some way. It got quite stressful towards the end, particularly with the printing, as everything you're doing, you're doing for the first time and if you mess up some of the little things, it could totally wreck the whole book. I'm really pleased with the outcome - if I'm honest, I never thought I'd see the day it became a reality, so I'm still buzzing!
You had a bit of a reputation for your online comments when you were younger. How do you look back on those times?
Naturally, I feel like a bit of a plonker for some of the endless debates I started. The older I get though, the more I think how weird it was for people to be so troubled by some mouthy kid. If I came across an 18 year old now, who was shouting his/her mouth off about developing some obscure area and giving things massive grades, I'd possibly have a bit of a giggle with my pals, but I'd certainly encourage them to push stuff. It's easy for people to slag off those ignorant of the ways of the Peak/ N Wales, but at the end of the day, it's the other regions of the UK where limits are currently being pushed. Maybe this 'rank clique' mentality could be to blame for the stagnation?
What's it like being based in Newcastle? Can you enthuse about it a bit?
No, it's horrible. Only joking! The north-east of England is one of the big centres for sandstone climbing. In the north you have Northumblerland, with its brilliant features and landscapes, but with soft sandstone. In the south you have the North York Moors: beautiful scenery again, but with harder rock and lots of unclimbed stuff to explore. Then you're 1-2 hours from all of the Lakes & Yorkshire; and 3+ hours to the ferry to Arran & Galloway, Dumbarton, the Peak, N Wales. The Highlands are obviously also not too far. It's obviously better than Sheffield or Leeds for interesting climbing, although I've never lived in N Wales, so maybe that is better? There's a decent scene too, although quite a bit of it is boulder-focused. I'd also say that architecturally, Newcastle's one of the finest cities in the UK, with the Quayside being particularly pleasant.
Franco on 
Psykovsky's Sequins
 (E8 7a). Photo: Jake Hampshire
Which headpoints stand out as the most satisfying, and why? And same for onsights?
If I'm honest, the ones with the highest grades. The ones I gave the highest grades are the ones that took me longest, I found hardest and took the most out of my soul. Things like Nothing Lasts in Northumberland - can't wait till someone puts the effort in to repeat that. E11 every day of the week - get on it! There are also a few routes that mean a lot because of the line and the moves. The Moose at Danby Crag (North York Moors) was the first hard line I did, exploring it with Moors legend John Dale and then working it with Dave Warburton. People are really important in climbing and I like those people with eyes that burrow into your soul and shout "go and climb that radge bit of cliff then!". I was really lucky with The Moose that it was such a fantastic feature too. Can't believe my luck. And then the Aghori at Whitehill Nab. That one was one of the few lines people spoke about when we were growing up and it always just looked totally impossible. It was bonkers that when I finally got good enough to try it, I found that this line I'd been gawping at every time I walked into the Wainstones was actually designed to fit my body and its wild flexibilities perfectly. I didn't give that one a huge grade, but the move through the roof is one of the most putrid rockovers of this land and the final arete a real freighter.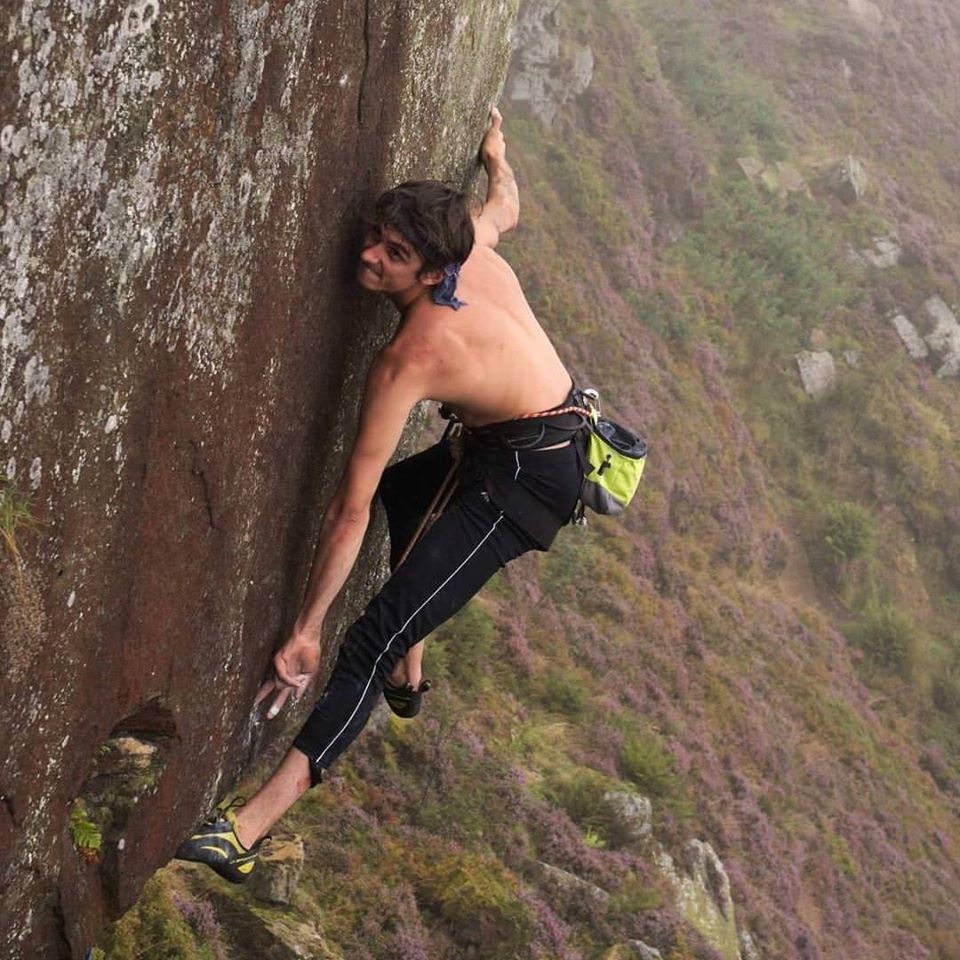 Franco on 
The Aghori
(E9 7a). Photo: Anna Healy
Do you have ambitions for multi-pitch routes, or big onsights you've been saving?
I'm well psyched for some multi-pitches. I got let down by some partners last year, which, along with the mafting weather, scuppered my plans. But if I manage to source a decent partner, it'll be on. I had a chat with this guy called Tom Livingstone, but he's all bicep, so we'll have to see how it goes [Ha! Thanks Franco!]. I don't have any specific onsight targets. I think the onsight game only really works in the abstract. I do love trying stuff that is ridiculous though. Dave Macleod routes scare me in general, so one of the daftest things I tried was to onsight one of his E10 slabs. I didn't do that well and took a nasty fall. I'd like to do some more stuff like that. Jules Lines is another guy whose lines scare me - maybe there's some mileage there.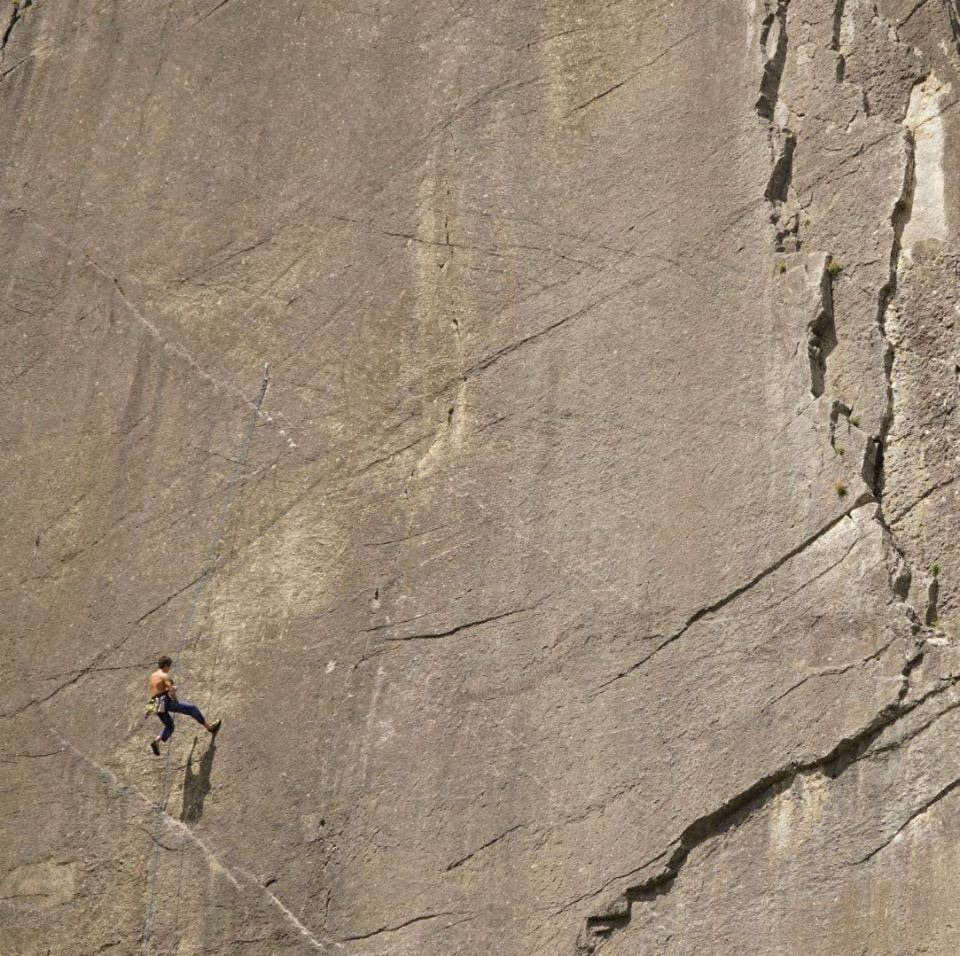 Franco in Buers, Austria. Photo: Anna Healy
Do you feel like the Moors are a bit of a secret, which only a few people (Mark Rankine and Nick Dixon, for example) know about, and you're amazed more people don't realise?
The Moors is kinda a bit crap. You have to work at it to get your nuggets. With the old grading, it was easy to get shut down and put off. There are a good number of people who have uncovered its secrets and keep coming back for more. If you flick through the new guide, you won't see page after page of Stanage Plantations. There's the odd venue like the Wainstones, Clemmitt's or Kay Nest where you can just hang out there all day, but at a lot of places there are a good handful of really special problems and micro routes and then you pack your stuff up and walk along the hill for half a mile. Where it really excels is in the movement and the place. It's not just because it's my home that my heart melts on some of these routes. It's just total distilled perfection. You have to be able to see 'infinity in a grain of sand', but when you do, you have absolutely won at both climbing and life in general.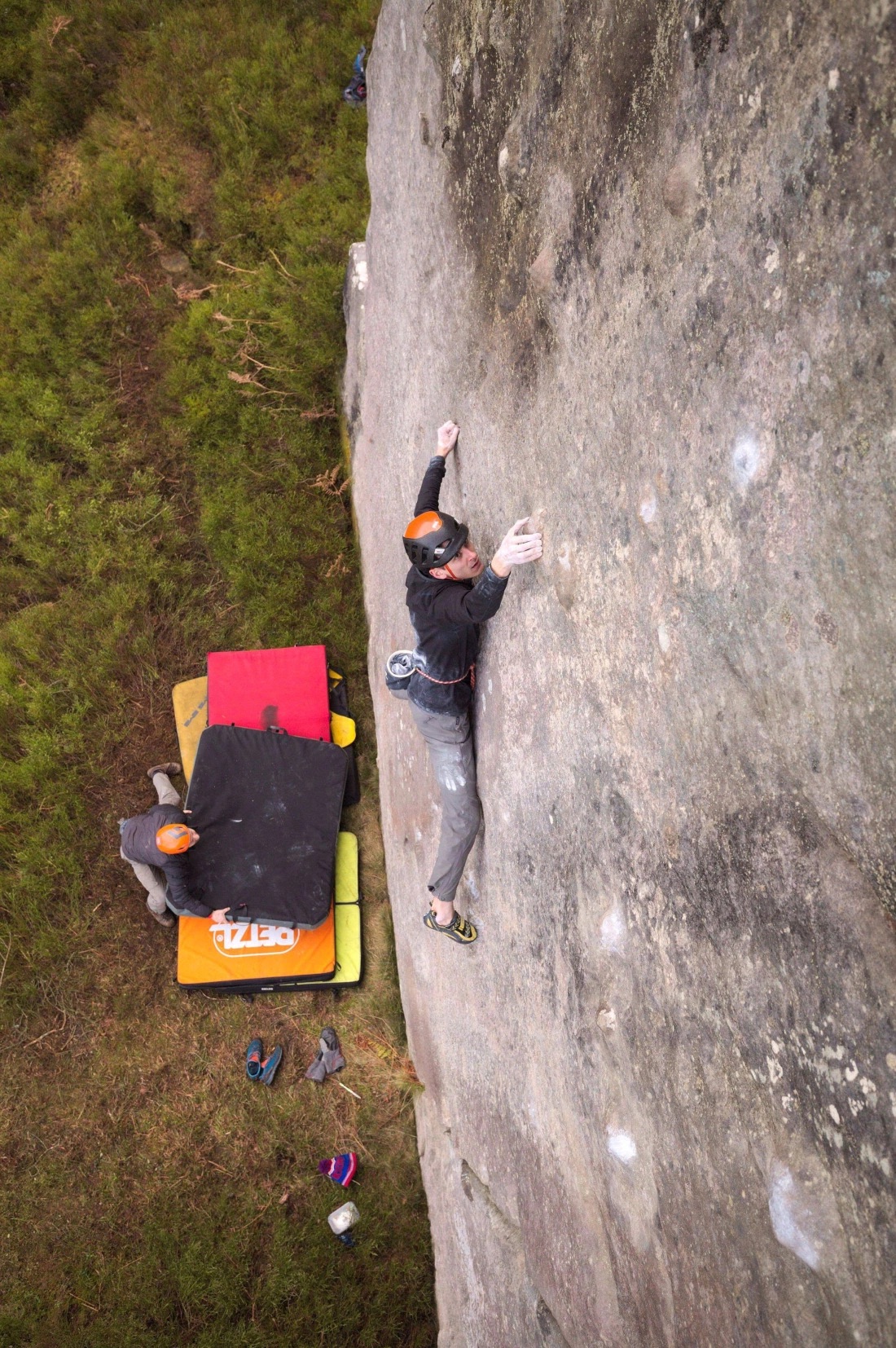 The Young
 (E8 7a). Photo: Russell Lovett
Finally, if you had to pass some time on a belay, who would you choose to spend it with?
Belays are great, as people can't escape. I'd just scream at all those talented people. People like Ryan Pasquill, Nathan Lee, and Callum Muskett. I'd just shout at them about why they're not going crazy on the new trad routes; why they're just plodding and sport climbing. They were such inspirations when I was starting out and now they just mince about doing god knows what. I feel so bitter that the trad scene has died in the UK. I feel like I'm at a Psy Trance festival with no one else there. There are so many incredibly strong people in the UK, but none of them get on owt. We just need a few and we'll be back in the game. Get yourselves to the NE, the SW and Scotland. There's tonnes! I'm pinning all my hopes on Jim Pope, he seems like he has ability by the bucket-load. He just needs to get off the grit. And maybe Ste McClure and Nick Dixon can keep going if we taxidermy them sufficiently.