Ramon Marin is originally from Catalonia, but now lives and works in London as a designer. He's climbed - and excelled - in many disciplines, from trad to sport to ice to mixed to dry tooling. His psyched attitude and genuine enthusiasm make him a real stand-out character of the UK climbing scene, and you'll consistently find him driving from London for a weekend's action, be it on the sport cliffs of Portland or trad sea-cliffs of Pembroke, for example. Read on to hear about Ramon's adventures.
You're originally from Spain - where did you grow up, and what brought you to the UK?
Yes, my passport is Spanish, but I'm Catalan really. I don't feel very connected to the Spanish culture. I grew up in a very small town called Sallent, about 20km north of Montserrat. It's a great location if you love the outdoors, you are in the middle of everything: Oliana is about an hours drive, for example. The Pyrenees are very near too, and the local ski club took us skiing every weekend the entire season, since we were kids.
I've always a been very curious person, so despite my love for the outdoors, essentially Sallent felt very small and I grew out of it and started moving around. First to Barcelona, where I started my career as a designer, then to Treviso (Italy) to work for Benetton, and eventually London. In my early twenties I got pretty psyched about design, I loved everything about it, so climbing and skiing took a backseat. Back then, I was really into raves and electronic music, and my dream was to design album covers for artists, and the capital for that was London. I managed to get a job in a small studio which had some great music clients like Defected Records. I fulfilled my dream of doing some covers for Danny Tenaglia and Eric Morillo.
In the early 2000's, it was a great time to be in that industry in London, and looking back I'm glad I focused on my career to give me those opportunities. In a sideways turn, moving to the UK reconnected me with climbing and I discovered trad later on, and over the years my focus has moved to climbing rather than design.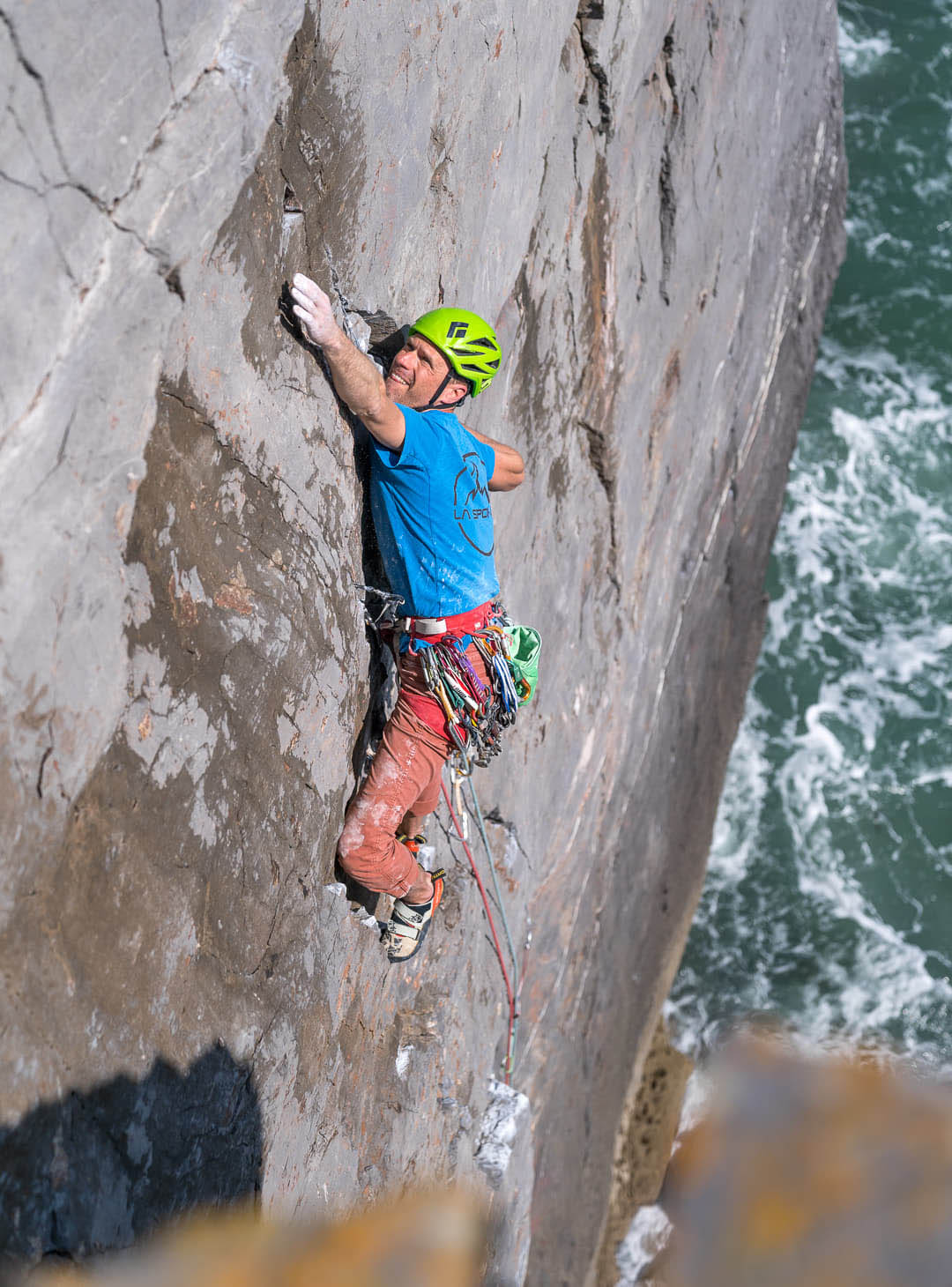 I love Pembroke to bits, every visit yields yet another challenge. Downward Bound is one of those E4's that has a bit of a reputation, so I saved it for a good day - and I'm glad I did, as it lived up to it. Photo: Stefan Morris
What do you think of the UK trad ethics - does it make sense considering our rock type (i.e. it lends itself well to trad)?
I think it makes total sense to me, considering the rock and history, but it takes a bit of cultural learning to understand trad ethics in the UK. It's hard to explain it to someone who hasn't lived or climbed extensively in the UK.
It seems that Grit gets an unfair share of attention abroad, I'm always finding myself explaining to Catalan friends the wonders of Huntsman's Leap or the Cromlech. For me, there's no amount of Siurana bolt-clipping that even comes close to the feeling I get after topping out on a big sea-cliff after climbing onsight. What I think makes trad really resonate with me is that, at heart, I'm into climbing for the adventure. Having travelled the world and visiting some of the best climbing venues, I still think the UK is my preferred country to be a climber. I just love the variety of rock, styles and the landscapes you get to experience. I still vividly remember the time when I disembarked Donald's boat onto the pristine sand of Pabbay and feeling incredibly lucky to experience that. Not many Spanish climbers know places like Pabbay or Owey Island even exist, so I'm grateful for the doors the UK has opened for me.


What are your highlights from your trad and sport?
I would say my biggest trad highlight was Dalriada (E7 6b). Everything about it was perfect: climbing at my limit, one of the best lines in the world in a great position, and climbing it with a good mate (Rob Greenwood). However, I had so many other memorable days on trad, from onsighting my first E5 in Pembroke, to doing Stone (E5 6a) on Sron Ulladale and climbing at Eureka Wall in the Grampians; and if you count Scottish winter, then doing Sundance (VIII,8) on Beinn Eighe was up there too.
With sport climbing, it's a funny one: I can't compare it in terms of experience, but it has allowed me to climb some incredible features in surreal settings like the crag Truitjieskraal in Cederberg. But I enjoyed watershed moments as well: the most memorable were on winter routes like The Real Big Drip (M7+, Canadian Rockies) and Mehr Power (Wi 6+, Kandersteg) were I really saw what I was capable of. The former, for the commitment and hard climbing, and the latter, to see that I could be bold if I needed to (it was effectively a solo of a 30 meter free-standing pillar).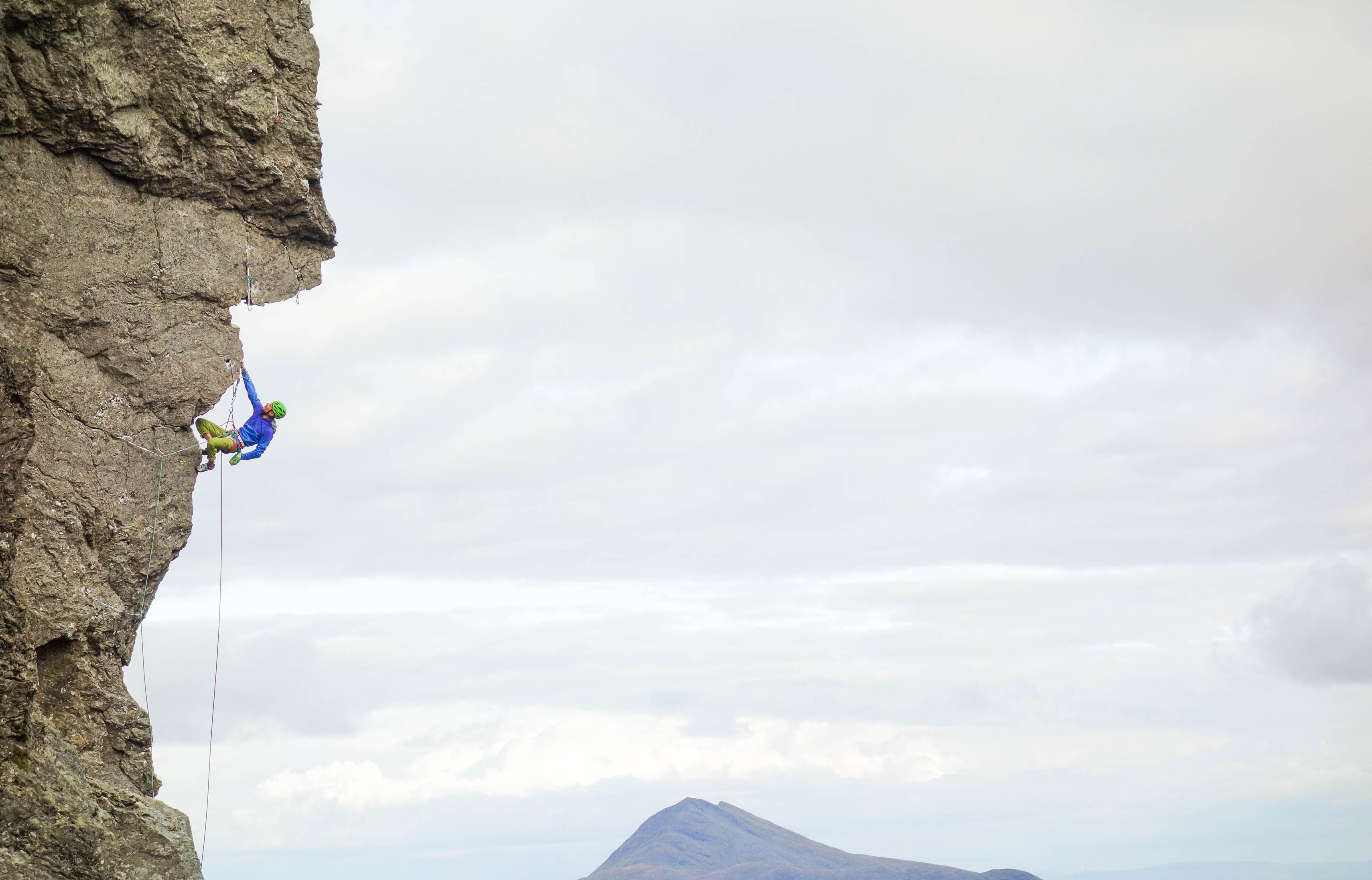 Dalriada (E7 6b). Seeing Dave Cubby's iconic image of Dalriada on the "Great Mountain Crags" book firmly instilled my desire to go an have a crack at the route myself. Photo: Alex Huen
You also climb ice and mixed, as mentioned above. Were your repeats of Musashi (M12) and Steel Koan (M13) satisfying? Was it slightly annoying Helmecken Falls was out of condition? Out of interest, did you use Figure 4s/9s?
It's funny you mentioned Helmcken. I did get really psyched to climb there, and trained my hardest to stand a chance of getting up something there. It was incredibly frustrating that it wasn't in condition that year, but that's the name of the game. Instead of sulking, I went and tried the hardest things I could find. I guess climbing Musashi and Steel Koan were good consolation prizes, insofar as one was the most classic sport mixed route in the world (Musashi) and the other the hardest I've ever climbed with axes (Steel Koan). And to answer your question, yes, for drytooling I use Fig4/9, not that it really matters on big walls anyhow. My heart has always been on big mixed walls, either being bolted or trad, but after my regular partner at the time retired (Rob Gibson), I really struggled finding partners for big missions, so my attention went onto single-pitch bolted routes. What I always fancy doing, is routes on the Stanley Headwall (Rockies) or the Breightwangflue (Kandersteg).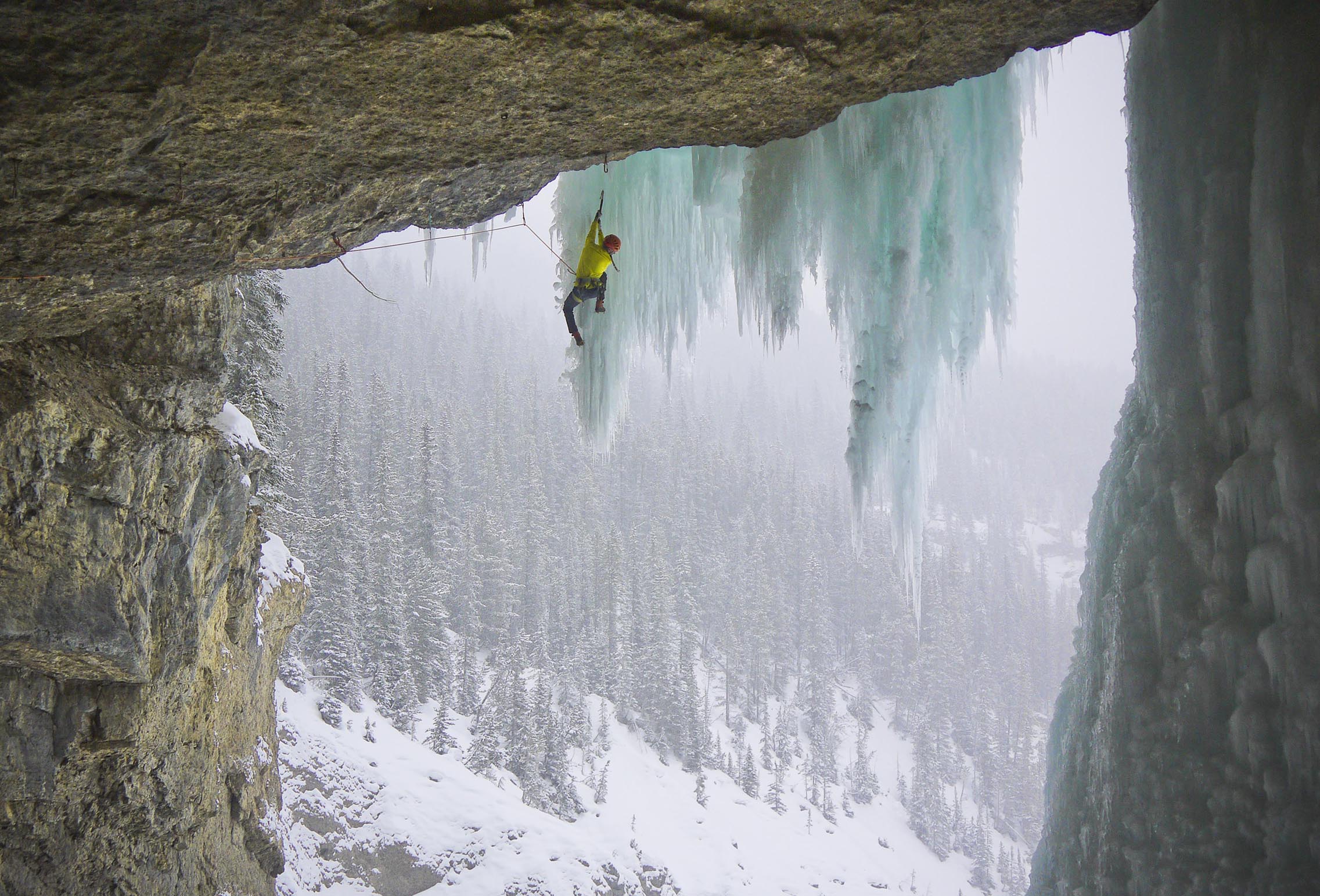 Musashi (M12). I first saw Musashi on my first visit to the Rockies with Neil Gresham in 2008. He pondered on whether to make Musashi his project as at the time it was still considered a cutting edge route. It's one of the few double digit M-grade routes that has genuine ice to exit. Photo: Simon Ward
What do you think of the growing trend of dry tooling in the UK?
I've been involved in the scene for a long time now, and it's great to see it grow over the years. Drytooling is such a great tool for training and I'm glad to see that the focus has changed and it's seen for what it is: a means to an end. The likes of Clogwyn Mannod in Wales has really shown the direction in which Drytooling needs to go, which is training for vertical, pumpy and tenuous climbing. I'm keen to keep putting up routes as there's not many active equippers in the Drytooling world. Pete Harrison is the undisputed king. I've spotted some good lines at Masson Lees which I'm really psyched to bolt. Hopefully, they'll give some good climbing and fill the gap for training routes in the Midlands.
You're famous for being a 'perma-psyched weekend warrior' - what's the secret to your psyche?
The secret? Do what you love, love what you do! Honestly, I don't know where it comes from. I've always been a very driven person to the point of obsession, so I guess it's in my DNA. I've always been aware that we have a limited time on this planet and I want to make the most out of it. It also helps that I found the things I love to do at the right time in my life. I was obsessed about skiing when I was younger, then design, and then climbing. Climbing is by far the best, though. It's hard to convey how much I love climbing. I really love climbing! And at the moment, it feels like I would need several lifetimes to do all the things I want to do. I've only met a few people with a similar level of psyche: Rob Greenwood, Rich Kendrick and Tom Livingstone being a few prime examples. I feel very lucky to have an impressive roster of partners that keep me climbing every weekend (and a long-suffering wife!). It's no easy task to keep up with me.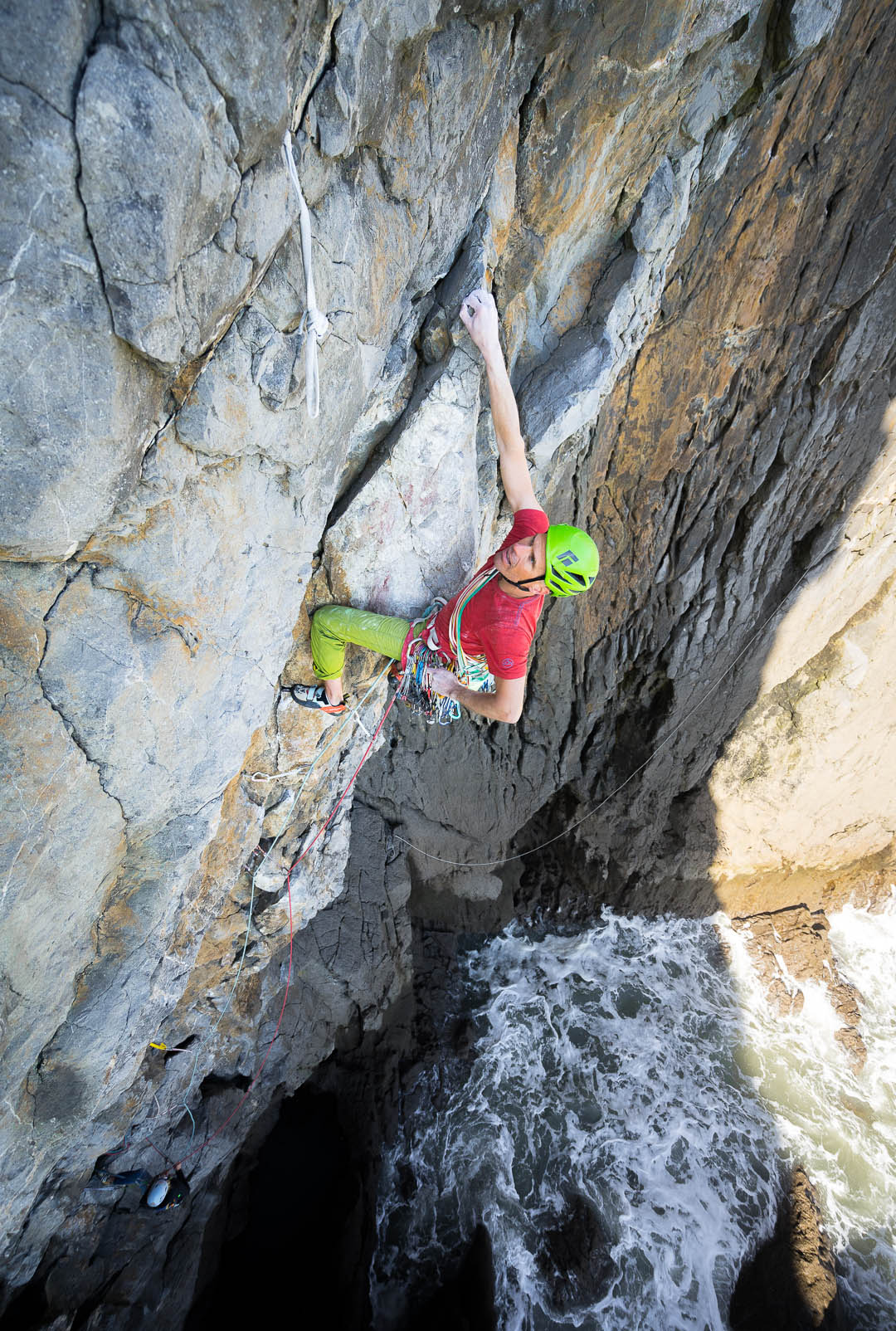 Enjoying the (easy) steepness of Zeppelin (E4 5c) at Mother Careys, Pembroke. Photo: Stefan Morris
Finally, if you had to pass some time on a belay, who would you choose to spend it with?
Too many to mention, but the first choice would have to be my wife Viki as she's a great climbing partner and we get on really well. But I would be equally happy to spend time on belays with mates like Rob, Rich, Dougie, Andre, or the Booth brothers; they're all a great laugh. I can't emphasise enough the importance I put on my partners, they make what climbing means to me. You could go to the most amazing place on earth with the wrong partner and have a miserable time, and equally have a great time in a shit place with a great partner. I'm so looking forward to the adventures that lay ahead with current and future partners.
Follow Ramon on Instagram and visit his website.
Ramon is supported by Alpkit, e-climb and gocragging.com