Adam Lincoln is a climber and Rope Access technician, based near Preston, England. In his 30-year climbing career, he's travelled the world and ticked many classic UK sport routes. It's worth mentioning his job because it's allowed him to live this lifestyle. His stomping ground is the Yorkshire limestone, with Maham and Kilnsey relatively nearby. Chalkbloc caught up with Adam during his six-month climbing trip in Spain...
How do Malham and Kilnsey, some of the best sport climbing crags in the UK, compare to Spanish sport climbing?
In terms of climbing styles, Malham has a lot of undercuts and sidepulls, with lots of technique required, and the footholds are generally polished or poor. You can often do three or four foot moves for every single hand moves. A lot of the time you can be fighting the conditions, like at Malham it can be very hot because it's south facing, and it can suffer from wetness.
At Kilnsey, I've been trying Freakshow and Epic Adventures (both 8c). I got very close on both, but was thwarted by seepage and bad weather. Plus, the climbing season's very short, like April through to October (in a good year). Summer (July and August ) can be too sweaty.
Whereas in Spain, you can take your pick of styles and crags and the season's pretty much year-round. A lot of the sport climbing in the UK is power orientated, rather than Spain, which is endurance. Even the lengths of routes are different - the UK is generally much shorter.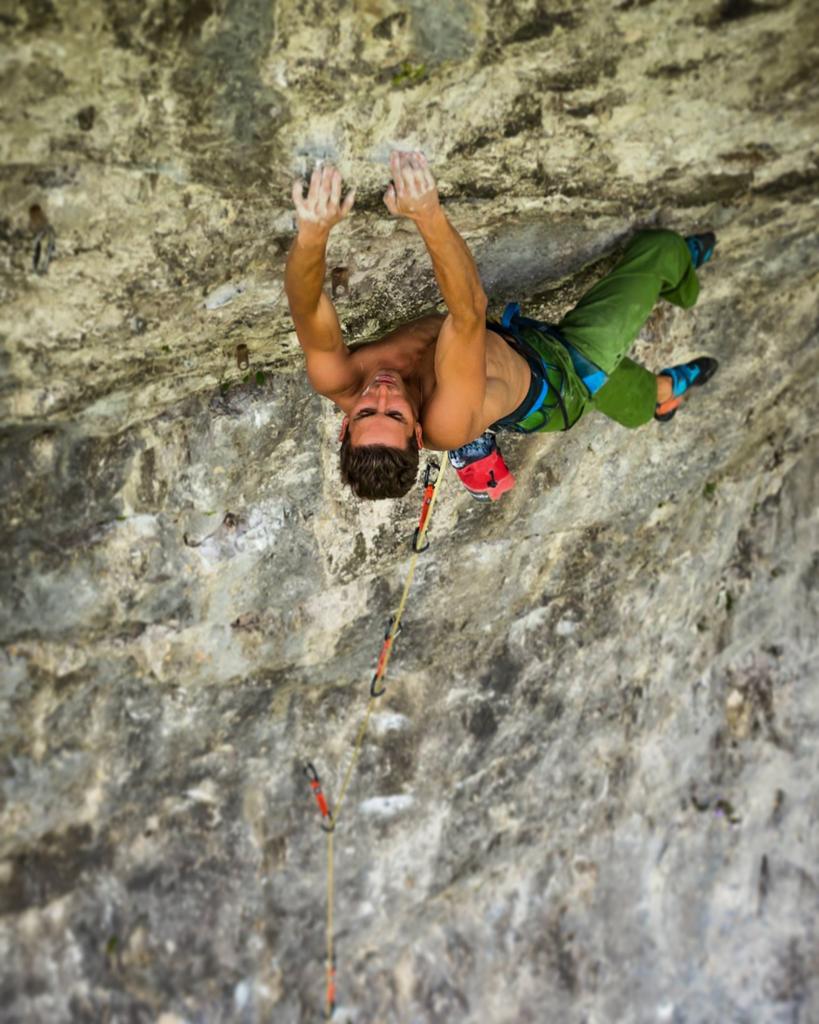 Adam working Epic Adventures (8c), Kilnsey. Photo: Adam Lincoln Collection
And which do you prefer?
Spanish limestone. There are so many more options and routes at different grades. The UK only has only a handful of good 8cs, for example, and if they don't suit you, you're screwed.
In your opinion, what are some of the classic 8a/bs in the UK?
A couple of rites of passage are Raindogs (8a) and The Groove (8a+). There's also Austrian Oak (8b) and Predator (8b). Bat Route (8b+/8c) is probably one of the best routes of any grade in the UK. These are all at Malham. Urgent Action and Grooved Arete (8a+) and The Bulge (8a) are classics at Kilnsey.
There's also Gordale - Supercool (8a+) is great but can take a bit to dry out; but all the routes are brilliant. I also rate LPT but Statement of Youth (8a) is probably one of the best 8as I've ever done.
You're based near Preston - what's that like?
It's a good central location. The Lakes is an hour away, North Wales is an hour and a half, and Yorkshire is 50 minutes. There's a good scene. Ian Vickers, Gaz Parry, Jordan and Naomi Buys, Pete Hurley and Ryan Pasquill all live nearby, or used to. It's also a good location for training, as there are lots of different walls. Also there are the Lancashire quarries to keep you trad hand in.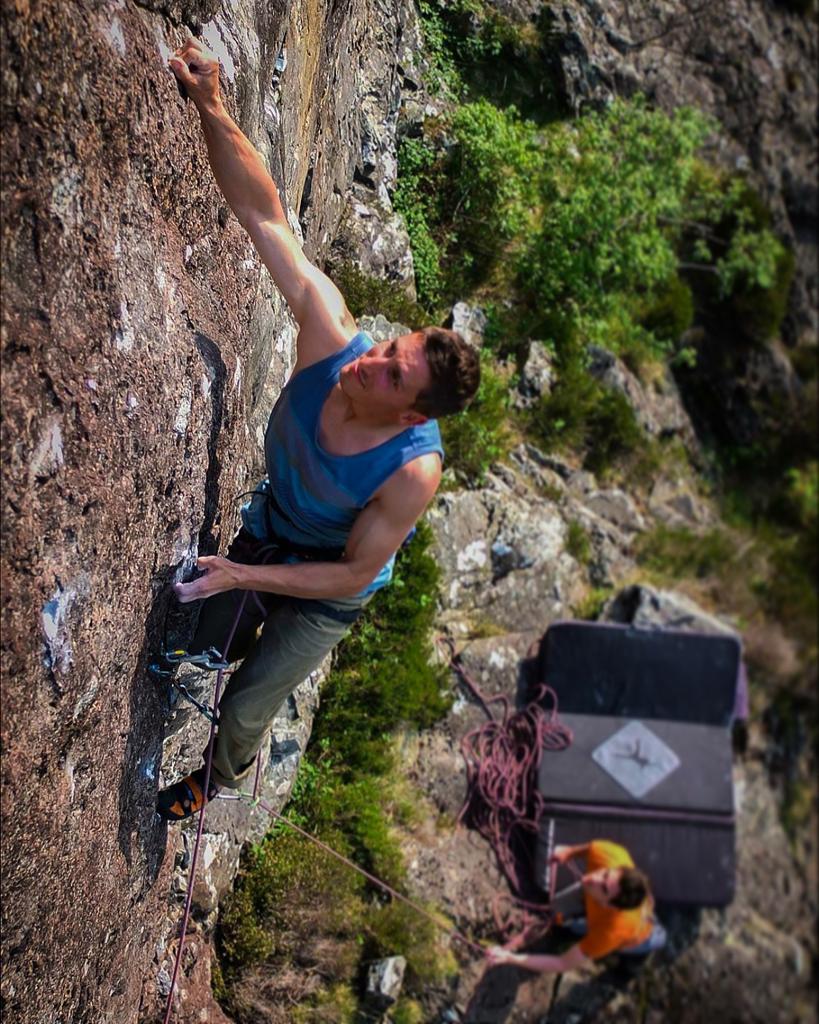 Adam headpointing Disorderly Conduct (E8 6c) at Reecastle, Lake District. Photo: Jordan Buys
What have been your more memorable trad routes?
The Cad (E6 6a at North Stack Wall, North Wales) with Mick Lovatt. He abbed it first and gave it a brush for me. It has a big reputation of being scary and bold. I was apprehensive even though I knew I should be able to climb it. It felt a bit thin, actually. I'm saving Lord of the Flies (E6 6a at Dinas Cromlech). I'd like to climb Lord when I climb my first 8c, as a celebration. The sport fitness would give me extra confidence on those UK 5c moves!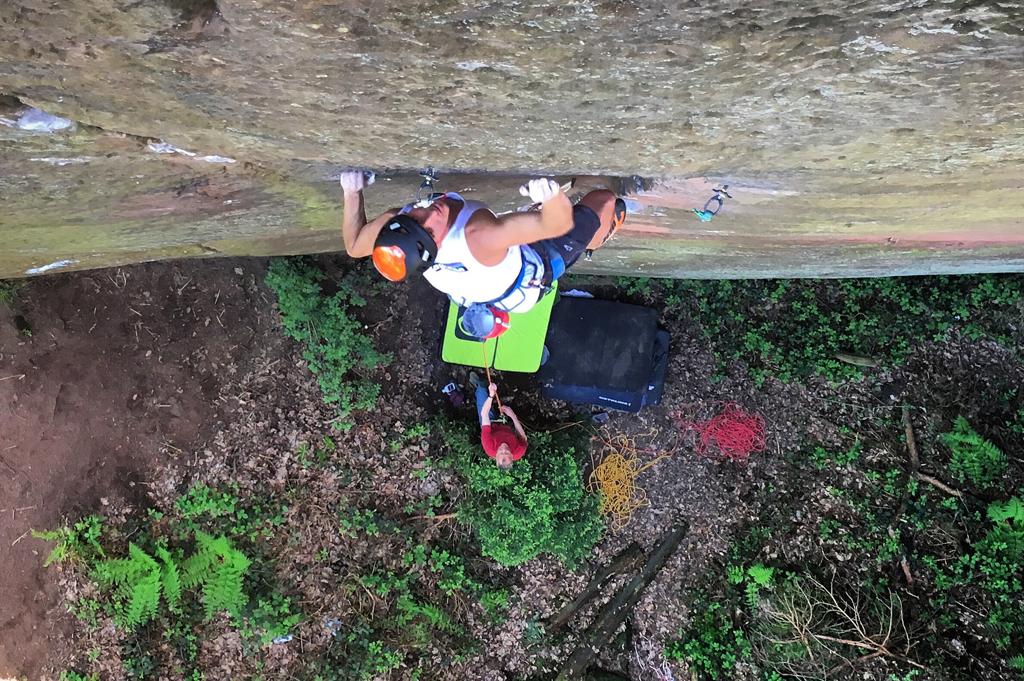 Adam on Yukan II (E6 6b), Nesscliffe. Photo: Adam Lincoln Collection
And memorable redpoints?
Revelations at Raven Tor. It's a hard 8b testpiece. I did it really quickly, maybe 3rd go, and it's one I've always remembered. I think it's also one of the last routes Caff [James McHaffie] has to do in order to tick all the Extreme Rock routes. Austrian Oak (8b) was also good. I remember seeing Seb Greive and Rich Heap climbing it years ago, and I thought it'd looked nails. Then, one day, I was at the crag with Andy Cave, who's a bit of a hero, and I did Austrian Oak with him belaying me, which was nice. We'd never tied in together before then.
That also happened with my first 8b+, a route called Dr. Crimp at Kilnsey. Only real beasts had done it: the first ascent was by Gaz Parry. Malc smith did second, then Steve McClure flashed it. Then I did an early repeat. Jenny Woodward belayed me (again, it was the first time we climbed together).
What's it like being a Rope Access technician - you're a Level 3?
It's pretty boring when you're working on the oil rigs offshore, in the North Sea. There's lots of time to train, and you have to be able to occupy yourself with all the downtime... but I can't think of a better job which pays well, gives you lots of time off, and allows you to travel a lot.
Some of the better jobs I've worked on have been great - I worked on the Queensferry Crossing in Edinburgh. It was nice to be involved in such a big project. Another fun job was restoring old listed bridges in Cumbria and Northumberland. We had to drill out the existing mortar, then re-point the bridge, making sure it looked aged. We camped underneath the bridges whilst working on them.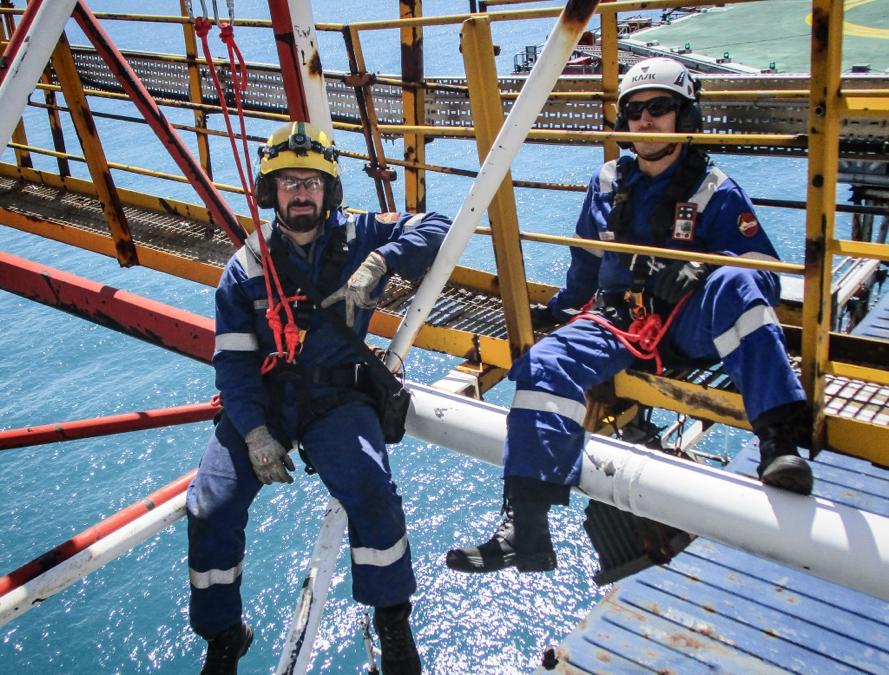 Adam at work in the North Sea. Photo: Adam Lincoln Collection
You're currently climbing in Catalunya all winter, living in your van. We've heard it's a 'big rig'?
I've got a Mercedes Sprinter, long-wheel-based and high top. It's got a cool living area, a separate sleeping area, and a shower and toilet. I've got some big solar panels on it for complete 'off-grid' living. Right now, I'm winning against an ant invasion in the van. It's been a multi-day saga. Seem to have picked them up parked at the airport for two weeks. I had a VW T5, which is a much smaller van so you've just got to more organised. My Sprinter is harder to park and more expensive to run, but it's still good. The only chore is making sure you have enough power and water. I'm currently 60/40 in favour of keeping the Sprinter, rather than downsizing, but a T5 with a pop-top could be good.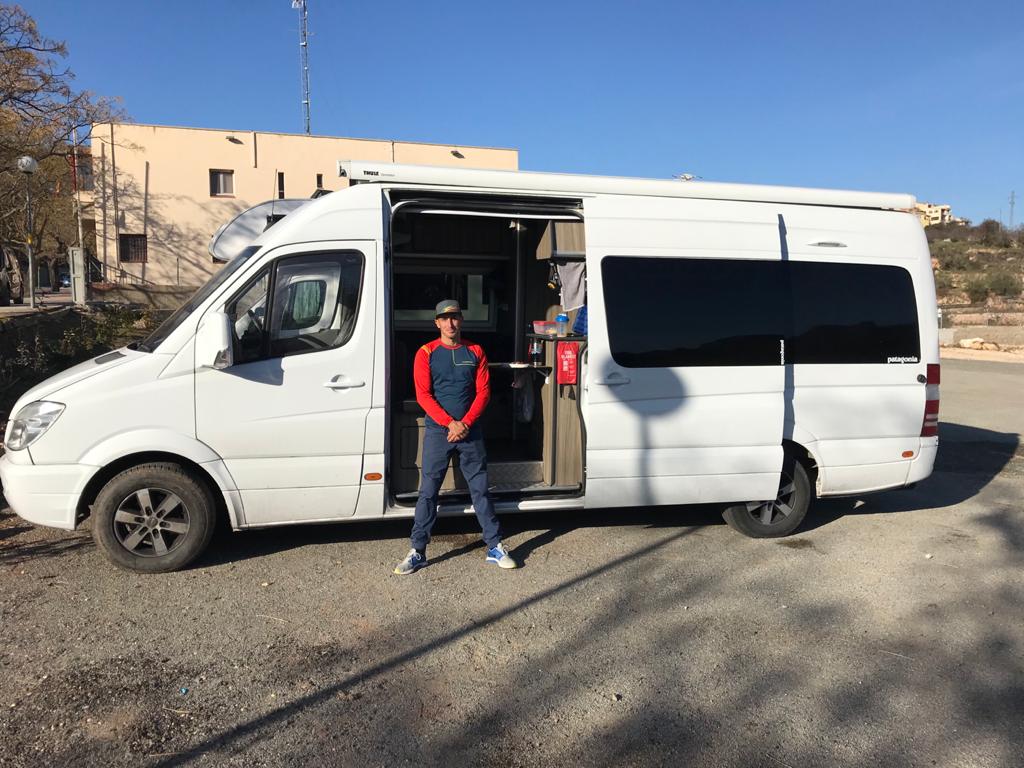 Adam and his Mercedes Sprinter. Photo: Adam Lincoln Collection
What gave you the idea of doing a 6-month Europe trip?
When I was in my late 20s, I did the usual travelling to Australia, New Zealand and America, and since then, I've always wanted to do a van trip. I think I'd do a three-month Europe trip every winter, now. These types of trips give you a really good base of sport fitness. You can feel a bit burnt out after a while, so I did two weeks work in the UK over Christmas, and came back refreshed. 
I came out to Spain wanting to climb 8c. The first part of the trip was just fun, doing quick 8as and onsighting routes. During this second part, I'll have more focus on the 8c goal. Then I'll come back to the UK, fit and ready for the limestone season.
Can you enthuse about some places you've visited for climbing?
I've been to Taipan Wall in Australia, which is amazing. Thailand is hot and sweaty and feels like a holiday! It's got good climbing right off the beach.
Hampi is too hot, otherwise it'd be amazing, with quite sharp climbing. New Zealand is cool. We bouldered at Castle Hill, which has this distinct, weird 3D climbing style, with lots of mantels. I'd like to go back to Flock Hill [also in NZ]. America is amazing too, and we went to Hueco, Bishop, Joe's Valley and bouldering in Yosemite.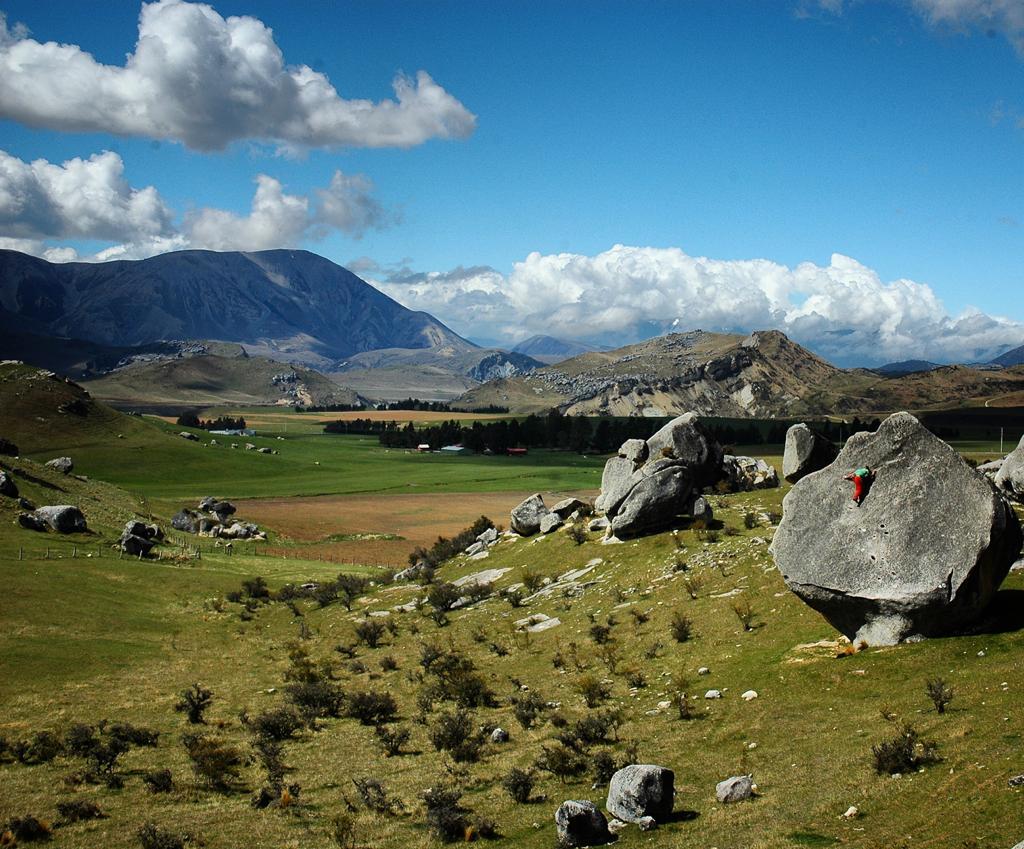 Adam bouldering at Castle Hill, New Zealand. Photo: Adam Lincoln Collection
Follow Adam on Instagram.