Lukasz Warzecha is one of the leading photographer and videographers in the UK, specialising in adventure and the outdoors. His company, LW Images, says, 'we believe in the power of non-fiction visual story telling.' His clients include National Geographic, WL Gore, The North Face, Petzl, Black Diamond, Mountain Equipment, John Muir Trust, Icelandic Mountain Guides, Ordnance Survey... and many others! Lukasz has also been Director of Photography for Epic Trails, a TV series focusing on wilderness adventure. From scuba to sailing, and from climbing to cycling, Lukasz has been busy...
Are you a photographer that climbs or a climber that photographs?
Now, I'm a photographer that climbs. However, I originally came into photography from climbing. I learnt to climb in Poland, so this was my original passion, and I was always looking for ways to express myself. When I started climbing over 20 years ago, the biggest inspiration was to be found in magazines, and beyond that, in the Petzl catalogues. 
When I first started taking pictures, I found climbing photography really easy. It came naturally to me, and I could see what position I wanted to be in, and how I wanted to frame the image. I knew that what makes your images stronger is what you bring to photography. I could bring my climbing experience to create better photos. Of course, I couldn't be an equestrian photographer, because I know very little about horses. Hence, my quest to increase my knowledge of the outdoors, and to improve my skills, which translates to better images.
However, I quickly realised something: shooting exclusively climbing is a difficult business. When I went 'pro,' there wasn't really anyone in the UK outdoor photography industry around my age. Those who were making money through climbing photography (Ray Wood, David Simmonite, Mike Hutton, for example) were older and their work was a huge inspiration for me visually. But I took my business model from the US, copying people like Tim Kemple, Keith Ladinski and Jimmy Chin. They have a different focus, drive, quality of images and use of light. They've also gained a lot of inspiration from mainstream photography. I had to learn how to take those images.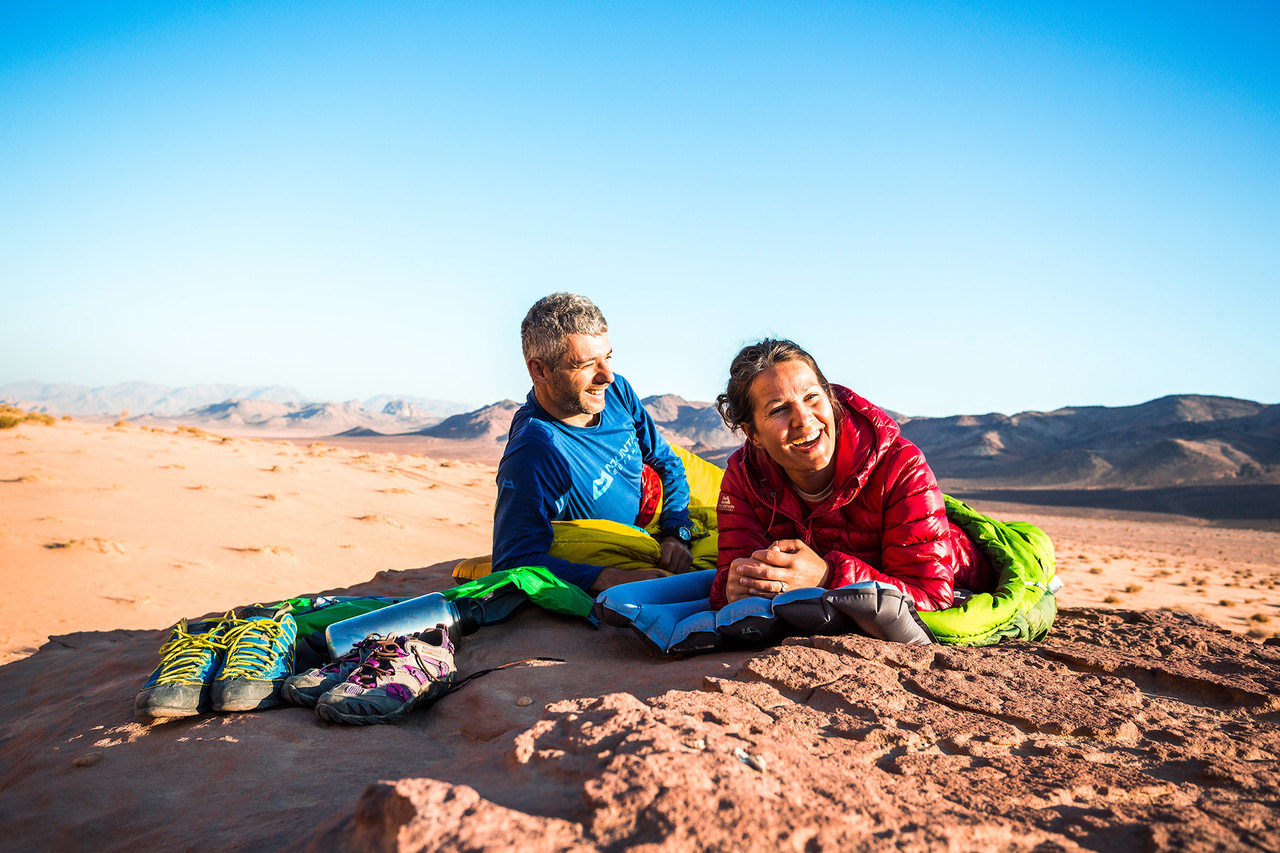 Lukasz established LWimages Studio over 10 years ago and now runs the business together with his wife and business partner, Ulrika Larsson
I studied Commercial Photography - which you might think of as Studio Photography - and learnt skills like the use of light in a controlled environment. You start with a black frame and build up, using or creating the light. When you think about photography in pure physics, it's just about light. Then, I transferred those skills outside, and into climbing. You're still using the light, just in a different way.
I guess I've made a name for myself by being in environments where you have to suffer, or where you have to deliver under pressure. I don't think there are many people in the UK who can shoot video and stills, in the same breadth of locations, with the same skillset and experience, as me. The reason a brand chooses me is because they know I deliver. Of course, you have to draw a line between your personal expectations and what the client wants. You have to be realistic. My role is to deliver the creative brief, and hopefully go beyond.
Is that stressful?

No, not compared to any other job where you have deadlines to meet. I always try my best. For example, on a Scottish winter climbing shoot a few years ago with Uisdean Hawthorn, Keith Ball and Tim Neill, there was basically no winter, and it was raining! The conditions were stacked against us - it was awful weather and there was very little ice for us to climb. We had to go as high as we could on Ben Nevis, and I didn't want to take two cameras because of the weight - or risk ruining another camera!
During this shoot, I thought, 'I've got nothing to lose, so let's try as much as we can.' Tim was almost hypothermic by the end of it. As we walked back to the car, I looked through the viewfinder - it was so wet and misted, it was just pure white! 'No more photos!' I said. When Tim saw the photos some time later, he said, 'you're a magician!'
Another example is the Mountain Equipment
shoot
in February 2019. We went ice climbing in the Canadian Rockies, and had some brutally-cold conditions (-30 degrees C!). I couldn't have done that shoot without the experience of all my TV work I've now done. We had a massive brief (M.E. asked for still images, product videos and a main video). I'm on my own. I know the client well, and what they're looking for. I know they want everything I can offer.
What camera did you use?
For this shoot, I used the Canon 1DX Mark II, which is great and cuts away all the faff. It can shoot action photos at 14 fps , like an ice axe swing, then switch to video and shoot 4K at 1080p. Sure, some cameras deliver similar quality, but their batteries don't last as long or they're not properly weather proofed. I'm sure if I'd bought a Sony camera on that shoot, it'd have been cancelled. The Canon is weather sealed and has a much better body. I needed the camera almost constantly during our 16-hour days. Every other camera on the shoot died due to the cold temperatures.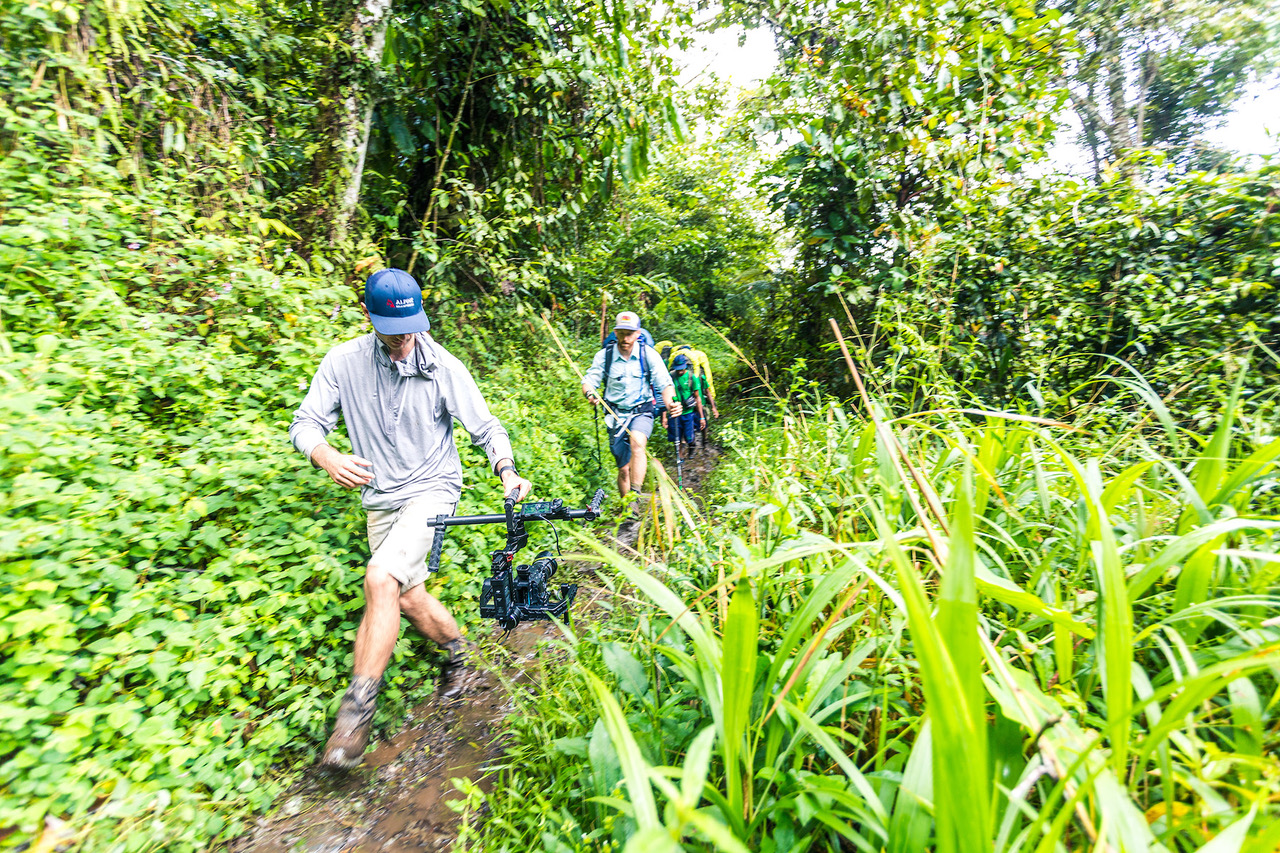 Lukasz Hard at work as DOP for Epic Trails somewhere in the jungle of Papua New Guinea. Photo - Ulrika Larsson
Can you give us some stand-out moments in your career?
As a professional photographer, you take a lot of photos - the dirtiest secret is the high volume of shots you take. But there are only a few moments in life where you realise, what you're shooting is something which might never happen again. You appreciate it: 'this is very special, it's one moment in history, a gift.' You might get an assignment or job, and what's very clear is that the events will be significant. It's hard for me to explain. Imagine the light's good, the climber is putting in the performance of their lives, everything sings in harmony, and suddenly your job feels almost too easy: just capture what's happening in front of you.
I felt this way about Dave Macleod's climb on the island of Hoy: The Long Hope Route. That was my first big assignment! There were two people in the climbing world who gave me room and believed in me: Dave Pickford and Ian Parnell. They took over Climb magazine only a few months before Dave Macleod did The Long Hope route. Pickford told me over the phone, 'keep in mind that if Macleod climbs the route, you're shooting the front cover of Climb and an eight page spread!'
Back then, a magazine front cover meant a big deal. I'd had mag covers before, but never Climb. I started shooting after [the popular British climbing magazine] High Magazine was available, which would've been really cool to have been published in… but then again, Climb was at it's peak when I was working for them, so that was good.
Of course, I'm very proud of my work as DOP for
Epic Trails
- a TV series with 27 episodes, which follows wilderness adventurer Eric Hanson. That was a whirlwind!
You're part of the Mountain Equipment team, and have worked for the brand as a photographer for many years. What's this relationship like?
I'm psyched to be a part of ME, who have a long history of supporting some of the best alpinists in the world.

What was it like abseiling over the top of St. John's Head to photograph Dave Macleod?
It's a serious environment. It was probably in the 'top 10' in terms of places I've been which have serious consequences. It's hard to put into words, but essentially, you're abseiling off massive stakes, then re-belaying off some massive cams shoved into sandy sandstone… you have 450 metres of air beneath you, the birds are wheeling, and the remoteness is huge… it feels wild.

What do you think is the modern equivalent of a magazine front cover?
I don't know - Instagram famous? At one point, I got slightly comfortable with Instagram, but then I found it uncomfortable again. Here's a quote I like: "I love to sit somewhere unnoticed and observe, I love to be a quiet guest at the dinner table, not show off... I've seen other writers dissipating their talents by being brilliant - socially speaking - and then turning in second-grade books which had half the talent in them they've had at the dinner table. I'm terrified of all that. I know I'm fluent, I know I'm a performer... but my performance has got to be solitary and confined to me..." - John Le Carre during Channel 4 interview 'John Le Carre: A Life Unmasked.'
So I try to put it this way: I always want to be that quiet guest at the dinner table, who doesn't brag about what they do. I want to perform when it matters. My attitude is: it's not about me; being a photographer isn't about 'look at me' all the time - and the same goes for Instagram. 
My energy is better invested in photography.
What would you say to aspiring photographers? 
Work on your craft. Be humble. I have a lot of respect for people with more experience than me, or elders in life, regardless of their field of work. Loyalty is by far the most important thing to me. Who, and what, are you loyal to? I try to be loyal to my ethics, beliefs, people close to me, and my inner compass. I try to keep my word. I expect all of the above from my friends, and colleagues. And remember, there's no such thing as overnight success, or a free lunch.