At the core of Britain's trad climbing heart is adventure - particularly in the mountains or above the sea. Of the many people operating during the golden era of discovery and new routes in the 1970s and '80s, one name comes up time and again: Pat Littlejohn. He's climbed an incredible amount of these adventurous, wild, and impressive routes, picking off plums for all to enjoy. His routes ooze high quality and good style - or at least, the occasionally loose rock oozes between your fingertips! Despite new routes (onsight and up to E7) from around the world, this interview focuses on the UK (it's easier to recount just one aspect of Pat's climbing life!). Nowadays, Pat climbs closer to home and sits on the board of the British Mountaineering Council's International Committee.
You've been new routing around the world for many years. What have been the UK highlights?
I look back on my climbing life as a series of 'periods' rather than particular highlights. Exploring the Torbay sea cliffs in my teens was a fantastic start, forming a taste for adventurous climbing and liberal attitude to rock quality! [read: loose!] Then, in my early twenties, opening up the untouched cliffs of North Cornwall was a notch up in terms of the scale and seriousness of the climbs, many of which are still respectable ascents today. I had a great time in the Bristol area climbing mainly at Cheddar Gorge, then in 1977 moved to South Wales. This began a hugely enjoyable period of on-sight pioneering in Pembroke, Ogmore and Gower, a real privilege at a time in British climbing when on-sight pioneering was increasingly rare. I moved to North Wales in 1986, which gave another fresh impetus and the novelty of climbing really solid rock on the mountain crags. But the lure of sea cliffs has always been strongest for me and in recent years I've climbed more on the Llŷn Peninsula than anywhere else, where a broad-minded approach to rock quality is required and where my old maxim 'all rock is good rock' comes in particularly handy!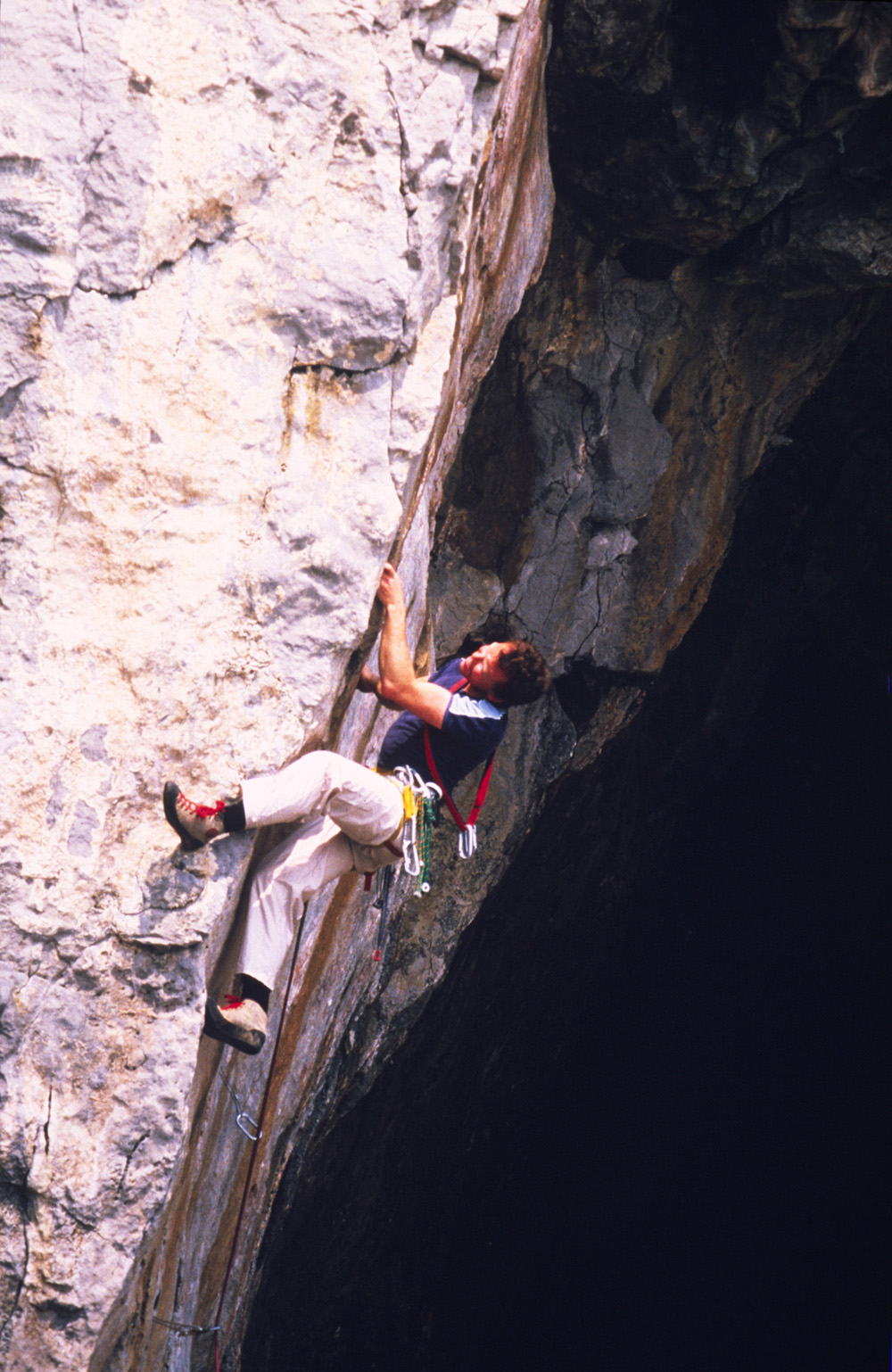 Pat on
Masterpiece
(E6 6b), Gower Peninsula. 1984. Photo: Chris Howes
What was it like doing War and Peace [an E6 girdle on the notoriously loose and serious Craig Doris, which took 3 days to complete], on the Lleyn? Adventurous?
I was convinced by the concept of the route and very motivated, which you have to be for an undertaking like that. It still awaits a second ascent, but it can't be very hard by modern standards. Steve Sustad and I loved doing it - we were gripped most of the time but blown away by the quality of the climbing. A one-day ascent is the obvious challenge for today's climbers and people like Mick Lovatt and Nick Bullock have expressed an interest, but they keep putting it off…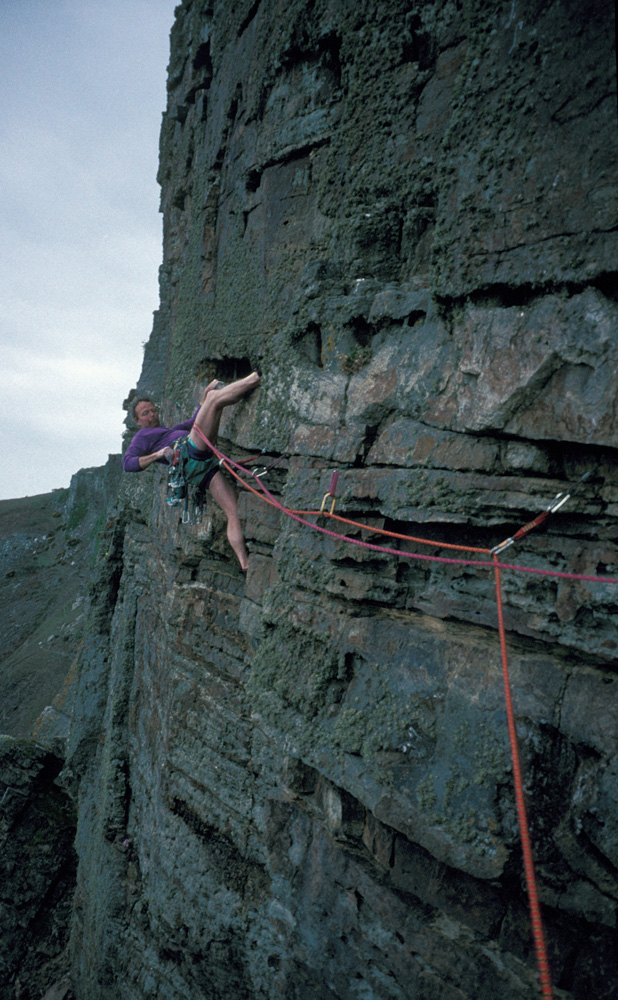 Pat on pitch 5 of 
War and Peace
(E6) on Craig Doris, in 1997. Photo: Steve Sustad
When you climbed Moonraker (HVS 5a) in 1967, aged just 16, you must've had an enormous amount of self belief to quest into the Old Redoubt, and then trust you'd find a way up (and out of) there?
Well, don't forget I was in the company of the South West's most experienced pioneer, Peter Biven. I basically climbed what he pointed me at, but as I was half his age I was happy for him to call the shots. I had been planning to attempt the line with someone else but whether that would have turned out so well, I'll never know.
In 2012 you said you're most inspired and satisfied by hard first ascents. Is your motivation still the same? How many first ascents have you done? Do the hardest, or wildest, for example, stand out?
Nowadays, I do fewer first ascents, and they're not as hard. Occasionally I get a bit fitter for a particularly inspiring line, but generally I'm happy to discover a worthwhile route at an interesting grade for me. Motivations and priorities change in life, and nowadays I'm far more focussed on family. I still love my climbing days though! Not sure how many first ascents I've done but it's well over a thousand. I must count them some time! It has never been a numbers game for me – quality is far more important than quantity. Many, many routes 'stand out' – but I'll just mention a couple. Il Duce (E5) in North Cornwall which still rates as my most satisfying day's climbing in the UK, and Above and Beyond (E6) at Fair Head. At the top of the latter I collapsed on the grass and told myself that was the best new route I'd ever done!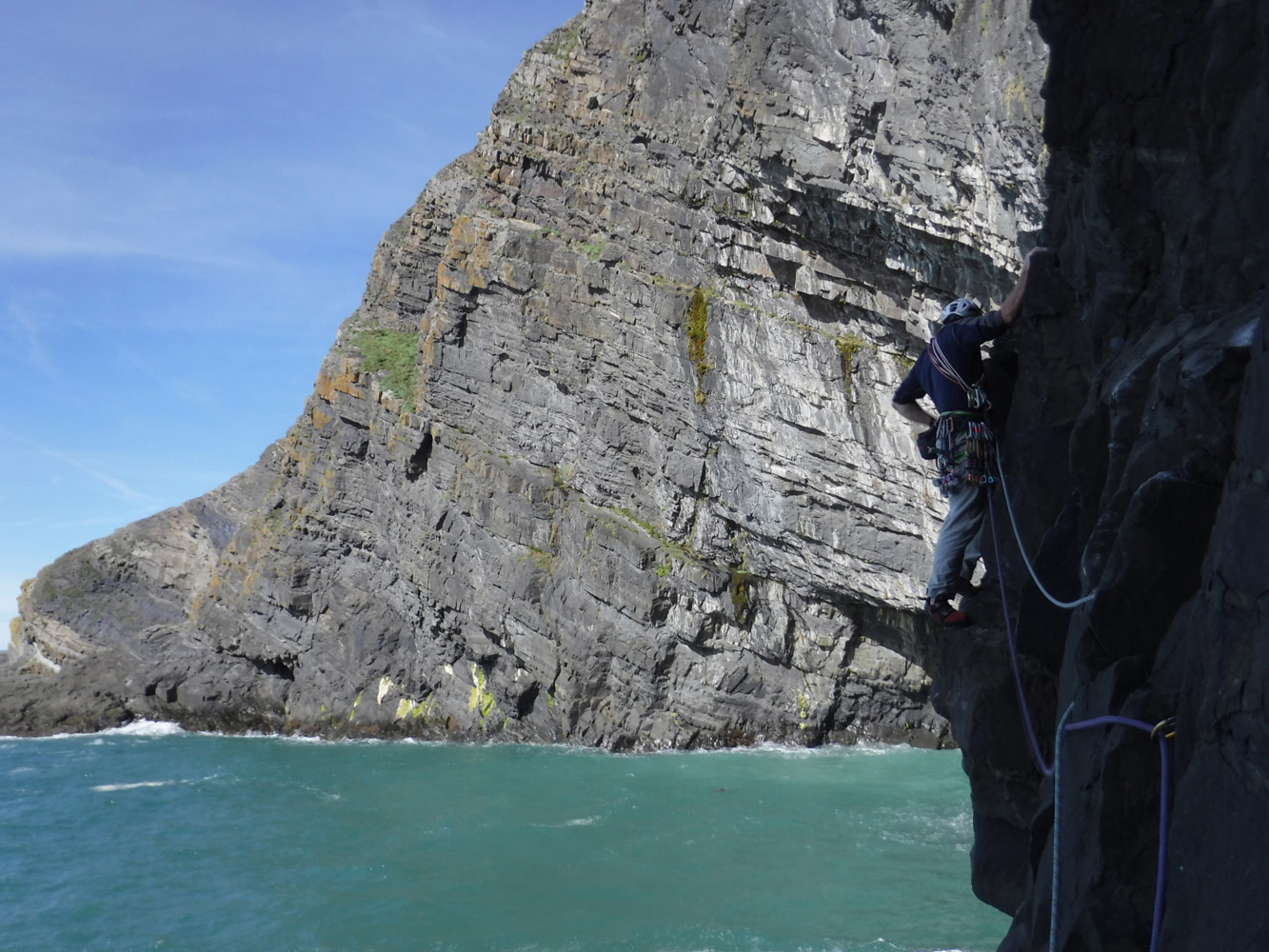 Pat on
Sense of Doubt
(E5 6a), Cilan Head, Llyn Peninsula. Photo: Tim Jepson

Have you got any good memories from Swanage - the limestone sea cliffs on the south coast of England? It's an underrated crag!
A great crag which encourages all the right climbing values. I didn't do that much there but enjoyed climbing several of Richard Crewe's routes as well as having some frightening epics on undergraded Boulder Ruckle routes in the early days. My best first ascent there is probably Oceanid (E2 5b), which was climbed on the way home from an unsuccessful trip to the Pyrenees (when we failed to find the best walls and eventually gave up on climbing due to baking heat). 

You've been involved in the BMC and Alpine Club over many few years. How have they changed?
I don't think the AC has changed all that much - in fact, it's mainly criticised for not changing! The BMC, on the other hand, is pretty much unrecognisable from when I first knew it – much bigger and trying to represent a broader range of activities than just climbing. It's impressive how the BMC has moved to reflect the modern climbing scene and to embrace all the 'new' games like bouldering, sport climbing, competition climbing etc. My hope for the future for all these organisations is that the people holding the reins continue to be committed climbers with a decent track record rather than 'suits'.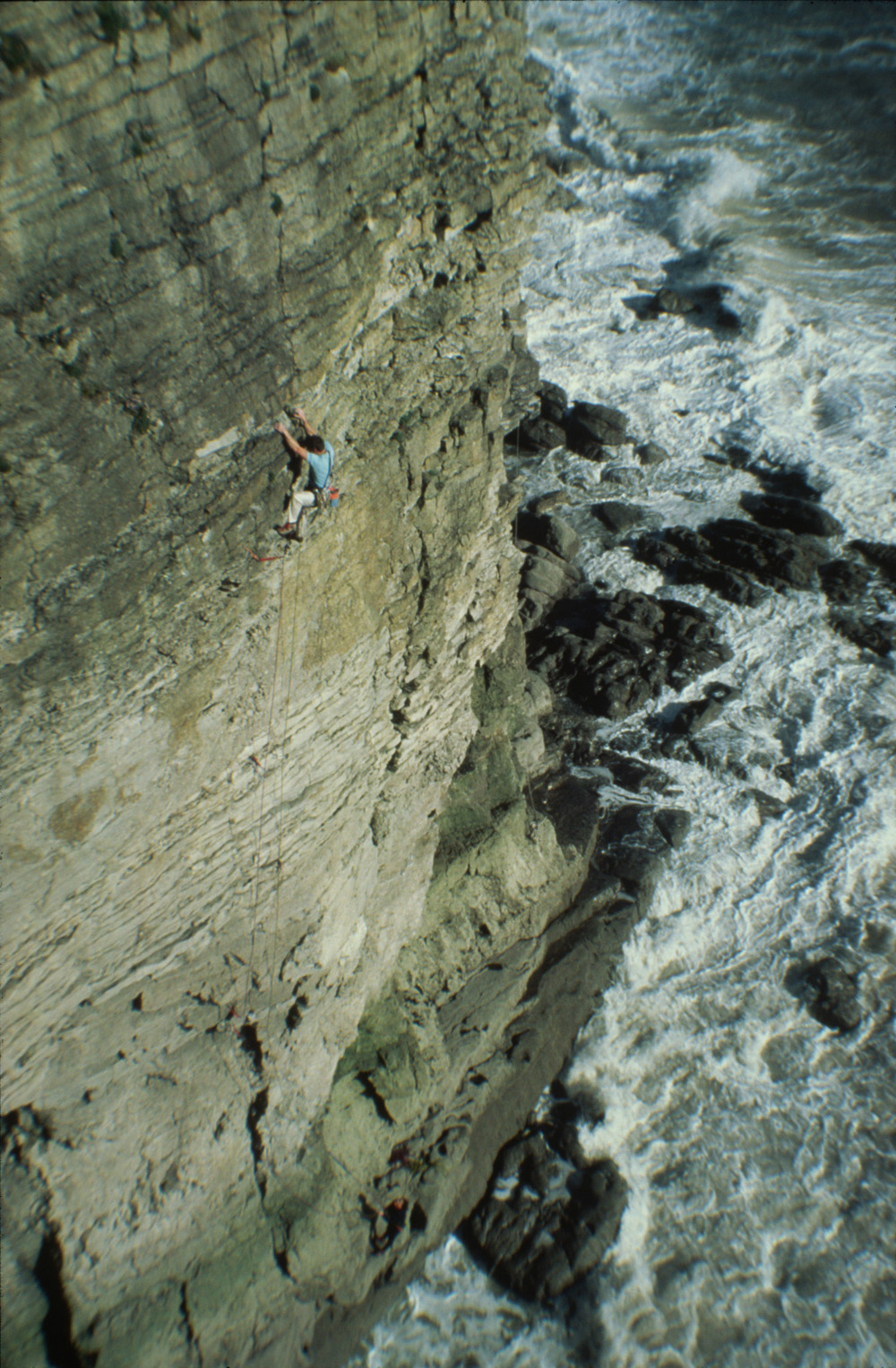 Pat climbing
Fire
(E4) at Ogmore, SE Wales, in 1977. Photo: Chris Howes