Leo Skinner is a young gun emerging onto the British bouldering scene, with strong repeats of blocs up to Font 8B. Originally from South Wales, Leo often trains at the Llangorse climbing wall and competes for Team GB. With several hard problems and a few trips to Europe under his belt already, we'd say, 'watch this space...'
You came onto the climbing radar with repeats of several hard blocs at a young age. Did you start climbing early, and what are some of the keys to your success?
I started climbing aged seven for a bit of fun. My dad took me to my local climbing wall (Llangorse Climbing Centre) and although I liked it, I was scared of climbing to the top of the wall! However, after a few trips back there, I was proper psyched. I joined the climbing club there and within a year I started doing comps. I remember coming 2nd in the Welsh Championships, which led to me doing the Youth Competition Series every year, where I made new friends and fell in love with climbing. I'd say I really got going when I started climbing outside, after my coach Morgan [Preece] took me to Dinas Rock, where I climbed my first Font 7A. After a few trips there, I had two font 7Cs and a 7C+ under my belt, while still aged 11, which I was stoked with! After that, I enjoyed going outside nd pushing myself on hard boulders at the weekends - whenever it was dry! I'd say the thing that's helped my climbing the most is getting out on the rocks as much as possible and having fun. I mean, what's the point if you're not loving it!?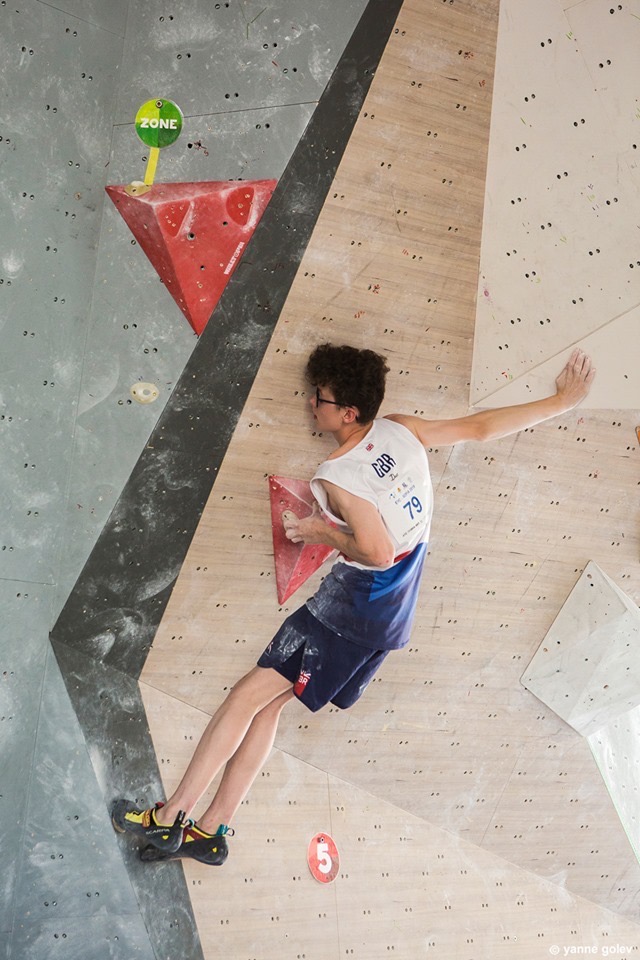 Leo competing during the European Youth Competition in Bulgaria, 2019. Photo: Yanne Golev
Can you enthuse about south Wales climbing?
I think climbing in south Wales has always been a bit overlooked, but with recent developments it's become a quality area for boulders and routes. My favourite bouldering places are Dinas Rock and Bacon Hole because of the amount of concentrated hard bouldering. For routes, Foxhole Cove and Shipwreck Cove are amazing and have really good scenery! With bouldering up to Font 8B+ and routes up to French 8b+, it should definitely be on most UK climber's list to visit.
What are some of your long-term projects and goals?
I've always been interested in repeating hard, iconic test pieces that have been put up by people I look up to. In the next year or so, I aim to repeat some of the local hard blocs put up by Eliot Stephens and try to repeat some other hard lines around the UK. In the long term, I'd love to travel the world and test myself against some of the world's hardest and best problems.
What are some of your highlights in climbing?
My best moment in climbing is certainly when I completed my local project last year, which was also my first Font 8B boulder. As well as this, doing my first Font 8A aged 13 and 8A+ aged 14 are also some of my proudest moments. I've had some success on the competition scene as well, coming 6th in a European Cup last year, and making the GB Team a few years back, which I'm proud of.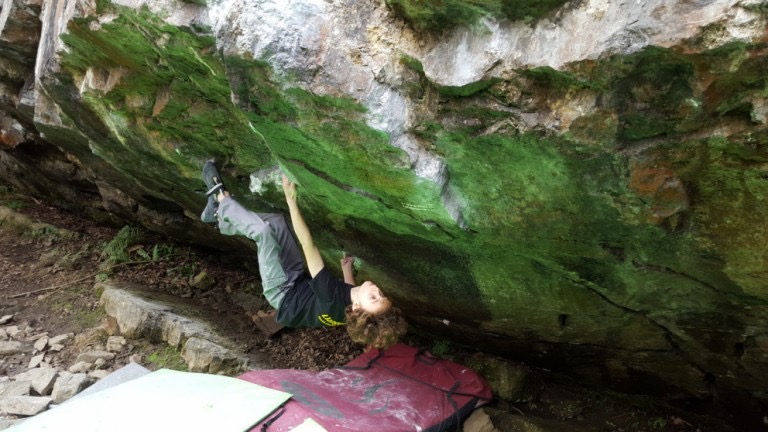 Leo climbing
Butch Cassidy
(8A) at Dinas Rock, aged 13. Photo: Morgan Preece
How do you cope with the pressure of competitions? 
I have a love-hate relationship with comps. On one hand, I do enjoy competing and it feels amazing when they go to plan, and that all my training was worth it. But when I perform poorly, it feels like a waste of time and money. They can be quite a lot of pressure, but it does motivate me to train a lot harder so I can do better in them.

For the next few years, are you thinking of going to college/uni, or more 'travel and climb as much as possible'?
As much as I'd love to travel and climb all the time, I'm starting college this year instead. I'll have to wait a few years and save up some money for climbing! Some trips are definitely on the horizon though.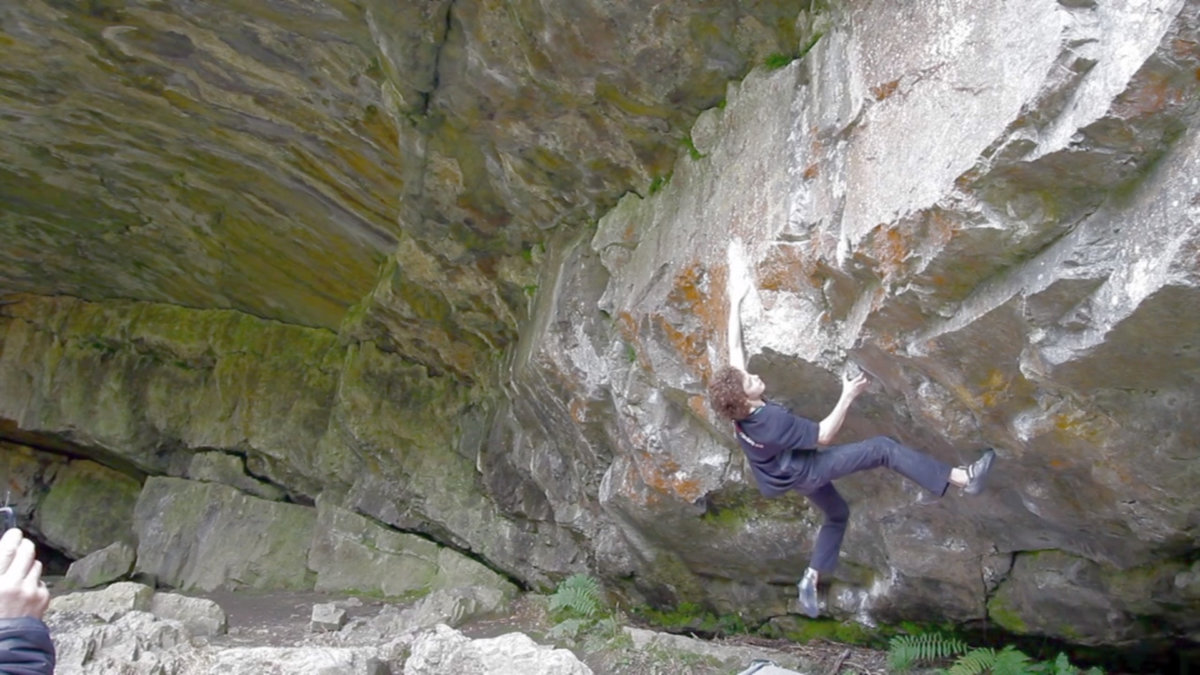 Leo climbing 
Evil Sideways
 (8A+) at Dinas rock aged 14. Photo: Leo Skinner Collection
Finally, if you could share a bloc with anyone in the world, who would it be?
It's difficult for me to choose since there's so many climbers I look up to! Despite this, I'd probably say either Dave Graham or John Gaskins. I love the way Dave climbs and he's been at the top of the game for years. Gaskins inspires me a lot and I'd love to try and repeat some of his hardest lines when I'm older!
Leo is sponsored by:
Unparallel
,
Rhinoskin Solutions
and
Llangorse Climbing Centre