Hannah Baldwin is a two-times World Paraclimbing Champion. Since suffering from Crohns Disease from a young age, Hannah has found climbing to give her purpose and direction, and in recent years has enjoyed success in both competitions and on outdoor routes. Hannah reflects on being part of the GB Paraclimbing Team, dealing with her illness and her goals.
You say one of your aims is to be 'seen as a good climber.' We'd say you're already a good climber, since you're already enjoying the activity and doing hard grades, regardless of your disability. Do you agree?
I guess so, yes - although we all have bad days where we don't feel like good climbers! Since climbing more routes outside, that able-bodied people challenge themselves on as well, I feel empowered to do more than just win a competition. I want to challenge myself against all climbers, not just the other athletes in my category. Taking on hard projects outside satisfies that desire for me, and I get to enjoy days out at the crag with my partner.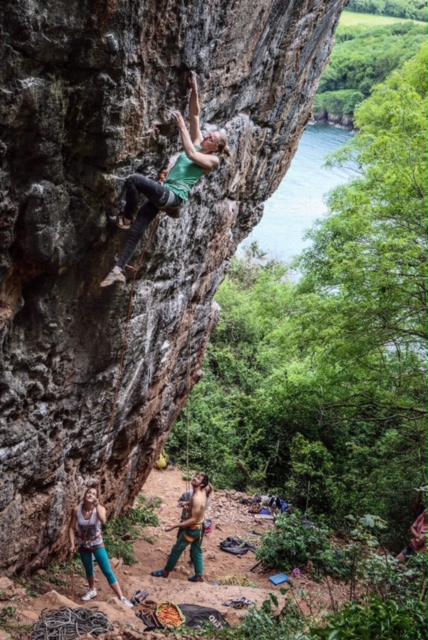 Hannah at Anstey's. Photo: Mikey Cleverdon

What's it like being part of the GB Climbing Team?
I met my wife to be (we're getting married this summer) through the team, so I guess you can say it was the best thing to ever happen to me! Aside from meeting Be, it's being part of an incredible group of people, travelling the world and winning competitions, which has been pretty magical. Don't get me wrong, it's also been incredibly tough at times, but I have memories I'll never forget.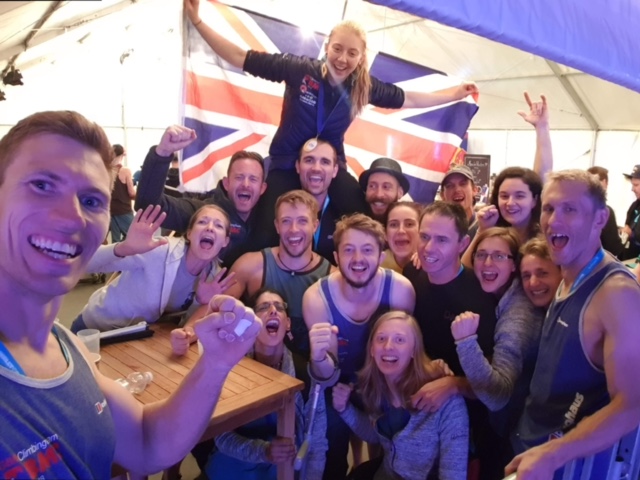 Photo: Hannah Baldwin Collection
Have you found the climbing world to be welcoming and friendly?
I've never experienced anything negative within climbing. I was luckily enough to start my climbing journey in Plymouth, which has the most friendly climbing scene in the world. I built my confidence here and that's helped me enjoy climbing anywhere, and never feel different. Other than some crags being more challenging to access, and some routes just not working with one leg, I can't really complain. Climbing has been amazingly accessible and welcoming to me.
What are your goals in climbing, and outside of climbing?
I've still not climbed my goal of 8a on rock. I've recently had two pretty big operations, and everything went a bit 'Pete Tong' with my Crohns disease last year, but I got close to my 7C+ project. I'm currently working and training really hard at Be's wall. I have quite a time-consuming role Managing at Volume 1 Climbing, but when I can pass this over I intend on focusing my energy back on this goal.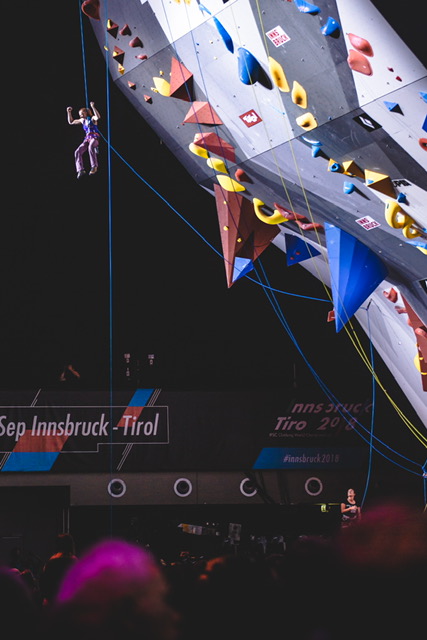 Hannah whilst competing. Photo: Liam Lonsdale
Have you seen more people get into climbing since you started, and would you offer any advice to people with disabilities?
Yeah. The team's doubled in size since I joined four years ago, and I think paraclimbing is developing really well and becoming more mainstream. There are so many great advocates for paraclimbing now, it's really going in the right direction. I would just say to anyone who has a disability to just give climbing a try. I got hoisted out of my wheelchair on my first ever try; there are so many options to make climbing possible.
Finally, if you could share a belay with anyone, who would it be?
I've been lucky enough to share a belay with my hero and one of my best mates,
Jesse Dufton
, but if we could invite
Beth Rodden
to the crag that would be an epic day!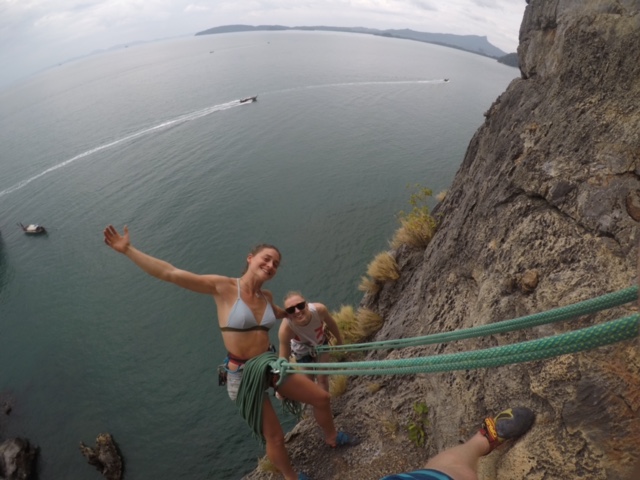 Photo: Hannah Baldwin Collection