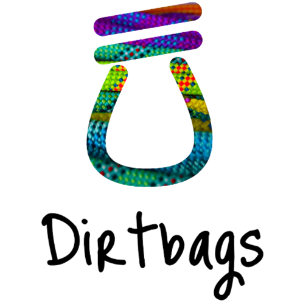 Dirtbags Climbing began in 2017 with a reluctance to throw away retired climbing gear, a sewing machine found in a skip, and founders Jen and James on a mission to collect and repurpose old gear, and fabrics.... redirecting textiles and plastic waste generated by the outdoor recreation industry from landfill to give it a new purpose. Sustainable, affordable and ethically made in the UK. Here's founder Jen to answer our questions...
Where did it all begin and who are you!? 
 
We are an outdoor sporting brand making accessories for climbing, swimming, biking and running. What sets Dirtbags Climbing apart is that we use upcycled fabrics, saved from landfill. We are a small team, who live and work in Kendal. The types of the materials we use are collected from within the outdoor recreation industry itself. We use climbing rope, rucksacks, jackets, wetsuits, tents and basically anything that we can to reuse and create new products and thus extending the life of these textiles.
The idea began while I was on maternity leave, with a sewing machine that my husband, and co founder, James found in a skip and fixed. I made some chalk bags out of an old climbing rope in the corner of our bedroom. It was like finding the tip of an iceberg - the more people in the industry we spoke to, the more we realised how many usable outdoor materials were being thrown away as there wasn't an upcycling alternative.
Upcycling is an environmentally better option as it doesn't involve chemically altering the materials. We started collecting, and making, and it grew organically from there, and now upcycling is my full time job.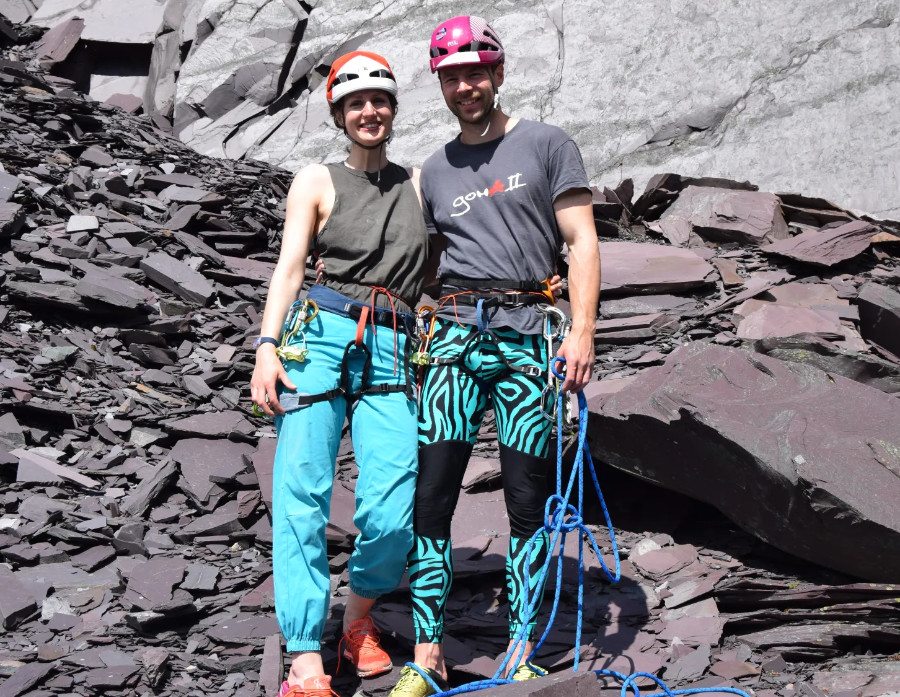 Dirtbag Founders Jen and James
What are your sources of old gear, do you receive enough/too much/just right? 
 
In a nutshell – here, there, and everywhere. In the beginning it was a lot of leg work and effort trying to convince the public and other brands to think again about what is wasted, and how it is wasted. Now, we accept small donations of old gear from activity centres, the general public and climbing walls. We also work with a number of British based brands to reuse their faulty returns, off cuts, and end of life products. The sheer amount of available textiles waiting to be thrown away is astounding.  
It is a constant balancing act making sure we don't have too much in storage and that the turnover of donations converted into final products stays high. Once you begin to look into what is due for the bin and when you begin to intercept – it becomes difficult to say no! 
 
What do you feel are the worst environmental culprits in climbing gear 
 
Honestly, the industry seems to be doing a lot better now.  Generally, climbing brands are quite good, although there seems to be a lot of 'greenwashing' about so it is always worth viewing marketing campaigns with a critical eye.  
Climbing is a funny one – as harnesses, ropes, and helmets are all PPE, so there is no way getting around using them, or using the right materials for them, largely plastic. Rope manufacturers have begun to look at the way rope is made and using ropes to recycle into new ropes, which is good to see. 
 
How can climbers help reduce their environmental footprint? 
 
One thing we are looking to move forward with is the education aspect, we want our community to be able to repair their clothing and use them lots more before they eventually come to us for upcycling, so we will be looking into repair courses and a little bit more information regarding upcycling and repairing in 2022. We are lucky to have a really engaged customer base, so this is really exciting for us.  
There are loads of things climbers can do to reduce their footprint, and relatively easy too. Here I've just listed a handfull, but keep an eye on our insta stories as we usually share tips and tricks: 
Car share, or cycle to the crag or wall. 
Wear your clothes a few more time before washing them. 
Wear your clothes way more before buying new ones – just six months more of wear makes a huge difference. 
Be sure to do a 'sweep' of the area before you leave the crag – rogue tape and energy bar wrappers end up everywhere. 
Check out where your products are being made before buying – and are the makers being paid a fair wage? What is the brand's sustainability policy?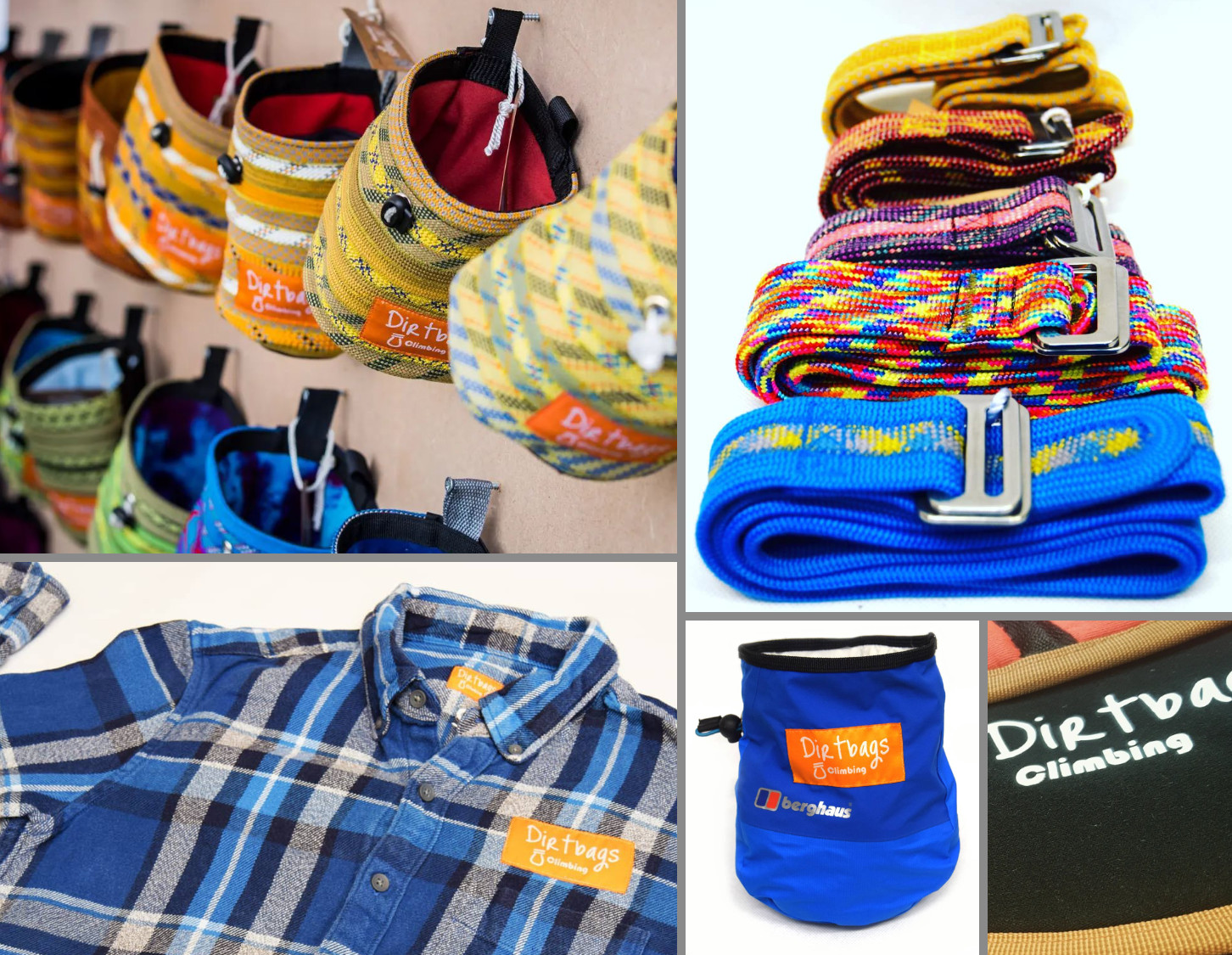 The Rehaused Project with Berghaus sounds like a fantastic direction but I can imagine receiving a truck from Berghaus and repurposing is a lot of hard work! 
 
We receive a 'mystery box' every so often of goods to be upcycled, it really appeals to my creative side to see what we can come up with.  
The nature of what we do is really quite laborious. A lot of time is spent unpicking and sorting. But having a brand contact us about upcycling their end of life products was brilliant. And since last year we have had the pleasure of being introduced to a handfull of other UK based outdoor companies to do similar things.
I believe we are the  first UK business to offer an upcycling service to other brands, giving them an option to reuse their own textile waste. Doing this helps us all close loops and provide a greener solution to either storing, or landfill.
It is brilliant to work with other companies as they share our enthusiasm with what we do and what we can do. There are a few exciting projects in the pipeline, which we're currently working on. 
 
How has covid affected your business? 
The climbing walls closing and then reopening months later, with a liquid chalk only policy damaged our trade a fair bit – as they weren't restocking the chalk bags in the shops. Gradually now, we are building it back, and we are intent on coming back stronger. Though it seems like the Pandemic is long over – it for sure isn't - there are so many businesses still working so hard on climbing out of it, but absences due to isolation and illness feels like it pushes us back a couple of steps. We have an excellent, supportive community, and I remain ever the optimist. 
Thanks to Jen for chatting to us and keep up the good work! You can follow Dirtbags on Instagram and Facebook or visit their website to learn more or purchase some products. Dirtbags also visit lots of shows from Kendal Mountain Festival to the Women's Trad Festival so make sure to go and say hi to the team!